The kitchen pantry is the go-to cupboard for every major meal. No longer just a 'cupboard for your tins', the modern kitchen pantry is inspired by the ante-room of yesteryear where people kept milk, eggs, bread and dried goods in the days before refrigeration and sell-by dates. The pantry was where people kept a stock of foods from pulses and cereals to spices. Today, the concept of keeping your kitchen staples in a handy store is just as relevant.
Tom Howley designers can create bespoke chef-worthy kitchen pantries with you in mind; they can have built-in compartments, specially made and monogrammed drawer spaces, concealed shelves, open shelves, spice racks and fruit or bread baskets.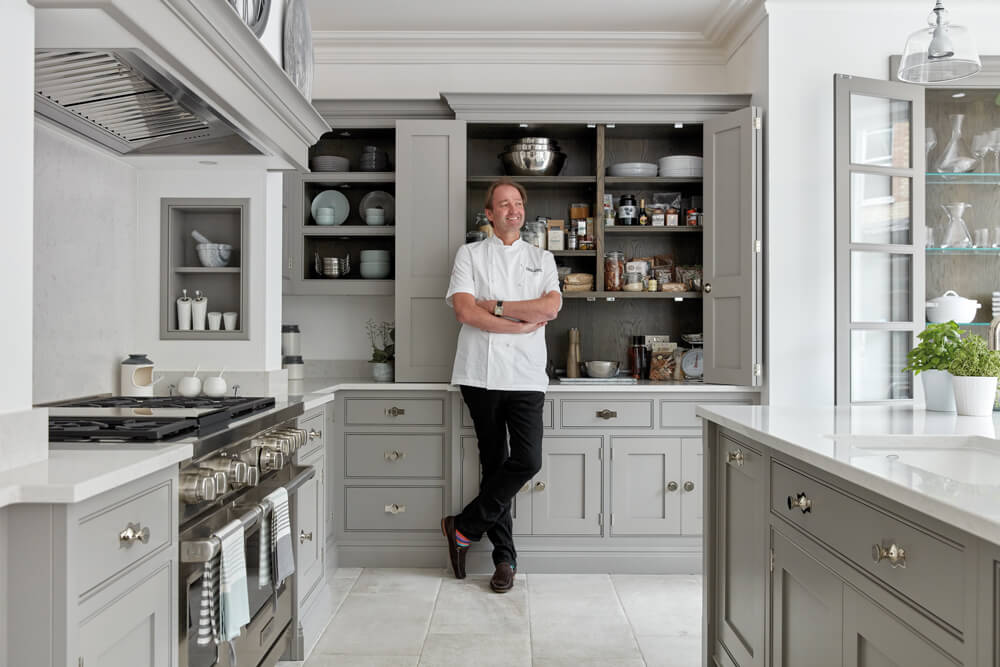 How to 'Pantry' Like a Chef
Whichever style you go for, don't forget to keep it well-organised. Keep items you use most often at eye level so you can see at a glance if you're 'running low'. Make sure food with a short sell-by date is at the front of the cupboard and within reach – in fact, it's a good idea to check the storage details on items in your pantry once every couple of months. Store lighter items on higher shelves and keep heavier items such as jars and tins on lower shelves. Use the very highest levels as storage space for appliances or crockery you don't use very often. You can create basket storage at the bottom of the kitchen pantry, which is the perfect place to keep some fruits, veg and baked goods.
Galton Blackiston's Favourite Kitchen Pantry Essentials
Everyone has their kitchen favourites and 'go-to' recipes. But every great dish starts with the right tools and quality ingredients. We asked our brand ambassador Galton Blackiston what we'd find inside his kitchen pantry at home.
"Mine is stocked with the essential ingredients I need to cook great food at any time. I make sure that it's really well-organised so if I'm running low on something I can add it to my shopping list straight away. My pantry has separate spice racks, and bespoke partitioning for tins and jars. Having a kitchen pantry can really maximise your use of space, freeing up your cabinetry for housing crockery and utensils."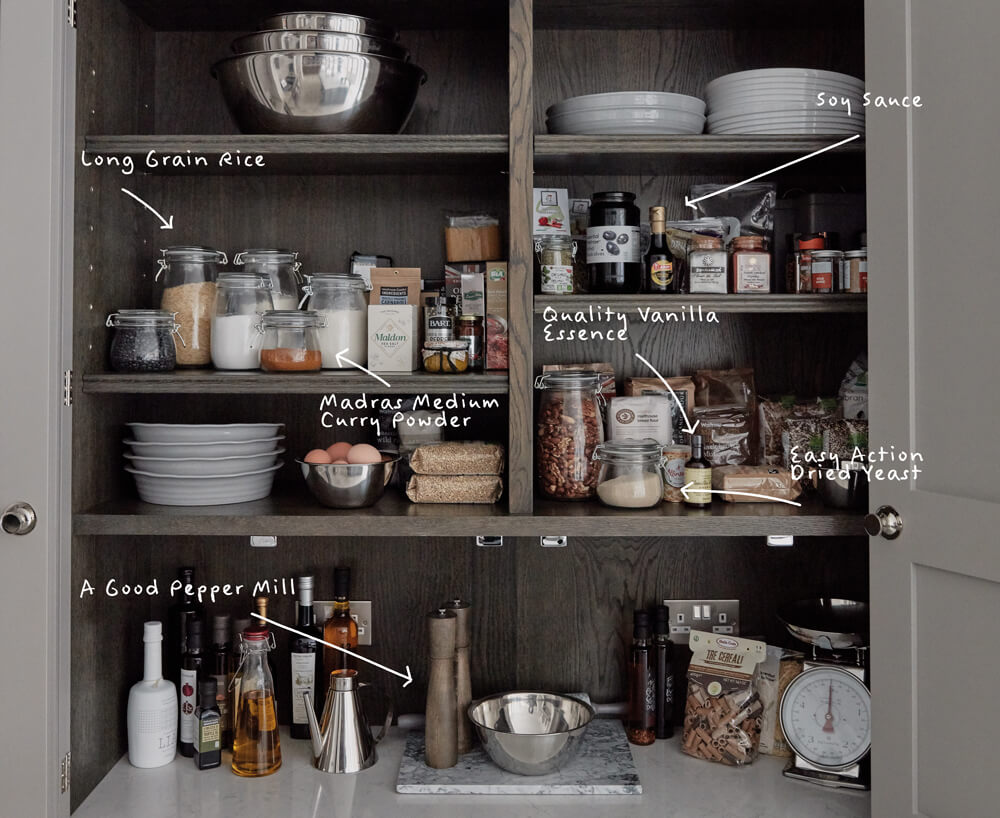 Madras Medium Curry Powder
"Spices are the key to making tasty meals and kicking the heat up a notch. A dash of curry powder isn't just for Indian dishes, a pinch of curry can bring character and depth to many foods."
Soy Sauce
"Good soy sauce is essential. Keep your supply stocked so you'll always have a glug for your warming one-pot dishes or noodle salads."
Quality Vanilla Essence
"It really does give depth to dishes whether it's its own star in ice cream or crème brulee or as an enhancer in hot drinks or sponge puddings."
Long Grain Rice
"Whether you're in the mood for Mexican or Asian, Indian or Italian, with long grain rice you've got the most versatile carb in the world – and it's ready to eat in 20 minutes. Low in fat, high in energy, what's not to love?"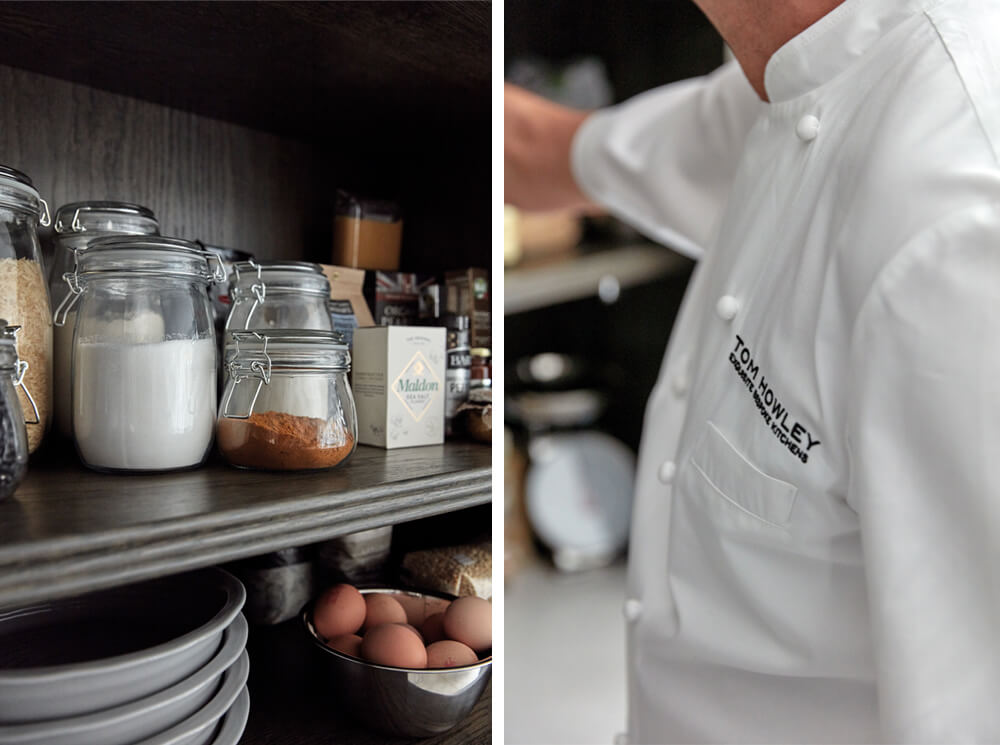 Plain Flour
"It's great for making pastry from scratch."
Good Quality Tomato Paste
"Once you've made your pasta, there's no better sauce for it than tomato. Tomato paste is the perfect base for pasta sauce, but it's also great for enhancing the flavour of dozens of other dishes too."
A Good Pepper Mill
"Freshly ground pepper will give you the fullest and most intense expression of the spice's flavour so instead of buying ready-ground, invest in a pepper mill. To make sure you never run out, keep a stash of peppercorns in an airtight container sealed for freshness."
Self-Raising Flour
"Every good home-baker will always have enough for at least two loaves."
Caster Sugar
"Perfect for when you fancy baking cakes and biscuits on a rainy afternoon!"
Easy Action Dried Yeast
"See the bit about bread-making? You won't get very far without this essential ingredient."
Click here for more culinary tips and recipe ideas from Galton Blackiston or explore our stunning pantry ideas by requesting a free brochure today.