After a busy month of adding the finishing touches, our new Cheltenham showroom is officially open. Set in the heart of the Cotswolds this charming regency town is full of renowned historic architecture, quaint cafes, trendy gastropubs, luscious gardens and stylish boutiques, making it the perfect location for an exquisite Tom Howley showroom.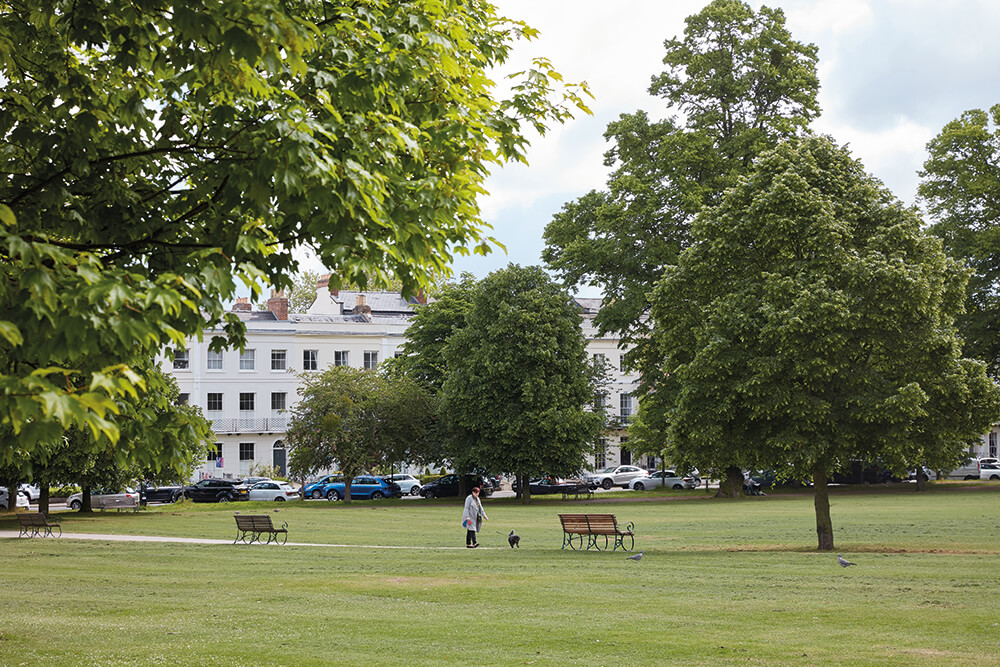 Our new Cheltenham showroom is situated on Montpellier walk, which was originally developed as the main spa area in the 1830's. A famous historic district of town the buildings are instantly recognisable due to the Caryatids of Montpellier standing proud supporting the facades of buildings. These 'armless ladies' date back to 1840, where they were based on classical models of the Acropolis in Athens.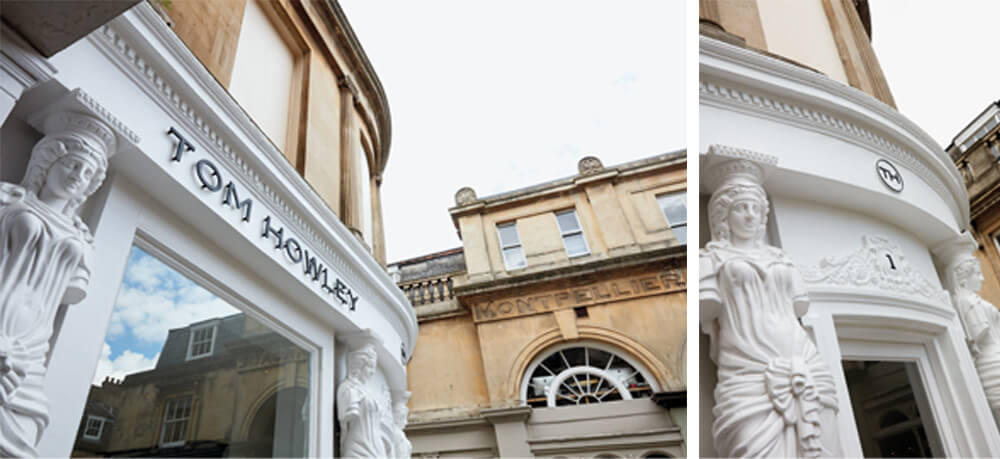 After passing these beautiful iconic statues, the first thing you see when entering the showroom is our stunning Hartford design handpainted in our stunning new paint colour Periwinkle. A memorable first impression when visiting.
As always, we launched our new showroom in style, it was a chance to celebrate with guests, press, local businesses and those who helped to turn ideas into reality.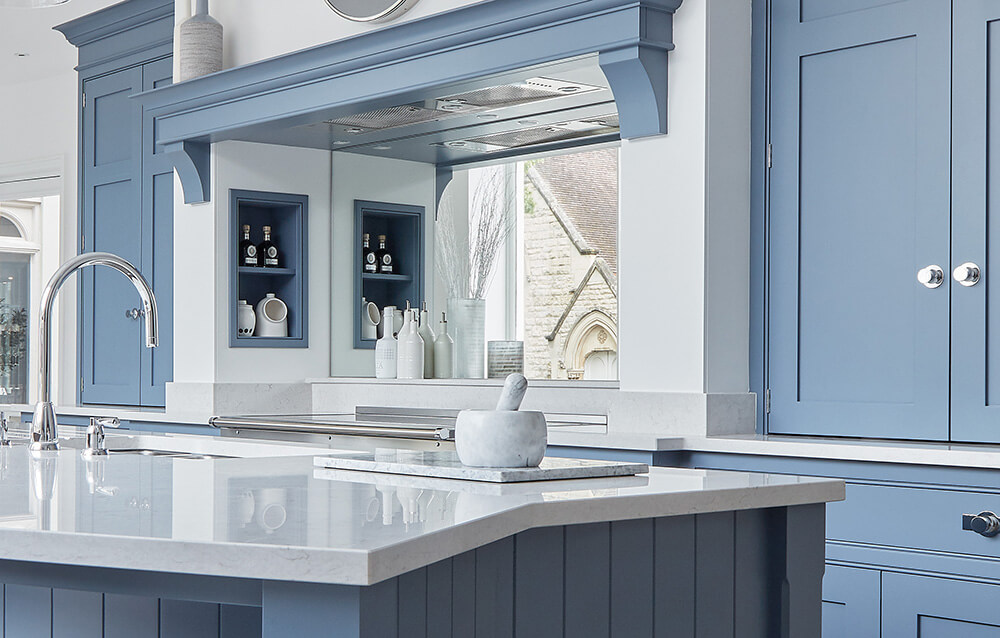 Guests had the chance to explore our latest designs before anyone else, delve into the minds of our experts and hear all about the stunning details and work that goes into every Tom Howley kitchen.
Having explored our new kitchens spread over two floors, canapes were then served, a taster of what was to come by our talented guest chef. Adding to the sense of occasion we were excited to welcome Galton Blackiston, Chef Proprietor of award-winning country hotel and restaurant, Morston Hall. With a Catey award, Michelin' star' since 1998, four AA Red Stars and four AA Rosettes Morston Hall has been recognised as both a great English hotel and restaurant as well as also being named in the top 100 restaurants in the UK.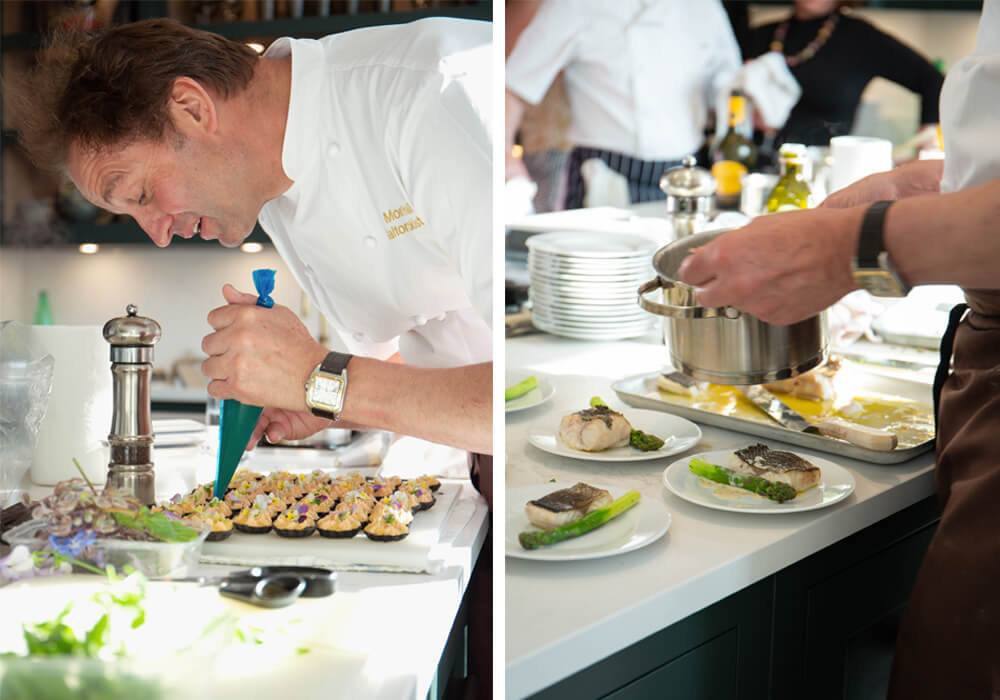 Galton has appeared on Anglia Television, Gary Rhodes' Local Food Hero, Market Kitchen, Great British Menu and is a regular on 'Saturday Morning with James Martin' where he's always promoting seasonal and local produce. Something we're proud to support in all of our cooking events.
After tasting seasonal canapes and sipping on glasses of prosecco, everyone had the chance to gather around our live kitchen island and experience a fantastic cooking demonstration by Galton where he shared his culinary expertise and insight into the menu for the evening.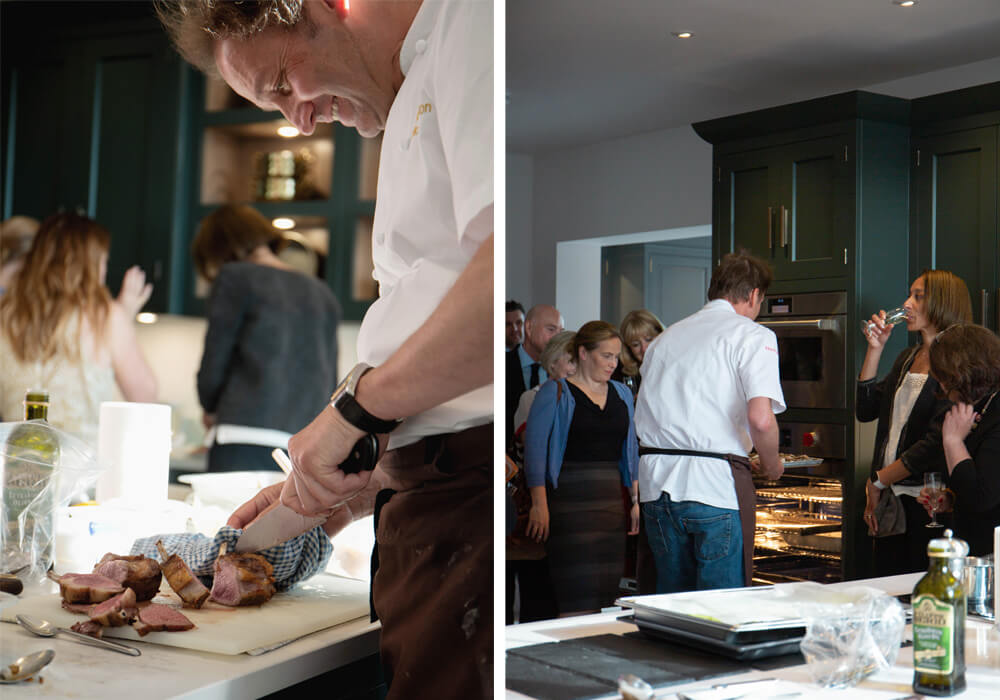 Throughout the evening, Galton prepared and cooked three exquisite dishes. The first-course, wild sea bass and Norfolk asparagus with a Champagne sauce, was followed by the main of Herdwick lamb with creamy mash, ratatouille and mint jelly and to finish a fresh seasonal dessert consisting of cheesecake with strawberry and black pepper ice cream. Each dish prepared using the very best local and regionally sourced produce.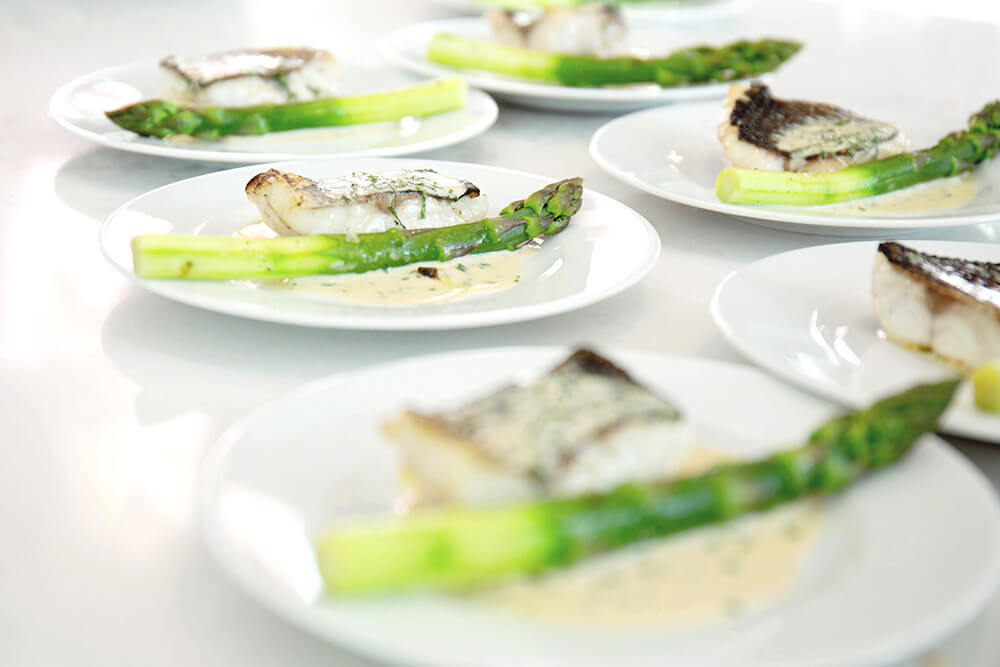 Every guest had the opportunity to chat with Galton as he prepared each course, sharing his expertise, cooking tips and appliance advice throughout the evening. Seeing our showrooms so full and alive on event nights inspire us to go the extra mile with each one we open. The live kitchens within each of our showrooms provide the perfect space for you to experience first hand how a Tom Howley design would work for you, in your own home.
We want to thank everyone who helped us celebrate our opening night. To discover more information on our Cheltenham showroom or Galton Blackiston, please follow the links below.
Tom Howley Cheltenham Showroom
Galton Blackiston
Morston Hall