It comes as no surprise that with a new year comes new trends. 2018 was all about brave new colour in the kitchen, modern functionality, maximalism, statement textures and metallic finishes. 2019 interior trends embrace 'The Blue Planet effect', mixed metals, new neutrals, dark kitchens, oversized pendants and Crittall doors to name a few.
Here's a roundup of some of our favourites, both new trends set to sweep our homes in 2019 and existing, bound to become ever more popular over the coming months.
Sustainability – 'The Blue Planet Effect'

Ever since David Attenborough's war on plastic 'The Blue Planet Effect' has started to impact how we think about materials and the way in which we use them. With this powerful message high on the agenda, designers are now focusing on ways to create conscious environments, developing new materials and delving deep into how our surroundings impact planet earth and our health. Their approach is to become more aware of eco-living, looking at key pieces that will stand the test of time and use aesthetics that allow a sense of wellbeing and peace. Interiors will take on a zen approach, raw woods, woven furniture, hybrid materials and plant life.
Brass & Bronze Taps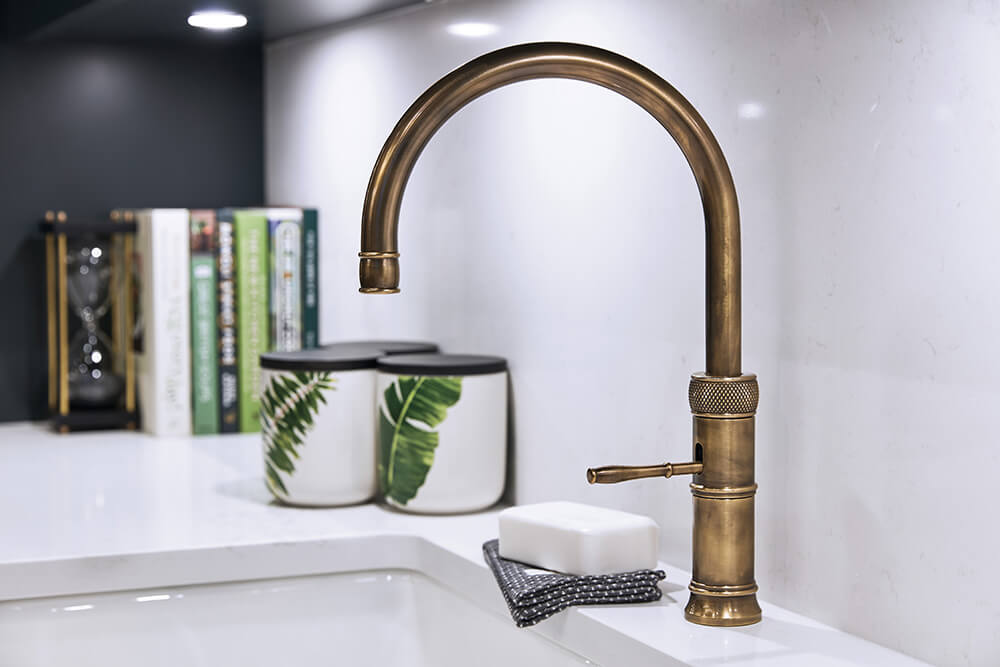 Brass and bronze finishes in the home are proving to be a popular choice, especially in the kitchen. These timeless materials can provide a beautiful warm contrast next to dark and light kitchens alike. Pair brass with marble and wood for a classic look or give it a modern, industrial edge combined with concrete and Crittal style windows and doors. This fantastic Quooker Classic Fusion tap also brings together the trend for instant boiling water technology.
Dark Kitchens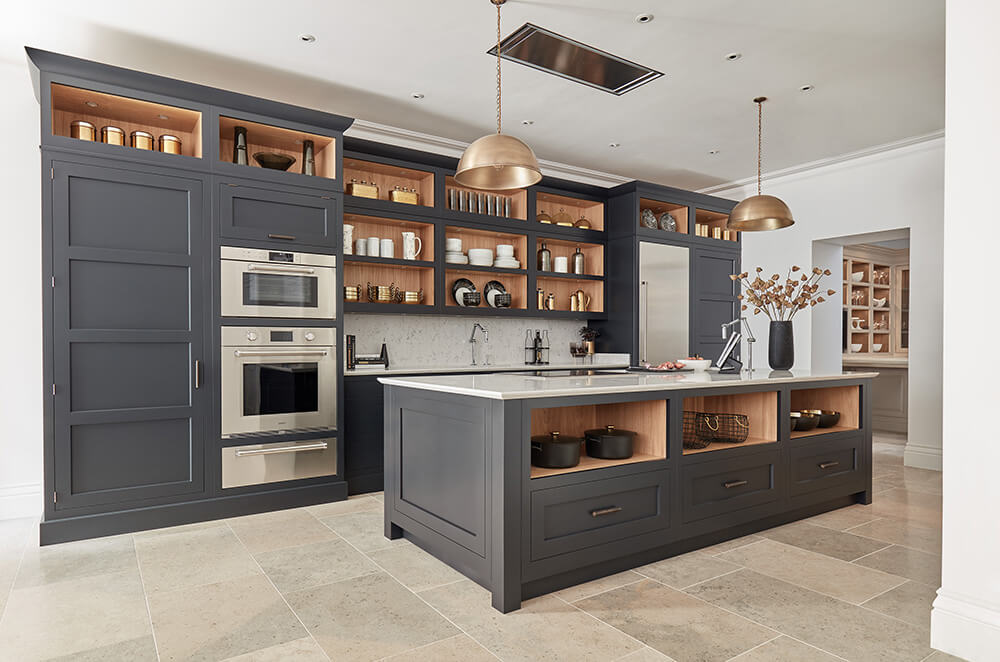 Dark Grey Shaker Style Kitchen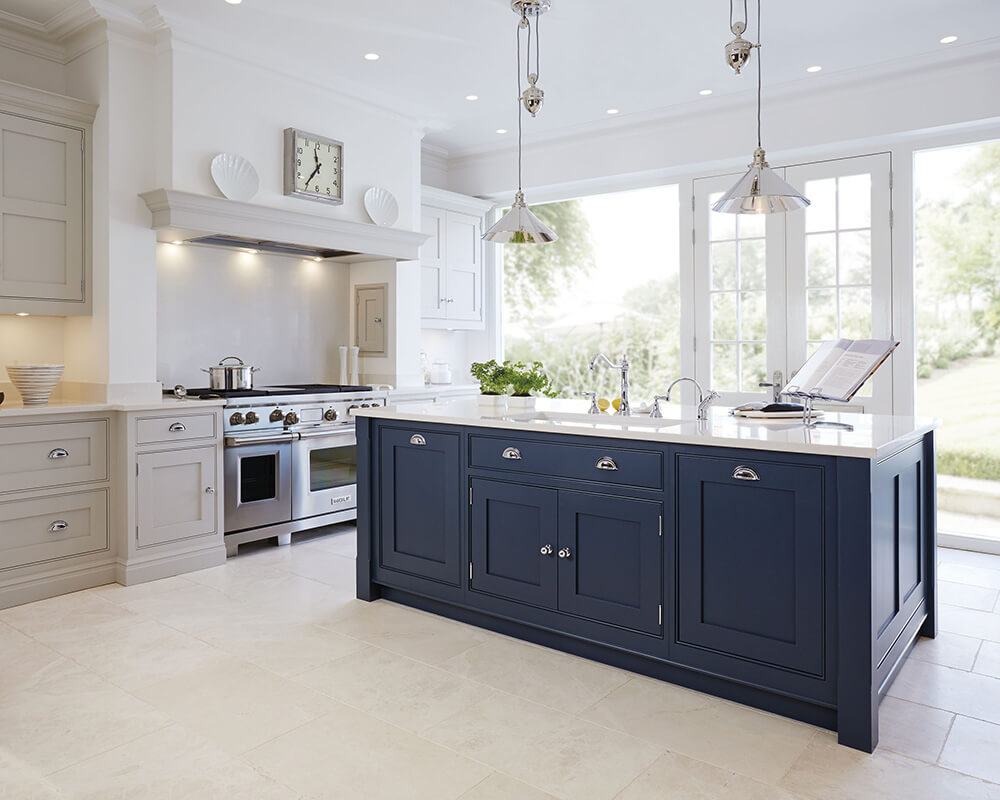 The kitchen is at the heart of the home for many and is continuously evolving as multifunctional living spaces become the norm. Last year we saw a sharp increase in orders on dark grey kitchens with searches for this shade up by 93 per cent in six months. This year it looks like dark kitchens are here to stay, the trend will embrace dramatic deep greens such as our new shade Avocado, luxurious charcoal hues, taupe and sophisticated black designs.
Oversized pendant lights

Lightyears Pendant Light | Molecular Pendant Light | Lee Broom Orion Globe Light
Lighting can be a perfect conversation starter when done right. At the 2018 London Design Festival, we saw spherical and sculptural lights take centre stage. 2019 interior trends bring simple kitchen designs and dining spaces to life with oversized pendant lighting. Keep your space light and airy with a handmade wicker or woven grass pendant. The bigger, the better. If you want to emphasise, certain structural features go for a large industrial style pendant, if you want something sculptural opt for a linear ceiling fixture with traditional exposed bulbs.
Terrazzo is Here to Stay

Townhouse Detail by BLOOC | Ferm Living Terrazzo Wallpaper
Last year we wrote about how 70s terrazzo was having a revival, well, it's here to stay for 2019. Originally from Italy, terrazzo is typically made up of 80% recycled materials lending itself to the trend of conscious living. This year you'll not only see this quirky material on home accessories, soft furnishings and flooring you can now find lighting, furniture, backsplashes and even wallpaper. How will you be using this mosaic-like material in your home?
Crittall-Style

Labo Design Studio New York Loft | John Knight Glass Crittall Screen
Crittall doors and windows are set to become a must-have feature in our homes. The effortless, modern look of Crittall makes them perfect for connecting kitchens to the outdoors. Partition areas by using them as an edgy room divide allowing light to flow, or transform a new rear extension by adding a complete wall of steel frame windows creating a fluid link to the outdoors. You can choose from a variety of metal frame thicknesses and grid styles to beautifully modernise a space.
To discover more 2019 interior trends head over to our Pinterest profile.