Every kitchen needs them. They are sliced, chopped, scalded, burned, and yet we all want them to look as beautiful as the day they were installed. A kitchen worktop need to be both tough and stylish, and the key to this lies in choosing the right materials for the job. A worktop can impact the overall scheme of your kitchen, luckily with advancements in technology the choice of worktop materials is vast, for all budgets and styles of kitchen.
Classic shaker kitchen with Silestone Yukon worksurface
Granite
Granite has always been coveted for its beauty and with new man-made alternatives available, customers now have a range of even more desirable options. Like all natural stone, it can be cut to the specifications of any worktop which will look stunning when in place. While it's beautiful and durable, resisting most punishment from knives, and hot pans, its porous nature leaves it vulnerable to spillages if left unsealed.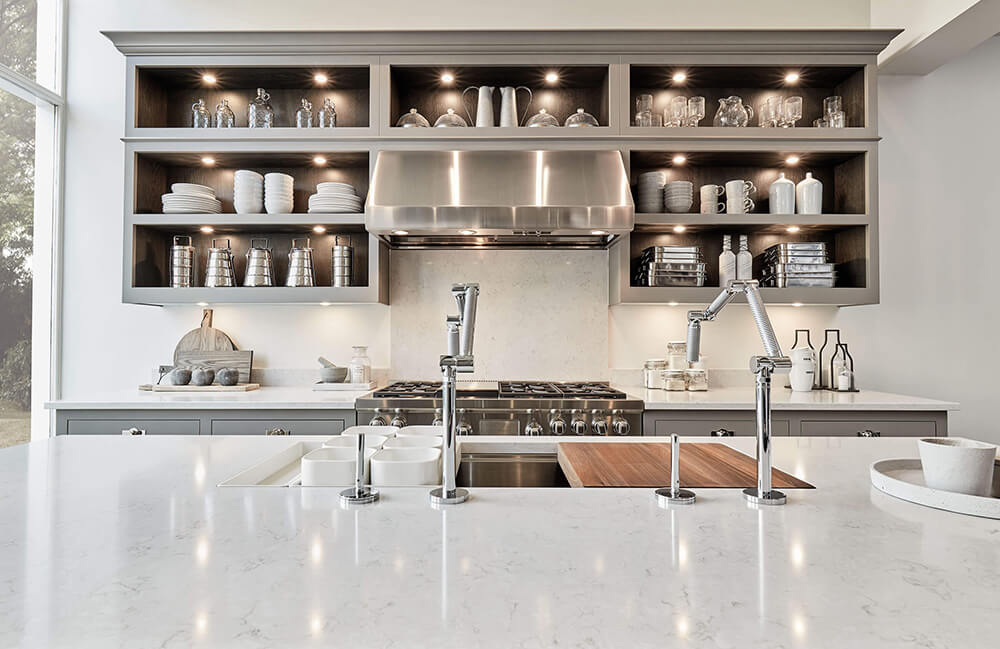 Our Butler kitchen with Silestone quartz work surface in Snowy Ibiza
Silestone
A man-made material, Silestone is a compound made up of 90% quartz. It looks fantastic, and its resilience makes it a popular choice for a kitchen worktop. Quartz is perfect for kitchens as its non-porous texture doesn't allow bacteria to grow. It's easy to clean, making it less susceptible to staining and as well as being durable, quartz comes in a range of beautiful colours.
Marble
If you're looking for a one-of-a-kind finish that you're guaranteed not to find anywhere else, natural marble is a great option. Because this highly prized stone is cut from one large piece, each slice is unique. It may be tough, resisting nicks and scratches, but it's a porous material so it stains much more easily than man-made options. A lot of care and some surface protection is recommended for people who choose marble.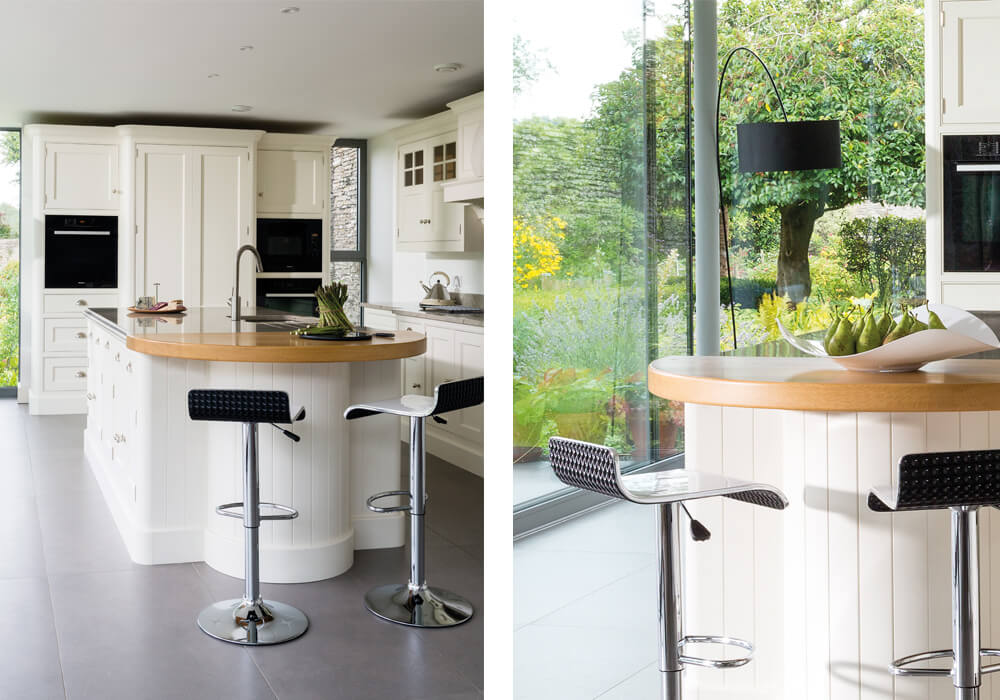 Indoor-Outdoor kitchen with Ivory Spice Granite and wood breakfast bar
Wood
Wood is a beautiful choice for kitchens, but it works much more efficiently in seating areas. Unless protected fully it's easily damaged by water, heat and scratches. It is naturally less resilient than stone to the daily onslaught that worktops are subjected to in our kitchens.
So, consider where you will be placing your new worktops and what you'll be using them for. Think about the layout of your kitchen and whether they will be used in cooking areas or for seating spaces. Once you've thought about how your kitchen will be used and planned how you want to finish it, you should have a surface you love that will stand the test of time.