Key Kitchen Trends to Look out for in 2020
Whether you simply want to change the colour of a wall or have decided to remodel your entire property, this year's key kitchen trends list is here to help inspire your dream home decisions for the next decade.
Green Kitchen Cabinetry
Expect to see more green in our homes as this colour in all its forms is set to become a key trend. The demand for dark green cabinetry is already growing, and it's clear to see from last year's design events that this trend won't be going anywhere. Dark greens such as our paint colour Avocado can add drama and sophistication when combined with varying hues of white. Or opt for subtle greens such as Moonstone, a paint colour which has a gentler, timeless appeal.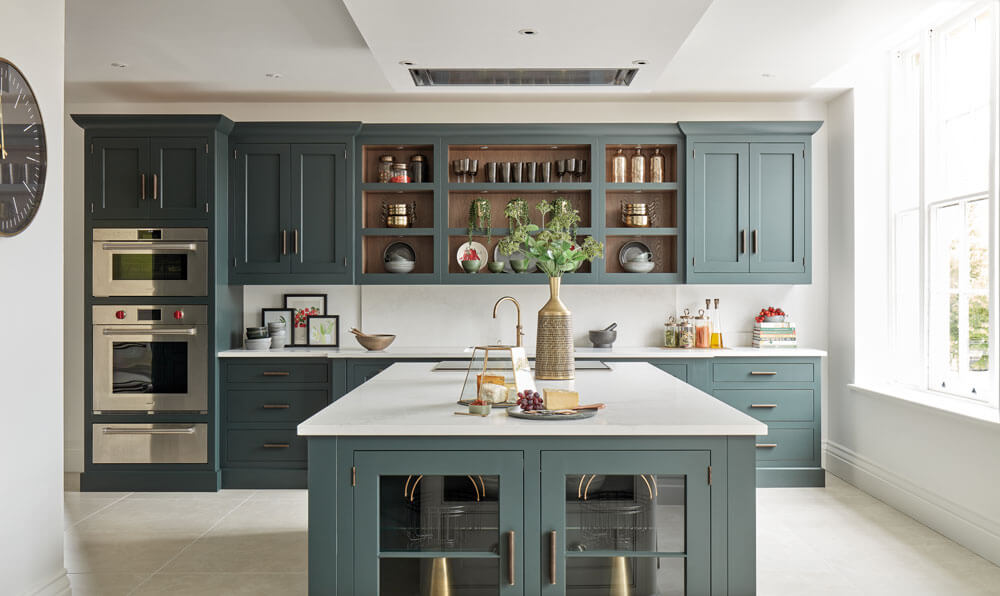 Colour can have a fantastic, uplifting effect on you and your environment. Living with the colour green allows us to reconnect with our surroundings and nature, it's the colour of balance, health, harmony and calm, making it the perfect shade to have in main living spaces.
Brass Kitchen Trends
Brass finishes are an excellent way to draw attention to your cabinetry as well as adding warmth, especially when combined with a dark paint colour. The warm tones of the brass beautifully enhance blues such as Lithadora or Avocado our dark green paint colour. Create a cohesive look and go for brass hinges, taps and even statement lighting.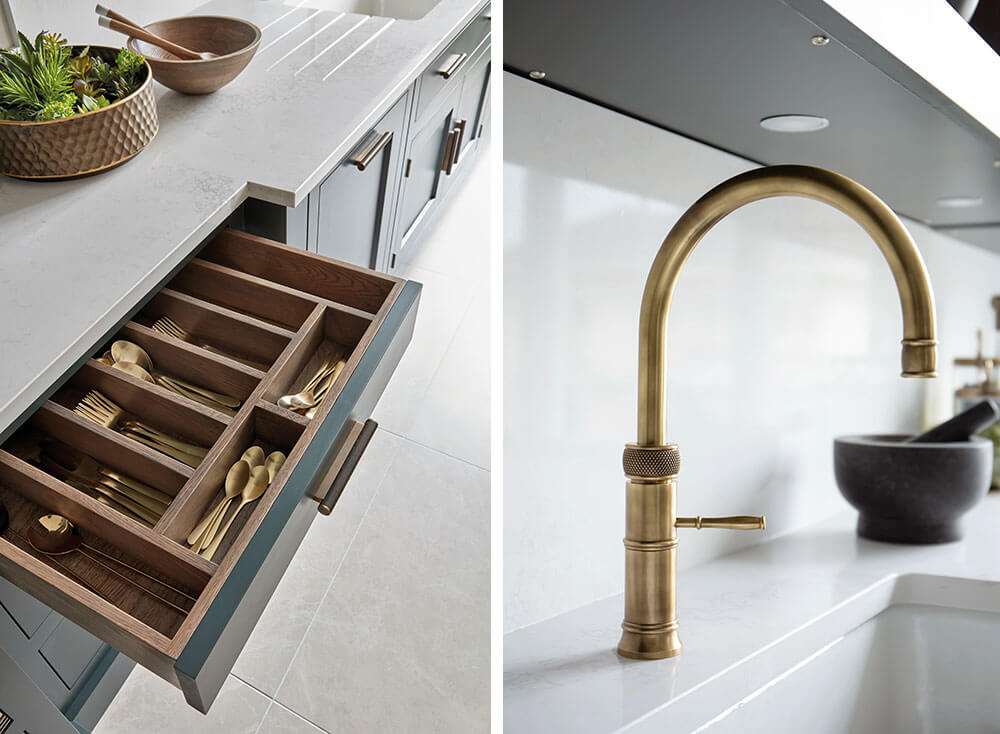 Blue Hues
There have been a few prevailing kitchen colour trends over the past year, however, one has been at the forefront of design, and that's blue. There's no hiding the fact we love this versatile shade with many of our most popular designs finished in this colour. In December Pantone chose 'Classic Blue' as the 2020 Colour of the Year. Classic Blue is a reflective blue tone that represents harmony, safety and stability as we cross over into a new era. Although Classic Blue can work in a whole host of spaces, other tonal shades of blue are also popular including inky blue which contrasts warm neutrals beautifully and chalky tones which can work in mid-century modern, rustic or new nordic schemes. Two of our most popular blue paint colours are Lithadora and Periwinkle.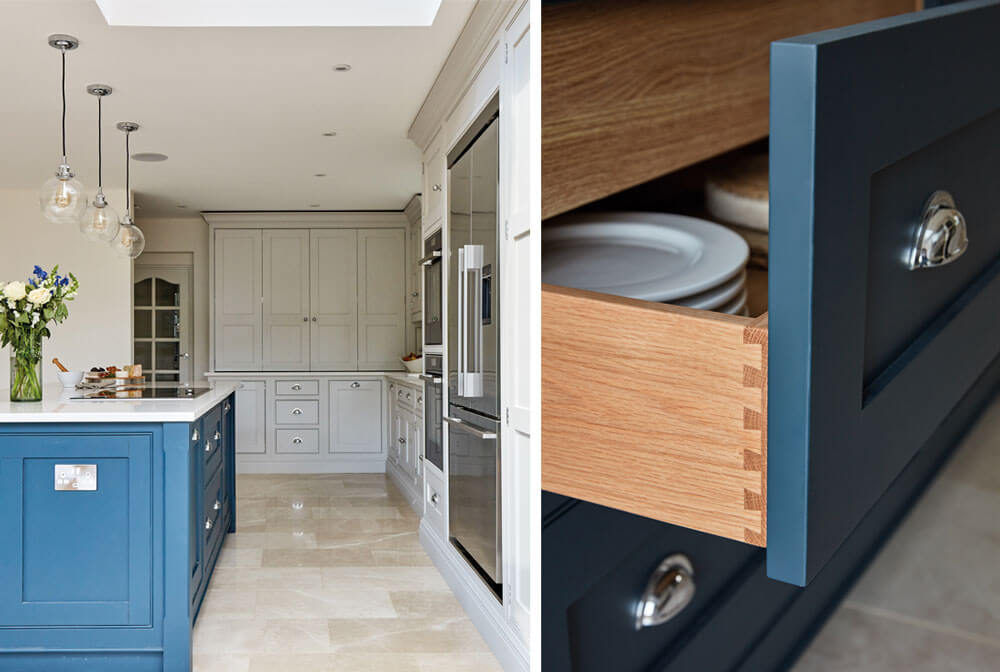 Double Islands
Family kitchens deserve family-sized central features. Our blue Hartford kitchen design is a wonderful example of how to house two islands, which is a trend we'll be seeing more of over the next year. Doubling up not only looks impressive but also ensures you have plenty of space to both entertain and cook with ease.
Rattan and wicker furniture
With many brands now picking up on the rattan furniture trend and with interiors taking on a more sustainable zen approach, there's no surprise that homeowners are embracing natural materials. Bar stools are a fantastic way to introduce this trend into your kitchen scheme. A few of our favourites are the new Titus bar stools from Vincent Sheppard, the Cox & Cox rattan counter stools or the Blonde rattan bar stools from Rockett st George.
Olive Trees
The demand for cheese plants (monstera) and the fiddle-leaf fig has boomed over the past year. Homeowners are now becoming bolder with their interior plant choices and what started with a small succulent or cheese plant has now evolved into bigger and better things. Often overlooked as an outdoor plant, the olive tree is now set to grace our homes more in 2020. With delicate, soft green leaves and thin neutral branches, it can add softness and an air of sophistication to any corner. Choose from large real varieties to smaller faux trees.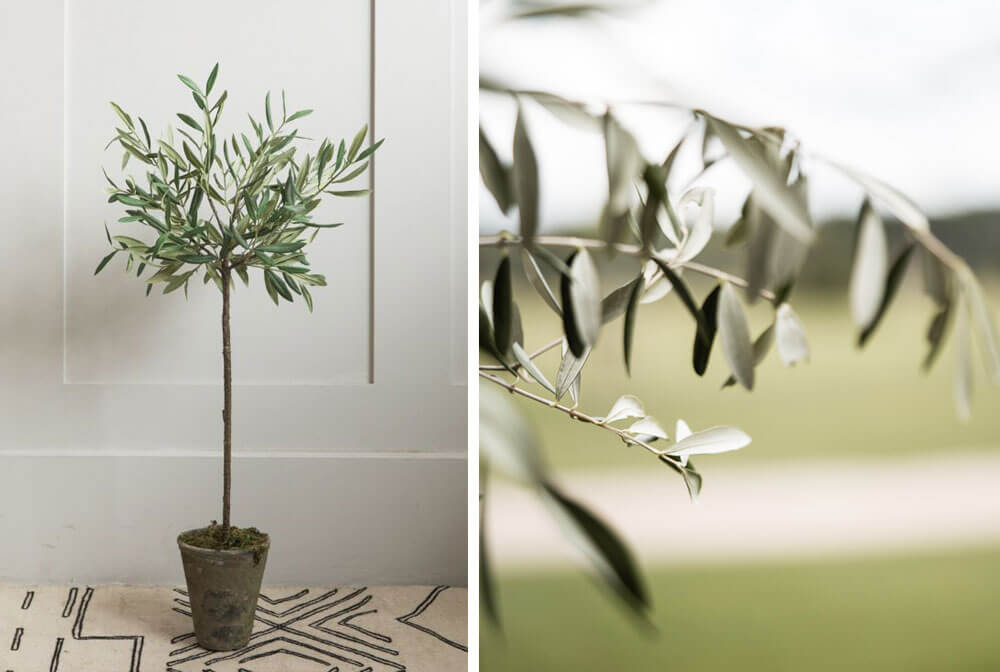 Kitchen Artworks
As many kitchens now have open shelving or are part of a larger open plan living space, collecting and displaying artwork is on the up prompting homeowners to add more personality. You may choose to hang a piece of art that acts as a focal point from which colours or themes can stem from. If wall space isn't available then styling open shelves with your favourite ceramics, smaller piece of art, plants and decorative objects is an easy way to add personality. Curate collections or stick to one theme; this ensures your kitchen doesn't become too cluttered or visually distracting.
Kitchen Pantries
Smart storage is always high up on home wishlists and with the desire for more streamlined living, design features such as the kitchen pantry are becoming even more popular. Kitchens tend to be clutter hotspots full of cooking essentials, appliances, ingredients, cleaning products and much more. A sleek concealed storage system can be a saviour in this type of space. Learn more about our pantries here.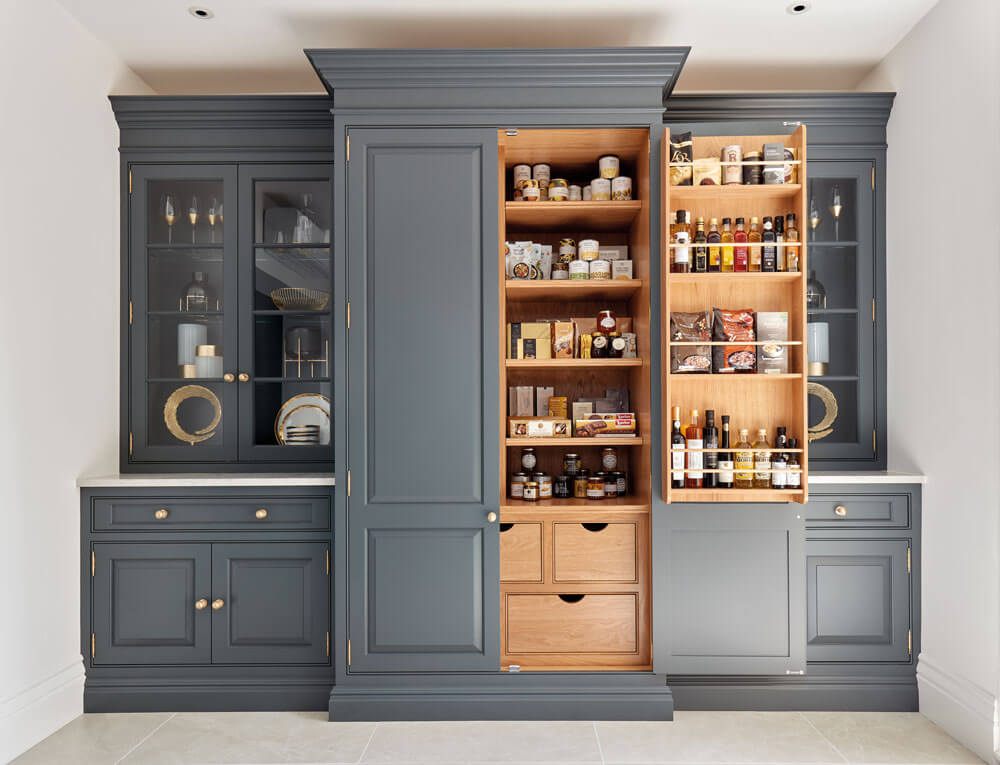 Request our free brochure to explore all of our stylish designs or for more kitchen trends head over to our Pinterest profile.