This week we held a fantastic Gourmet Masterclass with Sven-Hanson Britt, Miele's Executive Chef and MasterChef Professionals Finalist in our Bristol showroom. It's always fantastic to see our showrooms come to life. The space was a buzz with guests exploring innovative designs, our experts on hand talking all things interiors and delicious flavours and smells being cooked up by Sven in our spectacular live kitchen.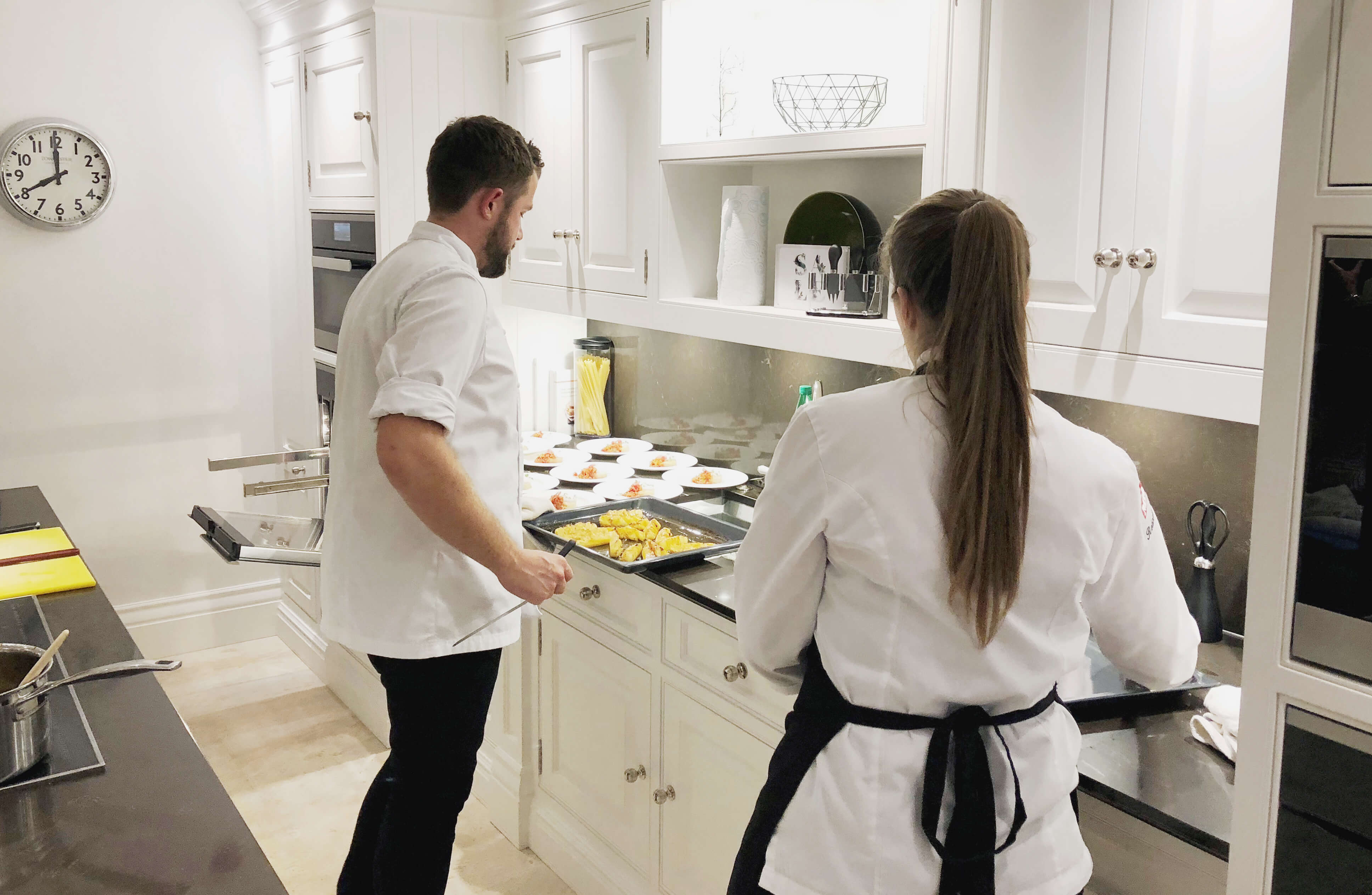 Sven impressed guests with his expert knowledge, skills and sumptuous menu using the freshest seasonal ingredients, full of flavour locally harvested. An advocate of cooking with seasonal produce, he produced four exquisite dishes: Compressed squash, sorrel, Arbequina olive oil and chicken skin, scallop, smoked eel, beetroot juice and brown butter sauce, Steamed Guinea fowl with Jerusalem artichoke and Vin Jaune and Pineapple marinated in dark rum with coconut yoghurt and almond.
As well as Tom Howley kitchens, Sven chooses Miele appliances for both his home and professional kitchen. He expertly demonstrated that even over complicated dishes can be made easy with the simple use of a steam oven. Watch this short clip from The Miele Perfection Series where Sven cook's fresh tasty ingredients using Miele's latest stem oven technology.
Experience and indulge in one of Sven's delicious dishes. Below is a beautiful simple recipe for Glen Magna Raspberries with almond yogurt, lemon balm and steamed burnt butter sponge, a perfect dish as we more into spring.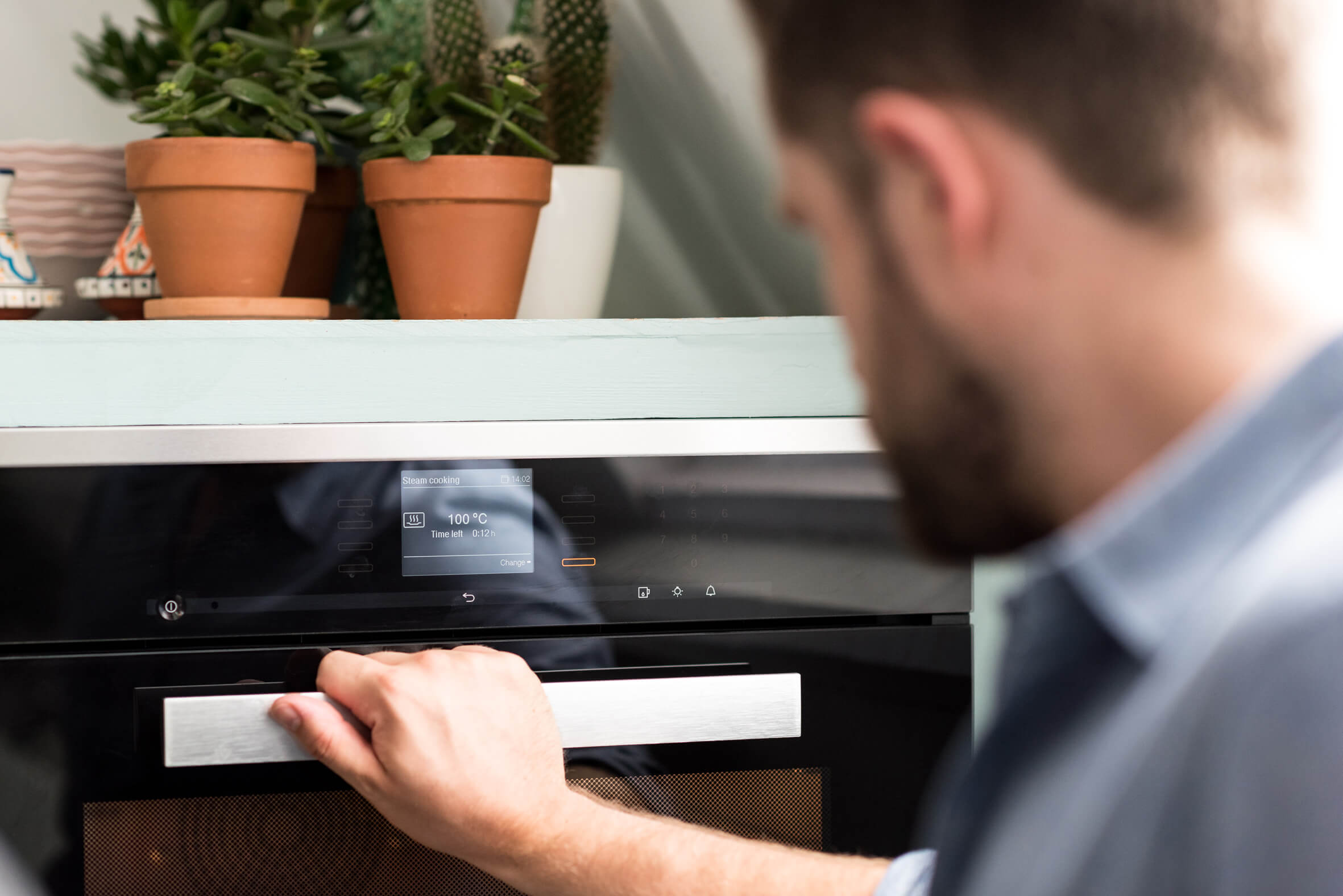 Glen Magna Raspberries with almond yogurt, lemon balm and steamed burnt butter sponge
Ingredients
500g home grown raspberries (these were the Glen Magna variety, picked last minute and un-refrigerated)
500ml almond milk
Yogurt bacteria culture – follow instructions for amounts on each specific yoghurt culture
A few sprigs of lemon balm
A few drops of homemade raspberry vinegar
50g of British sugar
A handful of new season almonds, removed from shell
For the sponge:
360g whites
120g British caster sugar
320g British icing sugar
300g ground almonds
100g white spelt flour
50g caster sugar for glazing
Make the yoghurt the day before it is needed so it has time to inoculate and then cool in the fridge. This can be done in either the Steam Oven or Warming Drawer.
Make the sponge by whisking the egg whites to a stiff meringue and then whisk in the caster sugar. Mix the dry ingredients together and then beat in the meringue until it is a smooth mixture.
Spread this sponge 2cm thick onto a greased, lined tray and steam at 100°c for 15 minutes.
Once this is cooked, remove from the oven and allow to cool. Cut out a disk and then glaze this with a blowtorch and the extra caster sugar, just like a crème brûlée.
Slice the raspberries and season with drops of the raspberry vinegar, check for sweetness, if a little tart, add a sprinkle of sugar to the top.
Garnish the plate with the yoghurt, the fresh raspberries, some young almonds, lemon balm and a few drops of the raspberry vinegar.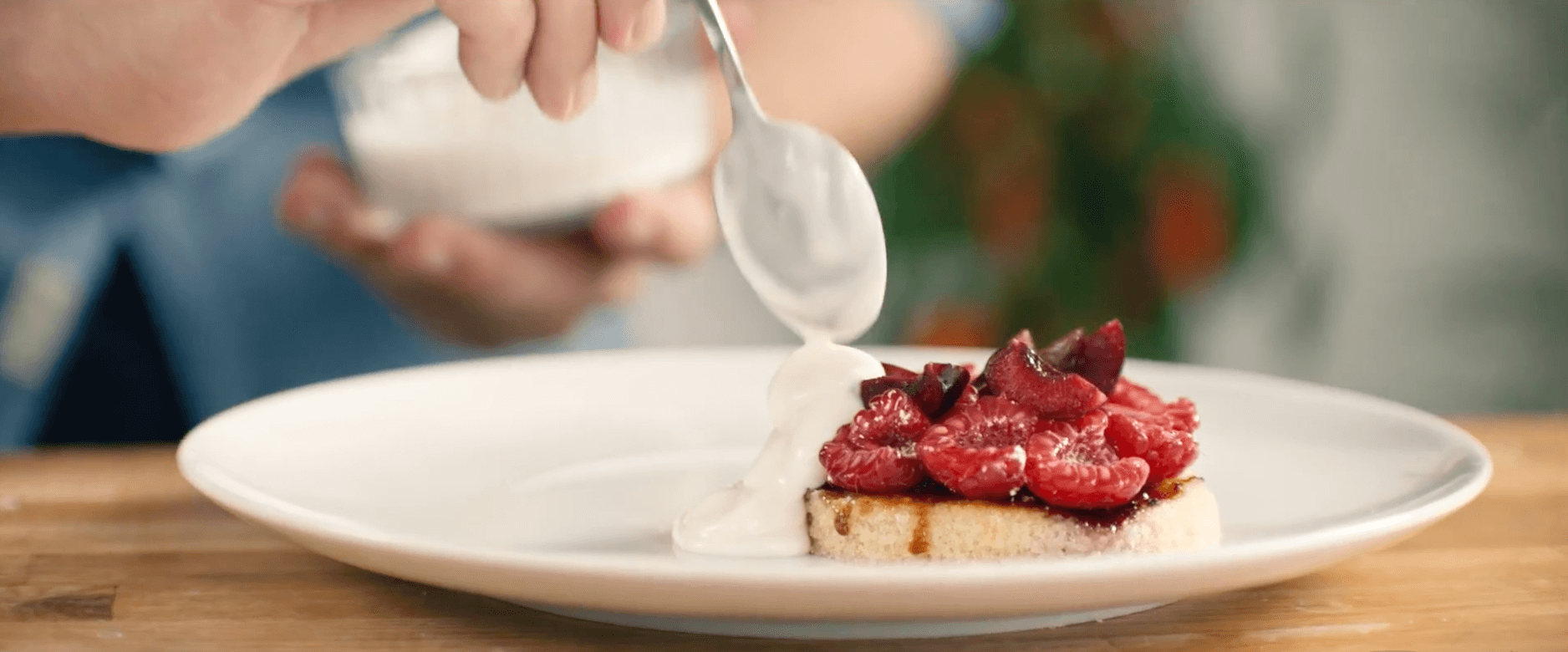 We'd like to thank Sven, Miele and our Bristol showroom for such a fantastic event. To discover more information on Miele appliances, the Perfection Series or Miele's Executive Chef and MasterChef Professionals Finalist, Sven-Hanson Britt visit the links below
To find out more about the Miele Perfection Series visit Der Kern