Taking on a renovation project is hardly one for the faint-hearted. However, with a keen eye for design, a little patience, and a lot of hard work, Robert and Laura turned their property into a forever family home with a classic country-style kitchen at its heart.
The Property
As part of a complete home renovation, the couple decided to reconfigure their existing kitchen and living areas to better suit their lifestyle. A wall between the family/ day room and the old kitchen had to come down, maximising the property's full potential. Two additional doors were then blocked off – one between the family area and the front sitting room, the other from the hallway. Starting afresh with a larger open plan footprint allowed them to design something amazing from scratch.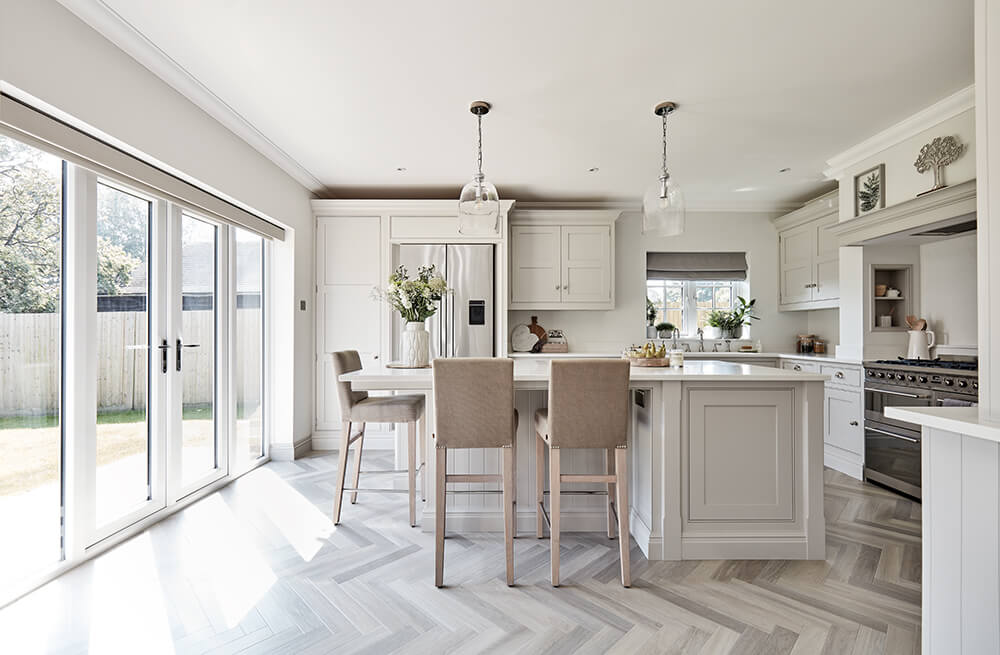 The Brief
Tom Howley Designer, Cris Sega worked closely with the couple, who from the very beginning had a clear idea of what they wanted their dream kitchen to be like. 'I always ask my clients about their likes and dislikes. I love working with clients like this – not because they are making my job easy, but because they understand the true value of a new Tom Howley kitchen and its impact on their lives. As the home's main hub, the couple didn't want to compromise on any design details. On their wishlist (in no particular order) was; a central island, symmetry within the design, a shallow shelf behind the cooker, bespoke breakfast cupboard, instant hot water tap and deep drawers to the left and right of the range cooker.'
Classic Country-Style Kitchen
The couple's style can be described as simple, elegant and unpretentious, making our classic Hartford furniture a firm favourite. Hartford is a signature style from our collection with balanced proportions and classic shaker style detailing. Simple flat-fronted drawers within beaded frames, cornices, skirting boards, understated pillars and beautifully crafted canopies are all elements within the design, creating a stylish yet serene backdrop fit for busy family life.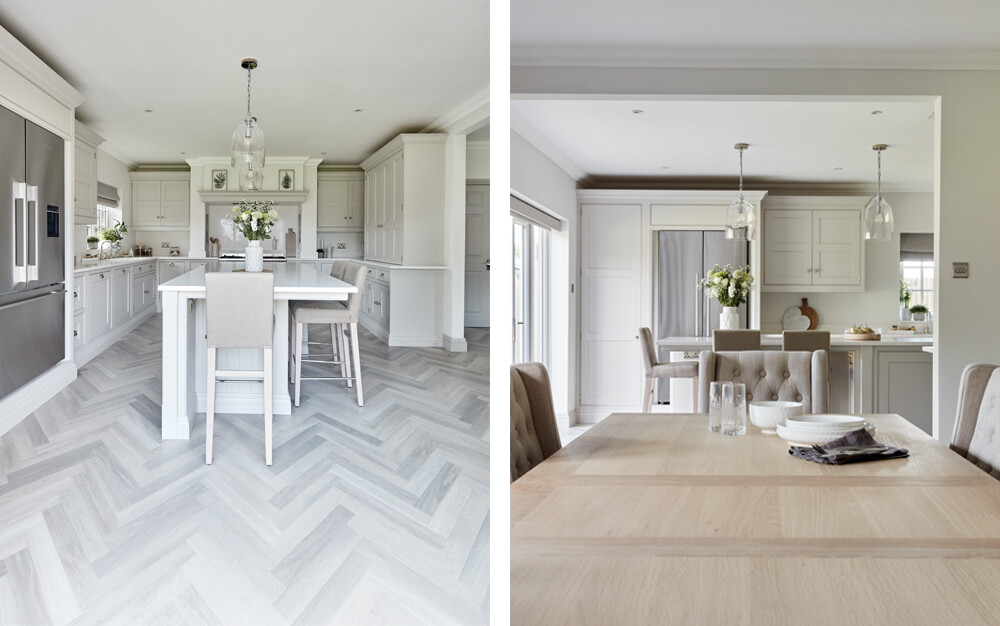 Kitchen Layout
'Every kitchen we create is unique and tailored to each client's individual needs,' says Cris. 'Here, real emphasis was put not only on the practicality of the kitchen layout but the symmetry, clean lines and flow of the design creating a space that's simply a joy to be in.'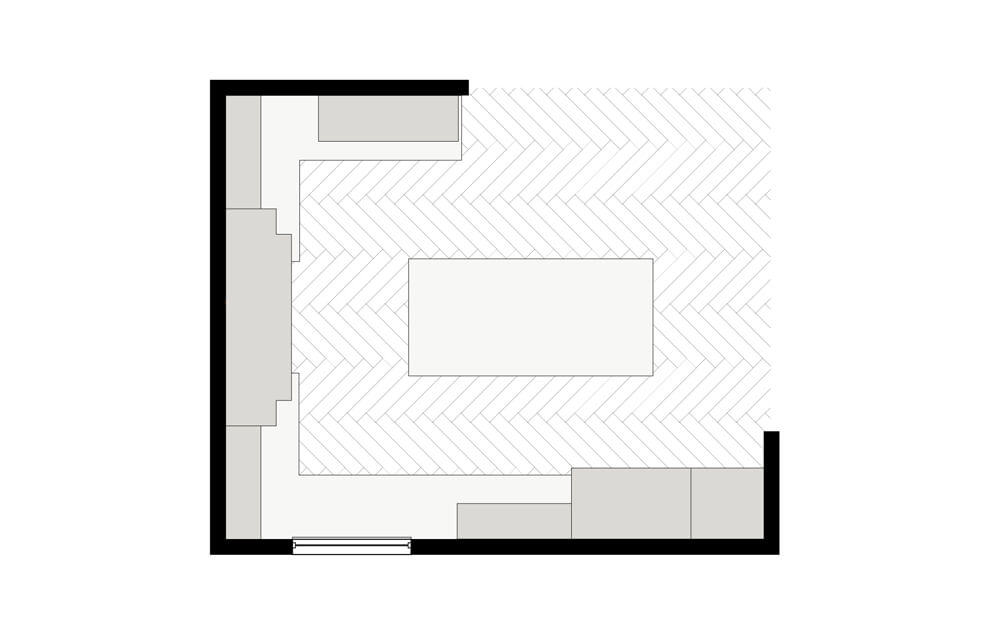 A glazed wall with double doors helps connect the interior to the outdoors, creating an environment that's calm and full of natural light. Considering how the family used their previous kitchen, cabinetry was intelligently designed so that primary tasks could be carried out efficiently between the sink area, oven and refrigerator. While the working triangle concept isn't necessarily needed in modern-day kitchens, adopting working zones can help the space flow and function naturally, enabling the family to perform daily tasks with ease.
Island Life
The carefully proportioned island acts as the central social hub in the space, looking out to beautiful garden views. Its rectangular shape was designed to best complement the kitchen layout – every inch utilised with deep drawers, bespoke cutlery inlays and spacious cupboards. Stool seating was a detail that the family were particularly keen to incorporate. Configured to wrap around the end of the island, it not only softened the space but was a convenient way to increase the amount of seating, creating a truly social cooking environment.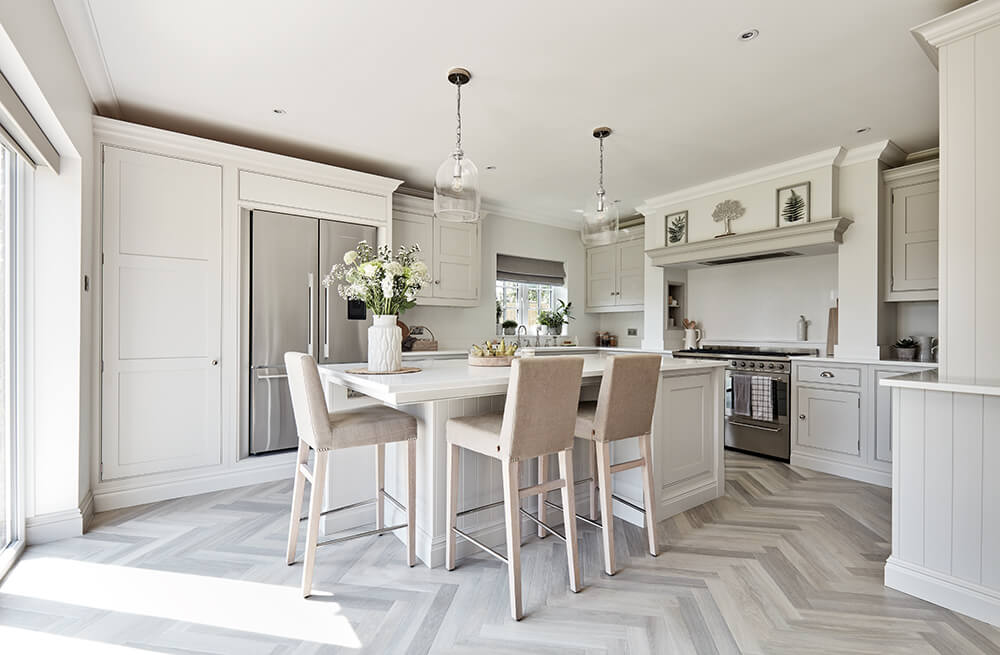 Considered Storage
Storage is key to the success of a family kitchen. One of the stand out features in this space is the breakfast pantry. An essential part of a traditional shaker kitchen, it's the ideal place to keep the items you need close to hand and your work surfaces and tabletops free from clutter. Beautifully crafted bi-fold doors reveal a warm, oak finished interior with various storage options. The clients wanted their breakfast pantry to include all of the family breakfast staples, an integrated microwave, small appliances such as their toaster, blender, coffee machine and work surface space for prepping the most important meal of the day.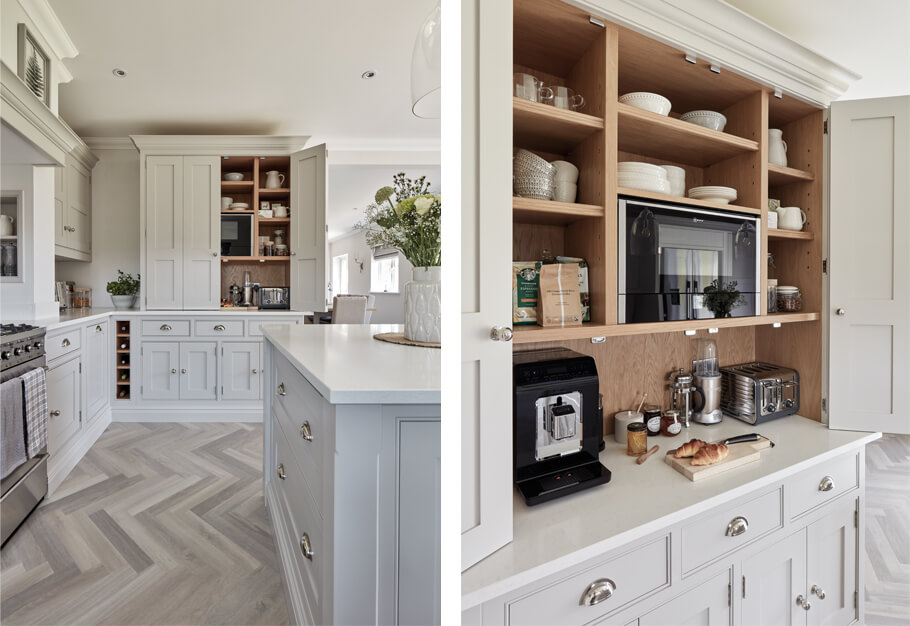 Tall classic shaker cabinets house a range of intelligent storage solutions. A slim pantry sits next to a double Fisher & Paykel fridge/ freezer, providing space for essential ingredients. Deep drawers flank the Smeg range cooker, ideal for storing larger items such as saucepans. Striking in its style and symmetry, the chimney breast and mantel shelf beautifully frame the place where the culinary action happens. You'll also find open niches with shallow bespoke shelves, which allow the couple to add their personality and character to the space.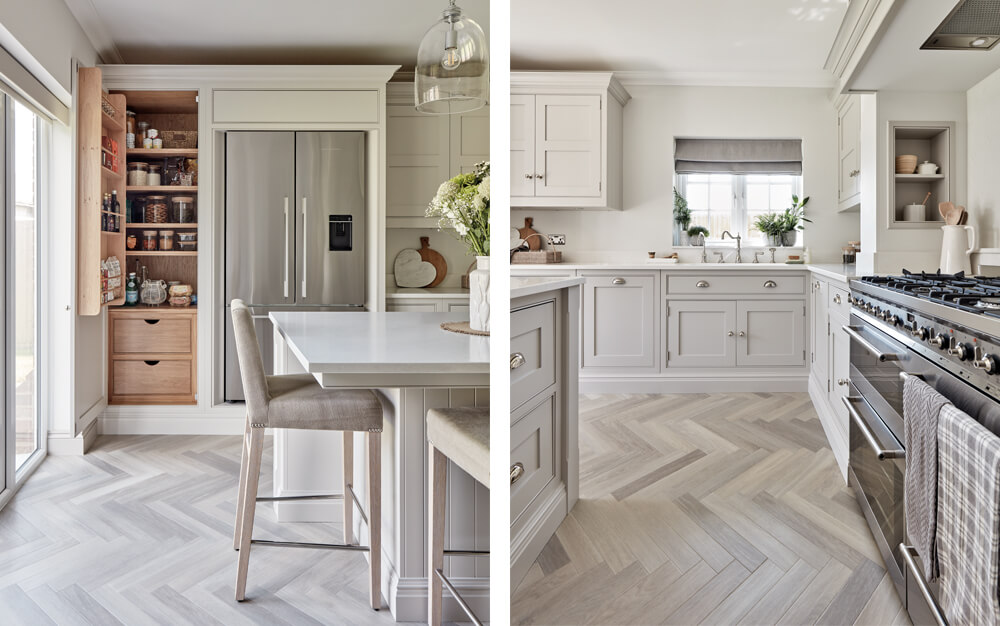 Bespoke Bar and Media Unit
Tucked around the corner from the classic country-style kitchen sits a bespoke bar and media unit. The design seamlessly links the two zones together as well as providing additional storage.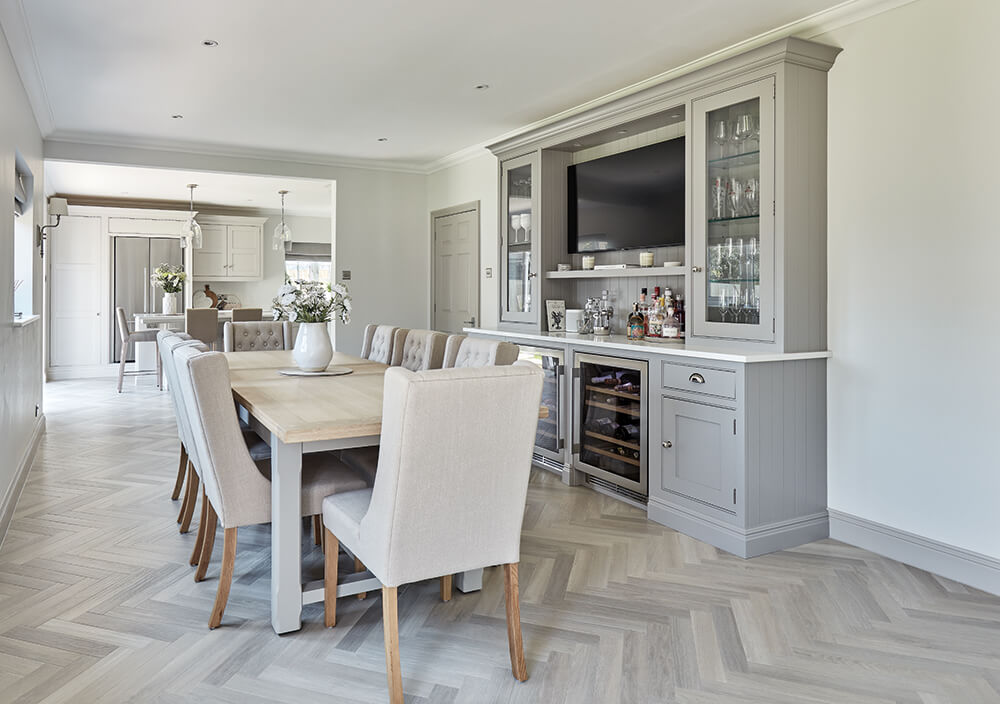 Finished in the same cabinetry style and in keeping with the proportion of the kitchen, it features an integrated TV, closed storage for dinnerware, wine storage and a sleek quartz surface for preparing drinks after dark. Glass doors were added on either side of the unit breaking up the monotony of repetitive, solid fronts. With integrated lighting, the glazed cabinets also offer a fantastic opportunity for the couple to style up their favourite barware.
It's All in the Detail
Classic country-style kitchens have a universal appeal with beautifully balanced proportions that focus on scale, symmetry and simplicity. Achieving a balance between traditional and new the couple opted for Tansy, one of our beautiful neutral paint colours. This stunning Tom Howley colour is undoubtedly one of our most popular shades with its heritage look and calming nature. Crisp Organic White Caesarstone work surfaces finish the look, further reflecting natural light around the room.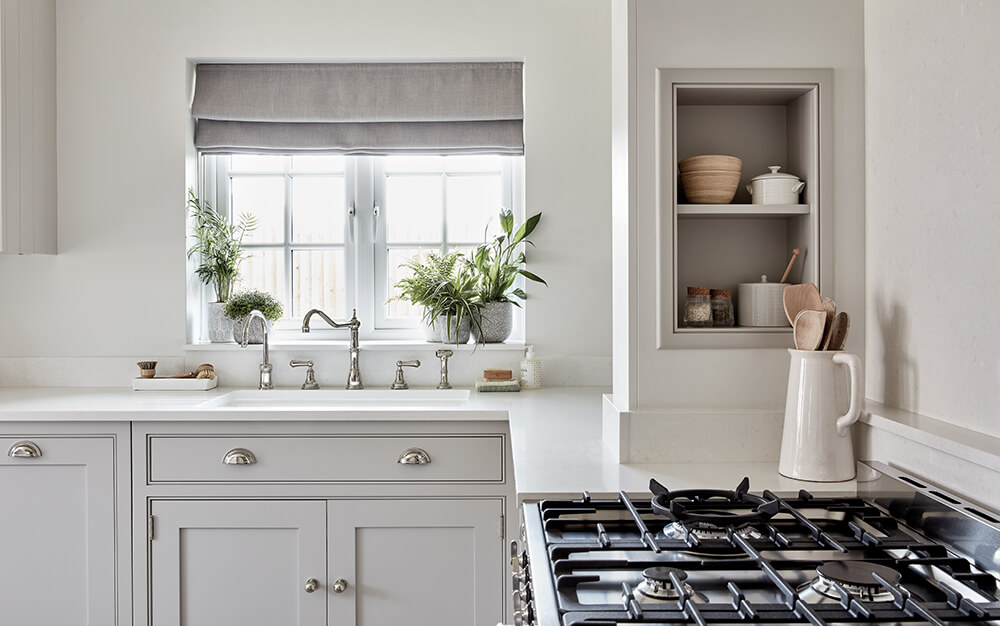 Although the kitchen is designed for modern living, it has a wonderful sense of homeliness and warmth with the inclusion of traditional Perrin and Rowe taps, a sleek undermount sink, natural oak internals and beautiful Karndean oak herringbone flooring. What a wonderful space for the family to grow and spend time together.
Whether you prefer the classic country-style kitchen or desire something a little more contemporary, Tom Howley designers will work with you to ensure that no detail is overlooked and that your finished kitchen is everything you dreamed of and more.
Visit one of our showrooms to explore our exquisite collections or request a free brochure today.