When you're a keen cook, and in the midst of renovating a dilapidated stone farmhouse in one of England's most strikingly beautiful locations, the kitchen is bound to be at the center of the project. Our clients Mr and Mrs Nicol had the opportunity to design something amazing from scratch – after all this was a renovation from the ground up. With a shared passion for entertaining, creating a spacious, open plan contemporary kitchen was essential.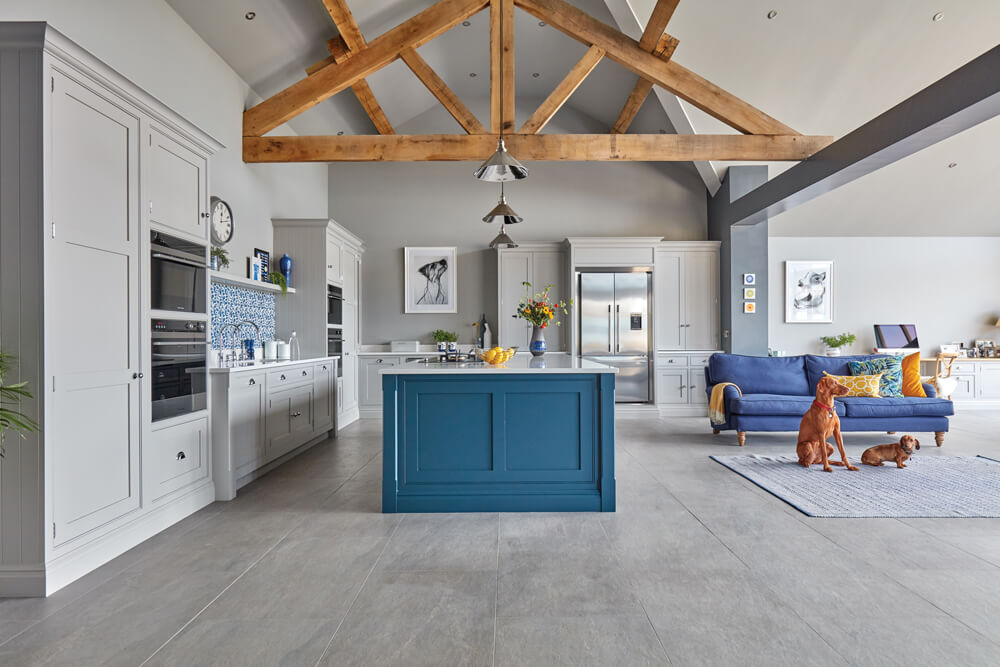 Blue Fittted Contemporary Kitchen
After approaching independent local joiners who couldn't give the couple the inspiration they wanted, they came across our Bristol showroom where they spoke to Rowena, one of our expert kitchen designers.
"Rowena started answering questions we didn't even know we had, and when we sat down to view the final presentation of the proposed design we knew she'd nailed it."
Mr Nicol
Rowena quickly translated their ideas, taking into consideration the new layout and personal specifications. Our Hartford kitchen design was selected by the couple with made-to-measure cabinetry on the walls making full use of the room's ceiling height. Light materials such as Silestone Snowy Ibiza countertops open up the space and encourage a good flow of light. Our Designer made sure all of the elements, from appliances to décor, blended harmoniously, with no one material or texture standing out and feeling disconnected. The overall effect is that of a contemporary kitchen with a stylishly cosy feel.
Island Centrepiece
A large contemporary kitchen like this one can make the most of its footprint by incorporating a beautiful, oversized island. The position of the island takes advantage of beautiful views framed by huge bi-fold doors, allowing the couple to gaze out over surrounding farmland while they prep food or chat with guests. Islands with generous proportions can be designed with additional storage underneath the bar area, which is great for tucking away cooking and kitchen essentials. This island also features bespoke seating which emphasises the social vibe our clients wanted to create in the heart of the home.
"When friends come around, I'm part of the conversation now, but the island keeps everyone out of the way when I'm in full flow. It's also brought us together more as a family, literally – we all naturally congregate in this one room."
Mr Nicol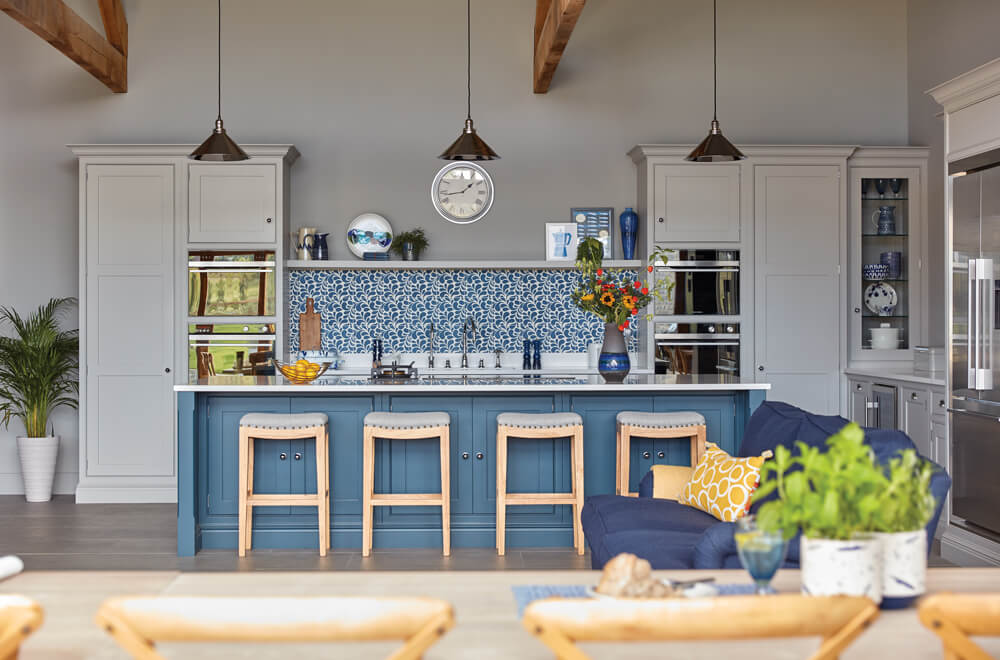 Blue Fitted Contemporary Kitchen
Open Plan Layout
Many contemporary kitchens, whether they're in a newly built or renovated property, are multifunctional spaces for family living and entertaining. Rowena designed an L-shape layout that the whole family could enjoy, with an island at the heart. As the kitchen looks out over the beautiful countryside, she made sure the furniture layout made the best of this by facing prep areas or seating towards the view. Creating an indoor/outdoor living space means that dinner parties can extend outside into the garden, and all of your entertaining essentials are still close to hand.
As well as designing aspects of the space for entertaining, the couple also wanted a place to work which didn't look too disjointed. Structural support beams painted in Farrow & Ball's Dewberry provided a little separation from the kitchen, and office furniture in the same cabinet style and colour ensured the whole space still flowed. When designing the layout of the space, a living area with two plush sofas and a grand dining table with ample seating were added, creating the ultimate family hub.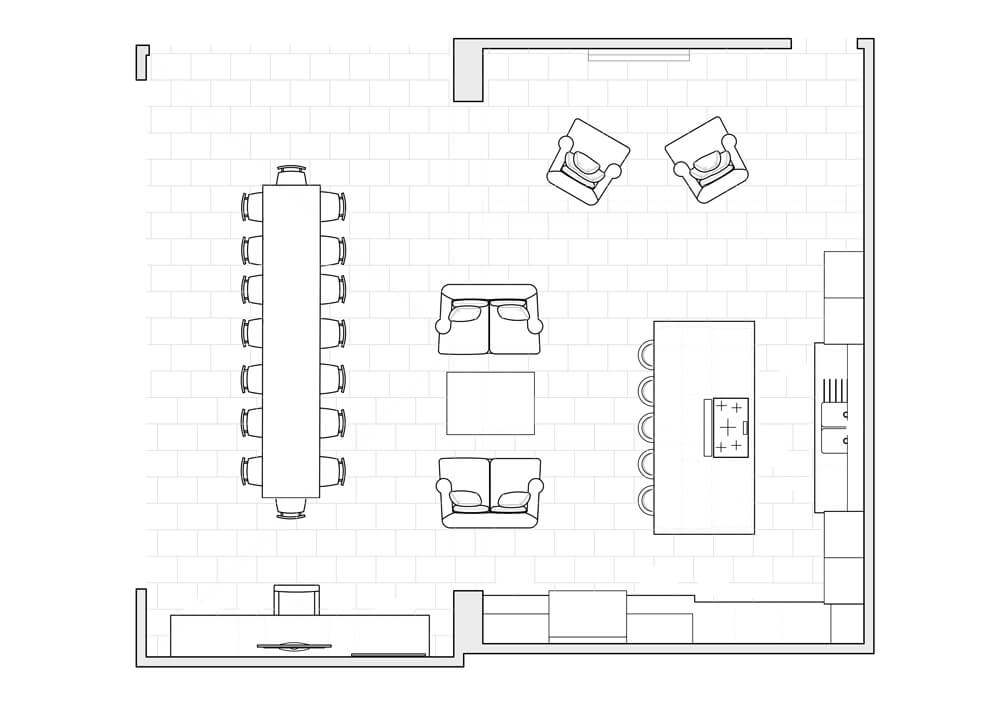 Open Shelving
The Hartford design makes great use of open shelving and glazed cabinets to add personality and colour to the space. Open shelves are a fantastic way to store and stack stylish tableware, pots and pans. The couples traditional pieces blend wonderfully with the contemporary kitchen layout and the classically inspired shaker style cabinets.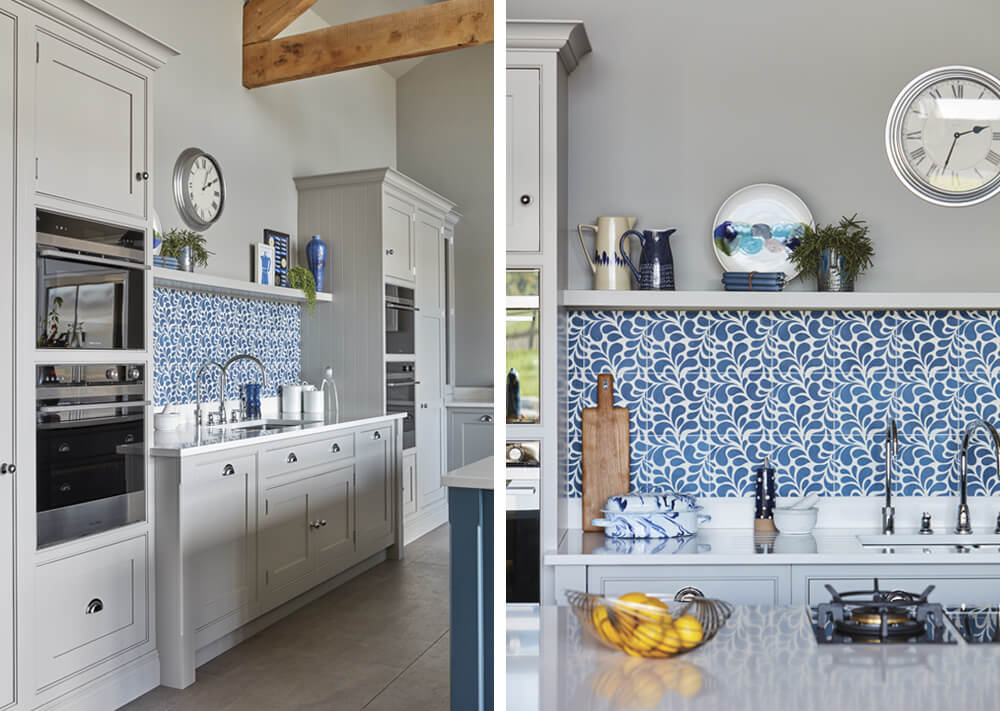 Blue Fitted Contemporary Kitchen
Colour and Details
Painted in Lithadora and Thistle, from our exclusive paint range, these gentle shades work beautifully with the key accent colour, blue. Pale grey cabinets blend seamlessly with the walls allowing the impressive island to become a statement feature. Our client selected a Ca'Pietra Cement Encaustic Splash Pattern Tile in French Blue https://capietra.com/shop/statement-encaustic-terrazzo/splash-french-blue-encaustic/ to add visual interest to the space, while raw beams add warmth and cosy comfort to an open plan layout. Colour combinations can really help to create moods and this kitchen has a sense of calm and tranquillity. When thinking of your kitchen décor, it's good to remember that paler shades will light up darker corners and make the room feel bigger and brighter.

Statement Appliances in All the Right Places
Our client's selected appliances by Fisher & Paykel https://www.fisherpaykel.com/uk/kitchen.html. A professional hob was included on the island so that they could cook and socialise with guests at the same time. In all of our kitchens, appliances are placed in a perfect working triangle which is a concept used to determine the best layout for your kitchen, making it both aesthetically pleasing and functional. The logic of this kitchen layout is that when the oven, the sink and the refrigerator are in a comfortable position of each other, the space will function efficiently.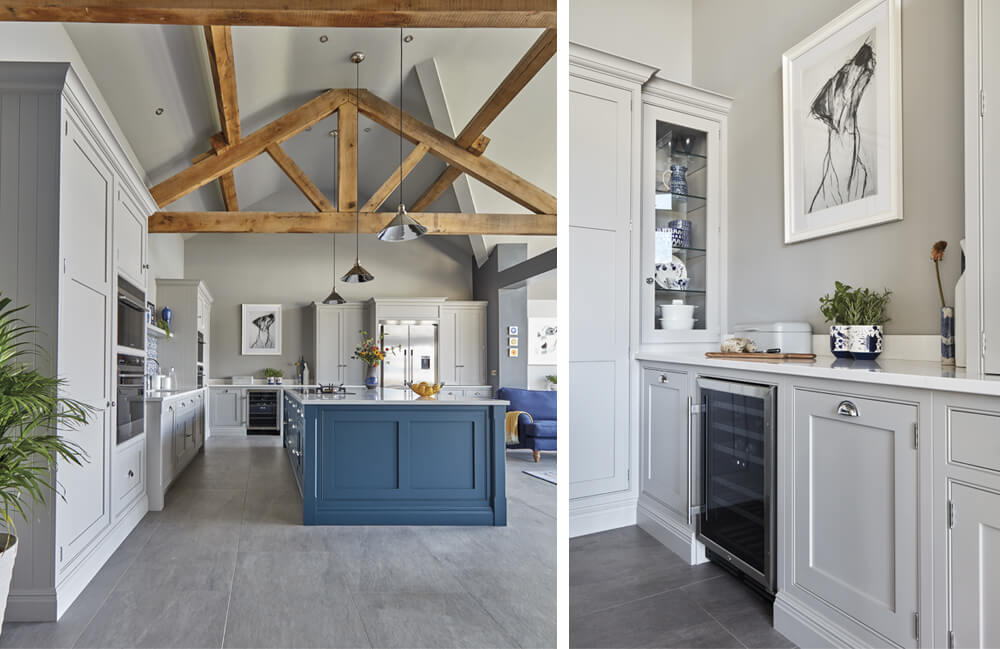 Blue Fitted Contemporary Kitchen
If you want to start your journey to owning a Tom Howley kitchen, why not book your free design visit today or visit one of our sixteen showrooms to explore our exquisite collections.