If you're considering a new kitchen, it's always worth taking inspiration from the experts. When it comes to starting your design journey our experienced team consider everything; from your kitchen layout to how you use it. As well as planning a kitchen around you and your lifestyle you should consider balance, symmetry, scale and proportion. It's the combination of these elements that will give your kitchen a sense of timelessness and calm. Here are our top tips on achieving your dream kitchen: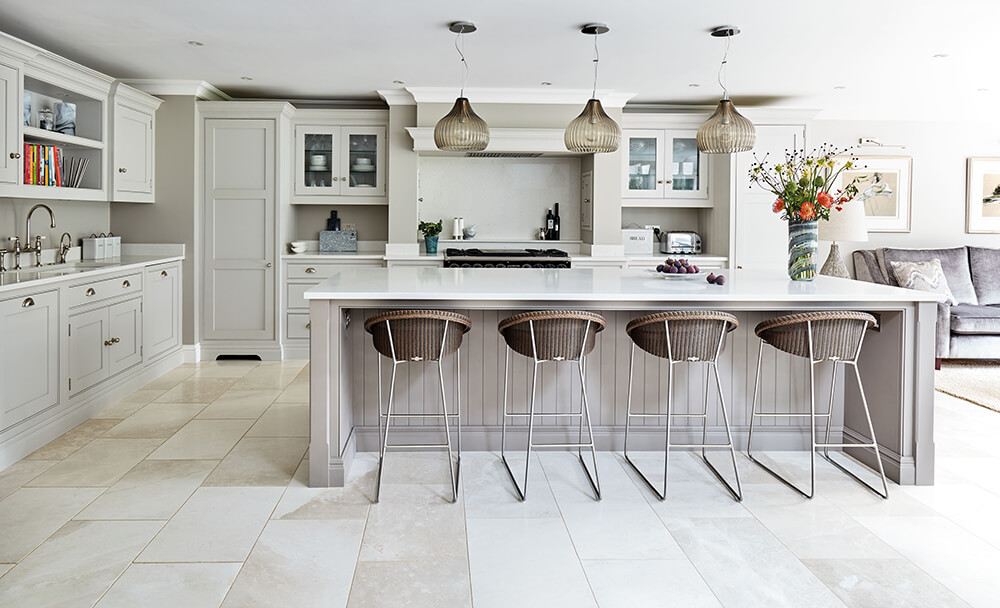 1. Visual Balance and Symmetry
More than any other room in the house, the kitchen has to be designed to accommodate multiple functions. We ensure that no detail is overlooked and that your finished kitchen is everything you dream of and more.
A well-balanced room communicates a sense of calm. This can be enhanced with colour. For example, paler shades will light up darker corners and make the room feel bigger and brighter. Colours such as Willow and Tansy are soothing, while our new dark green 'Avocado' gives a feeling of warmth and security. Light materials such as our Silestone Snowy Ibiza countertops open up your space and create balance. All the elements in our kitchens blend harmoniously with no one material or texture standing out and feeling disconnected.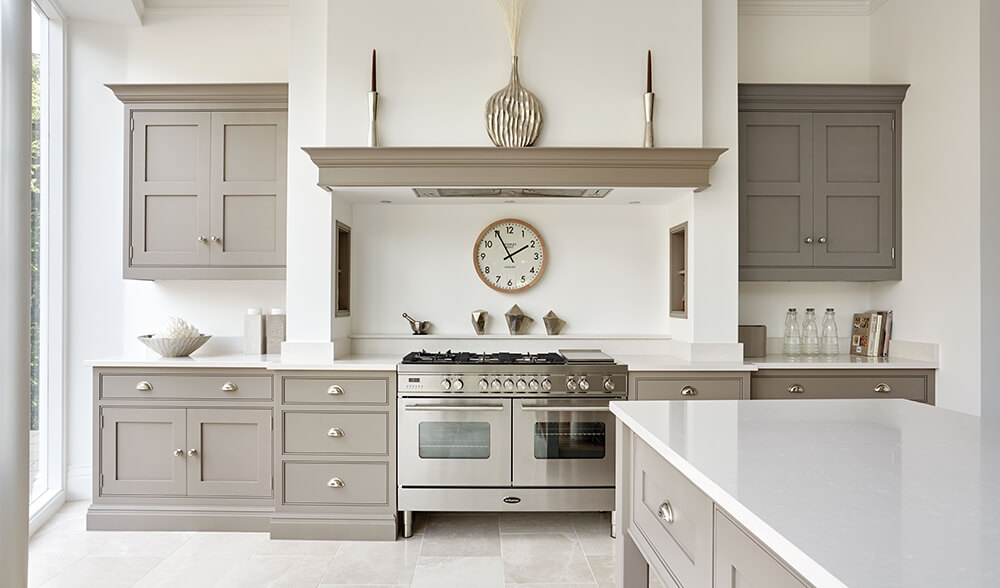 Grey and White Hartford Kitchen
Our kitchen cabinetry is designed with symmetry in mind to create a tranquil, considered space that's easy on the eye as well as functional. Think about the sets of drawers or wall cabinets on either side of the cooker or the floor space surrounding your kitchen island. If they are uniform in size or spaced equally, your kitchen will have a greater sense of balance and flow. Designing from the centre point of a room makes it easier to visualise what will stand out in your line of view.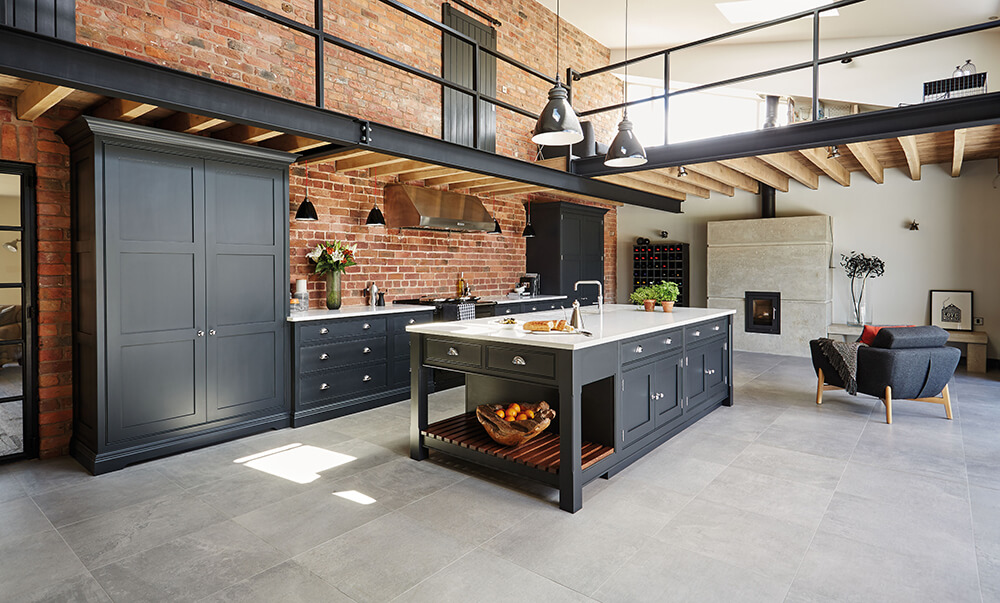 Industrial Style Shaker Kitchen
2. Scale and proportion
Cabinetry and appliances need to be in proportion to the rest of the space. Why have a large island when there's no space to walk around it? Small, neat islands with built-in cabinets can be specially made to enhance tighter dimensions. Longer, narrow kitchens can have breakfast bars with room for stool seating, while large islands can accommodate sinks and appliances in kitchens where wall space is at a premium.
If your kitchen has high ceilings, unusual slopes or if your walls have quirky alcoves, cabinetry will be designed to work with the proportions and size of the room to maximise its potential.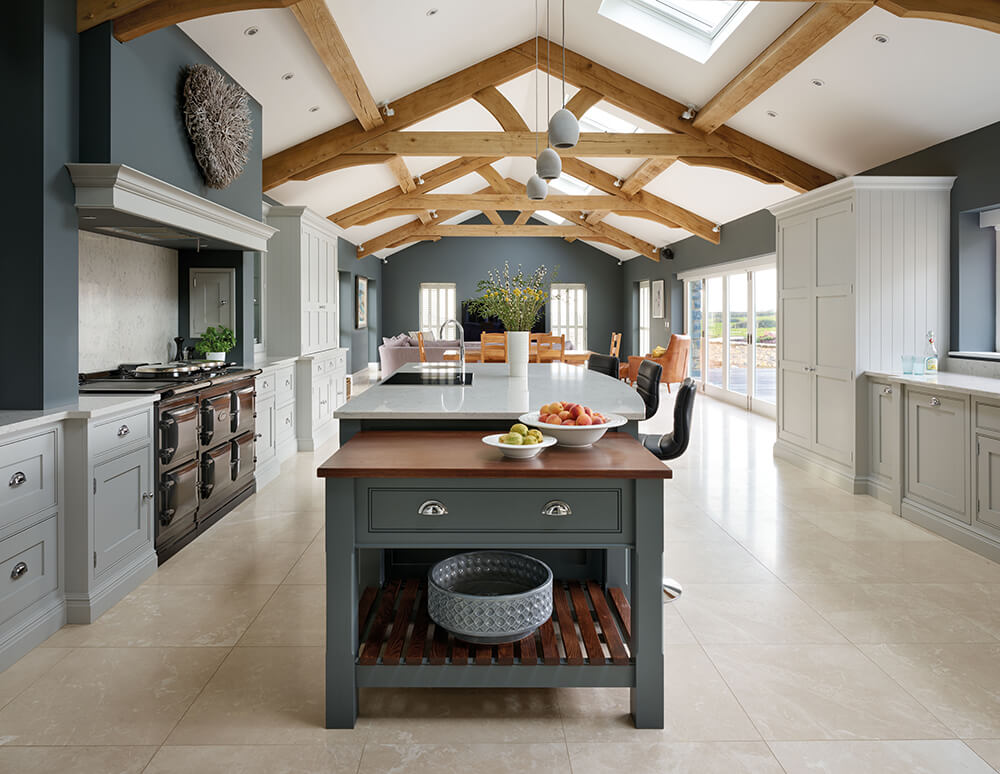 How do you use your kitchen. Are you a keen cook? Do you use it as a space for entertaining? Consider multiple seating areas with stools around the island and chairs around the dining table; there may even be room for armchairs or a sofa. Creating different zones will make the space more flexible and comfortable, encouraging you to spend time in it. It's about getting a beautifully simple, functional and cohesive design that works for you and the space.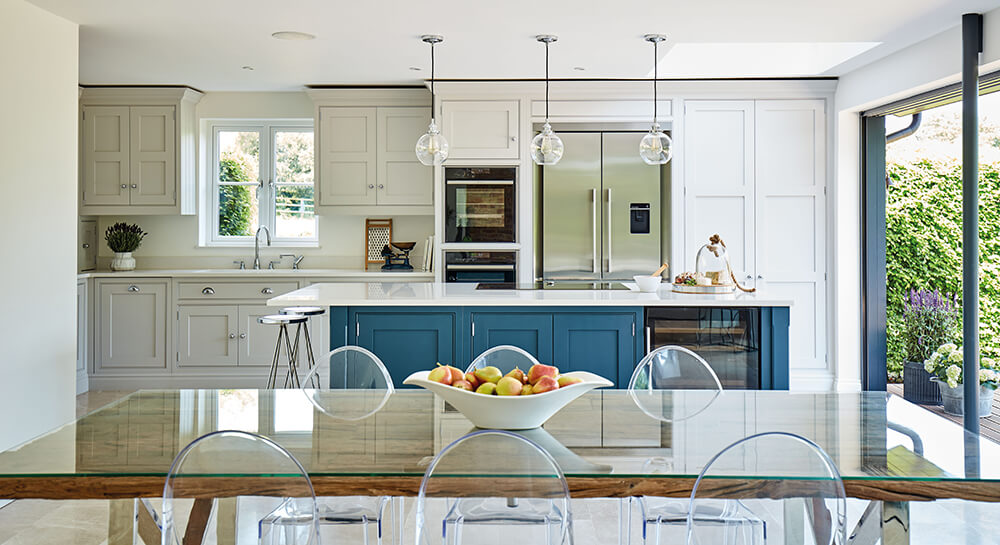 3. Find the focal point
Whether it's an island's impressive scale, bold colour choice or statement lighting it's great to enhance a standout feature. If your kitchen overlooks your garden, arrange your furniture to face it or give your dining area the best view. Creating an indoor-outdoor living space will mean that dinner parties can extend outside into the garden, with all the essentials to hand in the kitchen.
The working triangle concept is used to determine an efficient kitchen layout that is both aesthetically pleasing and functional. The primary tasks are carried out between the oven, the sink and the refrigerator. The logic of this kitchen layout is that when these three elements are in a comfortable position of each other, the space will function efficiently.
Start your journey
Coming up with initial ideas and starting a renovation can be daunting, that's why our showrooms and designers are on hand to make every step easy. Find your closest showroom here or request our free 2019 brochure today.