They say 'if you've got it, flaunt it' so why not get into the open kitchen shelving trend and turn your kitchen into a showcase of culinary style with our top tips.
The trend for open kitchen shelving is here, and it's a great opportunity to show off your impeccable good taste in the kitchen.
Having items on display can breathe life and personality into any kitchen. Whether you are displaying your best glasses, earthenware, pots and pans or plants on open kitchen shelving, there are ways to get the look just right.
Many people may shy away from open shelving as a storage option fearing that it may leave the kitchen looking cluttered or untidy but, done well, it actually helps to open up the kitchen and create a sense of space. Our Edinburgh Kavanagh kitchen and Islington modern grey Butler design are great examples of how open shelving can be used to make a real style statement.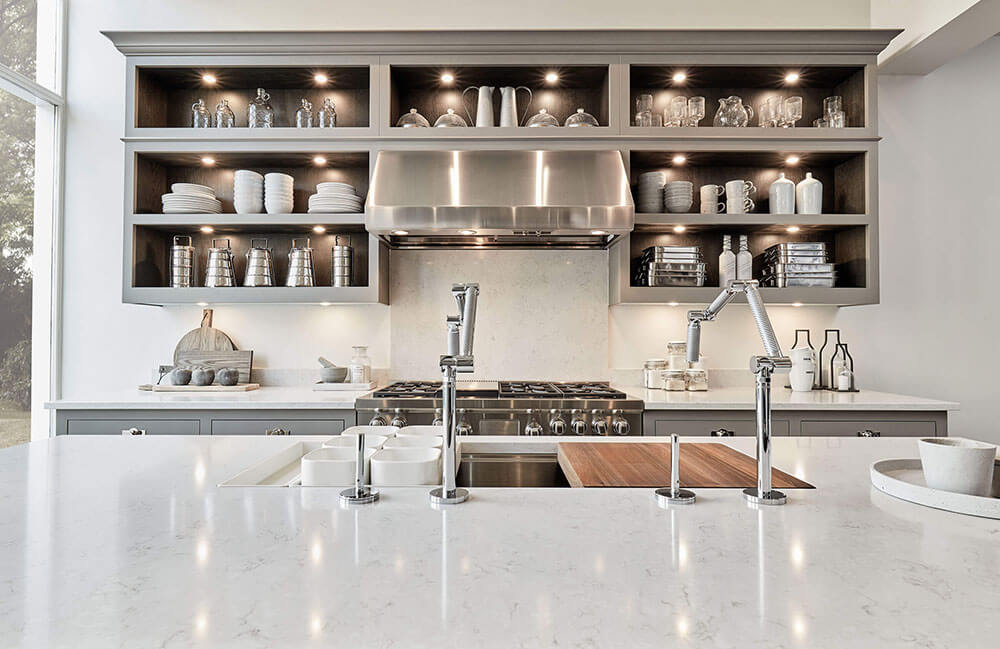 The stunning Butler design demonstrates how classic style blends with industrial features; square cut frames with oak veneer inlays are great backdrops for crockery or copperware that is too good-looking to stay hidden behind a closed door. Angular shelves are great foils for curves so place bowls, pans and pots on shelves with sharp lines. If you have curved shelves, follow the flow with modern art or go against the grain with straight objects, carefully-selected books or tall vases.
A key point to note is not to jumble too many pieces together. A single, statement piece can add impact so pick your favourite item and display it alone. If you are stacking items make sure that they are of the same or similar design, colour or tone. A simple trick is to find a 'skeleton' piece and then place objects of a similar style or colour around it. For example, an elegant tea set with a teapot as the centrepiece; remember to stand back and judge the balance and symmetry of the display and bear in mind that unfilled spaces are as important as filled spaces in your composition.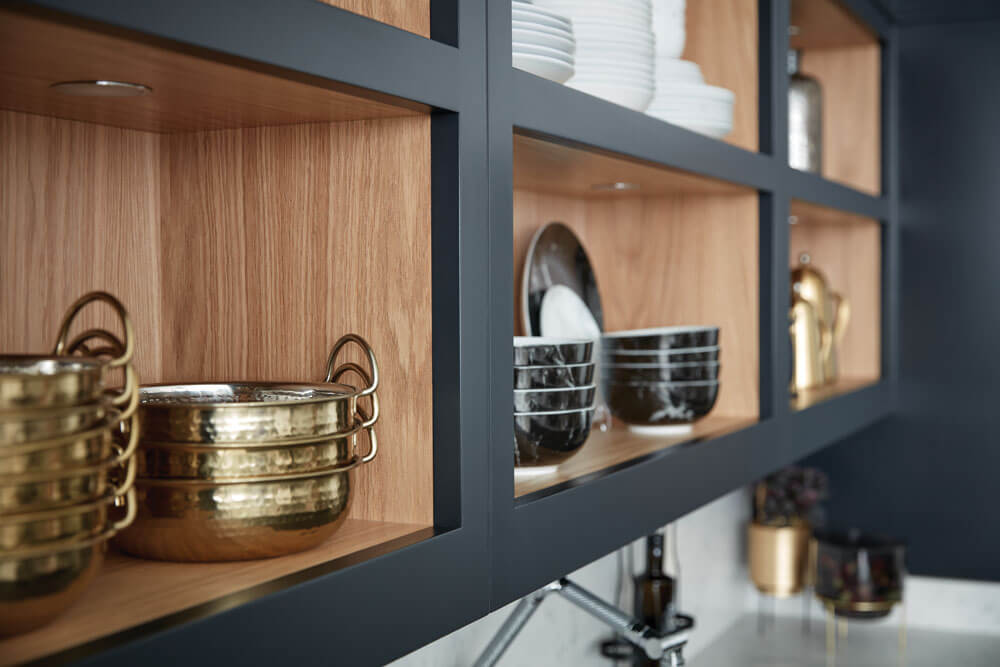 Always consider the look of your kitchen and maintain a visual flow. A sleek, industrial style kitchen with lots of angles and high shine could be the perfect backdrop for concrete or stoneware pieces. Think textures, colours and finishes to create the harmonious 'whole'.
Having items that you use every day on display is a great time saver – you go straight to the things you need. Open kitchen shelving also deters the clutter that might build if you keep your items closed away behind cupboard doors – it's sometimes too easy to stack paperwork and manufacturer guarantees in the same space as your soup bowls. You won't do that if the world can see what you're up to so it does promote a level of organisation too.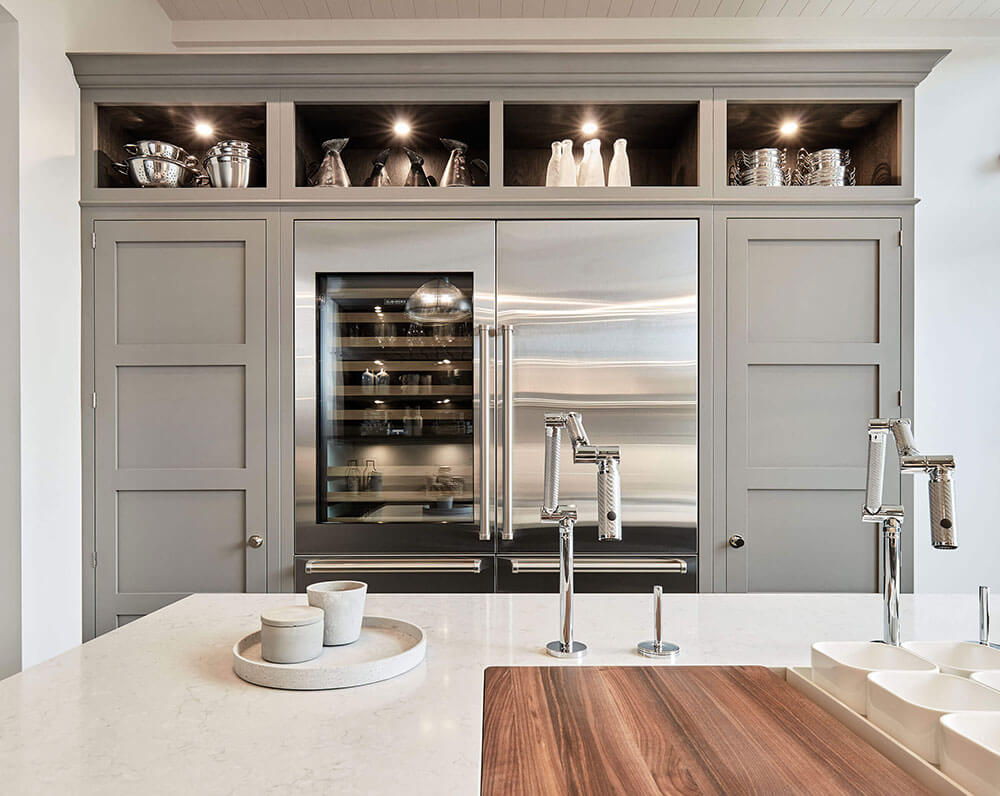 This grey kitchen is a perfect example of how a classic style can be used to create a modern industrial kitchen design. Updated with features such as square-cut frames and a smoked oak veneer, this kitchen features top-of-the-range appliances and strong, clean lines to create the industrial look. The classic touches are still subtly visible, such as the detailing in the cornice and skirting, helping to ensure that the style lasts the test of time.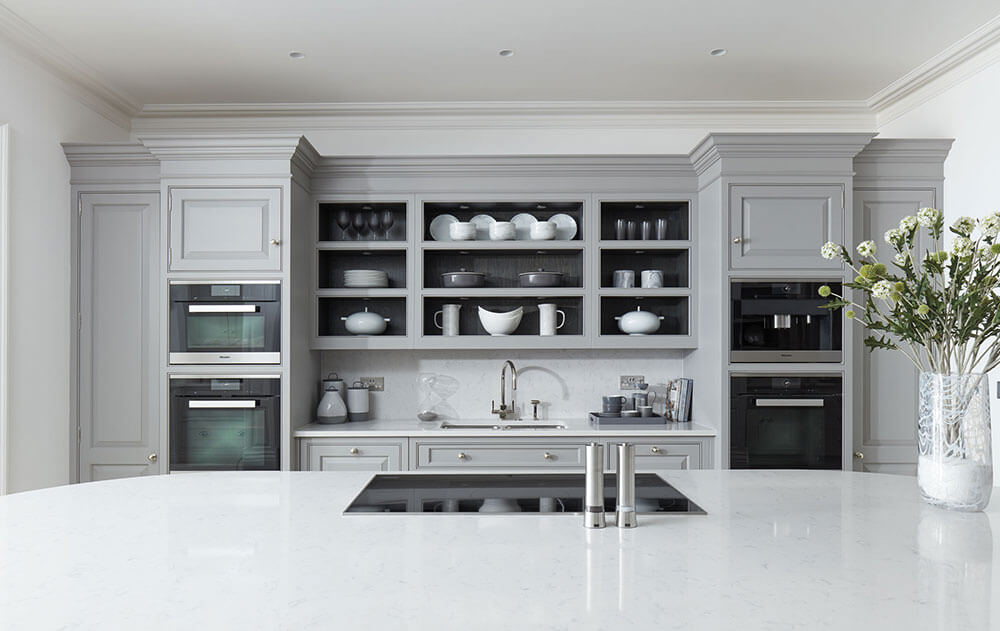 Curved Grey Kitchen

Our top three open shelving tips:
For the seriously keen chefs, we would suggest having open shelves near the cooker to make it easier when selecting utensils and kitchen cooking essentials.
As we are increasingly embracing open plan living, open shelving is ideal located close to seating or snug areas. Favourite cookbooks can be easily reached to read & other more personal, stylish & decorative items can be displayed creating interest & personality to the hub of the home.
Begin to style your shelves by creating a simple symmetrical framework with main key pieces at each end & the middle of each shelf to create a harmonious 'skeleton'. Then add the 'flesh' by introducing other objects between, always standing back to judge the balance of the display. Spaces left between are as important to the arrangement as the objects.