Food, glorious food! At this time of year, tasty treats and entertaining is on all of our minds, so if you're expecting plenty of visitors, now is the time to stock up. Having plenty of cupboard space in your kitchen is handy all year round, but whenever there's a celebration, that extra space is essential. A breakfast pantry is an intelligent and beautiful way to keep the items you need close to hand, and your work-surfaces and table tops free from clutter. Whether it's the place you keep your bread and cereal or a hideaway for small appliances, here are three reasons why a breakfast pantry is always a good idea.
Classic Shaker Kitchen – The Discreet Hideaway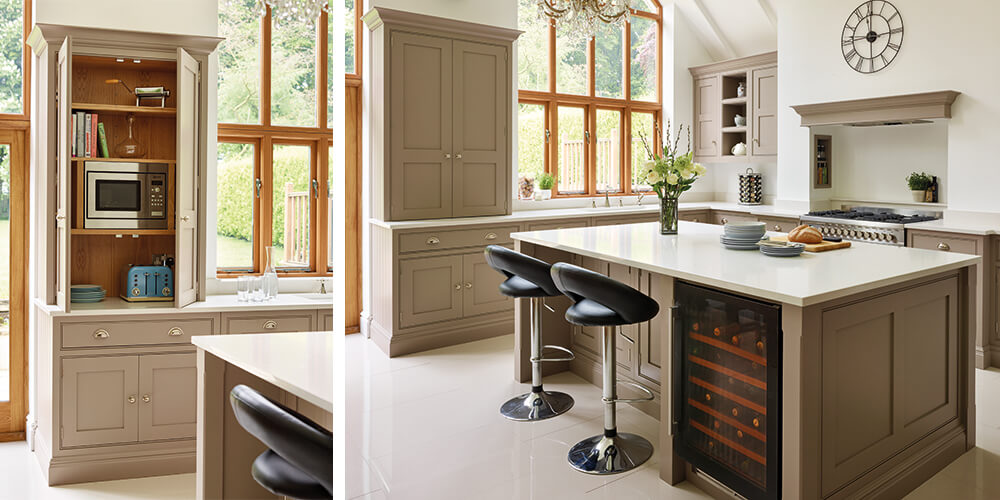 This slim design is the perfect space for a microwave, toaster, everyday crockery and cookery books. These are items that would normally stand exposed on a work surface but, when stored neatly behind beautifully crafted doors, your kitchen looks clutter-free. When it comes to rules around the shape, length or where your breakfast pantry should go, there aren't any. If you don't have space for a large cupboard, this slimmed-down design is perfect. Situated above drawers and cabinets that house cutlery and plates, everything you need is to hand.
The Coffee Lover's Pantry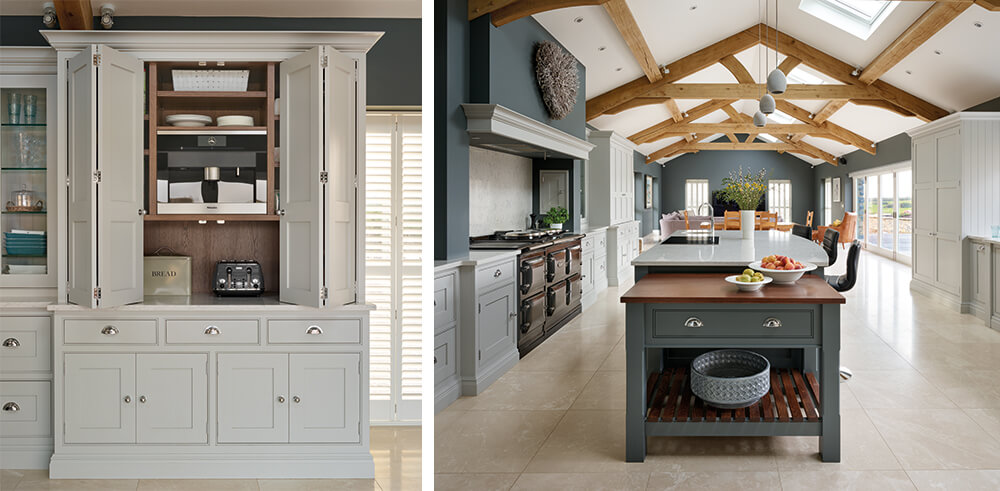 A double breakfast pantry can incorporate your entire morning – including a professional coffee machine. Impress your guests with barista-style coffee and then conceal everything within carefully considered cabinetry. As well as providing a streamlined look, you can see at a glance the high level of craftsmanship and functionality that has gone into creating these bi-folding pantry doors. This action gives neater, easier access to the contents of the cupboard, making better use of the kitchen space.
Modern Open Plan Kitchen – A Pantry That Does the Lot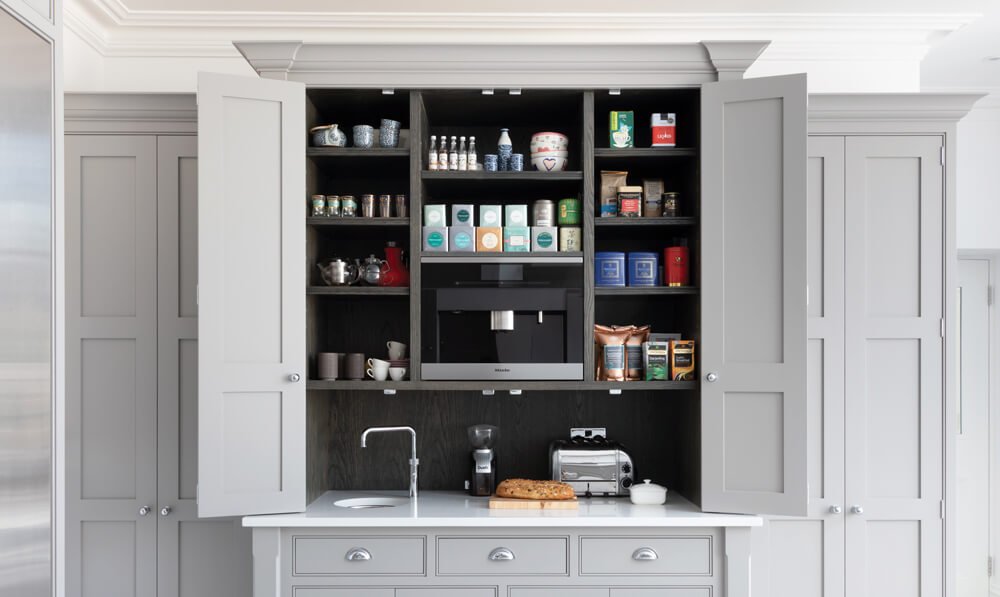 The breakfast pantry that does it all is one that contains all of your family staples; tinned delights, cereals, biscuits and mince pies! This design includes a special barista level for a Miele coffee machine, storage for your tea and coffee beans plus plenty of workspace for prep. It's flanked on both sides with storage for glassware and cups. It even includes a Quooker tap and sink for ease and efficiency meaning you only have to use this area if making hot drinks and snacks for your guests – leaving the rest of your kitchen free from clutter.
Storage Features Within a Breakfast Pantry
Of course, when you choose a Tom Howley breakfast pantry, it can do whatever you need it to. Each cupboard is individually designed for your space and to answer your needs so whether you require a hard work surface, integrated appliances, Quooker taps and prep sink, almost anything is possible. If you're looking for additional storage for your items in tins, jars and bottles, space can be created behind doors. Simply consider the weight and height of the items you want to store; for example, a spice rack design won't cut the mustard if you want a bespoke space for your pasta jars. Lighter racking or baskets are ideal for cereal and bread while sturdy oak shelving is a good option for holding the weight of jars and tins.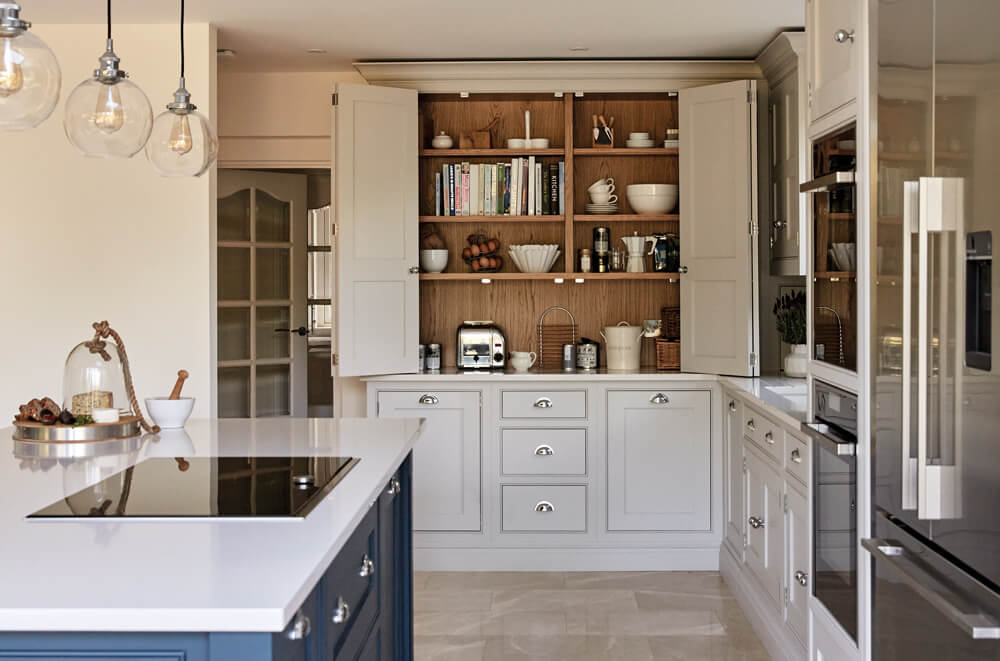 At Christmas, a breakfast pantry is a perfect place to store those tasty little extras. While it's easy to overstuff our cupboards at Christmas, remember to keep the things you'll use most often like your toaster or hot drinks close to the front of the cupboard. Also, anything with a short sell-by date should be at the front while anything that won't go off straight away can be packed at the back – keeping foodstuffs in this kind of order will ensure you don't over-buy and you can always stay on top of what you have.
Request a free design visit today or find your nearest showroom to begin designing your dream kitchen pantry.