There's something wonderfully calm and meditative about baking, whether that's taking a moment for yourself or spending time with the family in the kitchen. While the internet is full of banana bread and sourdough starters we thought we'd share something a little different you won't be able to resist.
Whether it's for an afternoon tea break, special occasion or doorstep delight for a family member, there's no better sweet treat than an indulgent slice of cake. This week we've asked Holly, talented cake maker, freelance food writer, recipe creator and owner of Holly Tree Kitchen to share one of her beautiful raw cake recipes. 
Not only do Holly's sweet treats taste as good as they look, they're also considered and crafted to be kind to your body and fuel your soul. Just one of the many naturally delicious cakes she has to offer, this creamy vanilla raw cake with ripples of beautiful blueberry compote is utterly divine. Why don't you try for yourself and follow the recipe below?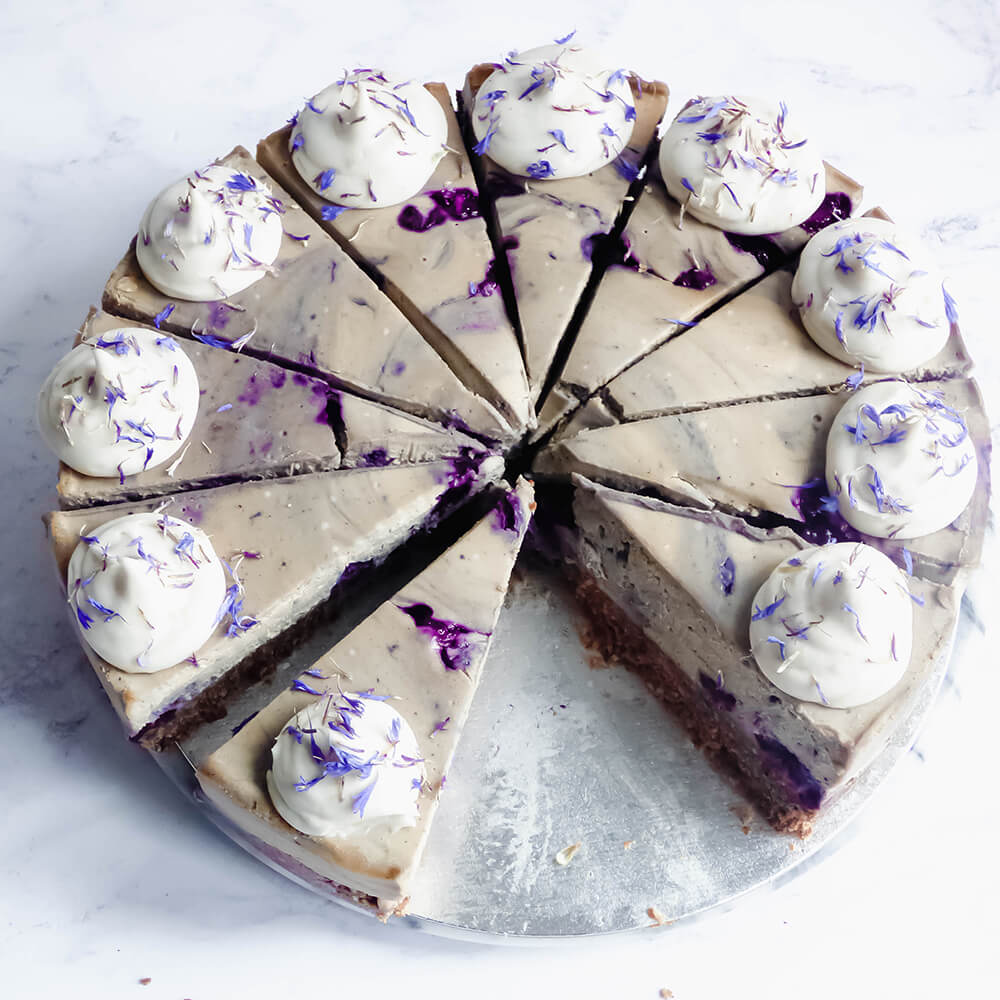 Blueberry Ripple Raw Cake (serves 12+)
Author: Holly Anderson Hollytreekitchen.com
Allergy information: Gluten free, refined sugar free, dairy free, suitable for vegans.
Raw cakes are a vegan equivalent to traditional cheesecakes. Packed full of cashew nuts and coconut, they are luxuriously creamy, subtly sweet and the perfect plant-based treat.
Ingredients
Base
180g chopped pitted dates
200g oats
100g unsweetened desiccated coconut
60g melted coconut oil
Zest of 1 unwaxed lemon
Pinch of salt
Cake
400g frozen blueberries + 1 tbsp coconut sugar
400g raw cashew nuts
250g full-fat canned coconut milk (you only want to use the thick, set coconut cream. Leave the cans of coconut milk in the fridge overnight. Drain off the coconut water and save to use in a smoothie)
80g coconut sugar
2 teaspoons of good quality vanilla extract
80g cacao butter
Equipment needed
9-inch spring form cake tin lined with greaseproof paper
Food processor
High-speed blender
Method
Put the cashew nuts in a large bowl, cover fully with water and leave overnight to soak and soften.
The following day, soak the dates in 200ml of boiling water and leave for 5 minutes.
Add the blueberries, 1 tablespoon of coconut sugar and a dash of water to a saucepan over a medium heat. Slowly bring to the boil then reduce to a low heat and let them bubble and simmer away, stirring frequently until almost all of the juice has reduced, and you're left with a very thick, jam-like compote.
Meanwhile, add the dates (along with the water you soaked them in) to your food processor and blitz into a paste. Add the remaining base ingredients and mix again. Stopping and scraping down the sides whenever necessary until everything is fully combined.
Spread this lovely oaty base mix to your prepared cake tin, pressing down until everything is evenly distributed and beautifully smooth. Then, pop the cake tin into the freezer.
Next, melt the cacao butter over a Bain Marie or in the microwave. Drain and rinse the cashew nuts, then add them along with the creamy set coconut milk, coconut sugar and vanilla to your high-speed blender.
I use a Vitamix, if you're using something less powerful you'll still be able to get the desired smooth consistency, just be patient with it.
Start on the lowest speed setting and gradually increase, stopping and scraping down the sides with a silicone spatula as you go. When the mixture has come together and is beautifully smooth, pour in the melted cacao butter and blend on the highest setting until everything is perfectly smooth, silky and creamy.
Pour approximately one-third of the mixture over the base and add teaspoonfuls of the blueberry jam in a random formation. Pour over another third of the cake mix and dollop over the remaining jam. Using a skewer or a knife, swirl the cake mix and jam together going up and down the cake tin in circular motions. Pour over the remaining mix and smooth out if needed. Give the cake tin a good wiggle and tap on the countertop a few times to get out any air pockets.
Pop into the fridge for 4-6 hours (ideally overnight) or until set to a cheesecake like consistency.
Run a knife around the edge of the cake tin, release the spring and carefully remove from the tin. Slice, add any toppings your heart desires and serve.
Any leftovers can be wrapped well with cling film or an eco-friendly alternative and will keep in the fridge for up to a week, or in the freezer for at least three months.
If you would like to find out more about Holly Tree Kitchen or would like to indulge in a slice or two yourself, then click here or follow @hollytreekitchen on Instagram.