As traditional style kitchens and home baking enjoy a revival, pantries are one of the most requested features in the kitchen. For centuries, homes have relied on a dedicated kitchen pantry to store dried goods, pots, pans and jars of produce. These days, pantries are not only practical storage solutions, but they also add plenty of style. From large walk-in pantries to slim pull-out larders with bespoke racking, there's a solution for every size of kitchen.
Dark Grey Kitchen with Double Pantry
Depending on the space you have available and the style of kitchen, our designers can help you to find the right pantry for your kitchen layout. They can be built into a large alcove or unused nook; you can opt for a breakfast pantry for your cereals, bread and jams or a double-doored full-size style that will keep all of your tinned, boxed and dried goods in one handy place. You can even organise your kitchen by having drawers carved with the names of their contents, so nothing ever gets lost again. We've helped coffee connoisseurs engrave drawers with their favourite blends and countless others to add personal touches to elegant designs.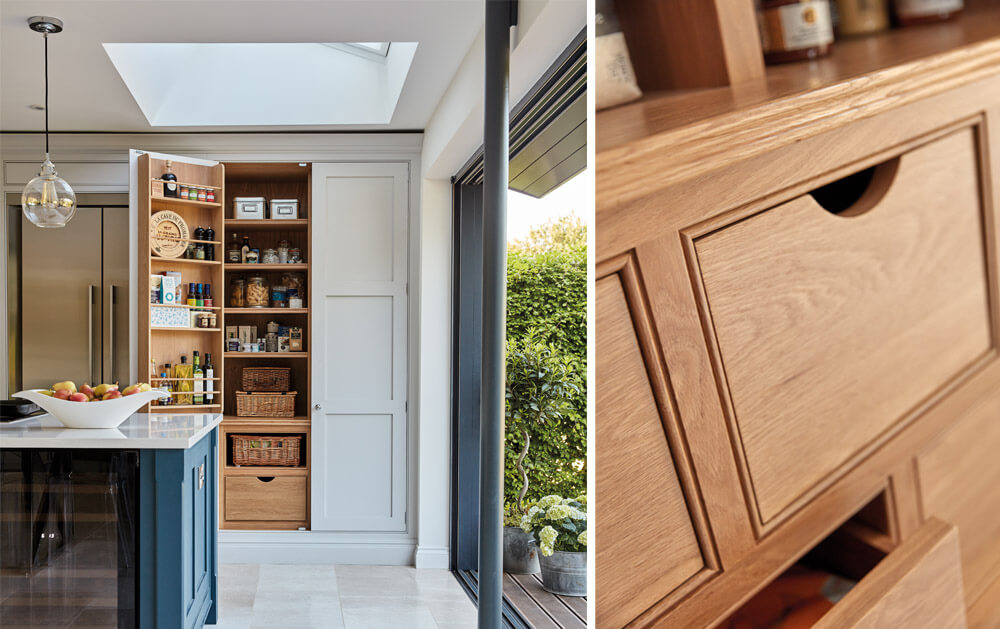 While kitchen pantries keep your essentials out of sight, they can become cluttered. Here are a few handy tips to help you keep your cupboards beautifully organised. When everything is in the right place, you'll save time looking for items. When you can clearly see what you have, you're less likely to buy twice so being organised can save you money too.
Design Features That Help You Get the Most from Your Large Kitchen Cupboards
Getting the shelf spacing right can maximise the room you have for storage. Large, deep cupboards with integrated workspace are ideal for storing appliances you may not want on your kitchen work surface. The easy-to-reach middle section of your kitchen pantry is perfect for tins and jars. Use dividers or shorter spacing to keep foodstuffs separate so you can see everything you need at a glance. A handy storage basket at the bottom of your kitchen pantry is ideal for storing fresh bread or veg. If you have space, include a rack for spices on the inside of the door – it's convenient if you're cooking and need to go straight to the ingredients you need.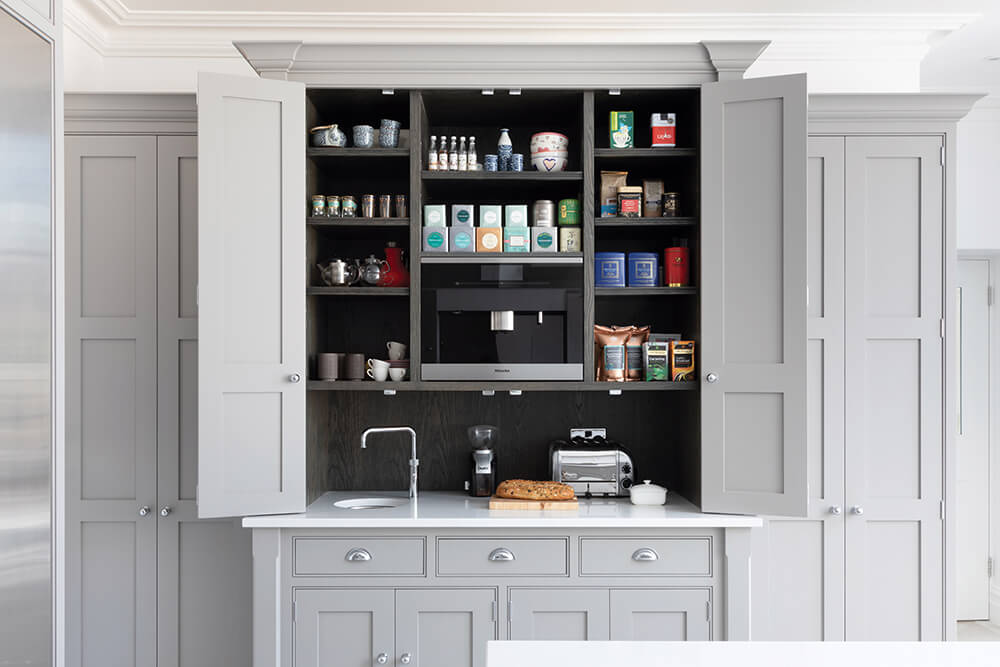 Bespoke Shelving
As mentioned, creating bespoke shelving can keep things organised. Think about the weight of the items you're storing as well as height. Lighter racking is perfect for cereal and bread while sturdy oak shelving is a good option for holding the weight of jars and tins.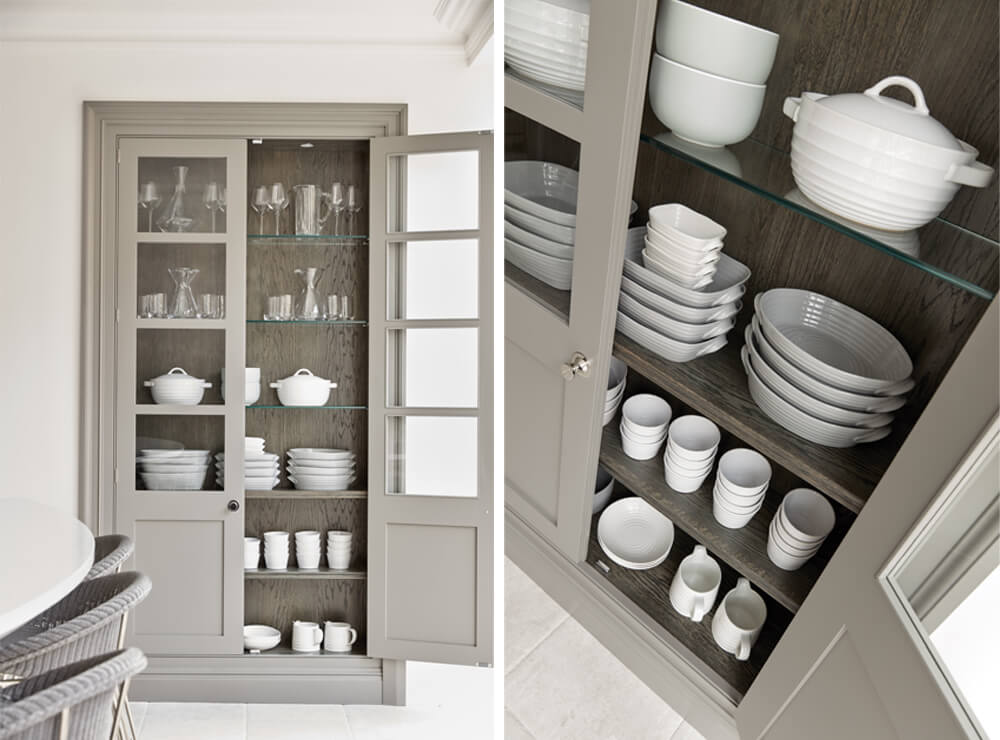 Stylish Containers
Why not decant dried goods into stylish containers? This is a great option if you have glass-fronted or open storage as it keeps everything looking beautiful as well as being easy to find. Storing items in containers allows you to throw out bulky packaging and free up some room. Stackable square containers are the most space-efficient.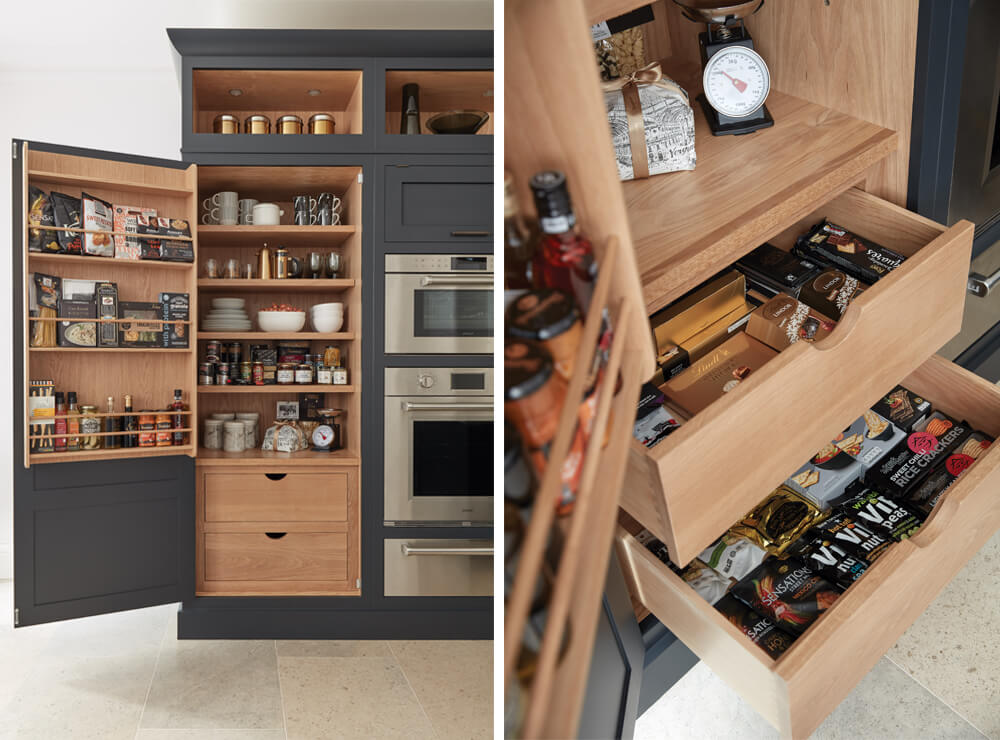 Dark Grey Shaker Style Kitchen
Seasonal Adjustments
The items you use and the food you choose can vary with the seasons. Find areas where you can store away items that you only use in the summer or at Christmas. For example, you could swap around the dishware or baking items that you only use on special occasions and bring everyday items to the front of the pantry. Throwing away unwanted food goods helps you to clear the clutter and free up space.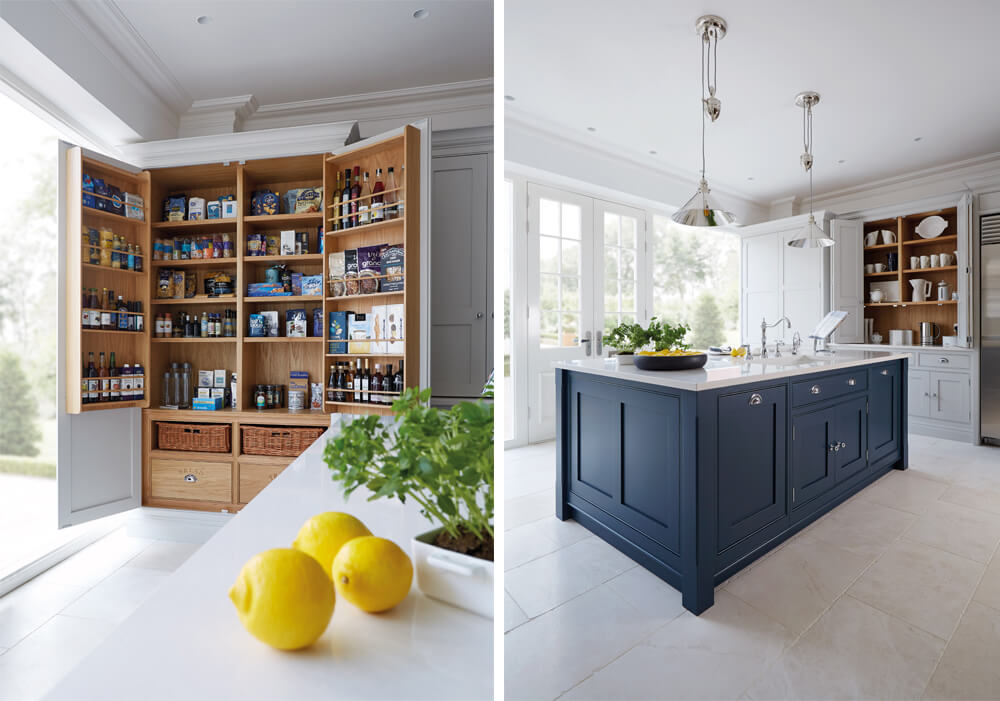 Less Is More
We can all be tempted by food bargains but try to resist 'stocking up' if it means your cupboards will be cluttered with items you don't really need. Filling your kitchen pantry to the brim makes it difficult to see what you have, leading to wastage in the long run. It's a good idea to bring any existing foodstuffs to the front of your cupboard and pack away your most recently bought items at the back. That way you can organise produce by date and use everything up before it expires.
Want to know more? Why not explore our impressive kitchen pantry designs in one of our sixteen showrooms. Click here to find the showroom nearest to you.