Spring offers the perfect opportunity to transform your home for the year ahead. Each month we receive kitchen queries from planning help and flooring recommendations to styling tips and trends. Whether you're embarking on a home renovation or planning to design a kitchen to fit into a new space, here's our latest Q&A to help you along the way.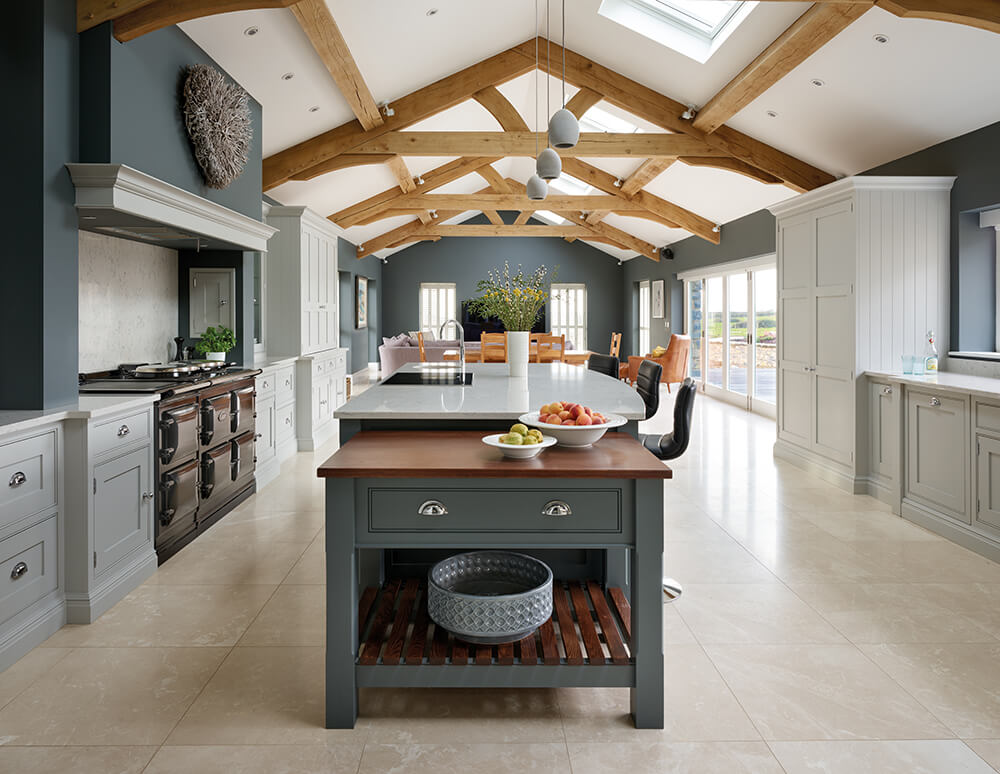 How to design a kitchen with an open plan layout?
A large space doesn't have to feel cold. It's about zoning the areas then building up the layers of interest with cabinets, lighting, changing textures and adding soft furnishings. It's the care and attention to the detail that will make a room restful and cocooning.
The best way to pull an open plan space together is to see it as a whole, with multiple zones within the space; then break it down into dedicated areas, allocating functions to each zone. This could be an area for cooking, a social dining area, a snug/ lounge area and even a compact office space.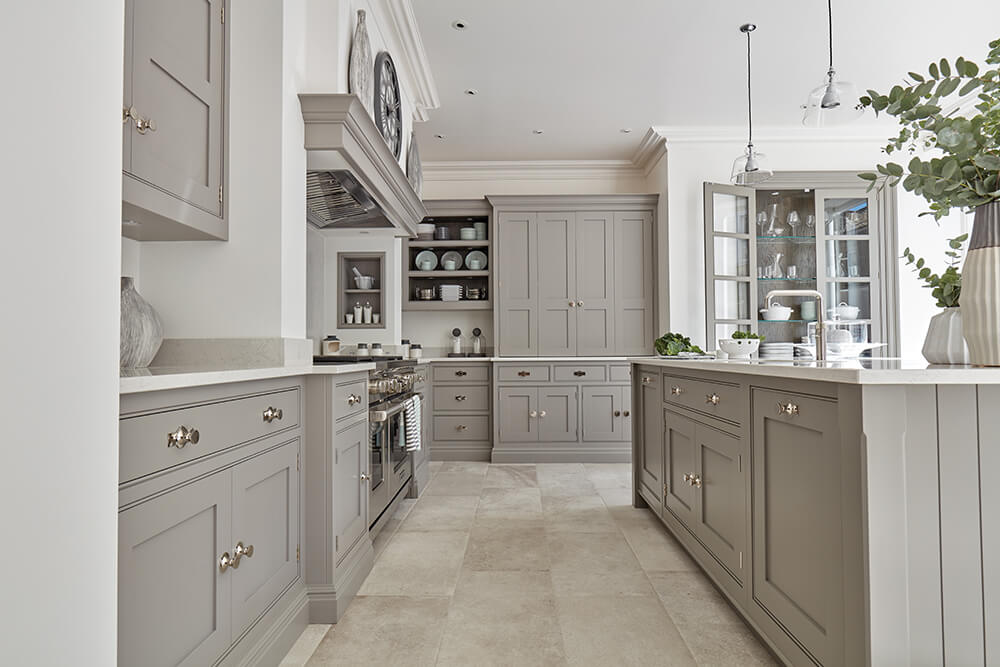 Which flooring would you recommend for the kitchen come living space?
Your kitchen floor has to put up with a lot; spilt food, muddy feet, pets and high traffic. There are many highly durable flooring options available whether you want a sleek finish or a bit of character. For Tom Howley kitchens, we tend to use brushed or honed marble or limestone, all of which are hard-working finishes great for large busy spaces.
If you have an open plan living space, try using the same material throughout, this will give the illusion of one seamless space.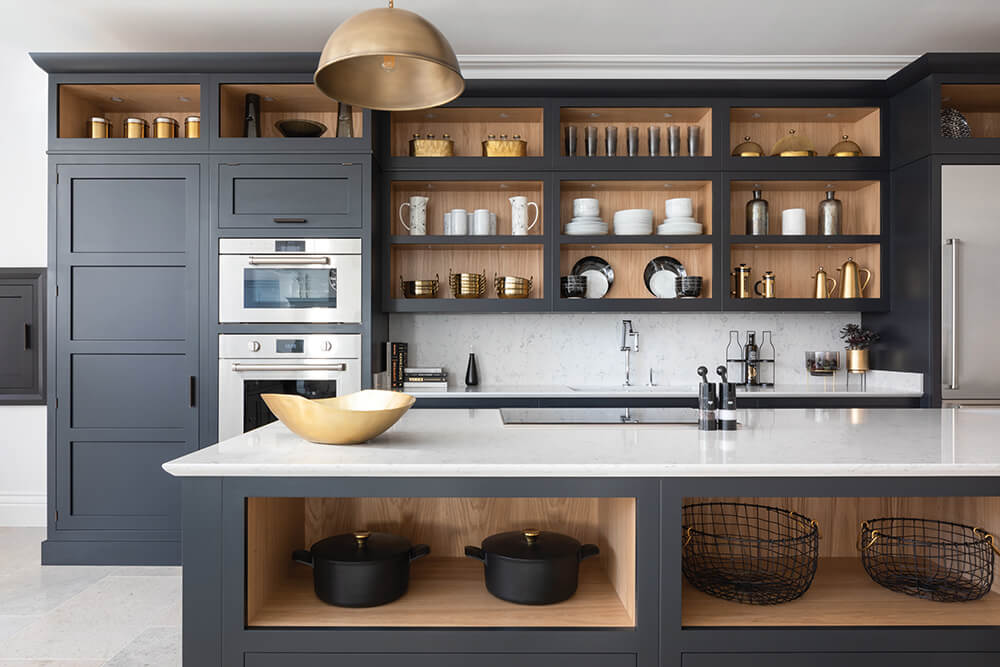 Dark Grey Shaker Style Kitchen
How do you choose items to go in your open shelving?
Open plan shelving is becoming ever more popular and can look highly decorative. The key is finding a theme or a focal point to then dress the shelf accordingly. Always consider the look of your kitchen and maintain a visual flow. A sleek, industrial style kitchen with lots of angles and high shine could be the perfect backdrop for concrete or stoneware pieces. Think textures, colours and finishes to create a harmonious look.
How do I go about booking an appointment?
The journey to your own luxury bespoke kitchen begins with a visit to a Tom Howley showroom. See for yourself the exquisite quality of our kitchens, discover our range of finishing touches and discuss your ideas with one of our experienced designers. Just pop into your nearest showroom to book a design appointment today.
Our designers are also more than happy to visit you at home; you'll receive the same advice and design expertise, all in the comfort of your own space. You can request a design visit here or call us on 0161 848 1200.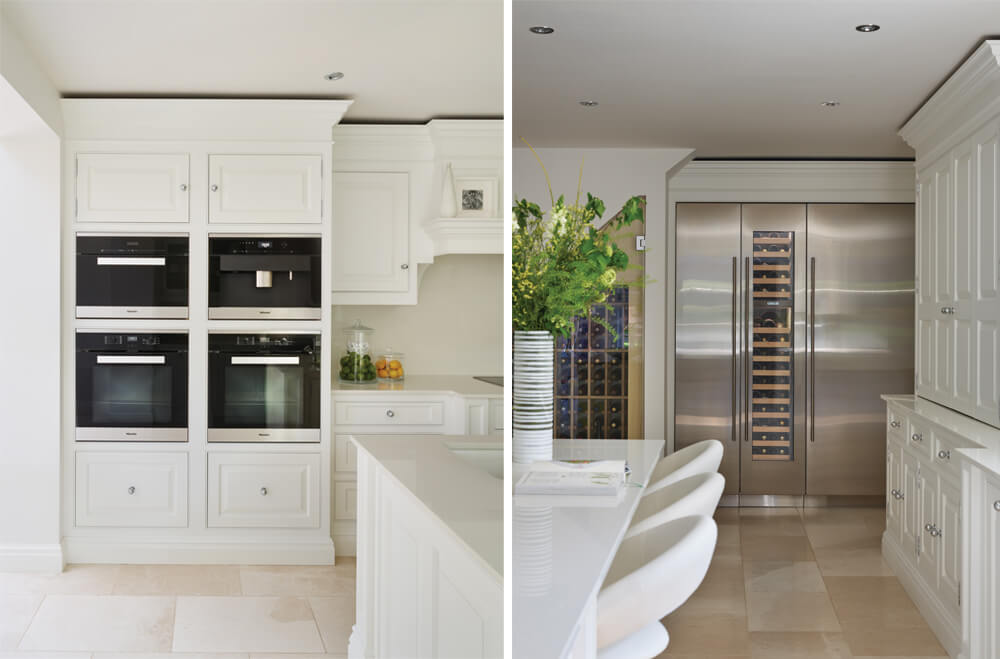 Are more people opting for a bank of cooking appliances and if so, why?
We are finding that more and more people are opting for banked appliances. Doing this creates a flexible, functional cooking zone in the kitchen. Appliances installed at eye level often provide ease of use which our clients are discovering when they visit our showrooms and live kitchen displays.
Is there a fee for the design service you provide?
We understand planning a kitchen is a huge decision, which is why we offer a free, no obligation design service from start to finish. Tell us how you hope to use your space and we'll make your ideas come to life with a design that evolves with you.
Any tips for a small kitchen space?
There are a plethora of smart ways to make your kitchen feel spacious. To keep an open feel choose light paint colours and reflective materials such as bright quartz or a mirrored splashback. Utilise every inch of space from the full height, awkward nooks and the use of islands if you have room. Even though an island will take up floor space, it will benefit your kitchen by ensuring more storage, prep space and a place to gather and socialise.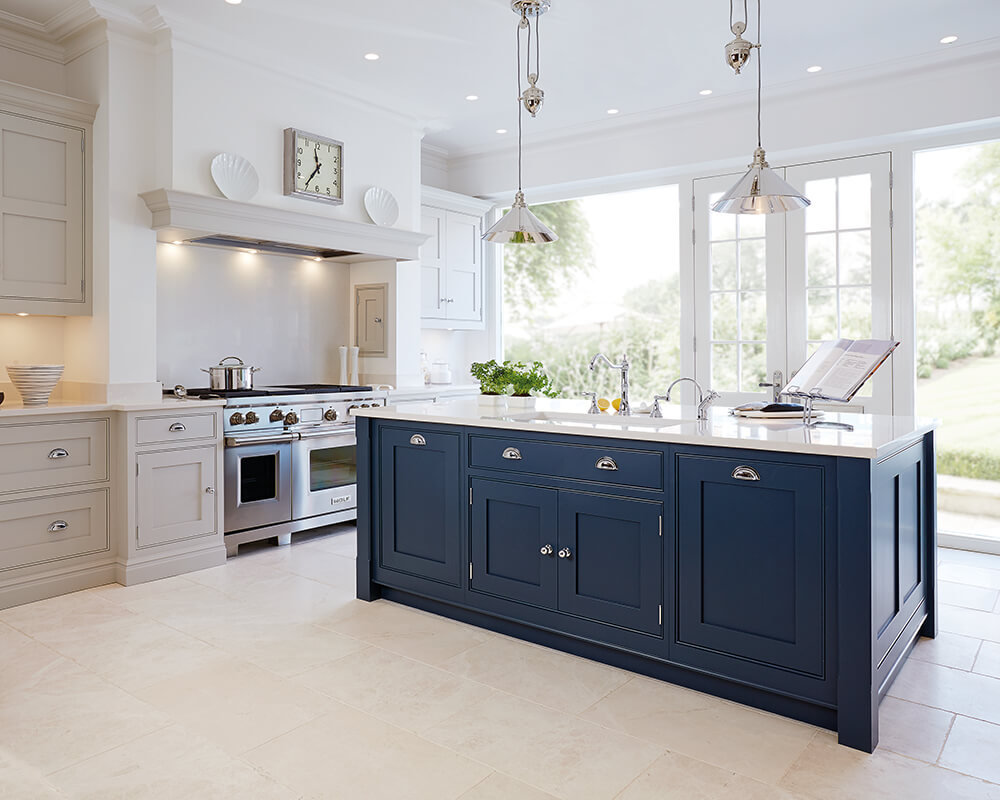 I want to add a subtle splash of colour in the kitchen. How can I do this?
A soft introduction of colour, such as stained oak interiors is a great way to add something different to a space. Consider painted internals behind a glass-fronted cabinet or a splash of colour to a kitchen island for contrast and depth. We have a stunning palette of paint colours from dark blues to refreshing sage.
If you have a kitchen query, why not pop into one of our showrooms to chat with our expert designers. Our showrooms offer the perfect opportunity to experience our designs first hand. Test out features as you would at home and discover what makes a Tom Howley kitchen truly unique. Find your nearest showroom here.