Introducing Our New Open Plan Kitchen Design
An open plan kitchen offers so many opportunities for successful family living. A kitchen that isn't separated from the living area gives everyone a chance to socialise and get involved even if just one person is prepping food or cooking.
We were recently approached by a family who'd taken on the challenge of renovating a Grade II listed barn in Little Baddow, Essex. They wanted a kitchen that could be a hub for the family; stylish, with state-of-the-art appliances yet with a traditional character that would reflect the period of their property.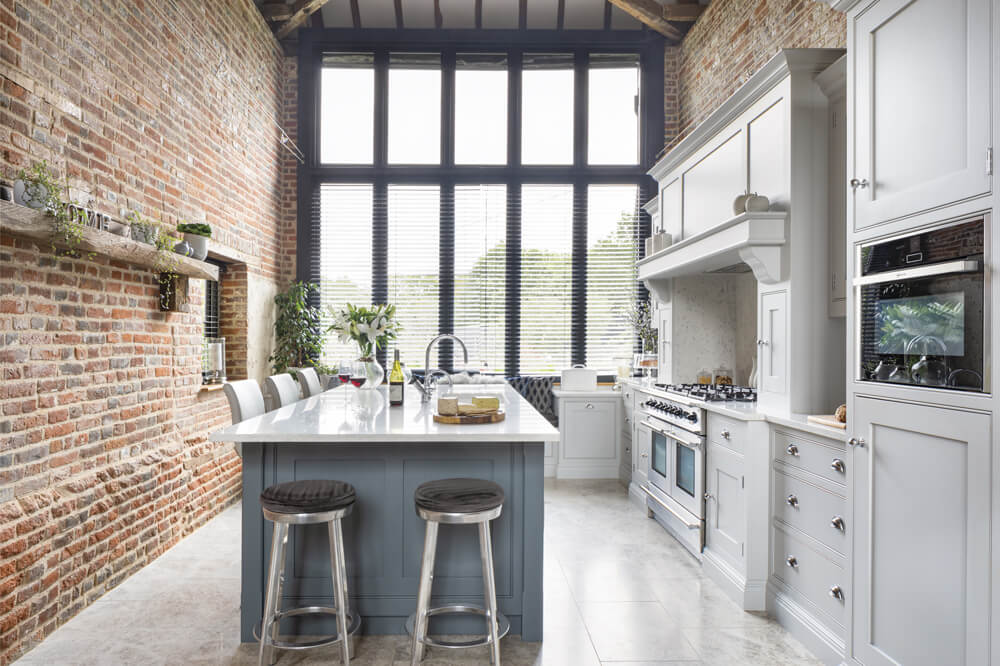 The couple envisioned an open plan kitchen design with room for large scale dining and a living area for relaxation. The couple met our Brentwood-based designer Tamsin Reed and selected our Hartford kitchen collection, which is a contemporary twist on traditional Shaker styling. Authentic Shaker style kitchens put an emphasis on home life with solid, comfortable furniture designed to bring people together, which was exactly what the couple were looking for.
The cabinetry, hand-painted in a soft, heritage grey style, was meticulously made-to-measure for their unique space and each piece commissioned in accordance to their personal storage needs. The kitchen's sleek pull-out units tuck away everyday items, keeping them discreetly to hand while maximising living space.
Family Sized Contrasting Colour Island
An open plan kitchen allows you to do many things in one place; there's room to experiment and be bold with design. To break-up the open space in the kitchen area, the family selected an island with a contrasting colour to add visual depth and interest. An integrated sink and clever bespoke storage means drinks and food can be prepared without missing a moment of conversation, and its cleverly concealed wine cooler keeps everyone's drinks close to hand.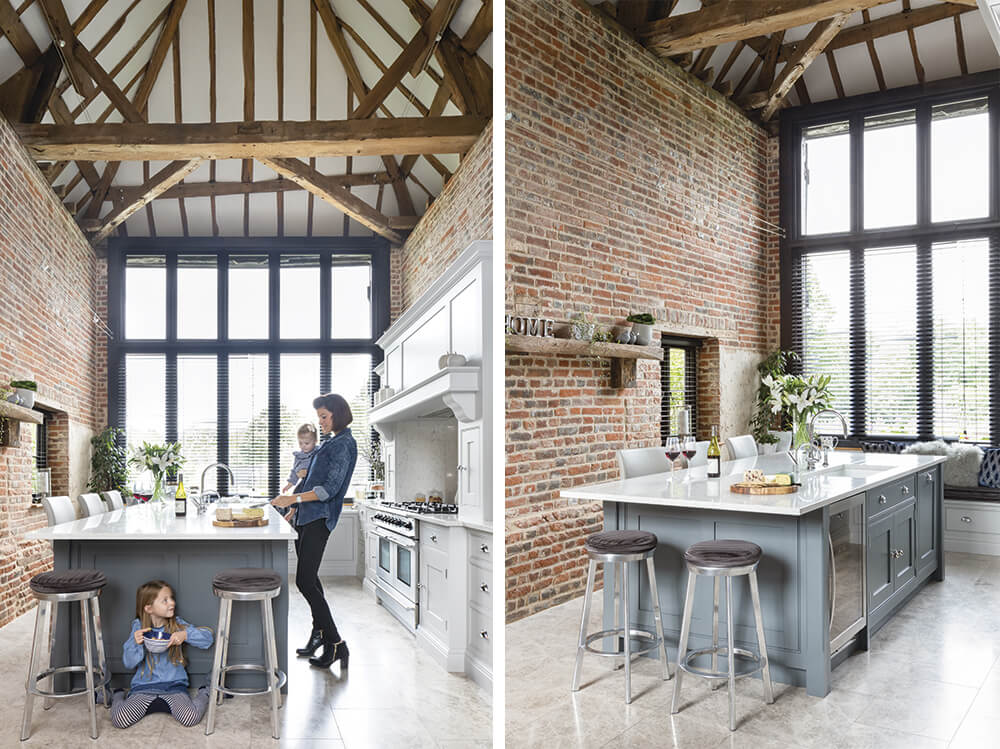 Bespoke Window Seat
A good flow of light is essential in an open plan kitchen, so instead of closing in the space with too many wall units, we created a window seat that doubles as useful storage. The window seat is finished in the same muted grey, Thistle, drawing attention to the stunning feature window. Architectural features such as this window can't be moved or concealed, and you wouldn't want to do that either, but instead of seeing it as a challenge, our designer saw an opportunity to celebrate a unique element and to create something special and exclusive to that property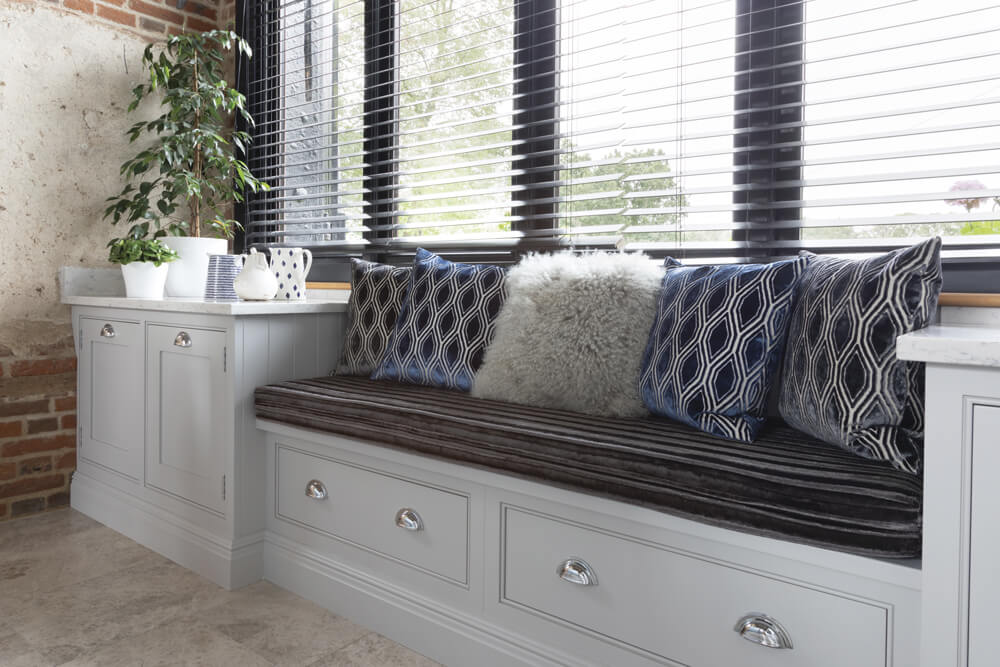 Layout
The barn's layout definitely has the 'wow' factor with an exposed brick wall, chimney breast, extra-height windows and mezzanine walkways floating above that add considerably to the kitchen's open feel. Having a small-scale kitchen wasn't going to be an option, so it was essential to ensure that everything inside the room was symmetrical and in proportion. Symmetry and balance is also a tenet of Shaker design, so this level of consideration chimed well with the kitchen style selected.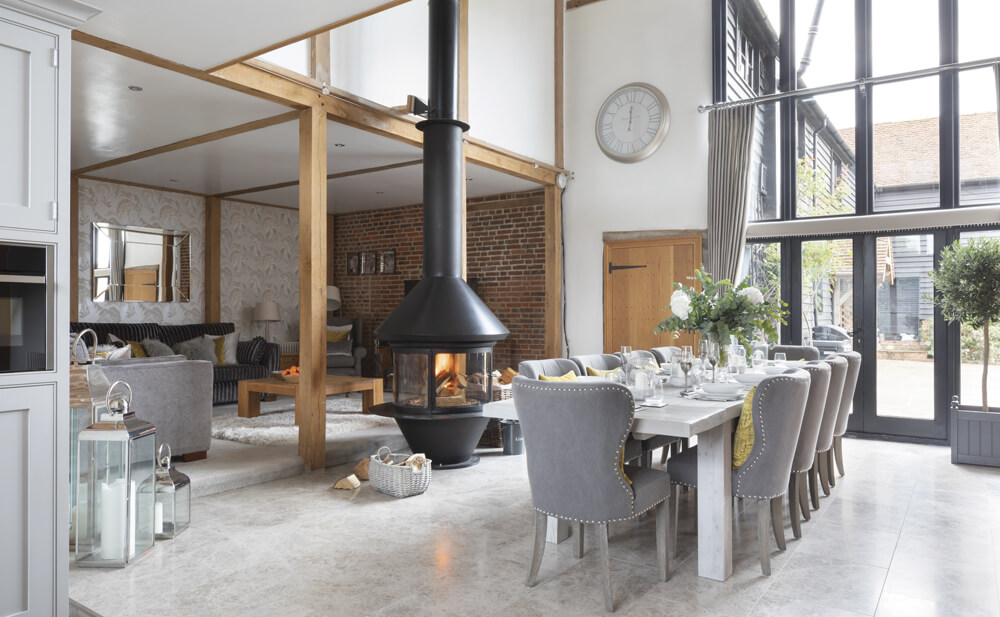 The chimney provided the central focus, and we increased the height of it so that it was higher than the wall units on either side, which celebrated the double-height nature of the room.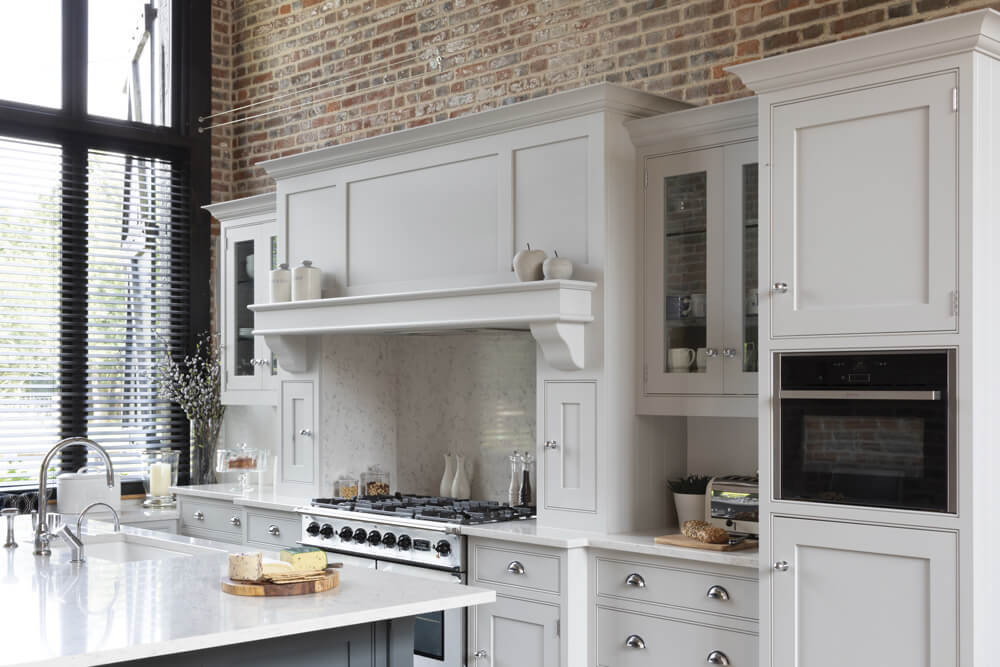 Colour and Finishes
Because every Tom Howley kitchen is bespoke, no two are ever the same. And with a large selection of high-quality finishes and exclusive paint colour combinations to choose from, the possibilities are almost endless. The couple selected a stunning Silestone quartz worktop and backsplash in Lyra. This coordinated beautifully with neutral limestone flooring, the statement island painted in Dewberry and cabinetry in our timeless colour Thistle.
Appliances
The statement island houses a luxurious wine cooler, a huge hit with the couple keeping drinks at the perfect temperature. A range cooker and built-in Neff appliances ensure that the kitchen is the ideal hub for the family.
Want to find out more? Discover how our kitchen collections can transform how you live and entertain in your home by requesting our free brochure today.