For most households, the kitchen is the hub of the home, so when it comes to sitting down with a designer to plan your dream space, whether in a showroom or the comfort of your home, you're bound to have questions. Modern kitchens now serve many functions, which means practical storage is essential. Not only a place to cook and eat, the kitchen is being used as a workspace, a sanctuary to relax or an area to socialise with friends and family.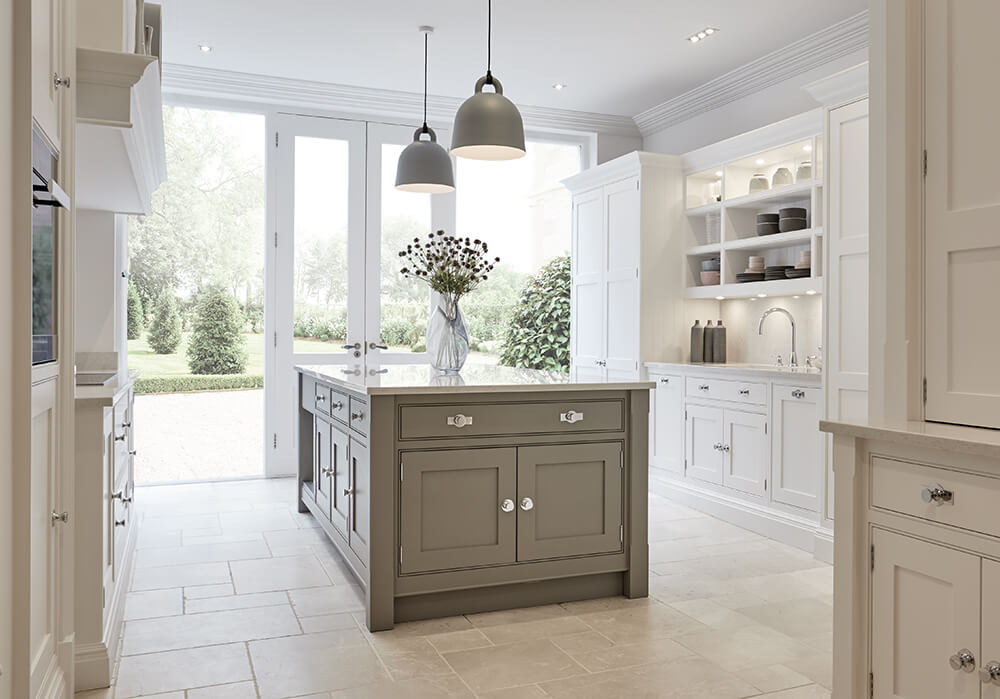 Our experts are no strangers to compact galley-style kitchens or multifunctional open-plan layouts. In fact, it's these unique spaces that fuel our designer's imaginations. Ideas may come in the form of maximising a small kitchen footprint, creating intelligent compact storage solutions or finding a way to fit a large pantry that doesn't compromise on style. Whether you're in the initial planning stages or rethinking how to make better use of your existing kitchen, our Tom Howley designer, Sophie, is here to share some of her top storage advice.
What are your top tips on designing storage for a compact kitchen?
Every cm matters, so using smart internal storage in cabinets to maximise space is essential. Inner drawers, spice racks and bottle racks in pantries are all excellent examples. I would suggest tall cabinets on one side of the kitchen with the opposite wall left empty, or with open shelving only, to keep the illusion of space.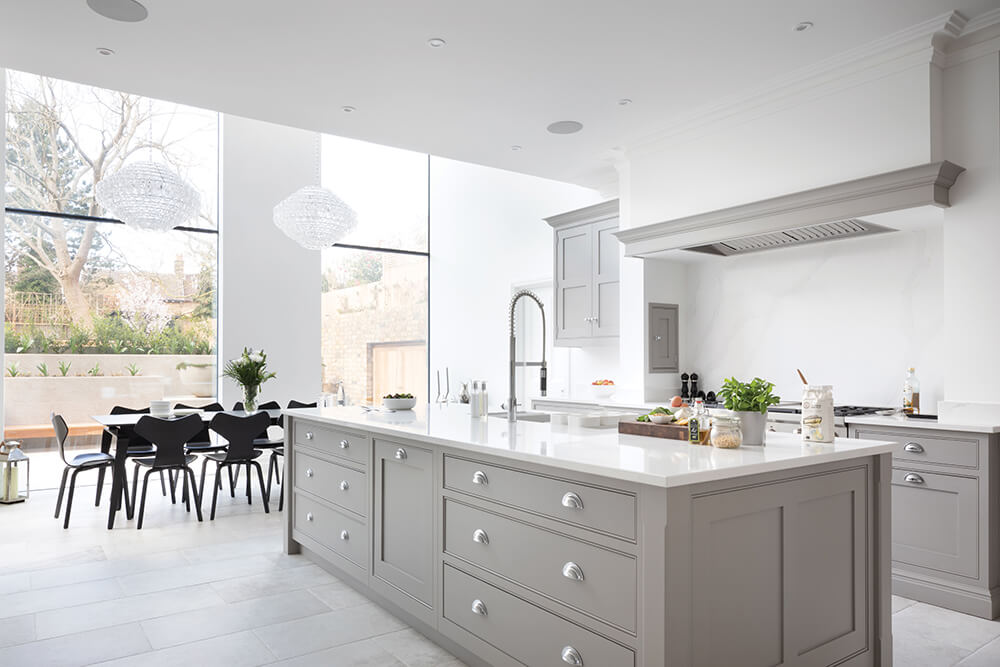 Is there an area in the kitchen you think open shelves work better?
I like to soften the look of a kitchen with open shelving. They create a link between living and kitchen areas, making function look elegant and offer the chance to display favourite pieces. The back of an island that faces a sitting area is a good example. A floating shelf across a sink provides essential storage without closing in the walls and proves handy for tidying sets of crockery or glassware.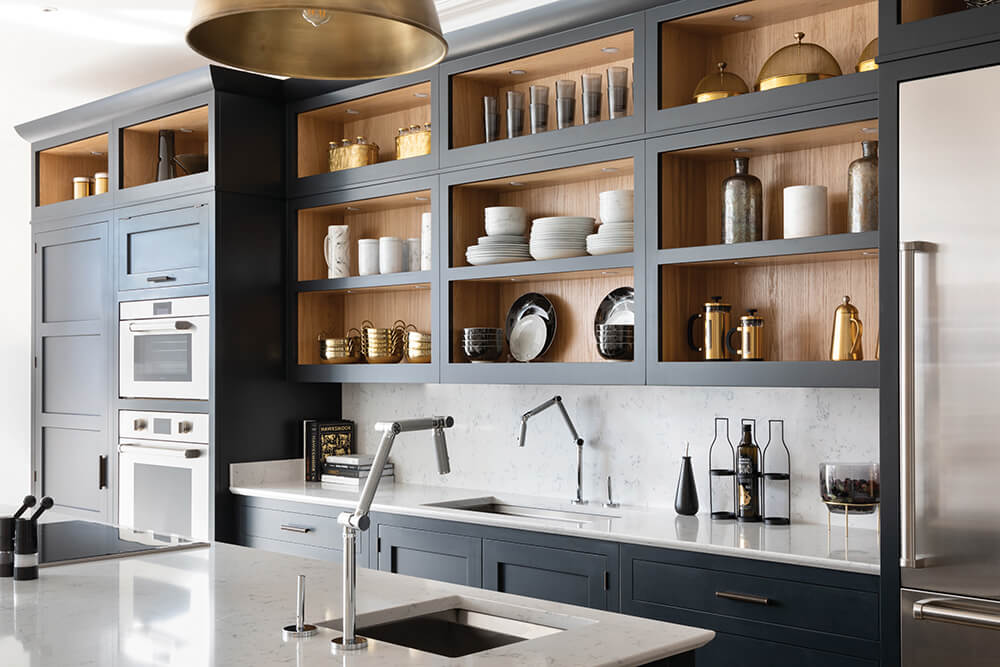 How would you keep open shelving organised?
Decant items into matching containers for a streamlined look or mix shapes for a more eclectic feel. Display items of similar colour and tone, keeping the look calm, or add a pop of colour intermittently for a burst of fun. A symmetrical arrangement will keep an elegant, balanced look. I would suggest putting items at the front that are used regularly and seldom-used items at the back or in less accessible areas.
When it comes to initial plans, what would you say the best layout is for your kitchen?
A layout that gives you access to all areas without having to cover too many miles! A sink near a hob, a fridge near a prep area. I try to avoid corners as they are often wasted areas, a straight run will provide a more symmetrical and efficient use of space.
What storage would you suggest for a kitchen island?
Cabinets at the back of the seating area give additional storage for rarely used items such as mixers and baking accessories. A glazed cabinet next to a wine fridge or cabinet on the back of the island means guests can help themselves to a drink without coming into the kitchen prep side. Bespoke drawers with cutlery dividers make laying the table much more straightforward.
What are your top 3 tips for keeping a kitchen clutter-free and organised?
Have a place for everything! Go through your kitchenalia and decide what you use on a regular basis and which items are for occasional use then store them accordingly. High shelves for hardly used items but everyday things at waist height.
Use bespoke dividers, drawers, racks and baskets where possible to maximise storage.
Zone the kitchen into prep, cooking, storage, refrigeration areas where possible and think of how the flow will work. Cutlery and crockery storage near the dishwasher, for example.
If you have a kitchen query, why not pop into one of our showrooms to chat with our designers. Our showrooms offer the perfect opportunity to experience our designs first hand. Test out features as you would at home and discover what makes a Tom Howley kitchen truly unique. Find your nearest showroom here.