Last week London Design Festival returned to the capital for its 16th year, filling the city with an inspiring programme of exhibitions revealing future trends, talks with leading design figures and emerging talents launching new products and prototypes. From Focus/18, Decorex, Design Junction and eleven Design Districts, there was indeed plenty to see and explore.
Throughout the festival, we found ourselves surrounded by fresh trends, new inspiration and concepts that are bound to filter into our homes over the coming seasons. Here are the trends and products that caught our attention:
Colour Trends
Although three distinct colours shone through, green, reddy golds and blush, there was the odd splash for rich blue but not as much as you might expect. Green was extensively used throughout design spaces, deep green velvets, fresh botanical green prints, natural foliage and mid-century bold green details.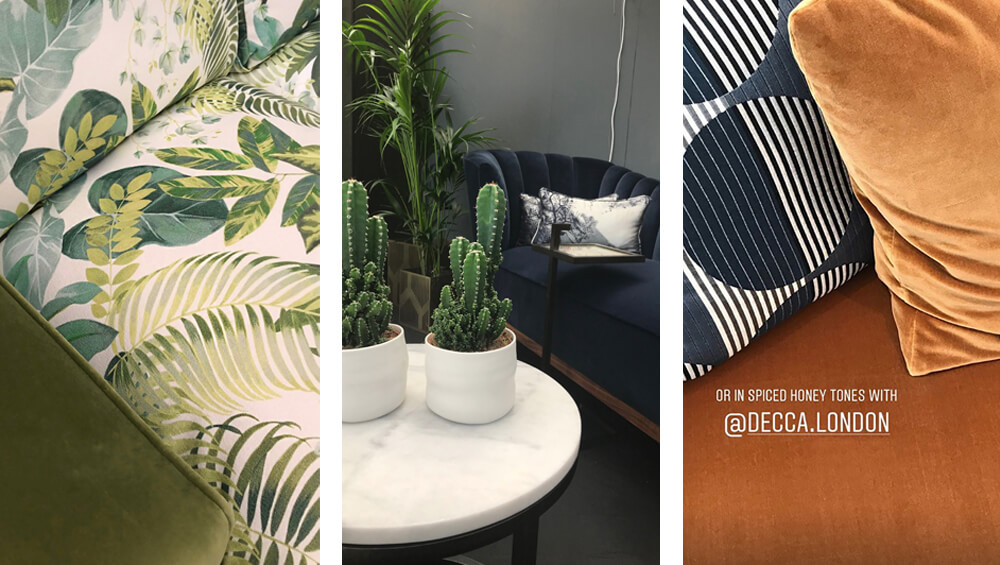 Botanicals and green velvet from Dudgeon
Talking point – Farrow & Ball's new colour launch
Unveiled towards the end of London Design Festival we were treated to a presentation by Joa Studholme, F&B's Creative Director on the development of their nine new colours, in an immersive environment that was a triumph. Set in the creative hub, The Village Underground, each new colour was showcased in its own interactive area. The most notable being 'Sulking Room Pink' where you had to stamp on the floor to activate the neon furniture to display the lovely new tone surrounding you.
Joa took the invited audience through each new shade, where the inspiration had come from and what other F&B colours would work alongside it in an interior scheme. The new shades are: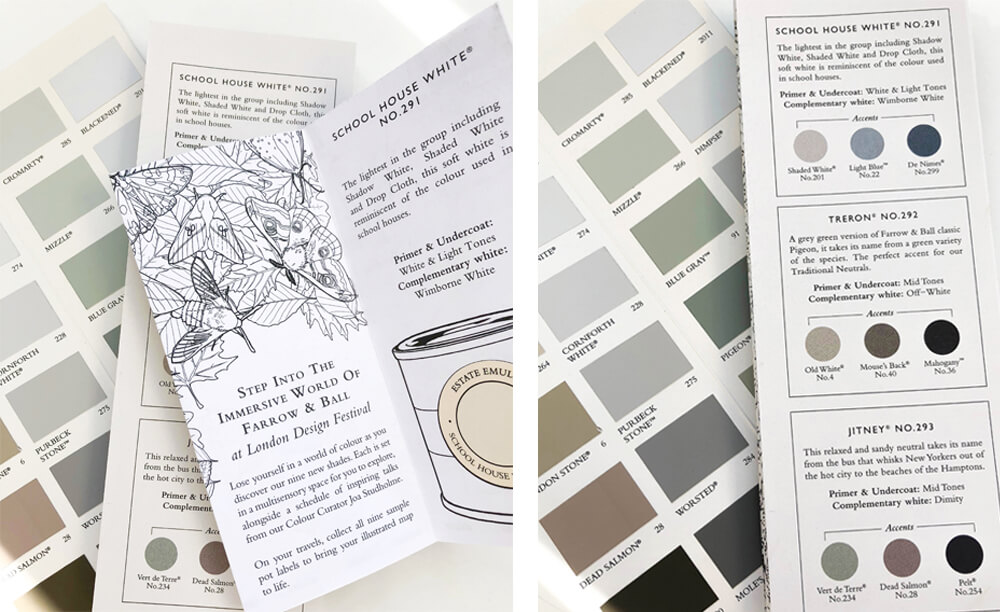 School House White
This is the lightest of the new colours and is a soft shade reminiscent of the tone used in school houses. Accent colours that would work alongside are: Shaded White, Light Blue, De Nimes.



Treron
A grey-green version of F&B Pigeon, it takes its name from a green variety of the species. The perfect accent for traditional neutrals. Accent colours: Old White, Mouse's Back, Mahogany.



Jitney
A relaxed, sandy neutral takes its name from the bus that whisks New Yorkers out of the city to the beaches in the Hamptons. Accent colours: Vert De Terre, Dead Salmon, Pelty.



Bancha
This mid-century modern green is a darker version of F&B Olive. Named after Japanese tea leaves, it provides a feeling of security. Accent colours: Setting Plaster, Hay, Studio Green.



Paean Black
Georgian inspired red based black is a nod to the old leather hymnals which so often included a song of praise or paean. Accent colours: Elephant's Breath, Charleston, Green Blue.



Preference Red
A deep rich red, this Baroque colour is named in honour of their original trade name. The preferred red of modern homes. Accent colours: Skimming Stone, Charleston Gray, Paean Black.



Sulking Room Pink
This muted rose shade is evocative of the colours used in boudoirs, a room originally named after the French 'bouder'. Accent colours: Peignoir, Dove Tail, Vardo.



Rangwali
Exotic pink inspired by the powder which is used to enthusiastically at the Holi festival of colours in India. Accent colours: Ammonite, Stone Blue, Paean Black.



De Nimes
This elegant blue is down to earth and inspired by the cloth of everyday workwear originally made in the French city of the same name. Accent colours: Drop Cloth, Blazer, Inchyra Blue.


Trend 1: Collective Environmental Responsibility
There was a huge sense of community this year at London Design Festival and a drive towards a collective environmental responsibility. Exhibitors were exploring innovative ways to repurpose materials we have become accustomed to throwing away. One notable highlight was Dirk Vander who creates furniture and objects from discarded synthetic materials which are then repurposed for use in a 3D printer. The result is impressive and ingenious in equal measures. Designers are focusing on ways to tune out of the world around us, exploring how our surroundings impact our mindfulness. Their approach is becoming more conscious of eco-living which is why we should be looking at key pieces that will stand the test of time and use aesthetics that create spaces with grounding and a sense of wellness.
Trend 2: Spherical & Statement Lighting
Lighting became a major focus at this year's London Design Festival with spherical types taking centre stage. Lee Broom transformed his London showroom presenting a fantastic stellar-inspired lighting collection featuring sculptural, spherical forms. We discovered pendant lights from Heathfield & Co adorned with warm brushed metals, natural stone and textured glass; these would be a perfect conversation starter hung above a statement dining table or kitchen island. Beautiful spherical lighting designs were also displayed by Tyson London, Marc Wood Studio whos lighting echoes current jewellery trends and Martin Huxford Studio where each modern design wowed visitors.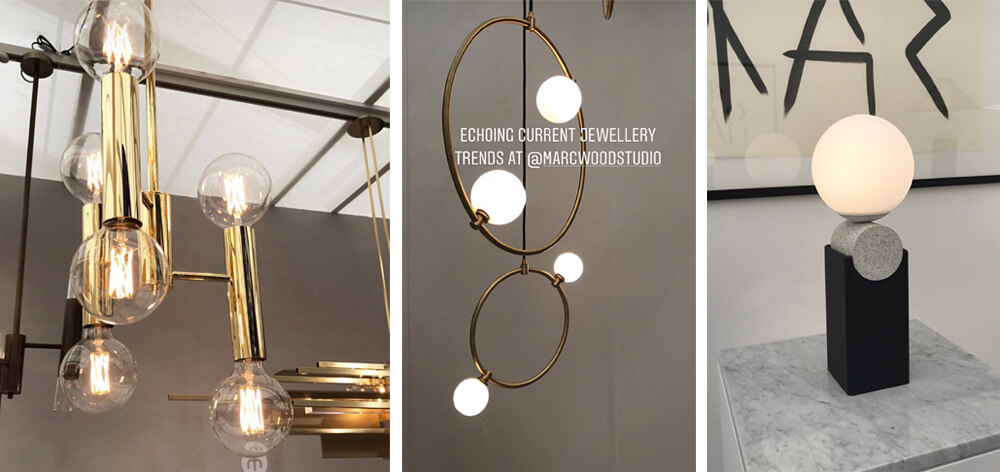 Martin Huxford Studio pendant lighting
Trend 3: Self-projection and Individuality
It looks like maximalism is here to stay. Expect an eclectic array of bold colours, clashing pairings and opulent fabrics, wallpapers decorated with 1950s motifs, and vibrant cushions. The rise of social media over the past year has enabled us to explore self-expression giving the confidence to experiment with new styles and daring designs. Designers have used this migration from minimalism to their advantage creating fantastic new pieces coaxing us out of our usual comfort zones. Throughout the shows, mixed material textures still reigned supreme, with brushed gold metal alongside timber and rich jewel velvets. Maximalist displays came from Kit Kemp and her team at Focus/18, who created a Caribbean bedroom for Turnell & Gigon. Bold botanical print mixed with animal maximalism from Charlotte Jade Design caught our eye at Decorex, while Lambert & Browne's bar featured a selection of clashing fabrics, animal inspired pieces and vibrant colours.
Trend 4: Botanicals
2018 had us creating ultimate indoor jungles, this year's extension on the botanical trend sees us inviting nature into the home in new ways. Think oversized floral prints, luscious green ferns and fresh tropical leaves expressed in new unconventional ways. At Decorex, Sofa Workshop showcased their latest collection as part of the V&A Interiors stand, a beautiful eclectic mix of floral sofas and oversized floral wall coverings. Dudgeon Sofas unveiled velvets mixed with playful botanical fabrics while Cole & Sons new hand-painted botanical range captivated our imagination – enchanting rolling meadows, fresh blooms and cultivated gardens. These fresh, crisp nature-inspired tones and prints will work perfectly to brighten and energise homes.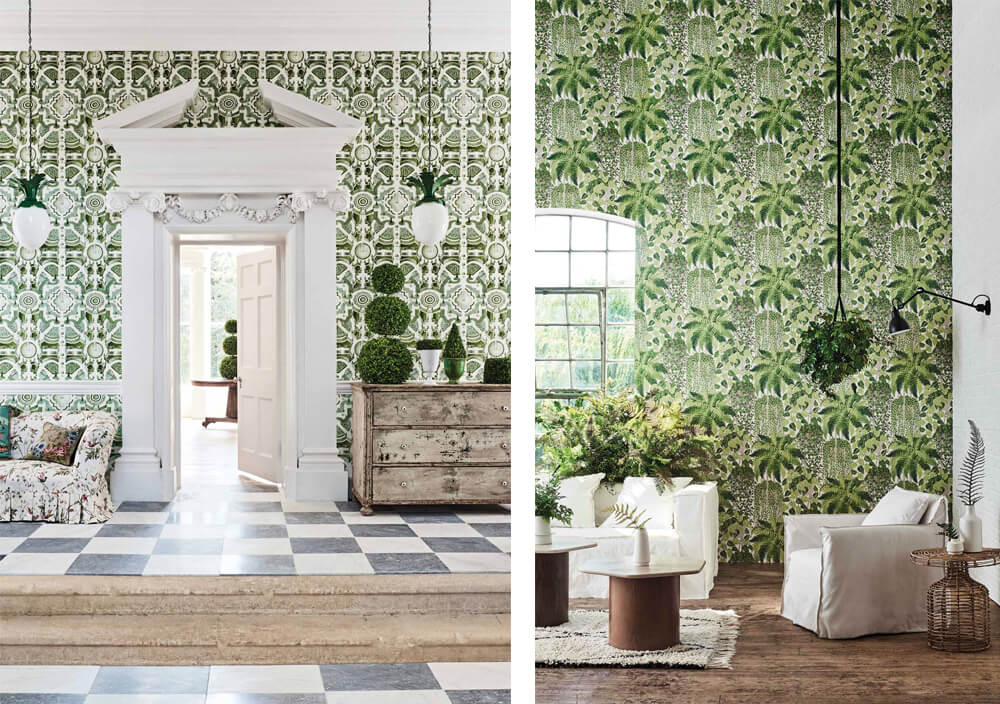 Cole & Son Botanical Collection
Revisit London Design Festival by viewing our Instagram highlights where Pure PR team took over our stories for a week packed full of design inspiration and innovation.