With sunnier days and Easter on the way we thought we'd give you a little help transitioning your home into a fresh new season. We may not be able to get away this year or host a dinner party; however, there are still plenty of activities for the family and ways to inject new life into your home this season. Here's our quick spring home interior guide to help you on your way.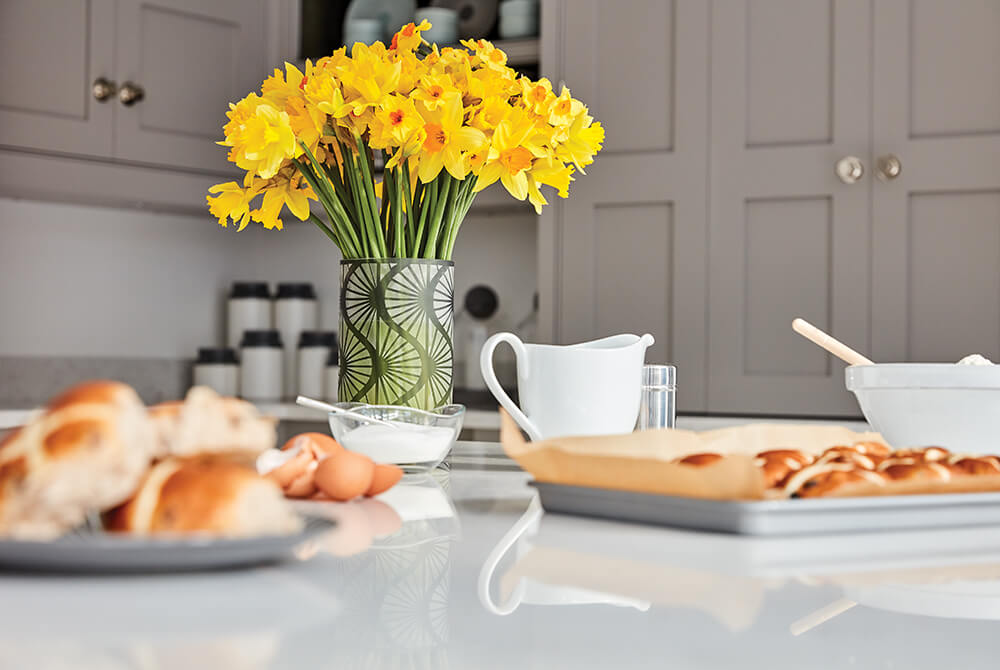 Spring Home Styling
As the weather warms we see our gardens awash with new buds, bright bulbs and luscious greenery. Nothing says spring quite like blooms in the garden or arranged in the home, refreshing a space and giving the essence of new life. Whether you want to add a pop of colour or fill the room with floral scents, a simple display of seasonal flowers can make a huge difference to the mood leaving you feeling calm and content.
If you want a minimalist look while still adding a refreshing hint of green opt for eucalyptus. Arrange a bunch for the perfect table centrepiece or add a few sprigs to a vase for a stylish, understated look. This hugely popular plant has beautiful silver/green tones that not only soften a space but emit a clean, aromatic scent.
You don't need a huge garden or designated growing space to gain benefits from plants. It's so easy to incorporate them into your home décor by populating empty corners or creating a unique feature with hanging plants or larger potted varieties.
If you're not green-fingered, you can still add a hint of spring by styling with nature-inspired prints, ceramics and textiles. These elements will bring life to your kitchen staying fresh until a new season arrives. Here are a few of our favourite pieces: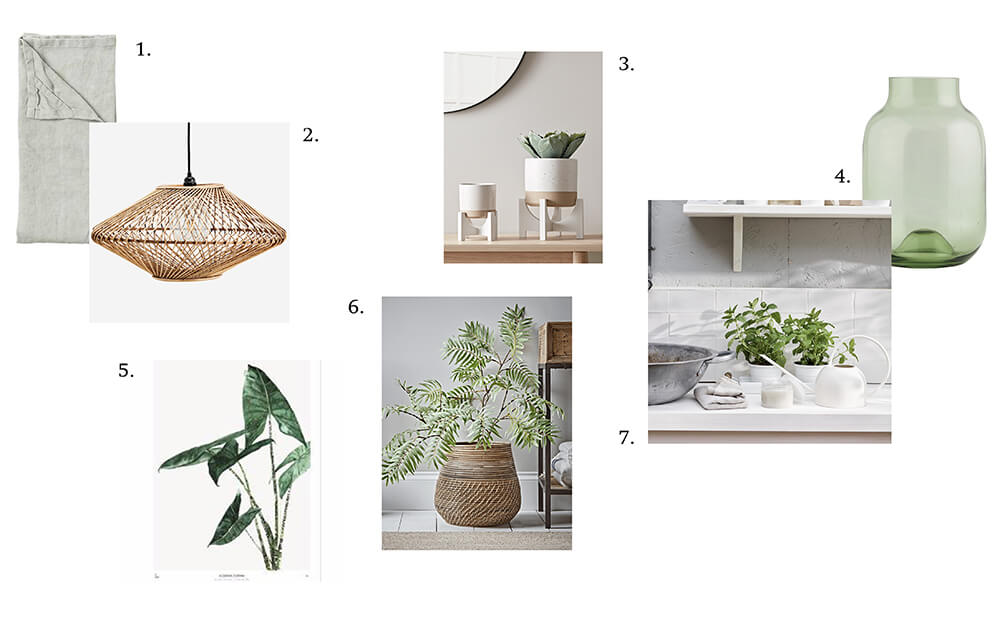 Wake up Your Home with Spring Colours
We all need a little colour in our lives at the moment. Spring is the perfect time to inject cheery seasonal shades to wake up your interiors. Pink is still as popular as ever, bringing warmth and sophistication to both interiors and exteriors. Notably a spring colour this subtle shade works wonderfully combined with beige/ taupe tones and timeless whites. If you want something a little brighter than Pantone's colour of the year, Classic Blue is a fantastic option. This versatile shade works particularly well with bright white interiors and playfully patterned fabrics. Keep it classic and coastal-inspired with neutral linens and woven furniture or bring this colour centre stage and create a new nordic look with darker tones, raw woods and cosy textures.
Set the Table for Spring
Capturing the essence of spring in your Easter tablescape can be relatively easy with a few quick and easy steps. Although we may not be able to spend time with extended family and friends this Easter, you can still make sitting down to eat special.
1. Similar to the rules of styling with plants, your tablescape doesn't have to be overly complicated. Keep it simple. Stick to one scheme by using timeless base colours than adding hints of colour and texture with foliage and fresh flowers. For a simple yet elegant table, arrange an odd number of glass vases down the centre of the table adding your favourite spring foliage or blossom cut to size.
2. For a playful and high impact look mix and match your tableware. Try layering complementary ceramics for a coordinated yet sophisticated look or create personalised place settings adding an extra dimension to your scheme. Fresh flower stems that complement your centrepiece, natural or soft pastel napkins and hand-tied foliage look effortless adding a stylish flair to the table.
3. Easter isn't complete without the occasional decorative egg or bright bulbs symbolising new life. There are many ways to introduce tasteful seasonal decorations without going over the top. Add a touch of fun with decorative painted eggs either hung from natural branches or displayed in a glass jar, give these to the kids and let them unleash their creativity or create a centrepiece by painting them in pastel shades or monochrome patterns. Seasonal flowers like daffodils, tulips and hyacinths are perfect for adding playful colour or go the extra mile and create cute bunny napkins to complement the occasion perfectly.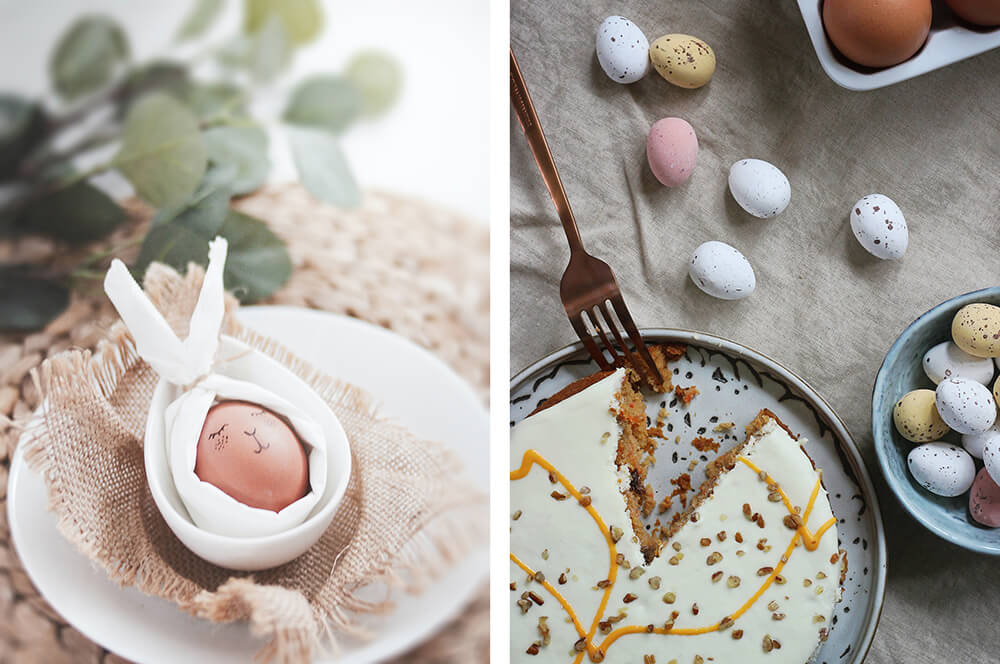 4. If you don't want to go all out with decoration, use your food and drinks as an impressive focal point. Liven up the table with bottles of water infused with lemon, lime and mint or create an editable table scape bursting with colour using fruits, seasonal rainbow salads and canapes.
Our Step-By-Step Guide to the Perfect Hot Cross Bun
When we think of Easter, hot cross buns are one of the first things that come to mind. There's nothing better than baking a fresh tray over a weekend, filling the kitchen with sweet, spicy scents. They're perfect for breakfasts and quick treats throughout the day.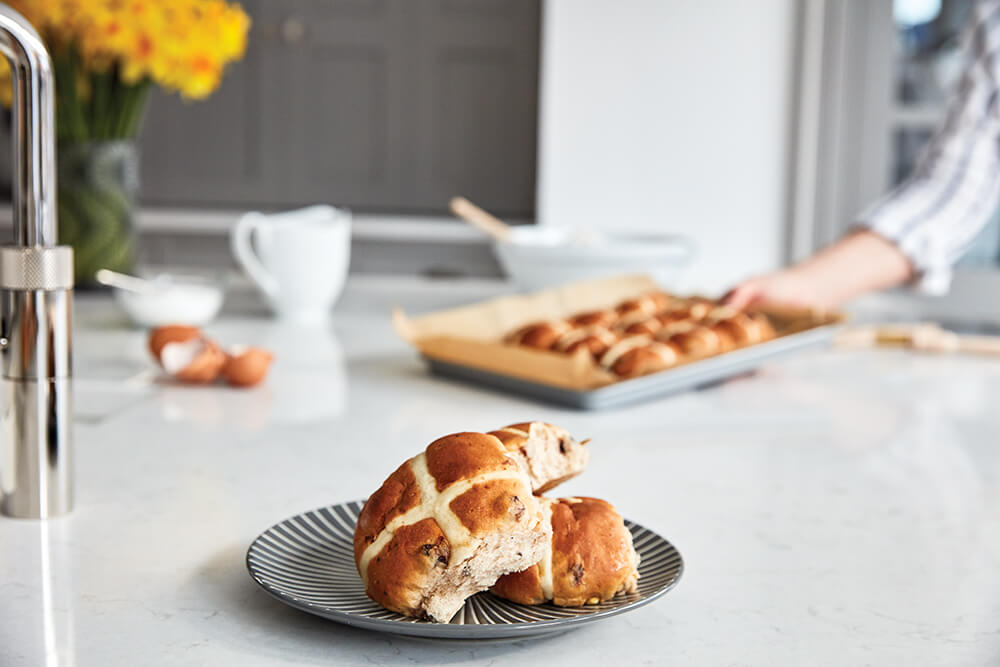 There are so many recipes to choose from, from chocolate orange, citrus, marzipan and more. We once only reserved hot cross buns for Good Friday; however, they're too tempting just to be enjoyed for one day alone. Here is our delicious recipe to be enjoyed throughout Easter and beyond.
Traditional Hot Cross Bun Recipe
Ingredients
550g Strong white bread flour
7g sachet of dried yeast
1 ½ tsp of salt
80g caster sugar
315ml milk
50g unsalted butter
1 medium egg
150g dried fruit (sultanas or raisins)
Zest of one small orange
2tsp ground cinnamon or mixed spice
Piping
50g plain flour for the cross
4tbsp water
Glaze
4 tbsp water
2 tbsp caster sugar
Instructions
Add your milk into a pan and place over low heat until slightly warm. Take off the heat and add the butter.

Once the milk mixture has reached room temperature stir in the yeast.

When mixed through, sift in your flour (don't skip this step) add the salt, spices, orange zest and sugar. At this point, you can add in any additional flavourings such as nutmeg or ginger to taste.

Beat the egg with a whisk, create a well in your flour mixture and gently add it into the centre. Stir with a fork until you make a soft dough (if your mixture feels too wet add a little flour)

Dust your work surface with flour, so it doesn't stick and knead the dough for no longer than 10 minutes until soft and springy.

Transfer your dough back to a large flour-dusted bowl, cover with cling film and leave in a warm place to rise for an hour.

Once risen place your dough back onto a floured surface and knead in the dried fruit. Try not to overwork your dough, kneading for 1 – 2 minutes should be enough.

Once combined split your dough up into 14 equal pieces and roll into balls, flattening them slightly onto a tray lined with parchment. Make sure you leave enough room for them to expand in the oven. Leave them for an additional 30 minutes to rise.

Pre-heat oven to 220c (200c fan) gas mark 7.

Mix together your flour and water, the consistency should be smooth and easy to pipe. Carefully trace over the buns with a piping bag or spoon to create the cross.

Place the buns into the preheated oven for 15 – 20 minutes occasionally turning until golden brown.

Mix together your caster sugar and boiling water to create a glaze. As soon as the buns come out of the oven brush over the glaze to create a shine. You can also use a honey glaze or sticky apricot jam to achieve the same effect.

Wait for the buns to cool and enjoy.
You may have already enjoyed the traditional hot cross bun on the run up to Easter, why not try adding a few additional ingredients to taste, choose from:
Marzipan

Cherry & Almond

Cranberries

Chocolate and orange
If you're looking for more spring, interior style inspiration explore our Pinterest board where we've gathered our favourite ideas from tablescapes, floral arrangements, Easter decor and more.