Shrove Tuesday means only one thing, pancakes for breakfast lunch and dinner! It's the day where we empty the cupboards and use up all the fatty food: eggs, milk and sugar before lent starts. What better excuse to play with fillings and flavours. A whole day dedicated to eating pancakes!
Whilst a squeeze of lemon and dusting of sugar is traditional, savoury options also go down a treat too. Pancakes on Shrove Tuesday are typically French crêpe style rather than the fluffy American kind we're used to having for breakfast. We think the thinner the better, full of flavoursome fillings either healthy or full of rich treats.
For a classic crêpe style pancake, traditional ingredients include: 1 and ¼ cup of whole milk, 1 cup of plain flour, 2 large eggs, a pinch of salt and butter for frying.
We've teamed up with talented author and Tom Howley client Ren Behan to share this delicious recipe. Ren, the author of Wild Honey and Rye, Modern Polish Recipes has a brilliant website and blog full of fantastic recipes and tips. There is an array of incredible dishes on the blog, one that really got our taste buds tingling was the Blueberry and Vanilla Cheesecake pancakes. Perfect for all the family they have a sweet fruity no-bake cheesecake filling with crunchy biscuit crumbs and fresh blueberries. Create this dish yourself using the easy to follow recipe below.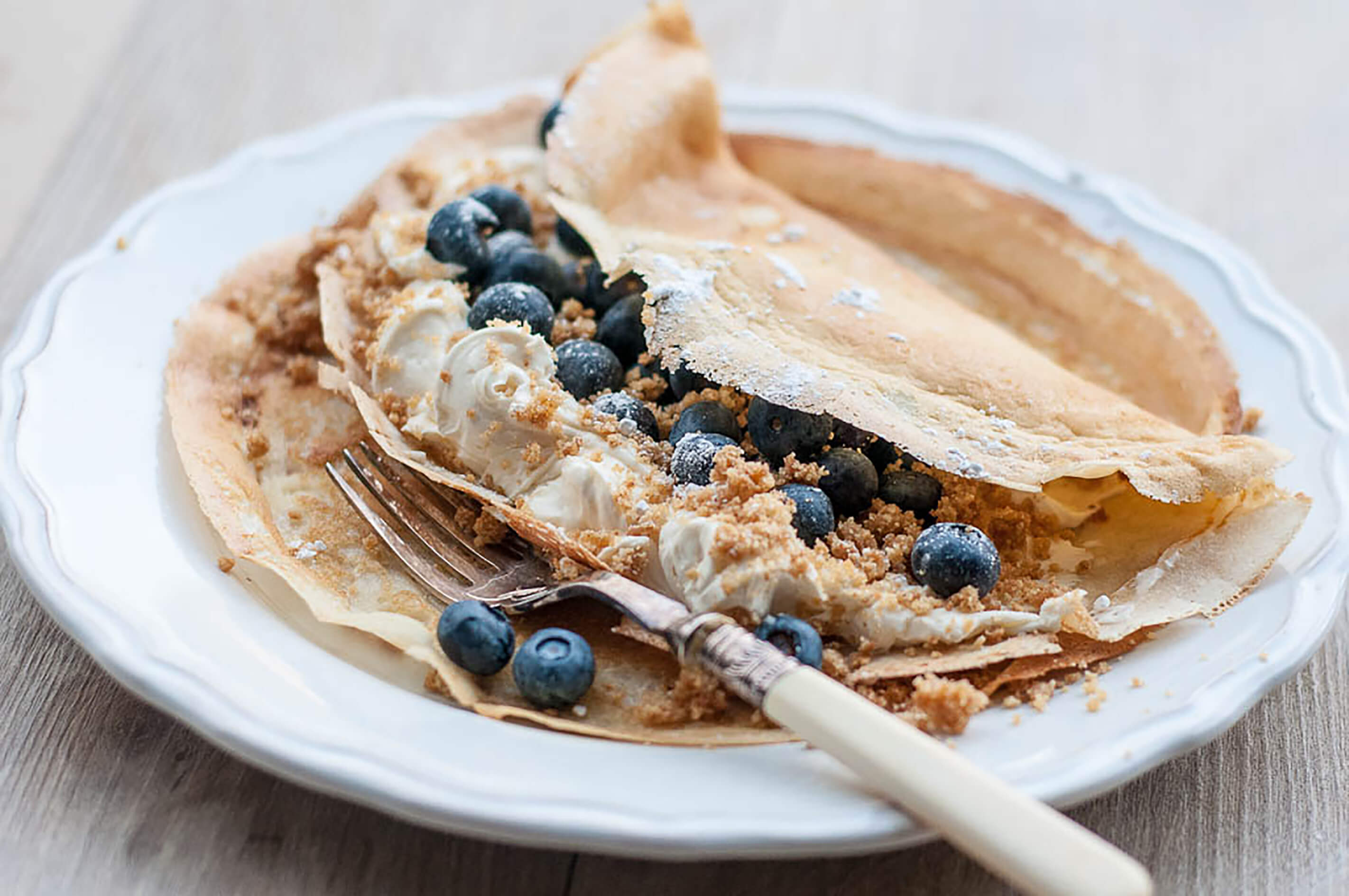 Blueberry and Vanilla Cheesecake Pancakes by Ren Behan
Prep 20 mins
Total 20 mins
Pancakes filled with a sweet vanilla cheesecake filling, and topped with blueberries and biscuit crumbs
Ingredients
8 thin pancakes or crepes
200g full fat cream cheese
150g Mascarpone Italian cheese
3 tbs icing sugar (plus extra for dusting)
100ml double cream
2 tsp vanilla extract
100g digestive biscuits, crushed to fine crumbs
3 tbsp melted butter
Blueberries or other fruit to fill
Instructions
Whisk together the cream cheese, Mascarpone cheese and icing sugar until well combined. Add in the double cream and vanilla extract and whisk again. Set to one side.
To make the cheesecake crumbs, stir the melted butter into the digestive crumbs – you should have a sandy mixture.
Heat the pancakes gently, then fill each pancake with a few spoonfuls of the cheesecake mixture. Sprinkle over some blueberries or other fresh fruit and then the sandy cheesecake biscuit crumbs. Fold each pancake over, dust with icing sugar and drizzle over some maple syrup or fruity sauce.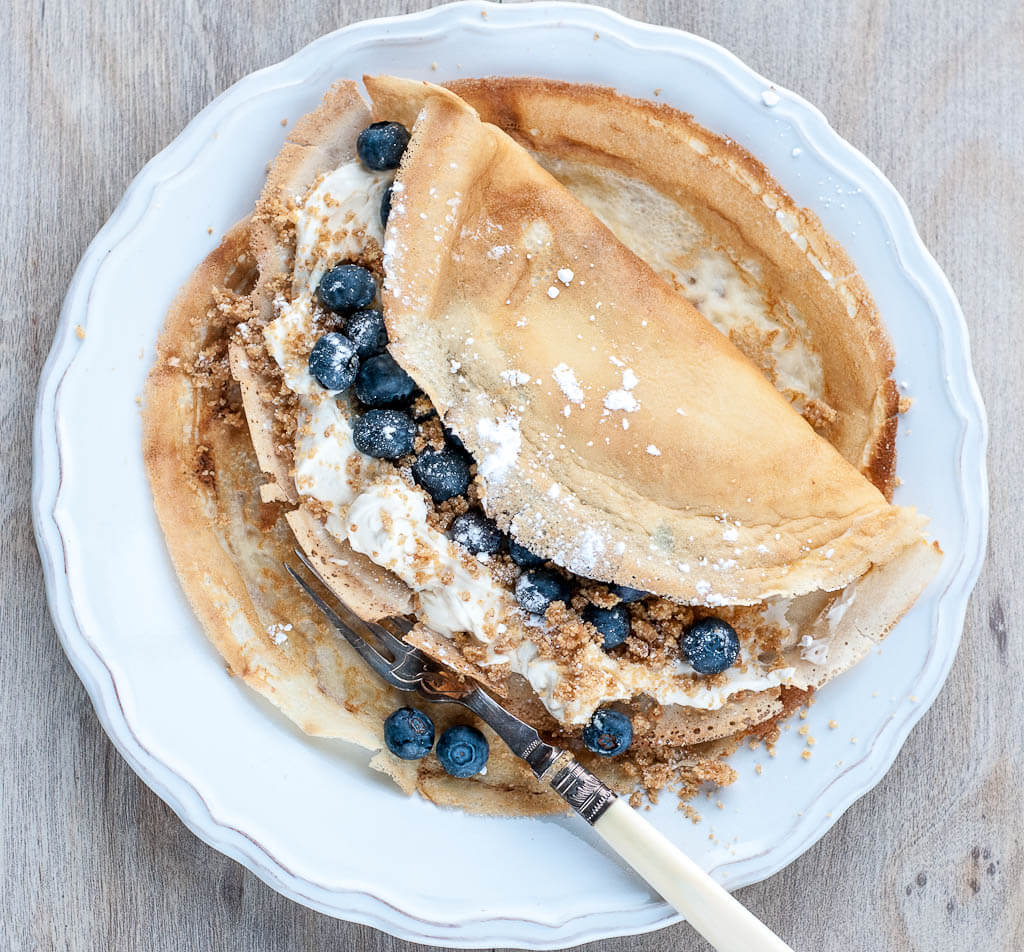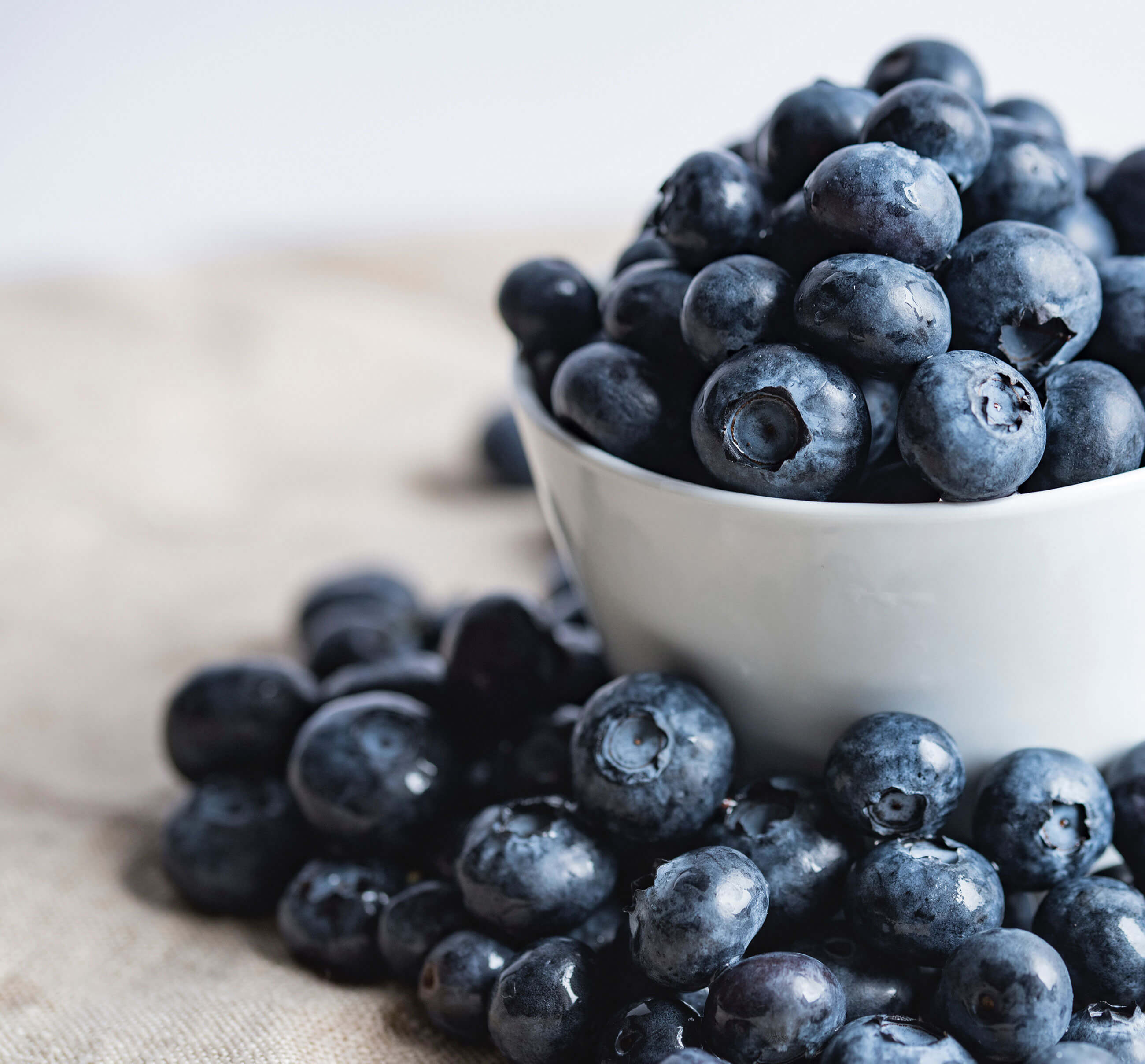 Ren has other fantastic pancake recipes for all the family including:
Roasted Rhubarb and Ginger Curd Pancakes
Visit her fantastic website where you can discover foodie inspiration for every occasion and order this year's must-have book, Wild Honey and Rye – Modern Polish Recipes.