The season for entertaining and socialising is getting closer so if your fridge is filled with food and treats there's never been a better time to consider a separate wine cooler for your drinks.
Wine coolers are now increasingly in demand, with homeowners and designers now choosing to integrate wine storage into their kitchens. With dedicated storage for your wine, Champagne, prosecco and more it means you'll never have to wait for your favourite tipple to cool, and have plenty of free space in the fridge for food.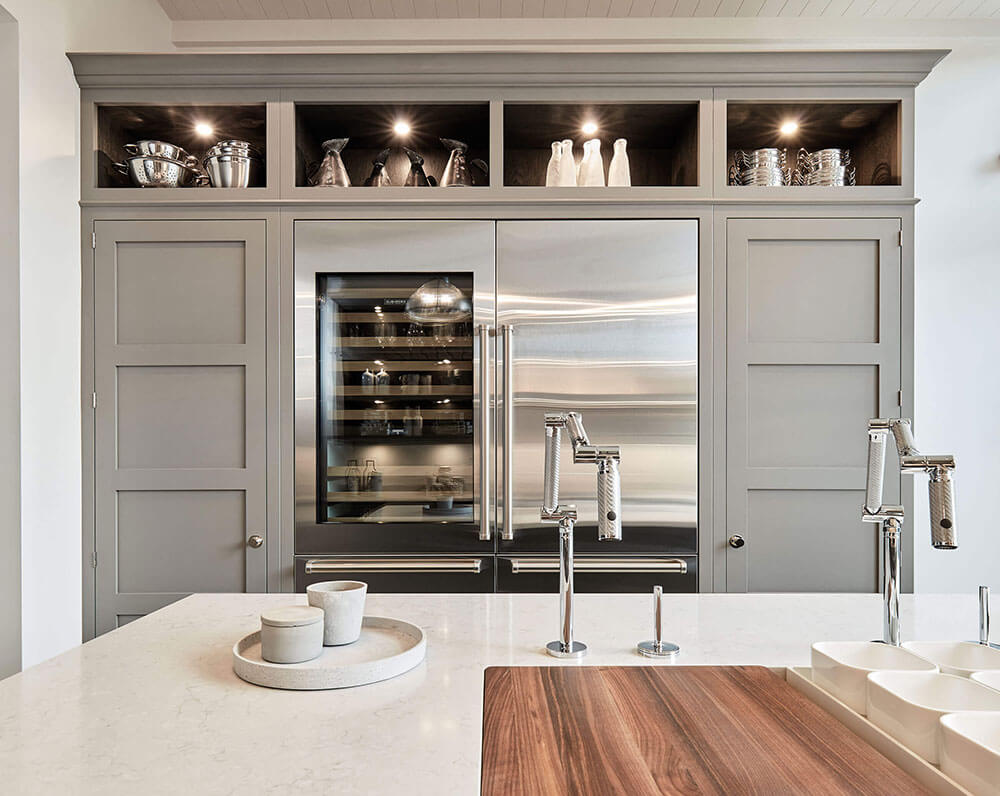 Modern grey Butler kitchen design
Space is always a consideration when you're thinking about a wine cooler, but at Tom Howley we have a range of suggestions from an integrated singular Kaelo cooler that can be built into your island, to full height Sub-Zero varieties.
Celebrating special occasions or simply enjoying a glass of wine with friends and family at the end of a busy day mean a dedicated wine cooler isn't just for Christmas. Tom Howley designers can assist you when it comes to choosing the right cooler for your home – and if a wine fridge is on your list of must-haves, we can help you find the perfect solution. Here are a few of our favourites.
Fully Integrated Wine Fridges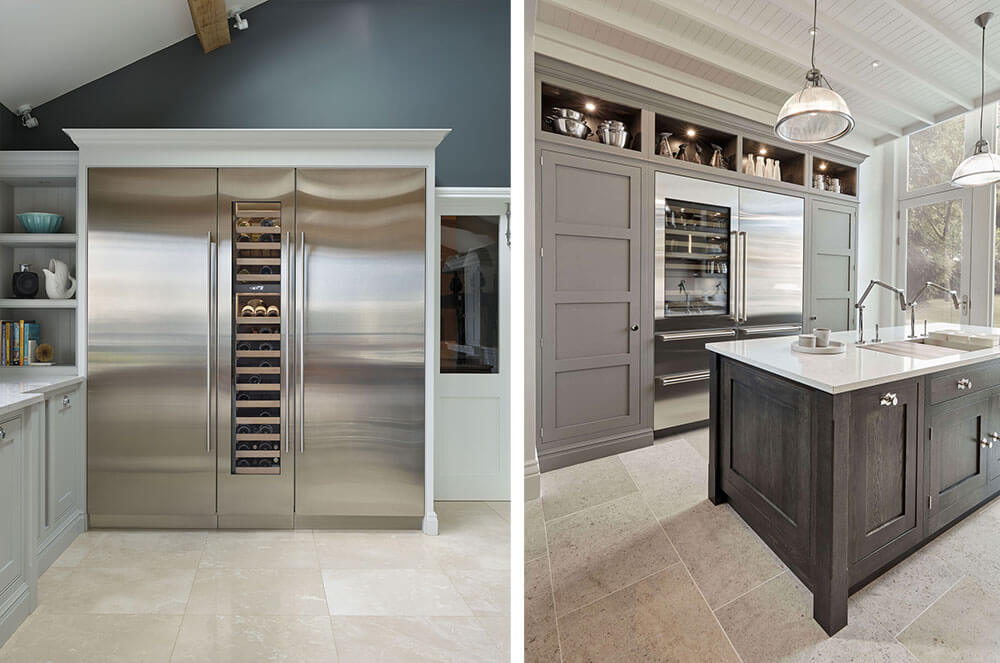 Sub-Zero Integrated Wine Storage
Sub-Zero wine storage offers an excellent amount of space for all kinds of drinks. It not only chills, it employs technologies that protect wine from its four enemies: light, heat, humidity, and vibration. UV-resistant glass panel filters out the harmful rays that can cause premature ageing. The quiet compressor lets wines rest undisturbed, without the vibration that can harm delicate wines. Shelves glide out smoothly, providing access without agitation. The result? Perfect conditions and perfect wine. Tom Howley cabinetry is designed to complement your kitchen providing a beautifully seamless addition to your storage range.
Island Wine Fridges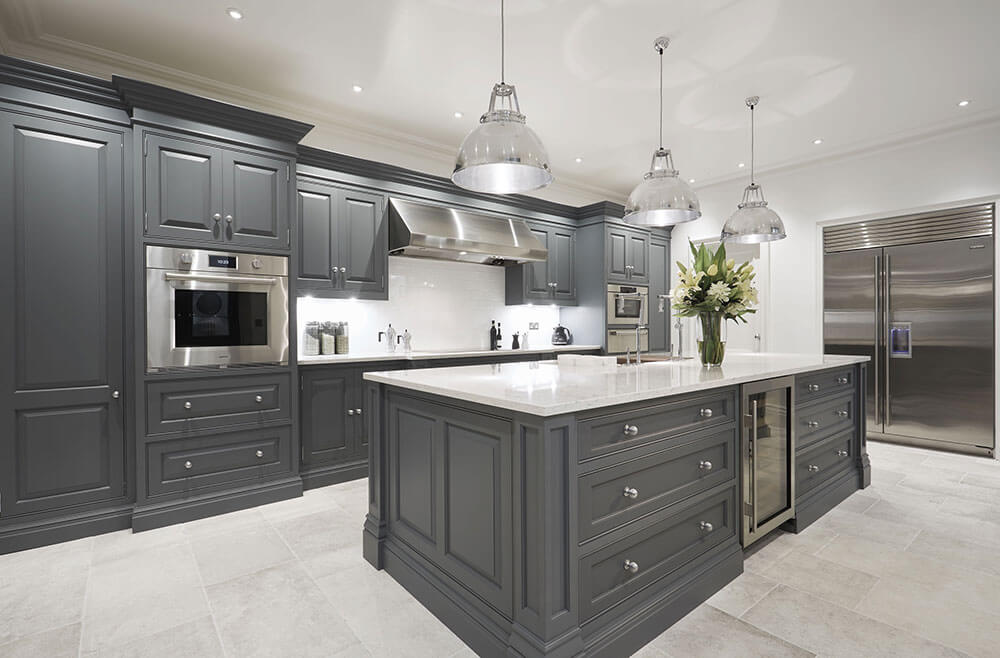 Sub-Zero Undercounter Wine Storage
This solution works in exactly the same way as the fully integrated wine fridge – it's just neatly designed to slip seamlessly under your counter or into your island. It provides state-of-the-art technology to preserve the integrity of your wine while it's in storage and to ensure its flavour is exactly as it should be from the first glass to the last.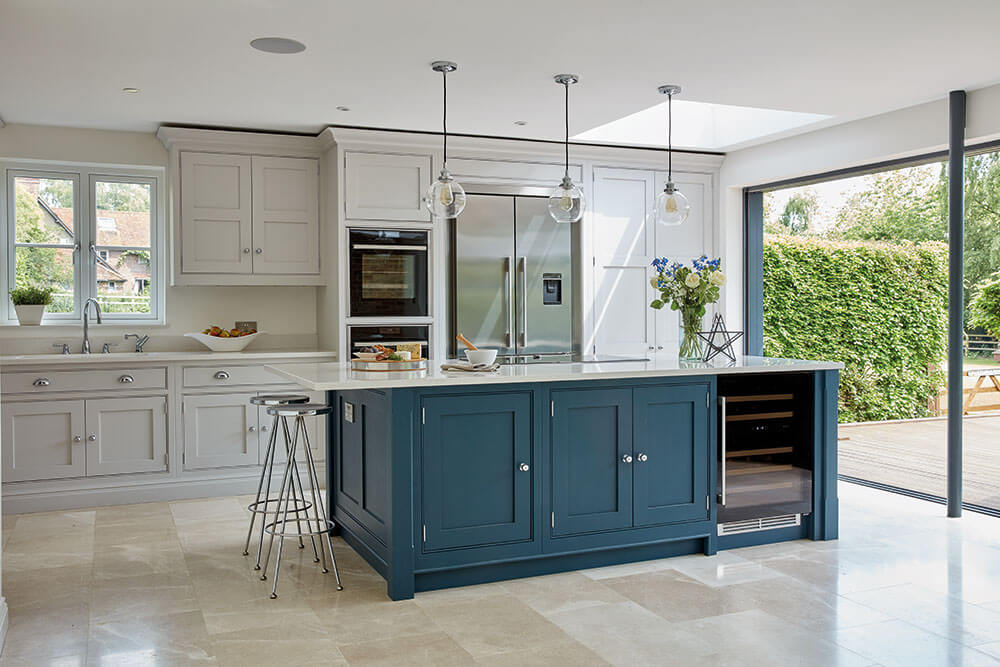 Caple Dual Zone Wine Cabinet
The Caple offers a combination of sleek design and superb technology. It has a no-frost compressor to maintain a consistent temperature with dual stacked temperature zones. This means you benefit from independently controlled areas for your reds and your whites. A fan circulates cool air for even temperature distribution. It has UV/heat-free LED lighting and it's also vibration free.
Singular Island Wine Cooler for Serving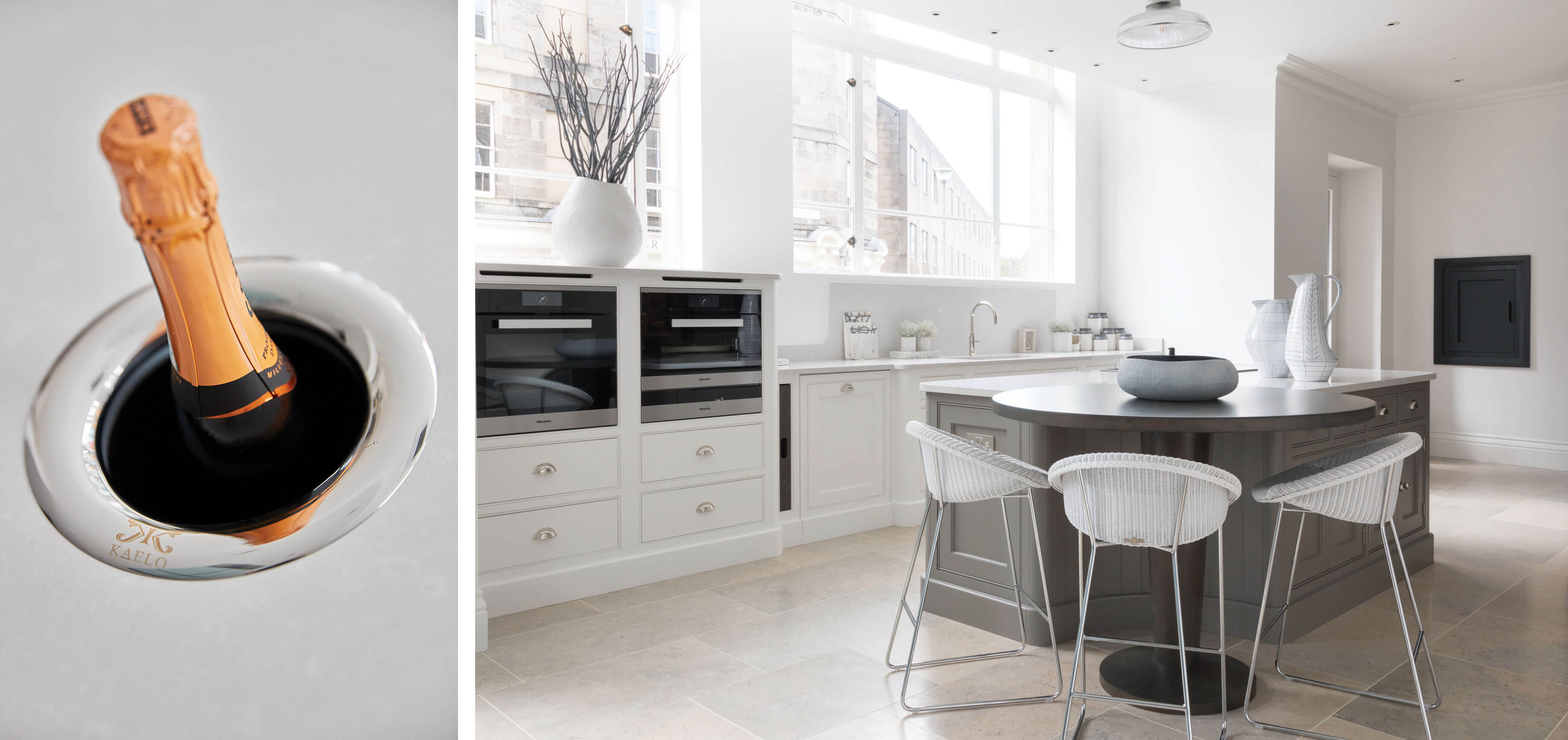 Kaelo Wine Cooler
This neat option is usually placed on your island. Kaelo is designed to keep your drinks perfectly chilled once you've opened the bottle. Using a dry-cooling system, Kaelo keeps the bottle within 1-2 degrees of its opening temperature with no ice, no drips, and no need for refills to keep your drink cold.
All luxury kitchens deserve state-of-the-art appliances which is why we partner with some of the top kitchen appliance brands. Discover more about our kitchen features here.