Chestnuts roasting on an open fire… it's that time of year again and at Tom Howley, we're getting into the festive spirit. Our cosy kitchen ideas aren't just for Christmas; they're fantastic for the whole of winter, which officially starts on 21st December. Here are just a few of our favourite ideas that'll help you to create a wonderful, welcoming kitchen that's perfect for the whole family to enjoy.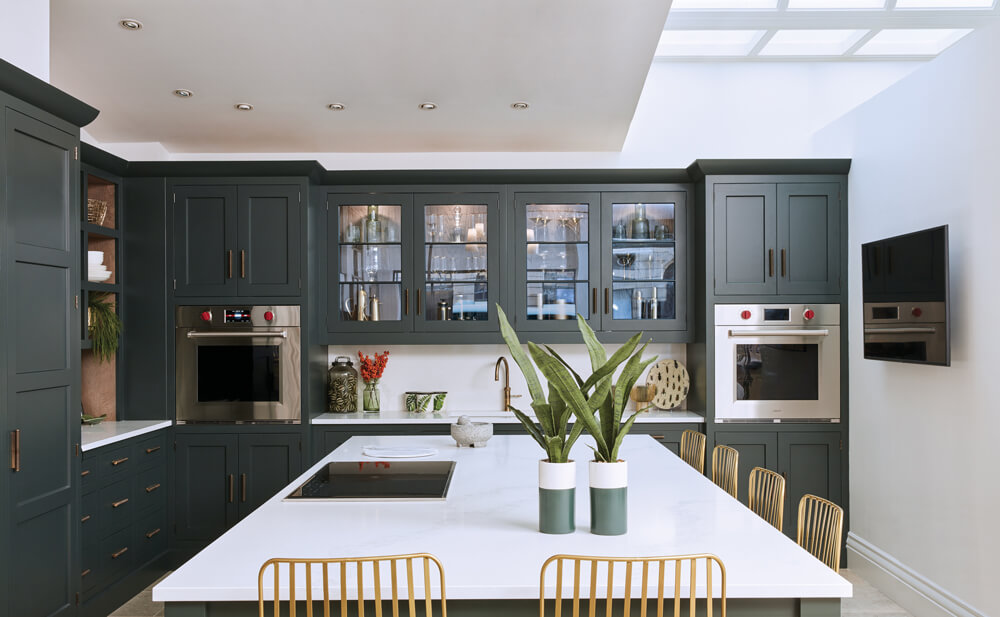 Dark Green Kitchen
Candle Light
With lots of cooking and plans for entertaining, the kitchen is where we spend most of our time over the festive period. So it's essential to make it feel as warm and inviting as possible. The soft glow of candlelight is a beautiful alternative to harsh overhead lighting when it comes to creating a festive atmosphere. Place church candles in hurricane jars on work surfaces and mantelpieces or scatter tea-lights to add a magical twinkle to late-night suppers in the kitchen. Mood lighting from integrated lights inside glass cabinets works just as well when it comes to creating a cosy kitchen with a romantic atmosphere. If you've gone for a minimal living space, soft, flickering candlelight can transform the room and give it a warm feel.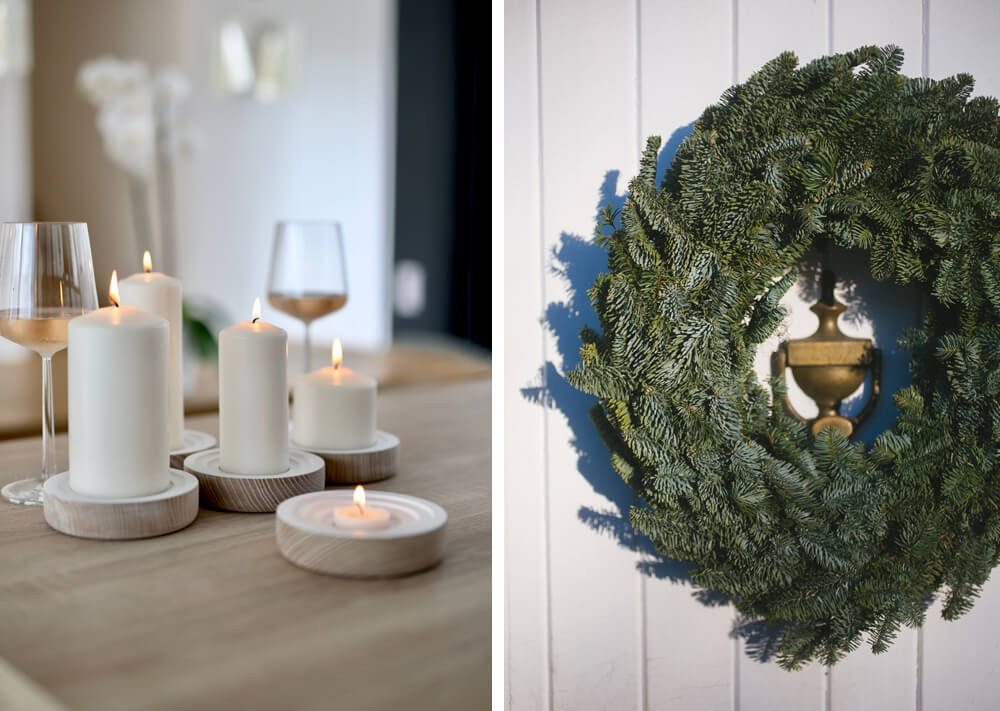 Scent the Way
Cinnamon, winter pine, fruit cake, mulled wine; these evocative scents immediately tell you which season you're in! They can be created with high quality scented candles to promote a sense of calm and good cheer – perfect if you're hosting a dinner party or enjoying Christmas cocktails in your kitchen. Scented candles are also a fragrant way to mask unwanted cooking smells so you can enjoy an after-dinner drink in a deliciously scented environment. The White Company 'Winter' candle is one we go back to year after year. This beautiful candle excites your senses with its spicy aroma of seasonal cinnamon, clove, nutmeg and orange.
Bring Nature Inside
Bringing the outdoors in can add life to your cosy kitchen during the festive period. Add natural foliage wreaths to doors, adorn table settings with spruce and holly or wrap garlands of pine, eucalyptus and pine cones over staircases, window ledges or fireplaces. Add a touch of romance by hanging mistletoe to doorways or hang it from beams or ceilings. Natural plants and evergreens go a long way in creating cosy kitchens.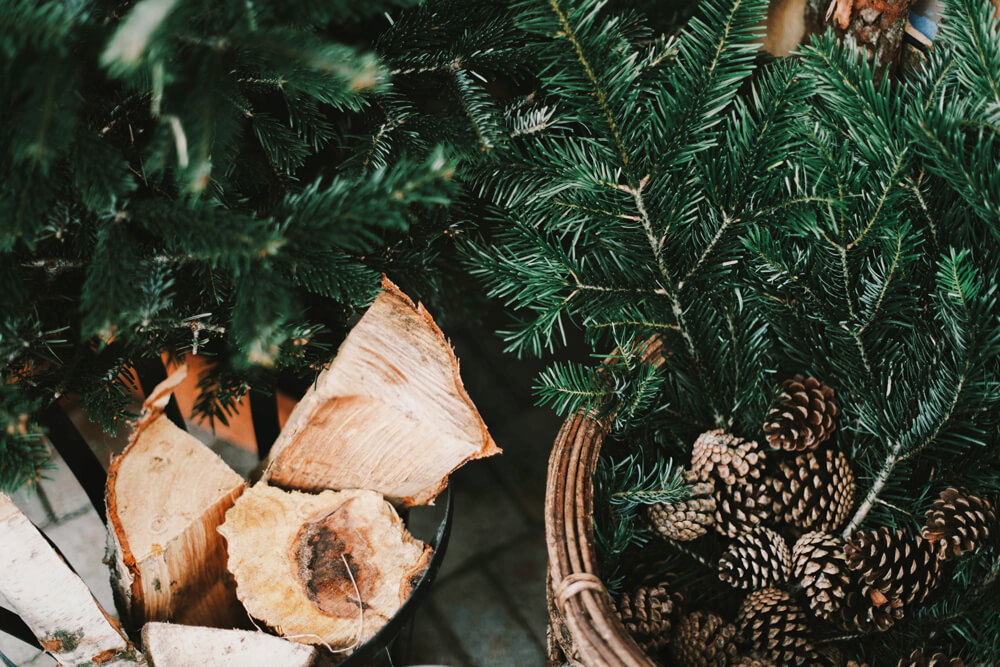 Add a Little Hygge
Hygge is a Danish and Norwegian word for creating a feeling of cosiness and promoting a mood of comforting conviviality and contentment – especially within the home. Hygge can be created using textures; woven rugs, natural woollen throws and soft, sumptuous faux sheepskin. Use colourful, cosy cushions on leather armchairs or sofas, or arrange hurricane jars and candles on plain surfaces. Rustic woods, linens and faux skins are also fundamental to the hygge movement in creating a relaxing retreat and a cosy kitchen over the festive period.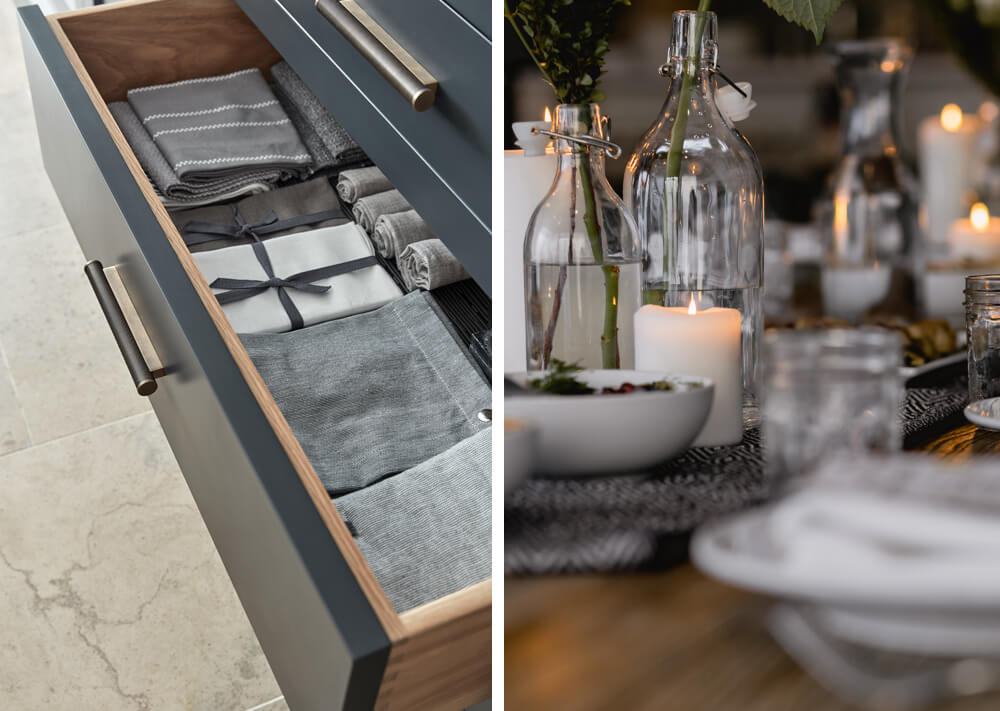 Dark Grey Shaker Style Kitchen
Dramatically Dark Kitchens for a Cosy Winter Feel
Dark colours for kitchens have never been so popular. This year we saw an upsurge in orders for grey shades and equally popular are sumptuous dark green shades like our Avocado paint colour. Rich, dark coloured kitchens, when paired with pale worktops and stone floors can look dramatically luxurious. The beautiful deep colours create a sophisticated yet snug ambiance. This inviting effect can be seen in Tom Howley collections finished in our exclusive paint colours, Nightshade and Lithadora.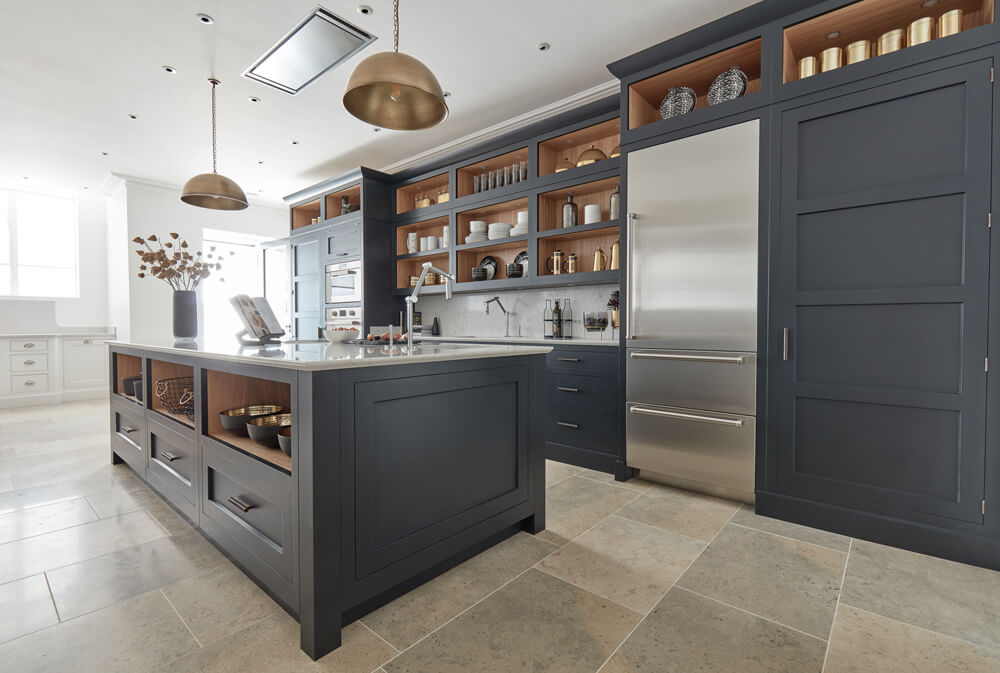 Dark Grey Shaker Style Kitchen
To find out more about our kitchen designs or for help and advice on planning your dream space, visit one of our showrooms today.