With showrooms up and down the country welcoming new visitors every day, we like to focus on what's new and what's happening in the lovely towns where they're located. Alderley Edge in Cheshire is famous for its magical 'Edge', a natural outcrop in an otherwise level landscape overlooking miles of beautiful countryside. This charming town also attracts visitors to its upmarket boutiques, gourmet food restaurants and glamorous wine bars. So if you're looking for a kitchen that offers you something special, our Alderley Edge showroom is the perfect destination to your browsing.
Our Alderley Edge showroom is home to our stunning range of exquisitely designed kitchens in a variety of styles, colours and finishes, all with the latest appliances and accessories. A visit to our showroom allows you to see first-hand the meticulous attention to detail in our bespoke cabinetry; you'll also have an opportunity to speak with one of our expert designers and to explore exactly what can be achieved in your own home.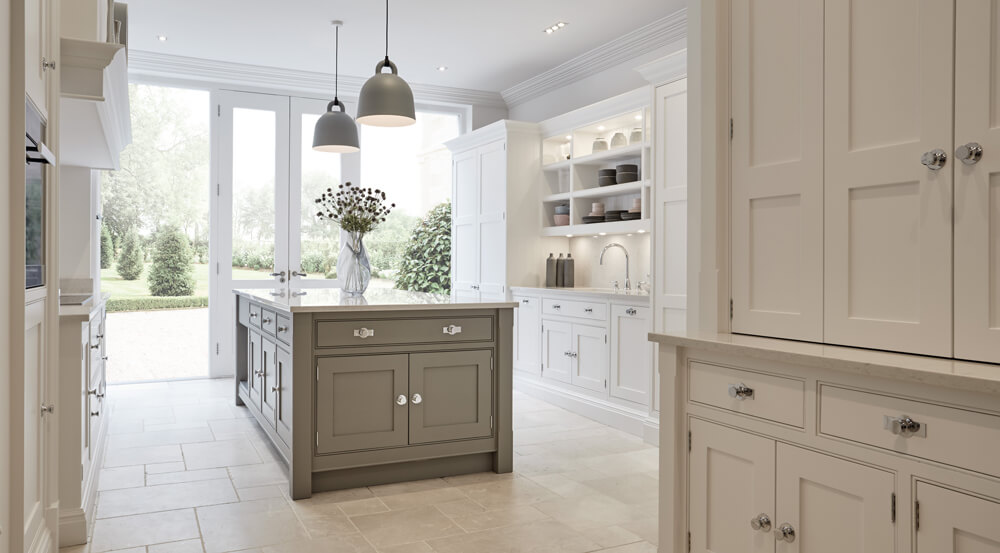 Grey Shaker Kitchen
Discover Our Hartford Grey Shaker Kitchen
One of our most popular and well-loved kitchens is our Hartford Shaker kitchen in grey, and many of our visitors travel from outside the area to see it on display. Like every concept in the Tom Howley kitchen collection, every element of the Hartford, from its statement island to the built-in seating, can be designed to fit the exact contours of your space. We understand that a kitchen isn't just a place to cook and eat; it's where you socialise, catch up with friends and family, plan your week, or be entertained. And with bespoke design to make things happen, almost anything is possible.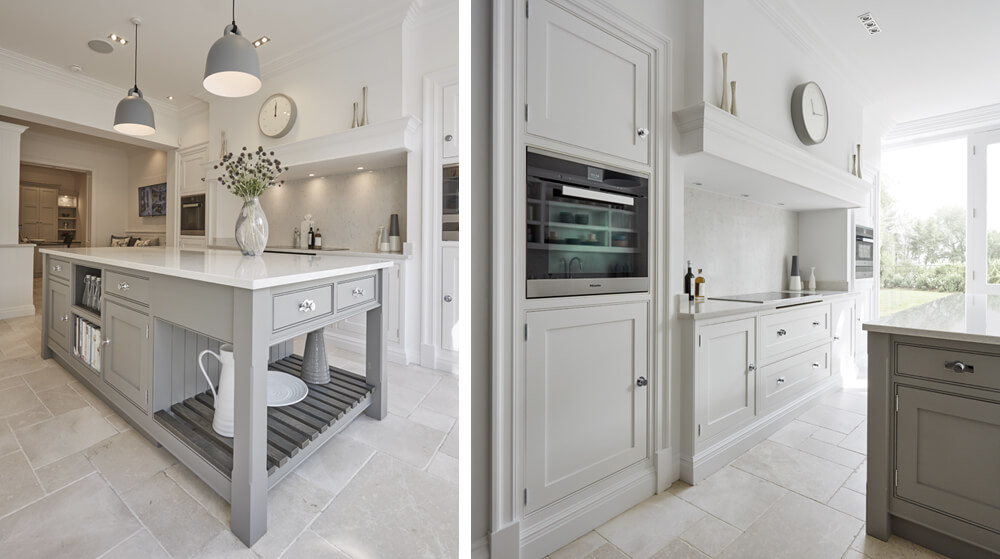 Grey Shaker Kitchen
Our Alderley Edge showroom is a calm and relaxed environment, and Jenny, our Designer, offers every client a warm welcome and a one-to-one design consultation. She says, "We try to make it as personal and professional as possible so that our clients feel excited and motivated about their new projects when they leave the showroom." As well as showcasing what's possible with cabinetry, we can advise on the latest appliances such as Quooker taps, Miele coffee machines and wine fridges. We also have a broad selection of exclusive paint colours and finishes that can be cleverly co-ordinated to give every kitchen a truly unique look.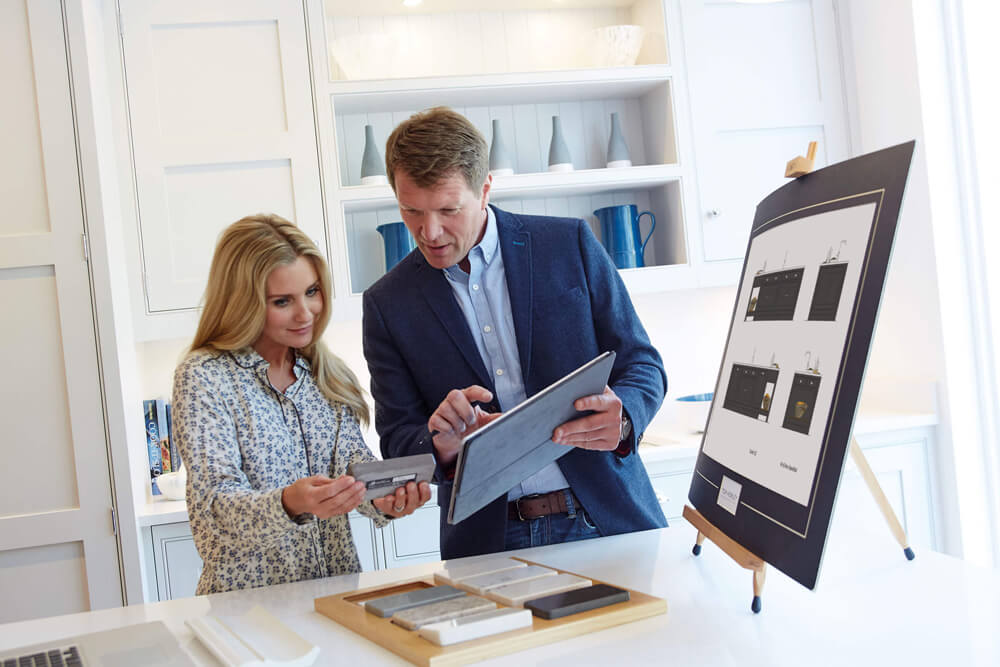 Places to Eat in Alderley Edge
If all that talk about kitchens has whetted your appetite, we love The Oakwood Pub and Brasserie for its delicious menu featuring French classics alongside British pub favourites. It's a great place to share food with all of your friends whether they're lovers of real ales or fine wines. If you fancy something a little more exotic, Yu Alderley Edge blends traditional and modern Chinese cuisine to provide a fine dining experience. It's a wonderful restaurant to enjoy dim sum or to treat yourself to a fantastic banquet of delicious food created using the freshest ingredients.
Whether it's the middle of winter or the height of summer, The Merlin is a classic British find with incredible pub food, real log fires and comfy armchairs – the perfect place to enjoy a snack and to browse our beautiful brochure and kitchen ideas!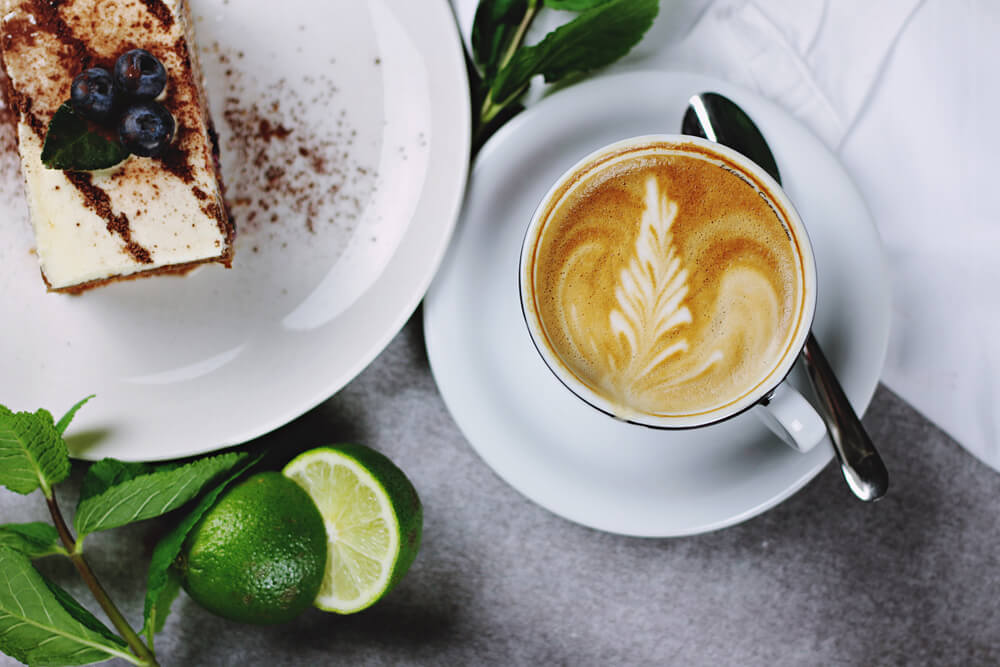 Things to See and Do
Nobody can say they've been to Alderley Edge if they haven't had a stroll by mystical The Edge itself – it's absolutely magical and steeped in local folklore. Forget Tintagel Castle in Cornwall or the Tor at Glastonbury, to the people of Cheshire, this is the real resting place of the legendary King Arthur! Take in the fantastic views of the Cheshire Plain from the top of The Edge then stop off for tea and cake at The Wizard Tea Room.
Love a glass of fizz? Did you know Alderley Edge sells more champagne each month than anywhere else in the UK? Head to one of its many glamorous wine bars if you want to be part of the stat – we love Alderley Edge Hotel.
Shopping Doesn't Get Much Better Than This
Alderley Edge simply dazzles with its array of independent designer clothes shops such as Rocca Boutique – perfect for glamorous occasions. You'll find specialist shops for items for your home, gifts and speciality food shops, including traditional butchers, florists and local produce. When it comes to edible treats, you'll find all the fancy goodies you've ever dreamed of under one roof at Grantham's Fine Food and Wine.
The journey to your own luxury bespoke kitchen begins with a visit to the Tom Howley Alderley Edge showroom. See for yourself the exquisite quality of our kitchens, discover our range of finishing touches and discuss your ideas with one of our experienced designers.