Handcrafted luxury pantry cupboards are becoming increasingly popular in modern day homes. No matter how much space you dedicate to this beautiful yet functional feature, it will create invaluable storage maximising capacity in the whole kitchen.
Traditionally placed downstairs in large English Victorian country homes, and originally named the 'butlers pantry' it was used to store cooking essentials, fine silverware and valuable ingredients. Developing over years it eventually became an integral part of every home, in the early 1900's modern kitchen pantries started to be used to store dry goods, cans and even vegetables within darkened drawers. Design is now advancing with the inclusion of varying shelf heights, door racks and integrated drawers making them perfect to store everything from kitchen appliances, dishware, glasses, cookbooks and even integrated coffee machines.
When designing a kitchen, or remodelling a home the first thing you think about is how to utilise every available space to its full potential. An intelligent and beautiful way to keep kitchens clutter-free, pantries can be incorporated into any space. With full-height, double doors and integrated drawers there's a wealth of design options to meet your needs.
As we love crafting pantries into our own Tom Howley kitchen designs we thought we'd share our top reasons to introduce this trendy storage feature into your own home.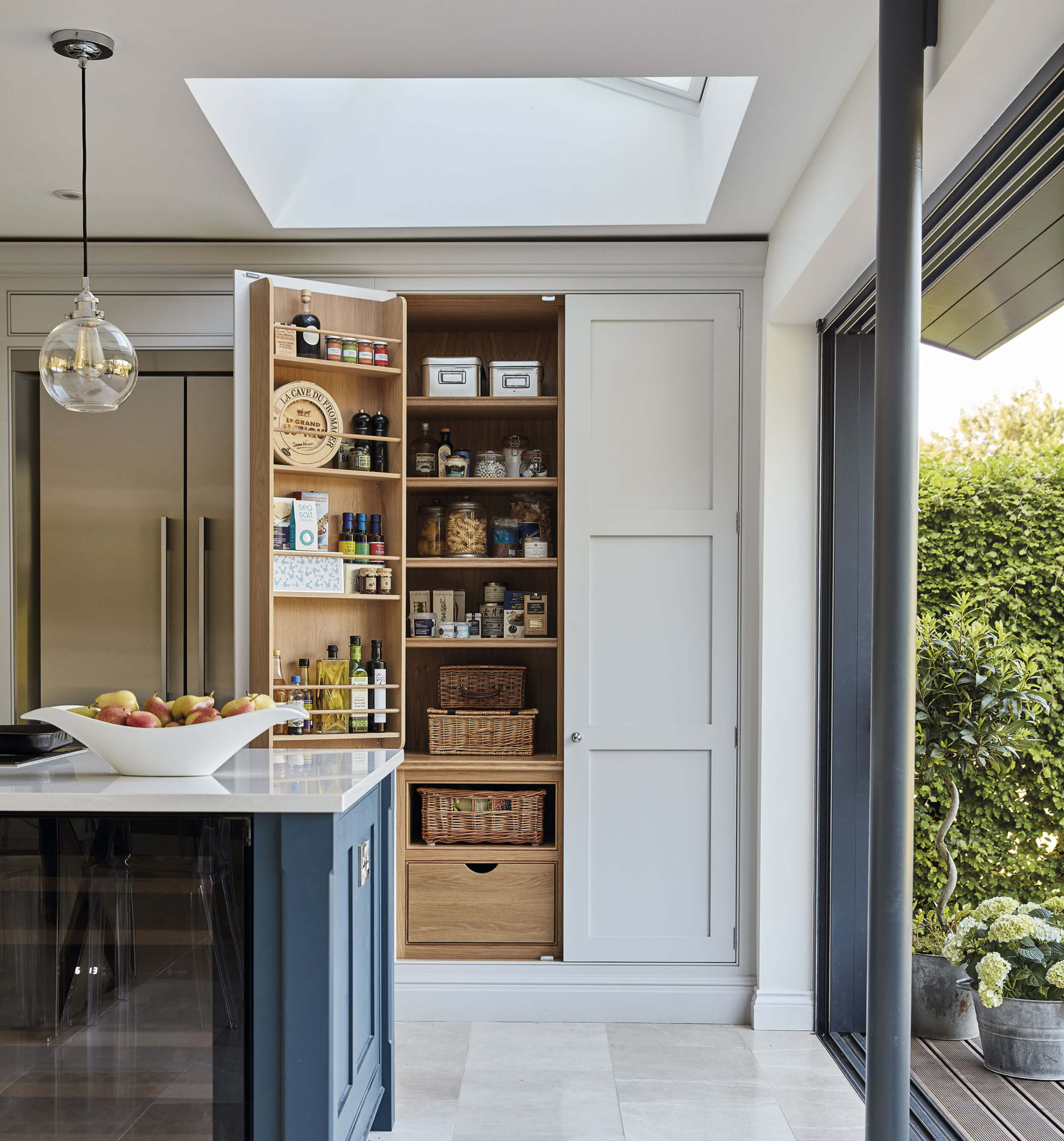 Less is more approach to surfaces
When it comes to our kitchen it's hard not to leave every essential and appliance out for convenience. You can still easily go about daily kitchen tasks, having everything to hand with clever storage. Small appliances don't have to be out on display cluttering up surfaces, with a kitchen pantry you can simply add a hidden workspace behind closed doors. Create a designated breakfast space for your kettle and toaster with morning essentials to hand like coffee, tea and cereals all stored in transparent containers. You can add a range of personal touches to the interior of your pantry, for instance, the inclusion of a Miele coffee maker, making mornings that little more enjoyable.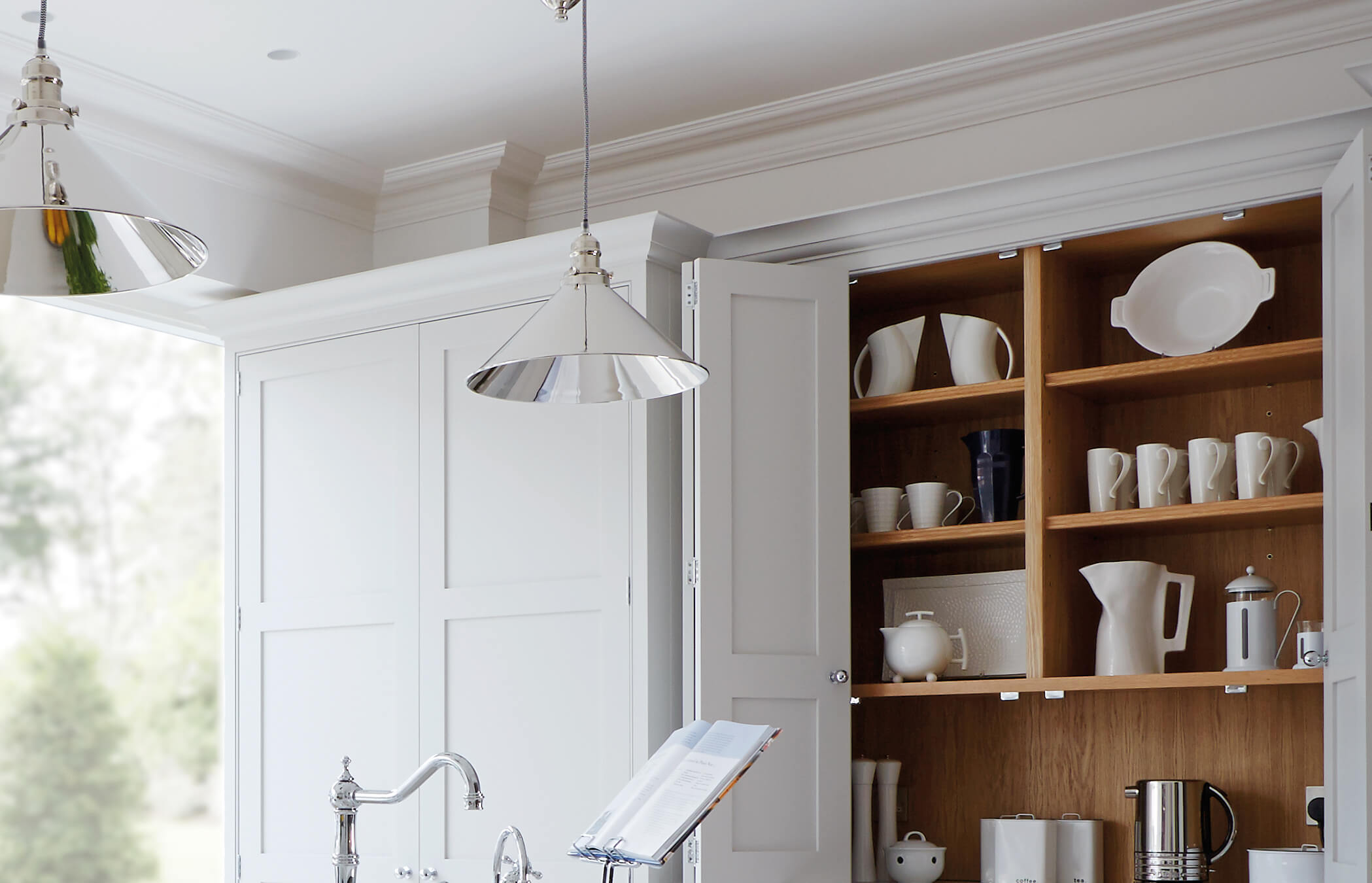 Essential kitchen storage for daily essentials
With so much accessible space to store items beautifully, kitchen pantries bring order to the busiest of environments. Whether you choose a walk in or integrated cabinet pantry it makes sense to structure the contents. A good organisation trick is to place utensils, everyday equipment and cooking elements at a lower level making it easier to grab what you need, when you want it. When it comes to stocking up on food place older ingredients and goods to the front and lasting ingredients towards the back to prevent any wastage. This applies to anything from pasta, cans, condiments and sauces.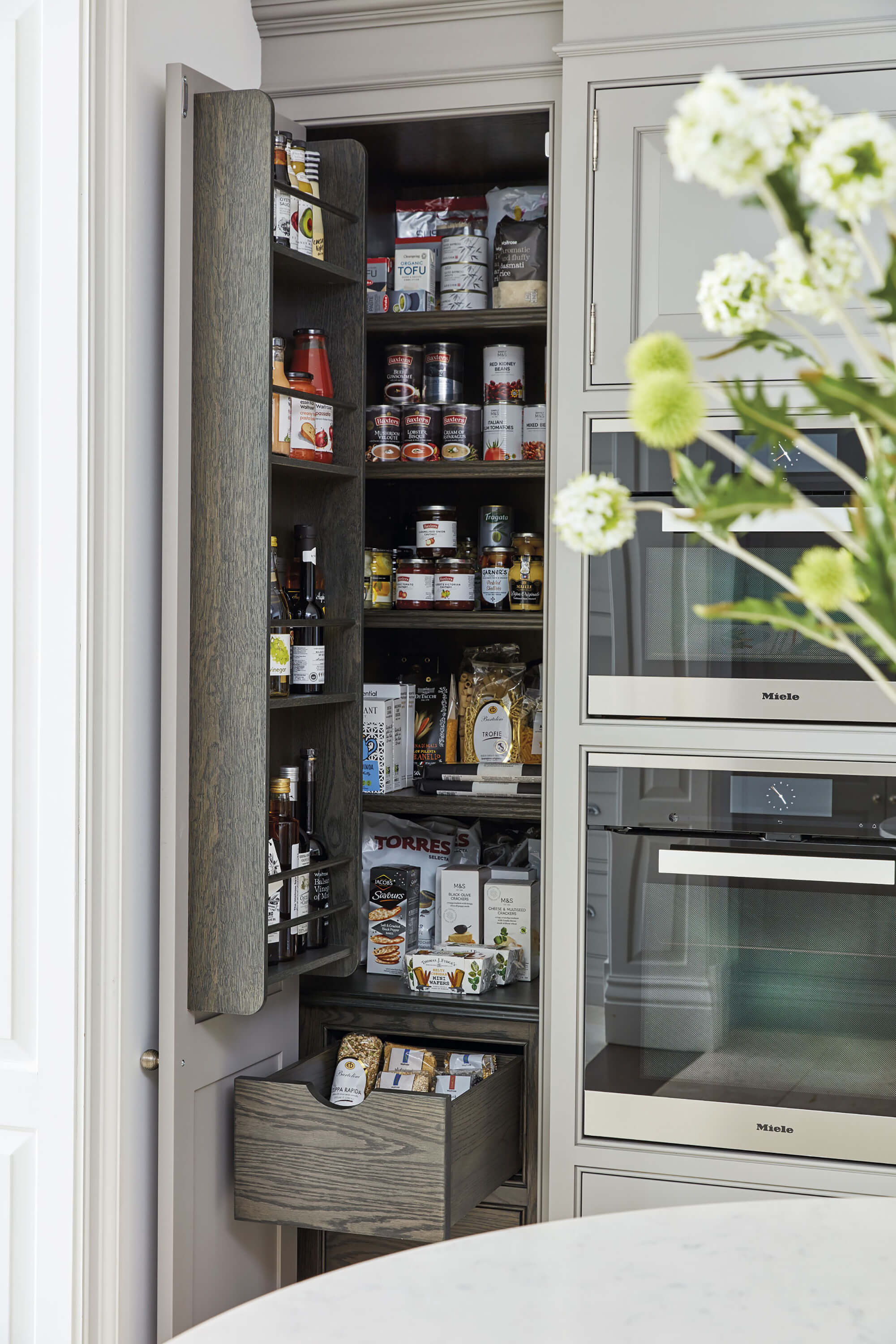 If you don't have large areas to play with incorporate slimmer, tall pantry cupboards around the room. Position narrower designs in key areas of your kitchen, for example, frequently used appliances and ingredients in main prep zones and dishware or glasses close to social spaces.
With Tom Howley pantries special hinges allow the doors to be opened to 180 degrees to allow maximum reach and light, great for dark corners. Door racks can offer additional storage on what would have been wasted space, these are a lovely solution for displaying spices, herbs, sauces and oils.
Tailored to your needs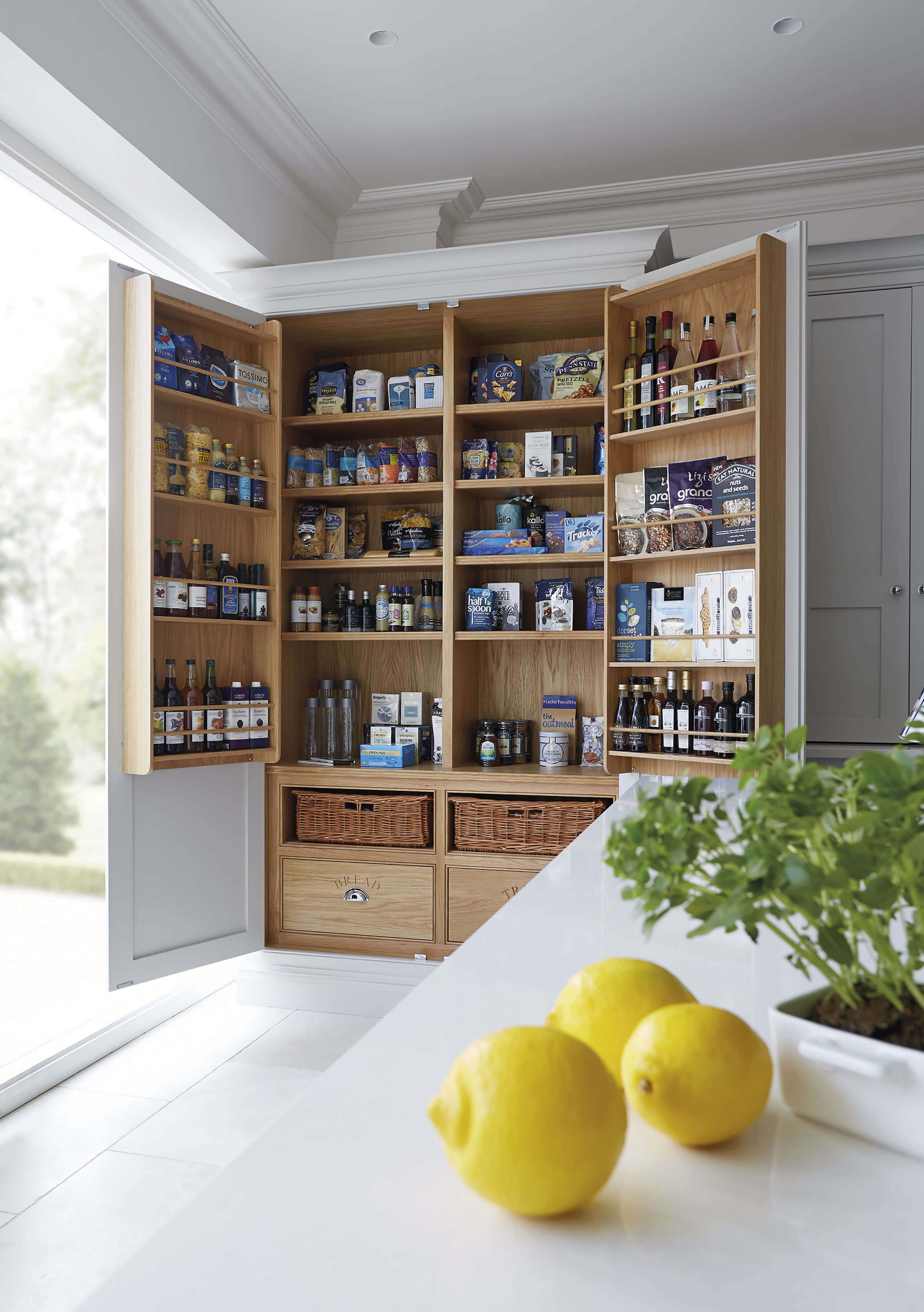 Remember every kitchen pantry can be tailored to your needs. If you have an idea of the use and practical elements you want to include within the kitchen it becomes easy to plan out. Integrated drawers are perfect for storing more perishable items such as fruit, vegetables or breads. The pantry provides huge versatility when it comes to stockpiling ingredients. Group similar goods together using baskets and shelf organisers, this not only looks tidy but stylish when the doors are open. If including baskets or larger storage combinations take into consideration shelf height and depth.
Even though your shelves are behind closed doors it doesn't mean they can't look impressive, there are so many ways to create sleek displays. One solution that's particularly pleasing and easy to achieve is the use of mason jars for dry ingredients and baking staples. This way you minimise unsightly packaging and can see everything you have stored in your pantry.