Kitchen flooring can transform a room – not only should it be durable, it must look the part too. These days there is so much choice that picking just one can be a task in itself. To give you a helping hand, we've selected a few of our favourite options for kitchen flooring, including materials and designs.
Material Things – Choosing a Flooring That Will Last
Kitchen flooring is the most walked on surface in the home, so it needs to withstand regular staining, muddy foot and paw-prints plus water spills, and temperature fluctuations. Because it will take a bit of hammering on a daily basis, it also needs to be tough enough to cope with regular cleaning. We understand that the finish of your flooring will be influenced by your home's architectural style, interior design and personal taste in colours and patterns. So whether you have a sleek and contemporary apartment or a traditional farmhouse, we love these incredible kitchen flooring ideas for their style and durability.
Marble – Mazzano Honed Marble from Pure Stone
While marble is one of the most durable and attractive materials for kitchen flooring, it must be expertly laid for best effect and to maximise its strength. Hard, strong and long-lasting, this honed marble, shown with a kitchen from our Hartford collection, has a delicate and uniquely patterned natural vein skimming through, giving the floor interest. The stunning pale mushroom and cream colouration is in striking contrast to the blue and grey shades in this shaker style kitchen.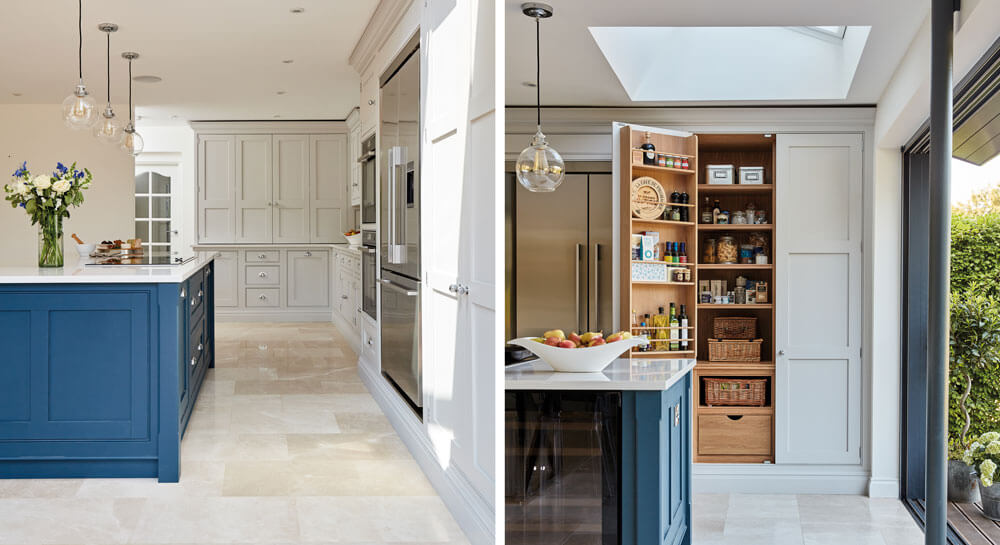 Blue Shaker Kitchen | Limestone – Blue Beige Honed Limestone from Pure Stone
Choose limestone, and your kitchen flooring will actually be millions of years old. Formed from sedimentary rock and fossilised deposits on the sea bed, compressed to form solid stone, limestone is incredibly durable and low-maintenance. Typically, natural limestone has warm shades of cream and gold as well as soft and soothing blue and grey which make it a perfect choice for interior designers looking to create a high quality, contemporary finish in the kitchen space. This stunning blue-beige limestone works beautifully with the luxurious deep grey finish of this shaker inspired kitchen from our Kavanagh collection.
Dark Grey Shaker Style Kitchen | Porcelain – Botticino Porcelain from Pure Stone
This well-known Italian marble has an oyster coloured background with some occasional white or darker veins running through it. This porcelain version represents the stone beautifully but has the added advantage of being far more durable and available in larger sizes. These stunning large format porcelain tiles can look incredible on walls as well as floors and can be comparatively cost-effective. Porcelain is smooth and sleek, making it easy to clean and maintain. The soft beige/cream tones in this kitchen flooring are the perfect complement to the avocado finish of our stunning Kavanagh kitchen.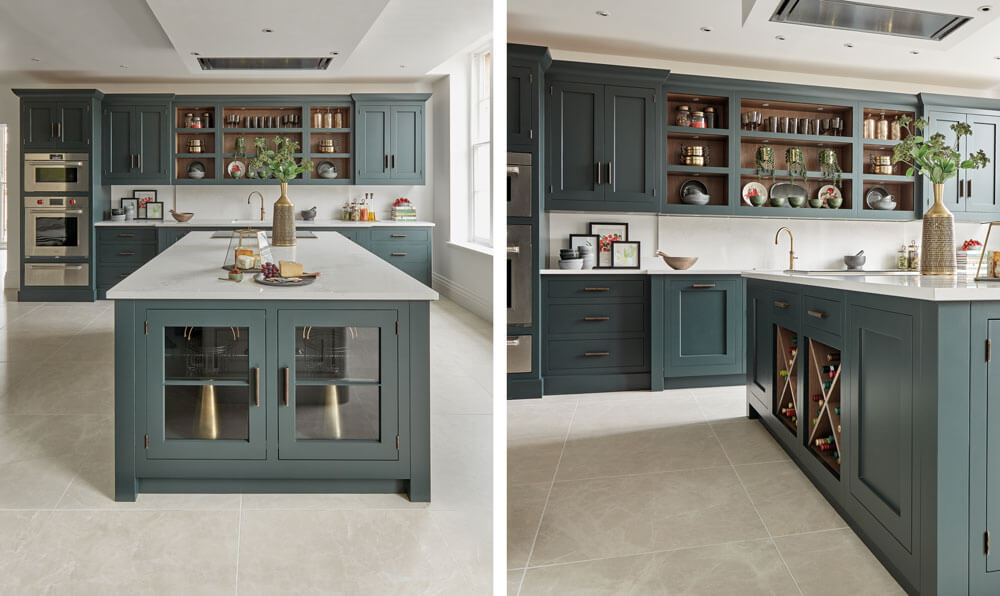 Dark Green Kitchen | Herringbone Parquet Flooring
Because traditional parquet is engineered wood blocks, it can react to water or changes in temperature, making it an unstable choice for humid environments like the kitchen. The great news is Element7 http://www.element7.co.uk/parquet-floors/ provides exceptionally engineered parquet combined with a high-quality, hard-wearing finish that will give you a completely stable kitchen floor for decades to come. The herringbone pattern adds warmth and interest, making it a perfect flooring choice for shaker-style or traditional farmhouse kitchens. The finish of this superb parquet kitchen flooring is the ideal choice for our Hartford kitchen – the colour combinations and overall effect unify the entire interior design.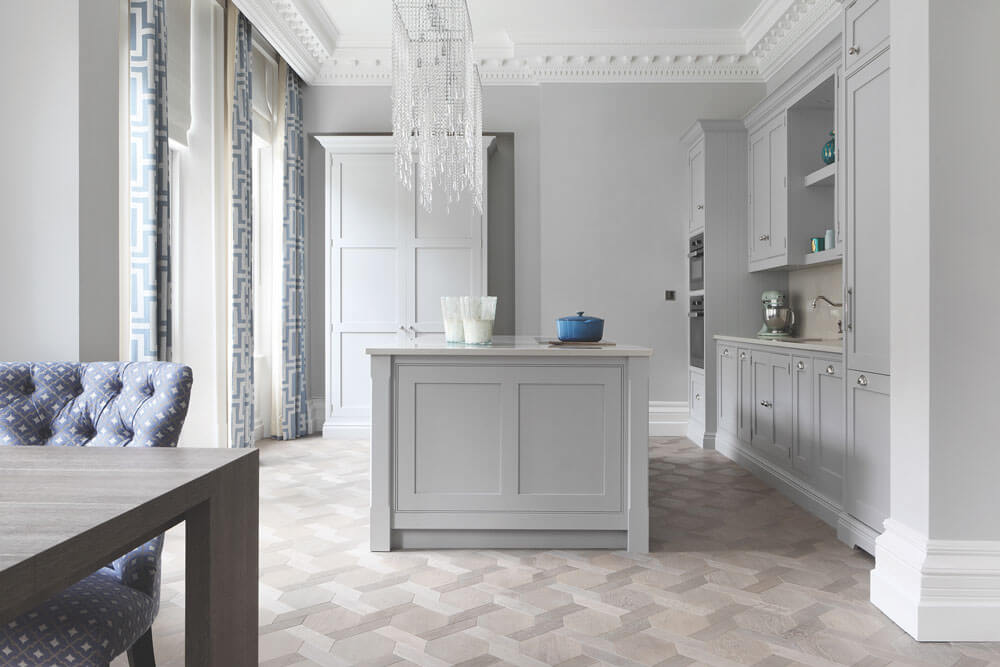 For more information about practical kitchen flooring, visit one of our showrooms today.