Practical and sleek in equal measure, having glass fronted cabinets is an excellent incentive to keep your shelves in order. However, glazing comes in all shapes and sizes, so if a large area of clear cabinetry is a little ambitious, try incorporating it in the top sections of your cupboards or the kitchen island for a beautifully elegant look.
A clear starting point should be the style of your home and your own personal taste when it comes to kitchen design. A Tom Howley designer will spend time getting to know you and your requirements providing you with plenty of ideas and inspiration to ensure the end result exceeds your expectations.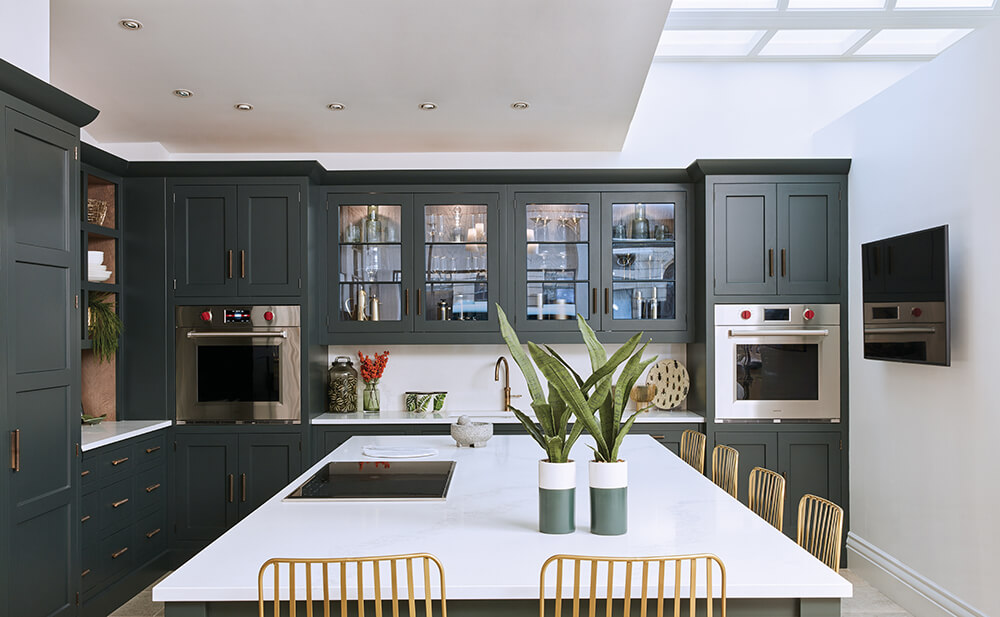 Dark Green Shaker Style Kitchen
See the Benefits of Glazed Cabinets
Glass is an excellent finish for kitchens. Not only do glazed cabinets break up the monotony of repetitive, solid fronted doors – especially in large spaces – they maximise the flow of light into darker corners. Having glass-fronted doors is as good as open shelving when it comes to displaying your prized pieces. They're also fantastic when accessing everyday essentials allowing you to see what you have and where you've put things.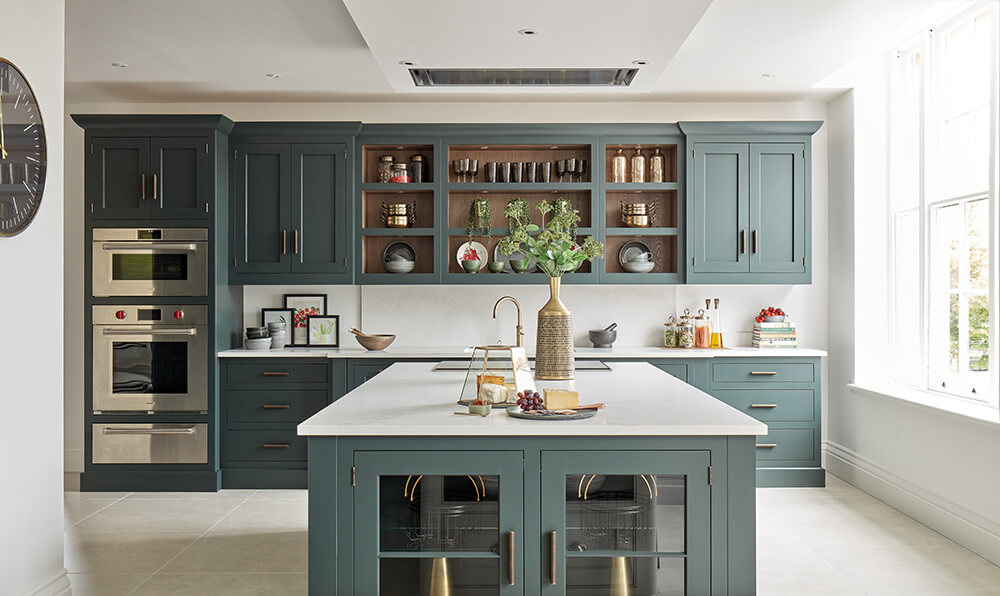 Glazed Cabinets in Your Island
Islands take up a large amount of space so having glass-fronted doors can break-up the block. Glass inserts create an illusion of depth and increase the perception of square footage, which is a bonus in smaller kitchens. A traditional Shaker style kitchen would always have a dresser for crockery and copperware, so glazing in an island that's inspired by Shaker-style design recreates the look in a contemporary way.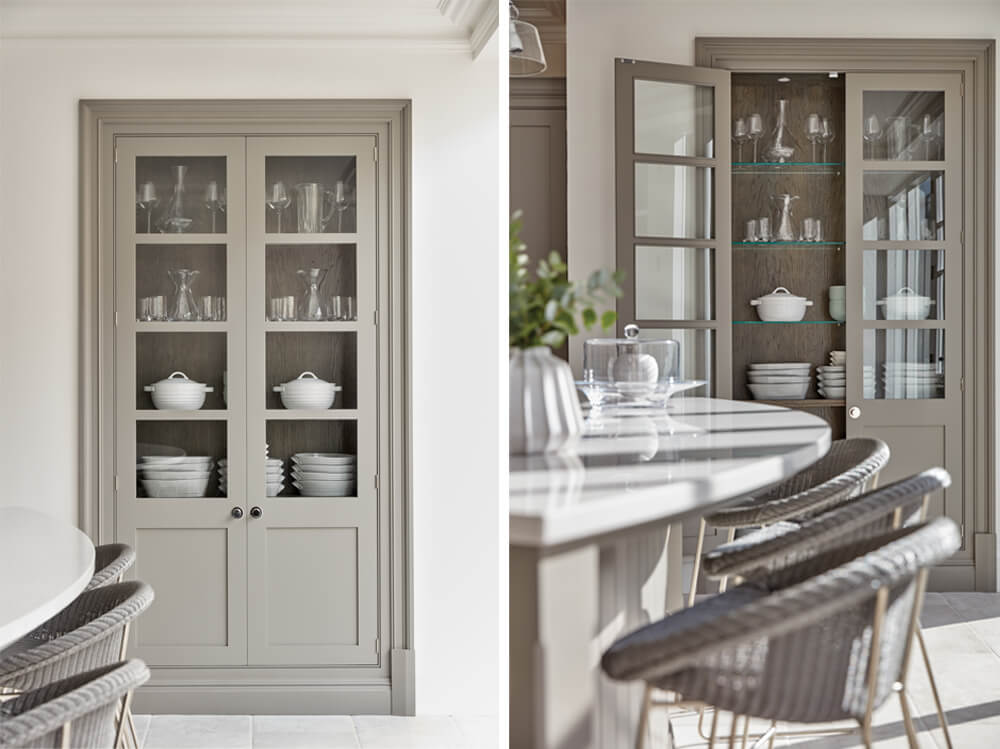 Glazed Pantry
Like open shelving, glass-fronted cabinets are a fantastic, stylish kitchen storage option. If you have beautiful crystal, or you're proud of your dishware, why hide it away in the dark? Adding integrated mood lighting, like the lighting seen in The Hartford design's refined glass pantry, ensures your finest pieces are never forgotten. It also provides an alternative ambient light source when you're enjoying a romantic dinner or cocktails with friends. Used in the right places, such as in corners or where there is a lot of closed cabinetry, glass-fronted cabinets can make your kitchen look even more spacious.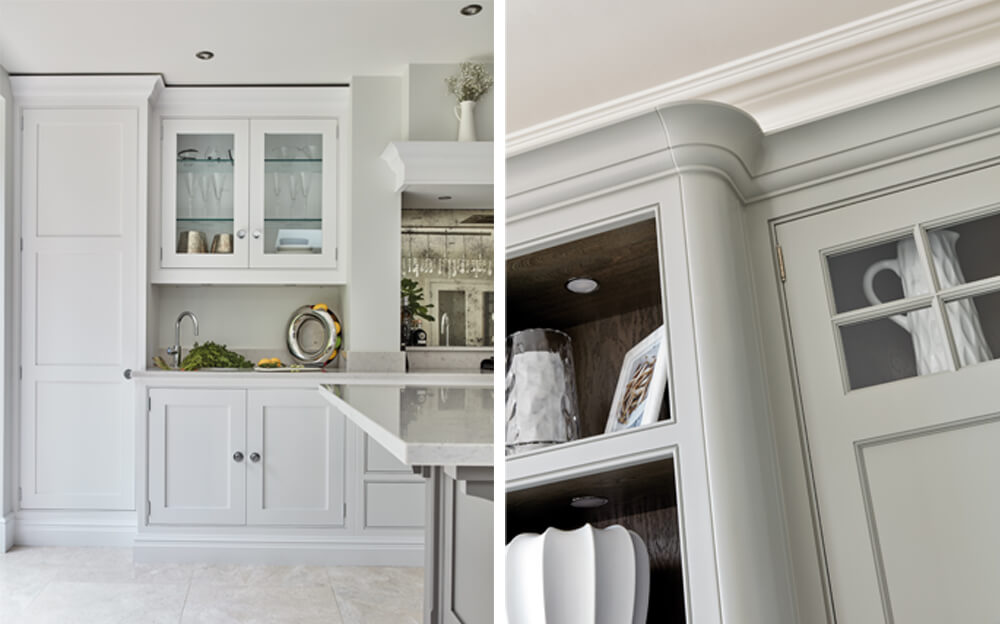 Where in the Wall?
Glass fronted cabinets are used most often in upper sections of your kitchen. If you love lots of glass, make sure you have plenty of space for neat stacking and storage. If something is out of place, it'll make you think twice about whether you really need it on show.
Keeping Them Organised
The things you use most often should be front and centre in your cupboards, so they're always to hand. For example, keep your utensils and pots and pans closest to the worktop you use to prep food. Organized kitchen cabinets make meal planning and grocery shopping easier because everything has a place and you can see at a glance what you need to use up, or stock up on.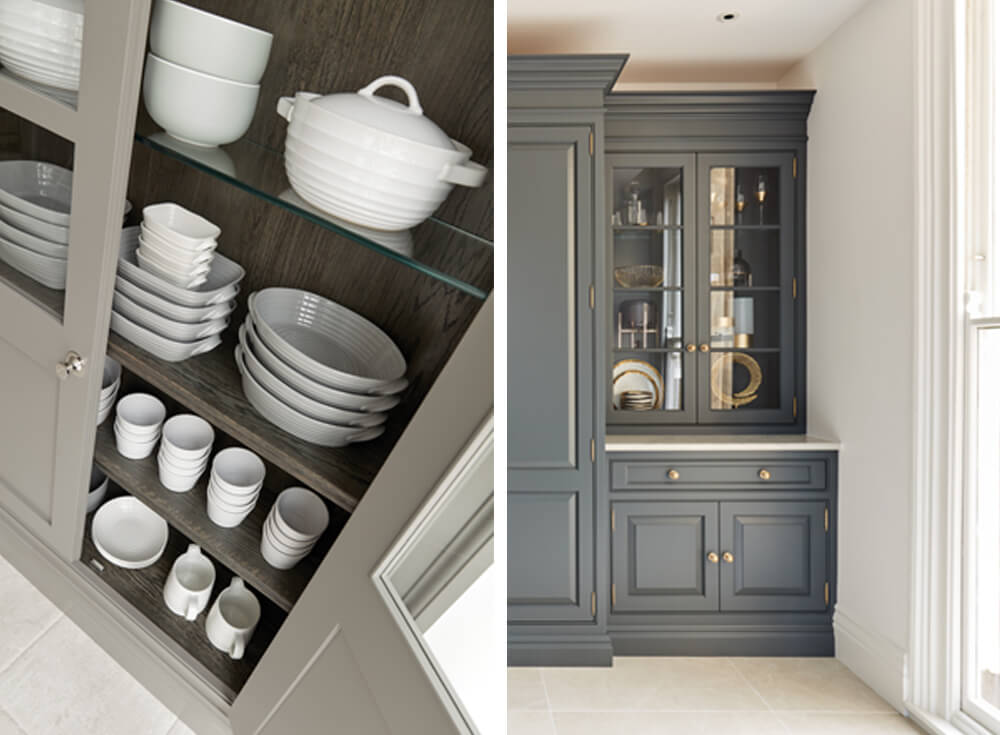 How to Style Them
Styling should be a delicate balance of function and looks. When the products you use are on display, it's essential to keep the functional things within reach and the beautiful things in sight. Keep your display items symmetrical using the rule of 'odd numbers'. For example, if you have a group of 5 or 3 pieces of pottery, candles or vases, place the tallest item on the centre of the shelf, with shorter items on either side. This works when you're stacking bowls or plates; keep the highest stack in the centre to create a visually harmonious flow. Cookbooks in height or colour order look great behind glass fronted cabinets or sitting on open shelving.
However you want your next kitchen to look, you'll find plenty of inspiration at Tom Howley. If you're ready to find out more, why not visit your nearest showroom or call to book a free design visit.