Choice of colour is critical to the success of your kitchen design. Chosen well a painted kitchen will stand the test of time. Whether you simply want to change the colour of a wall or have decided to embark on a home renovation project, this year's kitchen colour trend list is here to help inspire.
Contrasting Cabinetry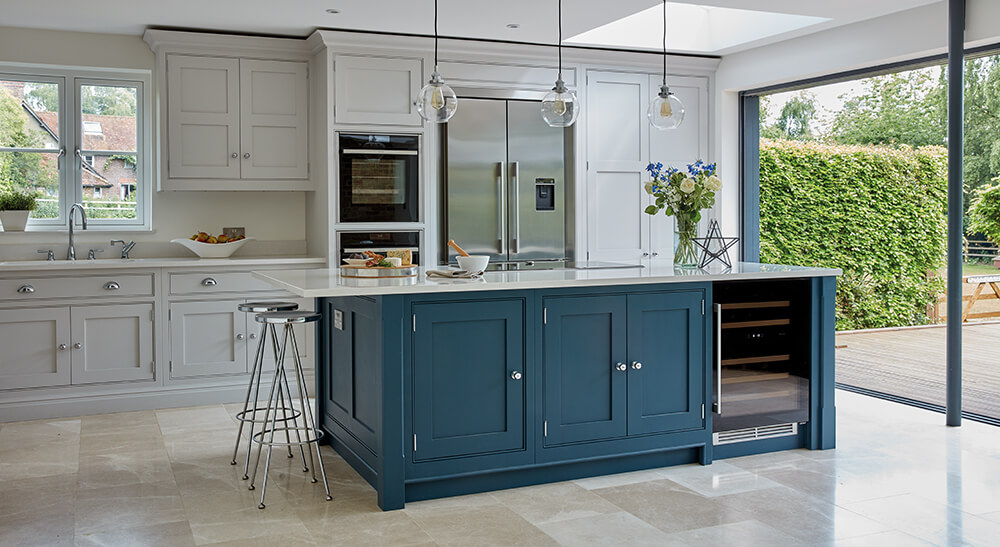 Colour can set the tone and mood in a room, so why stick to just one shade when colour can have such a transformative effect. Two-toned kitchens have been in popular demand over the past year. With darker colours now materialising in kitchen design, using a two-toned palette allows you to add confident shades without overwhelming a space. You can use bold colours side by side to create a high contrast look or combine calming neutrals with a dark paint colour on the island for depth and sophistication. Remember, when it comes to choosing a palette for your kitchen, it's essential to choose the right tones to reflect and balance your lifestyle and personality.
Calming Paint Schemes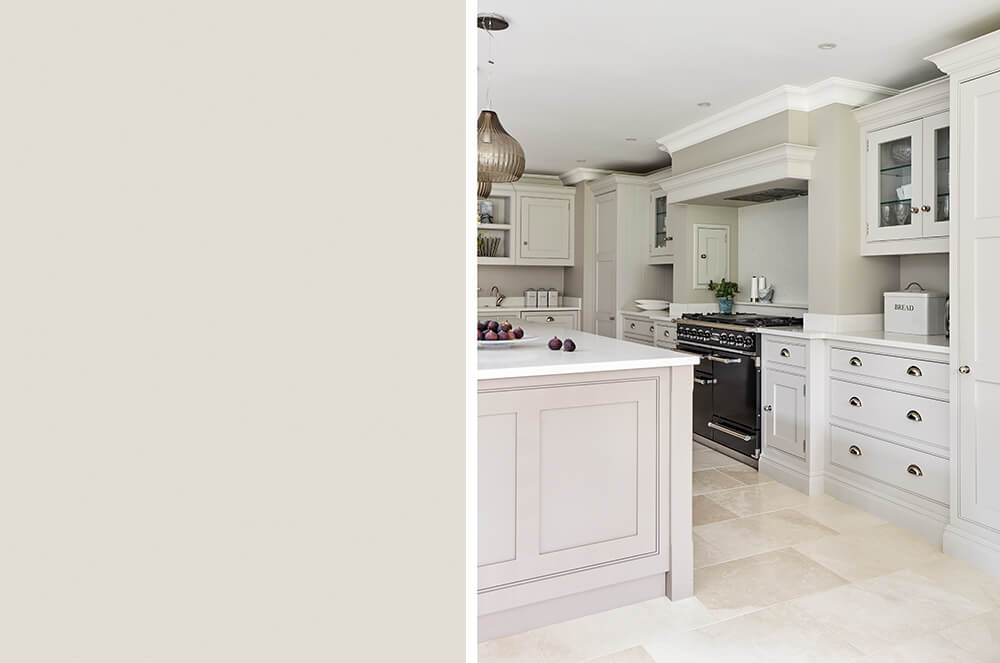 Neutrals can achieve the perfect balance of light and space in the kitchen. Two of our most popular shades are Tansy and Sorrel. Beautifully understated and timeless; they form truly stunning kitchens enhancing architectural interest, all without the need for bold colour. The key with a neutral kitchen is to pair cabinetry with contrasting walls and textural elements. This will give the design an edge and create appealing visual interest.
Take the Hartford open plan kitchen above. Contrasting warm grey walls add a tonal edge, while smooth white stone worktops contrast with the painted cabinetry, making this space both stylish and inviting. Using neutrals within your design doesn't mean you should steer away from brighter colours. Light shades provide the perfect canvas to add statement accessories and pops of colour.
Gold Accents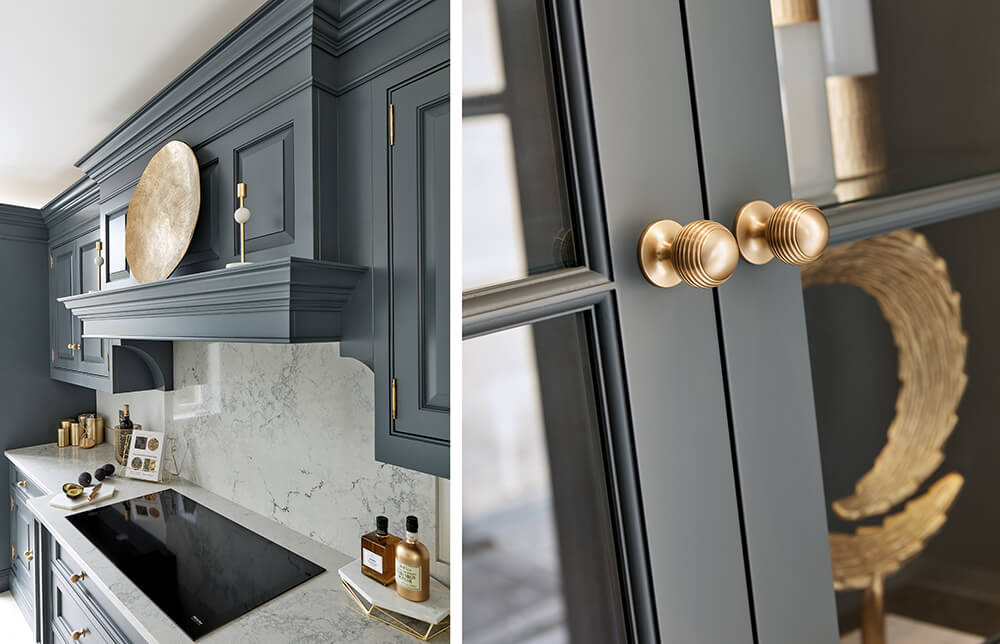 Dark Grey Painted Kitchen with Brushed Gold Handles
As seen at this year's KBB design show, innovative gold and brass finishes are proving popular. These luxurious finishes are an excellent way to draw attention to your cabinetry as well as adding warmth, especially when combined with a dark paint colour. The warm tones of our brushed gold beautifully enhance shades such as our dark grey, Dewberry and  Avocado, our confident green. If all of the hardware in brushed gold or brass is too much for your taste, then you can create a subtle yet stylish focal point with metallic tapware or a statement pendant.
Beauty in Dark Green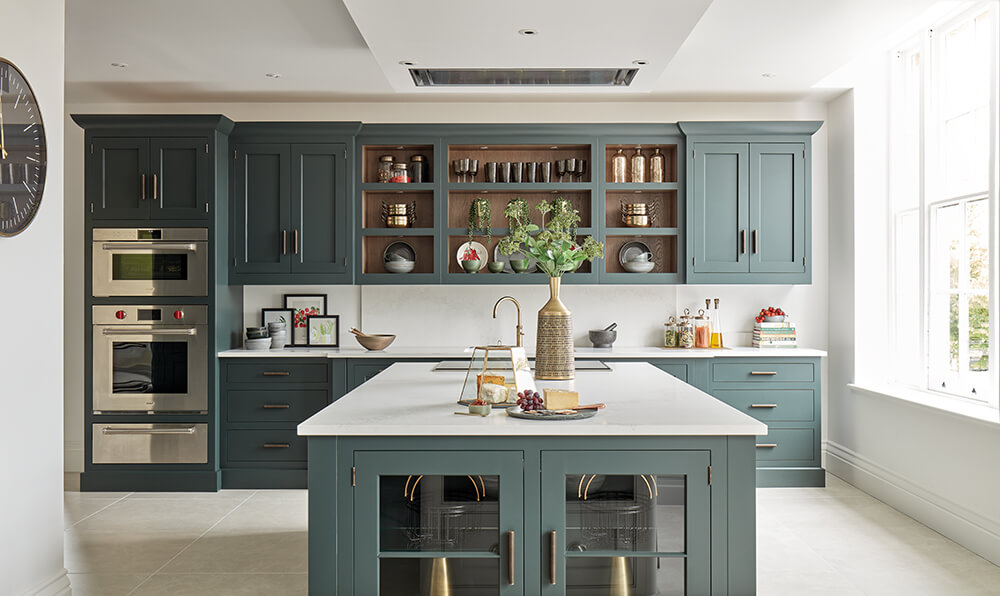 An excellent partner to a neutral palette, dark green is set to become a key colour moving into autumn/winter. Green works exceptionally well in the kitchen where it's organic nature brings a feeling of health, harmony and energy, perfect for a busy multifunctional space. Dark greens such as our paint colour Avocado can achieve a wonderful sense of timelessness when combined with secondary colours such as white and greige.
Statement Kitchen Tiles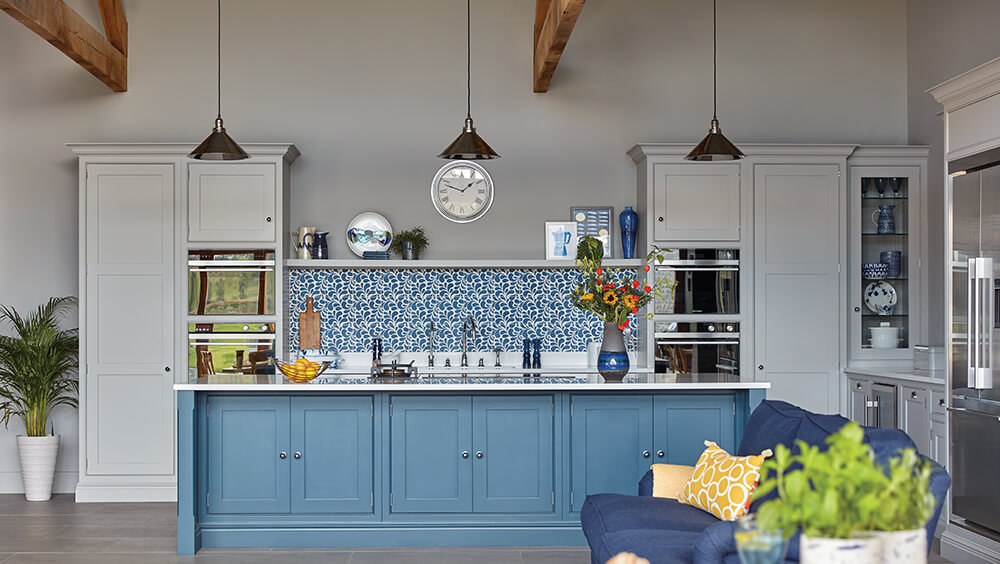 A fantastic way to bring texture and colour to your kitchen is with a tiled splashback. There are almost endless possibilities, from Moroccan and terrazzo style tiles to handmade or traditional Victorian designs. These incredible handmade French ceramic tiles were chosen by the owners of this stunning home to add colour and personality to the space. The painterly pattern and classic blue colour demonstrate how a patterned feature tile can have a real impact.