You may have heard of Shaker kitchens, but where did this distinctive design style come from? The Shakers originated in England during late 1700. Being self-sufficient, many Shakers developed expert practical skills, most notably as joiners, carpenters and furniture makers.
Their guiding principles were rooted in simplicity, utility and honesty, and these beliefs were reflected in their distinctively simple, beautifully crafted and solidly built furniture. Thanks to its elegant simplicity and timeless style, Shaker design has been a popular furniture choice throughout the 20th and 21st centuries and has inspired and influenced many modern-day designers.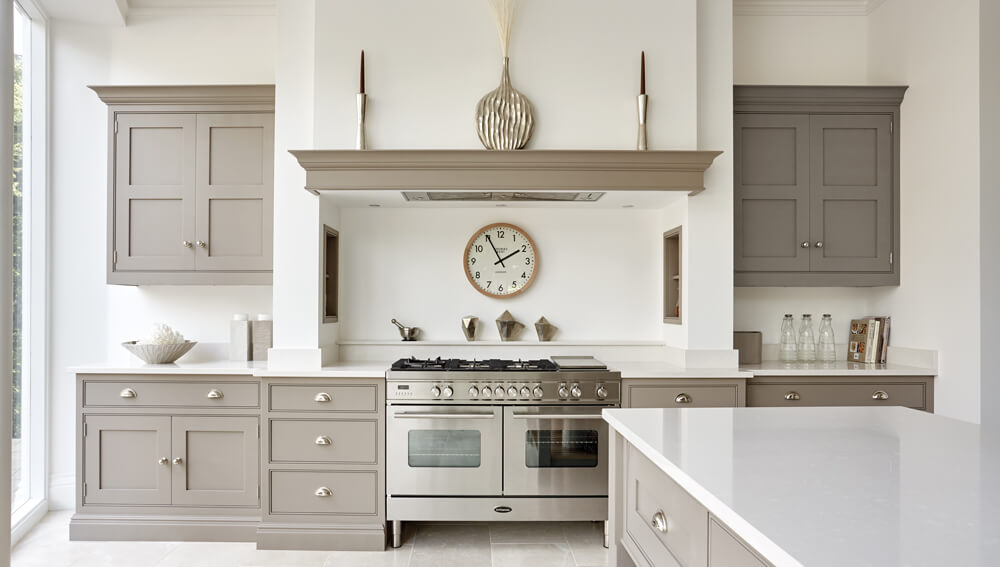 Grey and White Kitchen
Every element of Shaker design is thoughtful and considered – there's little room for frippery. Ornamentation for ornamentation's sake was considered deceitful and wasteful. In Shaker, design function and form aren't mutually exclusive and instead work together to create high quality, practical pieces that have been proven to stand the test of time. Their most famous maxims were "Whatever is fashioned, let it be plain and simple and for good" and "Beauty rests on utility", these beliefs can be seen in every piece of Shaker-made furniture. Whether it's a ladder-backed chair, a cabinet hinge or a bedstead, everything had a job to do.
The Shakers would use the materials that they had to hand, usually cherry wood, maple wood or pine. This was then stained or painted with one of the colours 'allowed'; typically blue, red, yellow or green. Handles were given the Shaker treatment and were crafted from the same wood.
Today, the distinctive Shaker door design of flat panels with raised frames has been adopted in many of our modern Shaker kitchens. Because today's world is a faster, more frantic place, the desire for solid dependability and back-to-basics design is all the more attractive. Like the Shakers, we take an honest approach to our kitchen designs. Craftsmanship and quality underline every aspect of our bespoke kitchen cabinetry. There is a lot to be said for bearing simplicity in mind when designing a kitchen.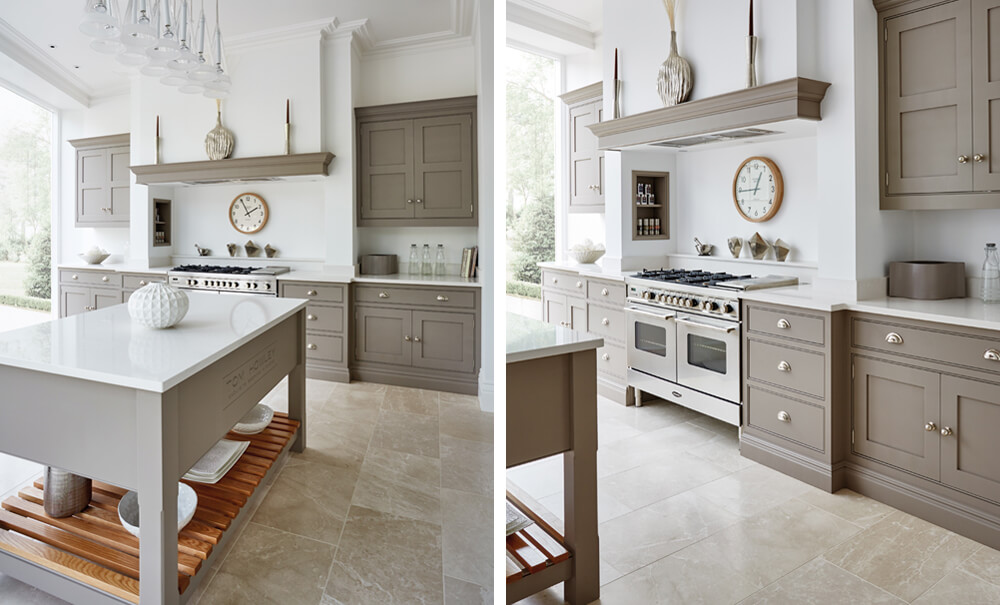 Grey and White Kitchen
Timeless Shaker Kitchens Brought up to Date
We have embraced Shaker design in a number of our kitchen collections such as The Hartford, The Kavanagh, The Summerville, and The Devine to name just a few. While we have been influenced by Shaker, we have given each collection a contemporary update and its own distinctive style. Just like the Shaker-made furniture, a bespoke Tom Howley kitchen is universally appealing and hand-crafted to stand the test of time.
Whether you are seeking elegance, opulence or something that's slick and modern, you'll find the perfect kitchen for you in one of our sixteen UK showrooms, or you can browse our stunning collections online.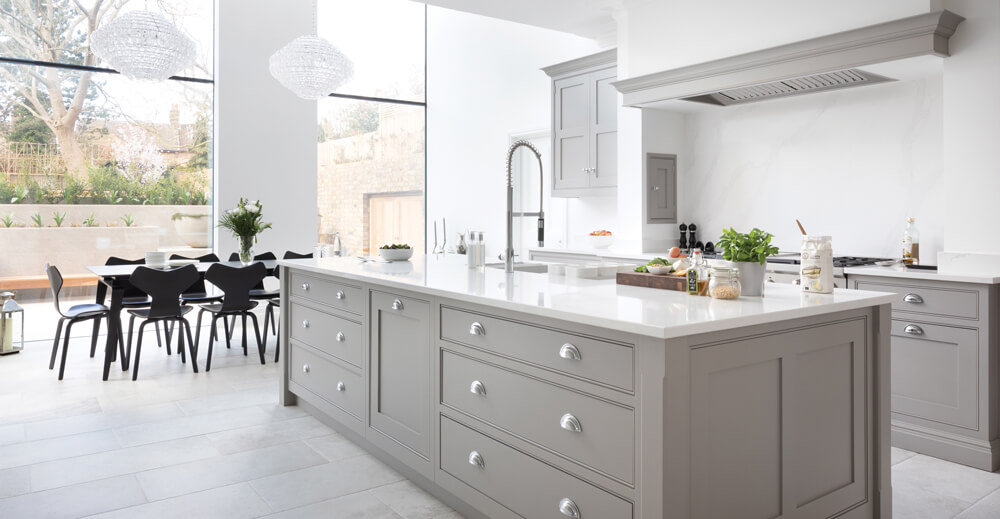 Modern Open Plan Kitchen
Make a Shaker Design Your Own
Every kitchen is handmade to meet your personal requirements for storage and how you will use your kitchen. We also consider your room's layout and architectural features in order to maximise and make the best use of your space. You can make your design your own by choosing a painted kitchen that's unique to you and your tastes. Unlike the Shakers, we're a lot more flexible on colour with an exclusive palette to choose from. Whether you opt for a bold statement colour or a more neutral tone, or you want to contrast two or more colours, a painted kitchen will help to inject personality into your space.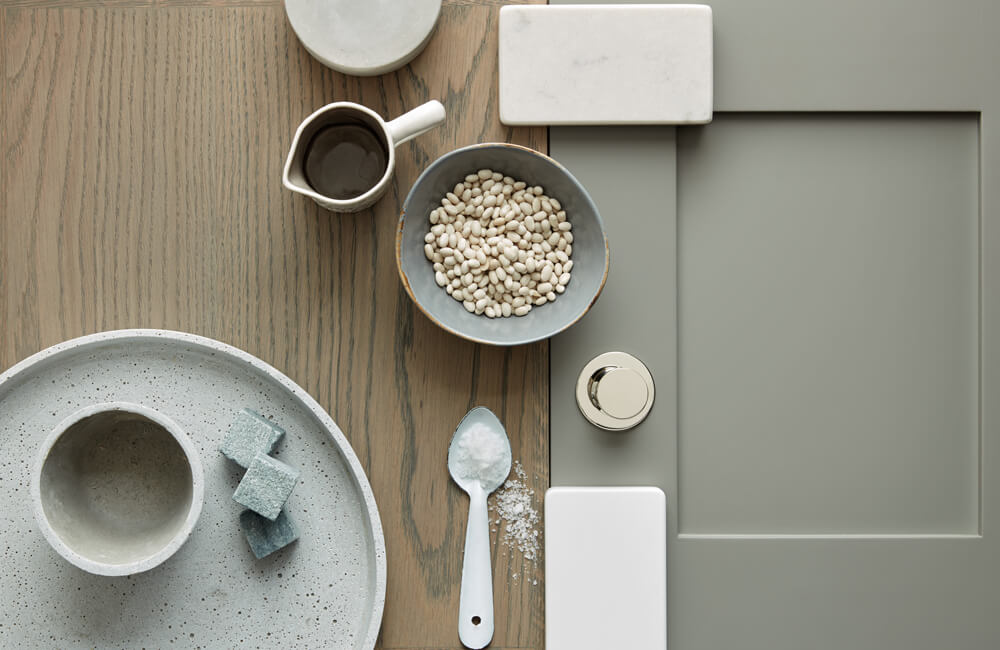 If you're spoilt for choice, we can help you to select the right finish for you by looking at your existing décor and furniture, the amount of natural light in your room and how you can create depth and character by painting your cabinetry in more than one shade. Combine your painted cabinets with quality hardware and elegant worktops for a stunning end-result that really does put beauty in utility.
For more information about our Shaker kitchens, request our brochure today or visit one of our sixteen showrooms.