As multifunctional living becomes a necessity, the bootility has emerged as a sought-after feature in the home. 
Understandably, not all homes have the capacity for a separate utility and boot room. However, with clever planning and tactful design, even the smallest spaces can house a thoughtful combination of the two. Below we explore some of the key features and stylish details needed to create a Tom Howley bootility fit for modern living. Our Tom Howley designers are on hand today to discuss your design aspirations, request a design visit here.
Boot Room
Traditionally found at the back of country houses, the boot room is now a desirable feature that can be designed to suit a whole host of property styles and sizes. It's a space that bridges the gap between indoors and out, needing to withstand muddy boots, wet outerwear and playful pups. Today, boot rooms are often placed just off the kitchen, designed to flow seamlessly with adjacent spaces.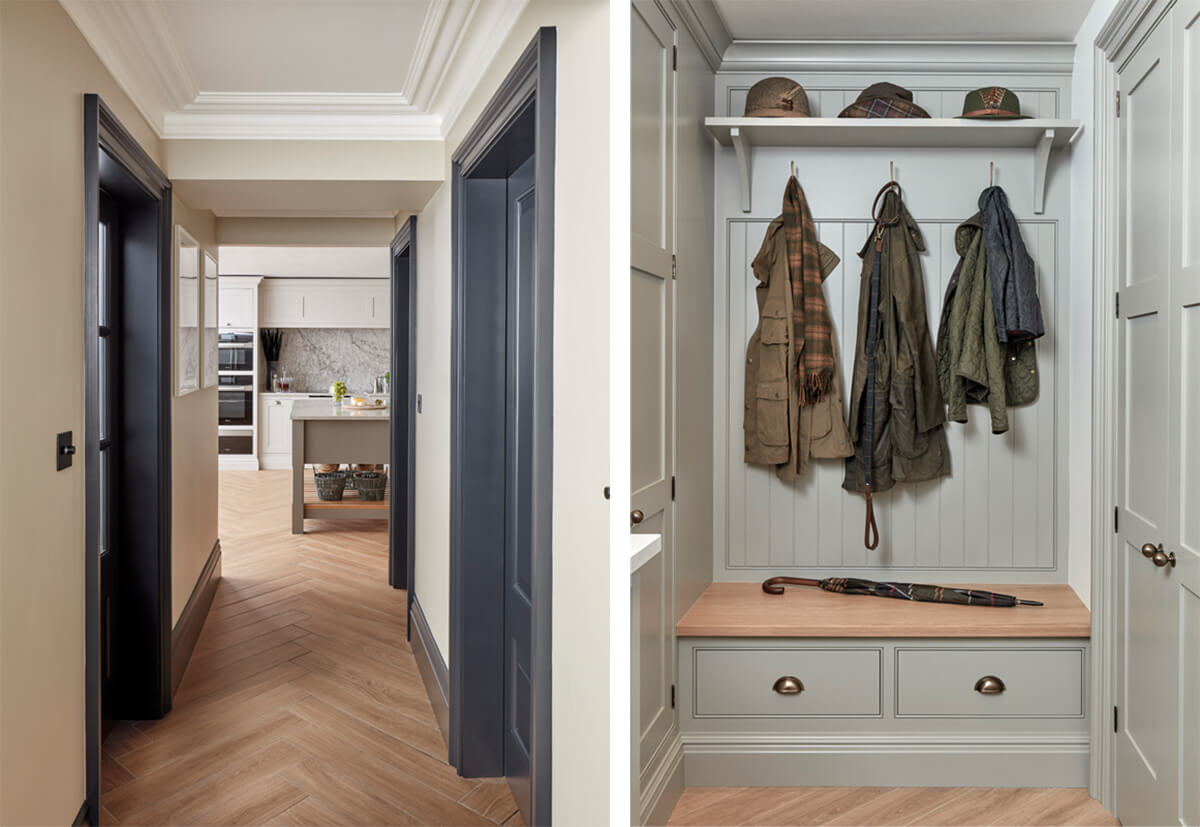 Storage is key to the success of a boot room, especially if it's an entryway to your home. You should opt for a mix of open and closed storage, providing an opportunity for organisation and efficiency, making family life a whole lot easier. Floor-to-ceiling solutions are excellent for bulky seasonal outdoor items which may not be used often. You can incorporate shelving and baskets into tall cupboards for bags, boots and other paraphernalia, even personalising these spaces for each family member.
Open storage is ideal for coats and everyday items such as dog leads that need to be easily accessed. Hooks are simple yet can make a stylish statement when added to panelled walls or set below open shelving. Although you want to keep clutter to a minimum, floating shelves are a fantastic styling opportunity, especially when displaying your favourite hats or bags.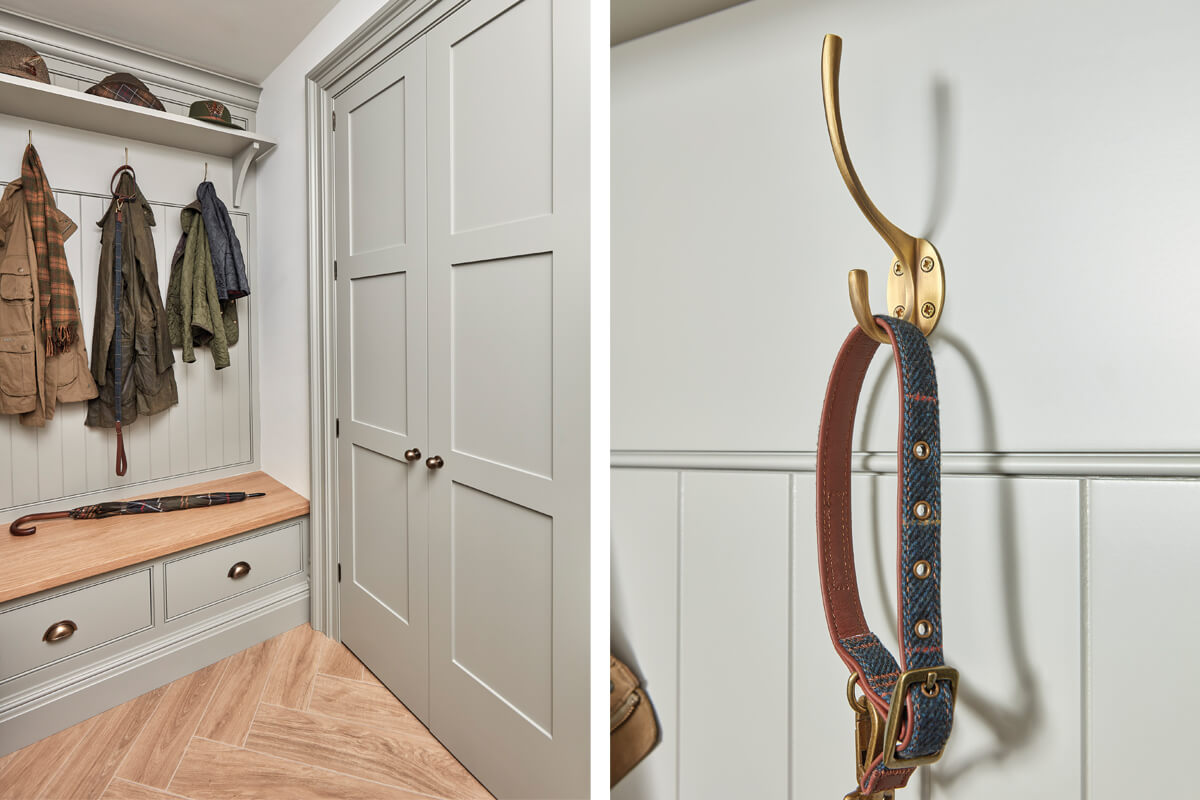 Traditional bench seating with integrated storage is a must. It's the perfect place to remove muddy boots and gather everything you need for the day. You can choose either a painted wood finish with removable seat cushions for comfort or opt for a thick natural wood seat that can be easily wiped down. We also like to include pull out drawers or leave room for baskets underneath, maximising every inch of space.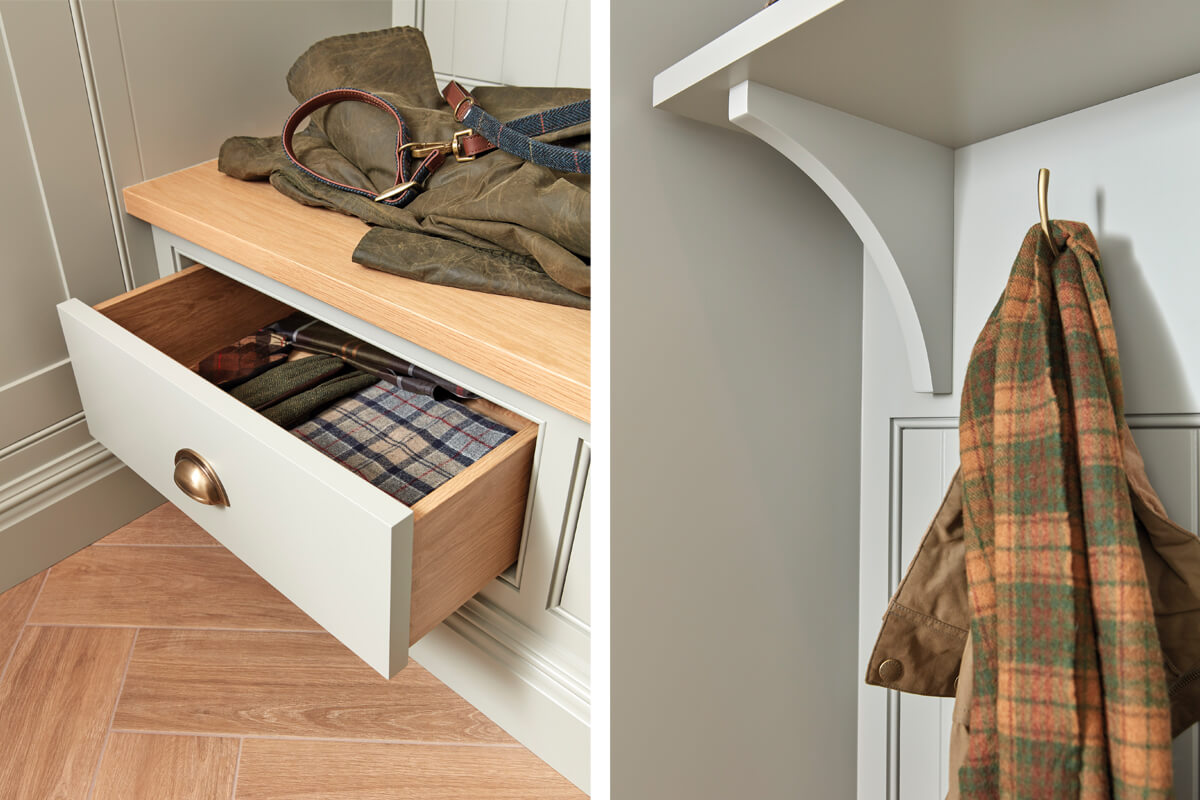 Whether you use your boot room as your main entryway or a space that doubles as a utility, it's essential you have a durable and easy to clean floor. Natural stone flooring is the traditional choice which can withstand knocks, mud and heavy footfall. If you want something without an uneven surface, stone or wooden-look porcelain can be a fantastic option that can easily be cleaned whilst standing the test of time.
Utility
Formerly named the scullery, the utility is fast becoming a room high up on homebuyers wishlists. Located just off the kitchen, it's usually the engine of the house used for laundry, storing cleaning supplies, large appliances and even space for showering your beloved pooches.
Utilities combine a range of storage solutions. Tall pantry style storage can be designed for specific jobs such as housing an ironing board, laundry products and baskets or essential cleaning supplies. Other small kitchen appliances that may be cluttering up your kitchen can also be stored in a utility.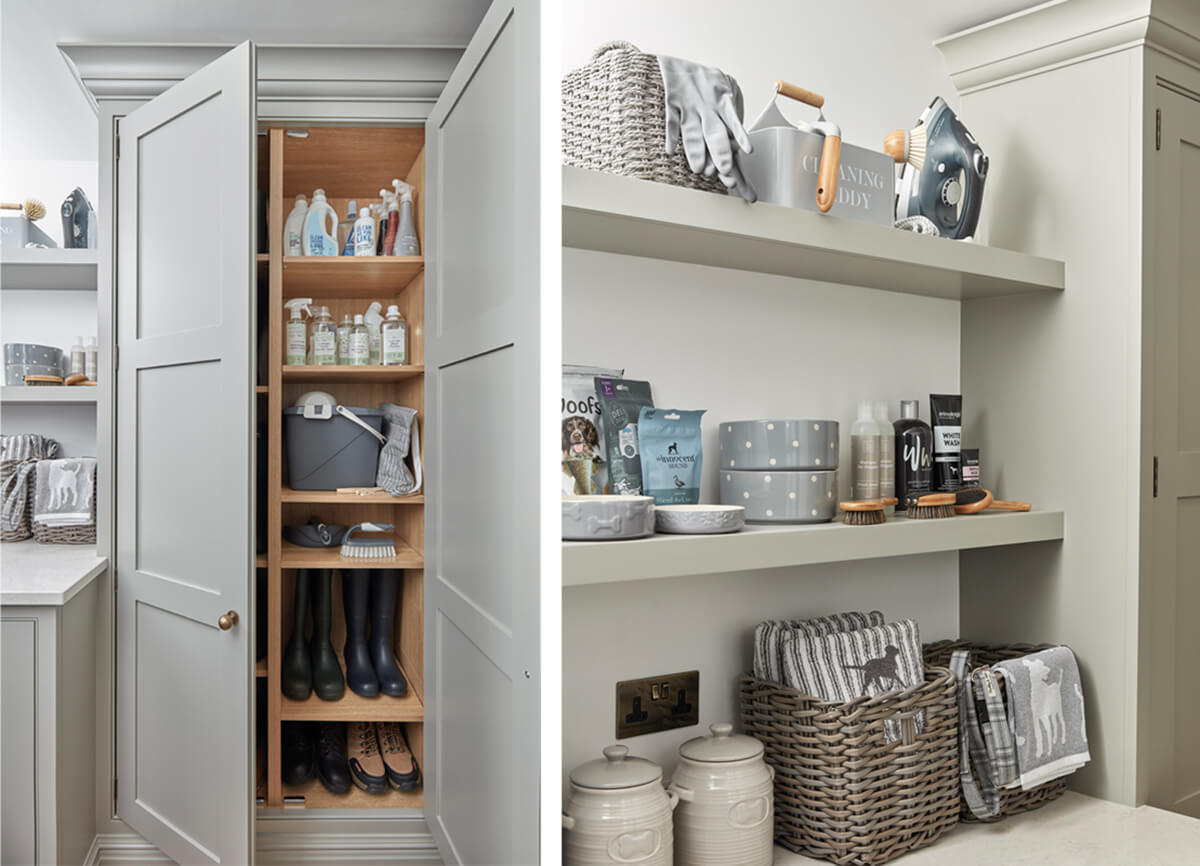 Like a boot room, it's always good to have a mixture of concealed cabinets and open shelving designed to simplify everyday tasks. If the space is more laundry-focused, you can use floating shelving to place detergents out of reach, store spare towels, and keep household essentials streamlined and organised in baskets or jars. Whilst you should let walls share the workload, you should still consider work surface space and low fitted cabinets to maximise storage capacity.
Bulky appliances such as washing machines and tumble dryers often take up a considerable amount of space in the kitchen. Moving them to a dedicated full-height cabinet allows you to hide them out of sight when not in use. Stacking them vertically also frees up valuable floor space and makes it easier for you to load washing.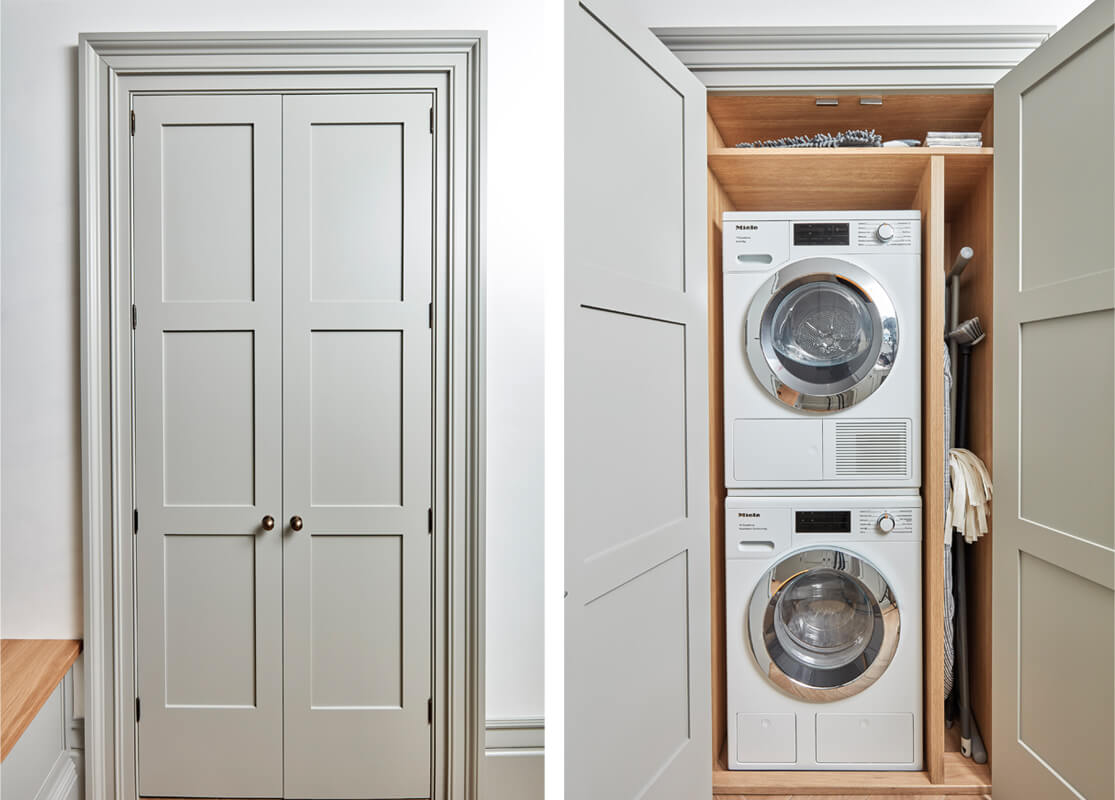 Utilities can be dog friendly too. In addition to your usual storage solutions, you can design a comfortable nook for a dog bed, a dedicated food station and hooks for leads. There is also a trend for purpose-built pet showers, ideal for washing muddy paws after a long country walk. To speak to one of our Tom Howley design experts today about your project you can request a free design visit here.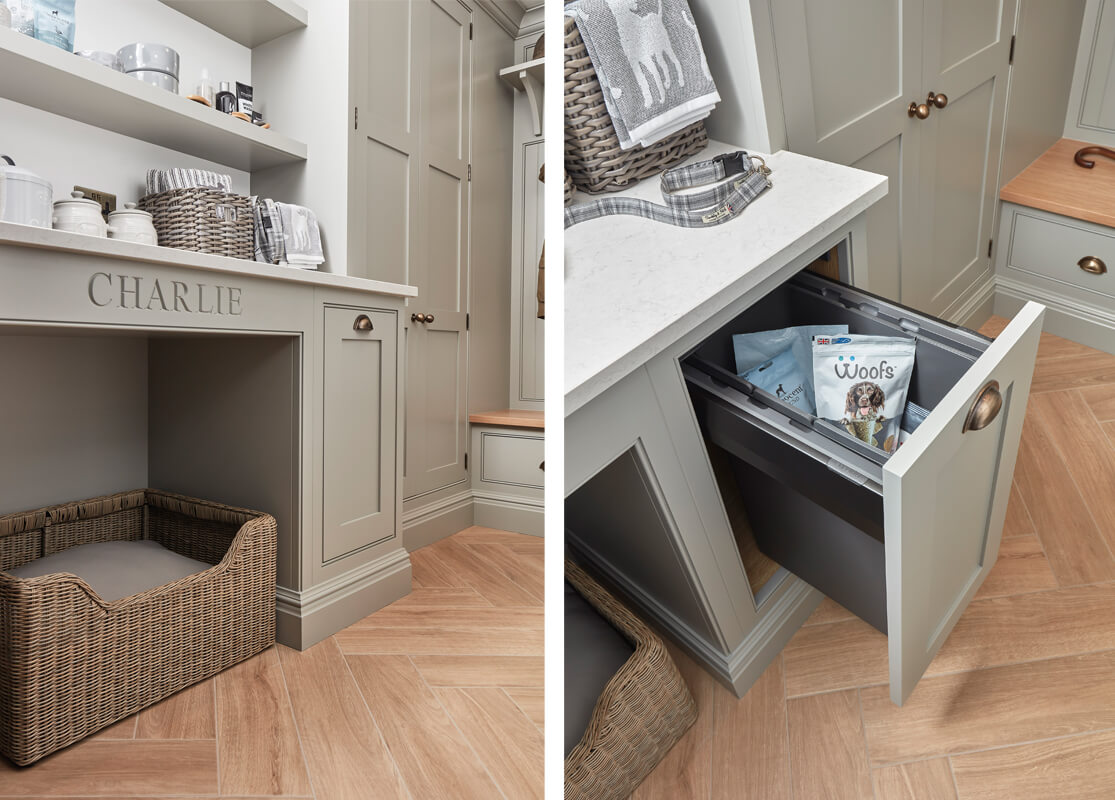 Combining the Two to Create a Bootility
A fusion of the traditional boot room and utility, bootilities can be designed to fully suit your lifestyle, keeping up with the demands of modern living. This multifunctional space frees up the kitchen for family living, cooking, eating and entertaining, removing those bulky appliances, utility products and everyday family clutter. A separate bootility also provides additional hygiene when returning home, stopping outdoor dirt and grime from entering the kitchen and main living areas.
When designing a bootility you should think about your home routine. What tasks will be carried out there? How will it flow with adjoining rooms? What storage do you need for the space to work efficiently? Remember, the space needs to work as a whole with functioning zones within it.
Tailored to you
Although a bootility is one of the most practical rooms in the home, that doesn't mean you can't make a statement with style. This featured Tom Howley Hartford bootility is finished in our timeless Chicory paint colour with traditional panelling, beautiful oak bench seating and open shelving to create a warm welcome even on the rainiest days.
If you want your bootility to feel like an extension of your Tom Howley kitchen, you can create flow and consistency by using the same cabinetry style and colour. There is no rule on what you can and can't do. You can be experimental with bolder shades, contrasting shelving, seating details and creative lighting. Just make sure the space is of a similar style so that it doesn't jar with the rest of your interiors.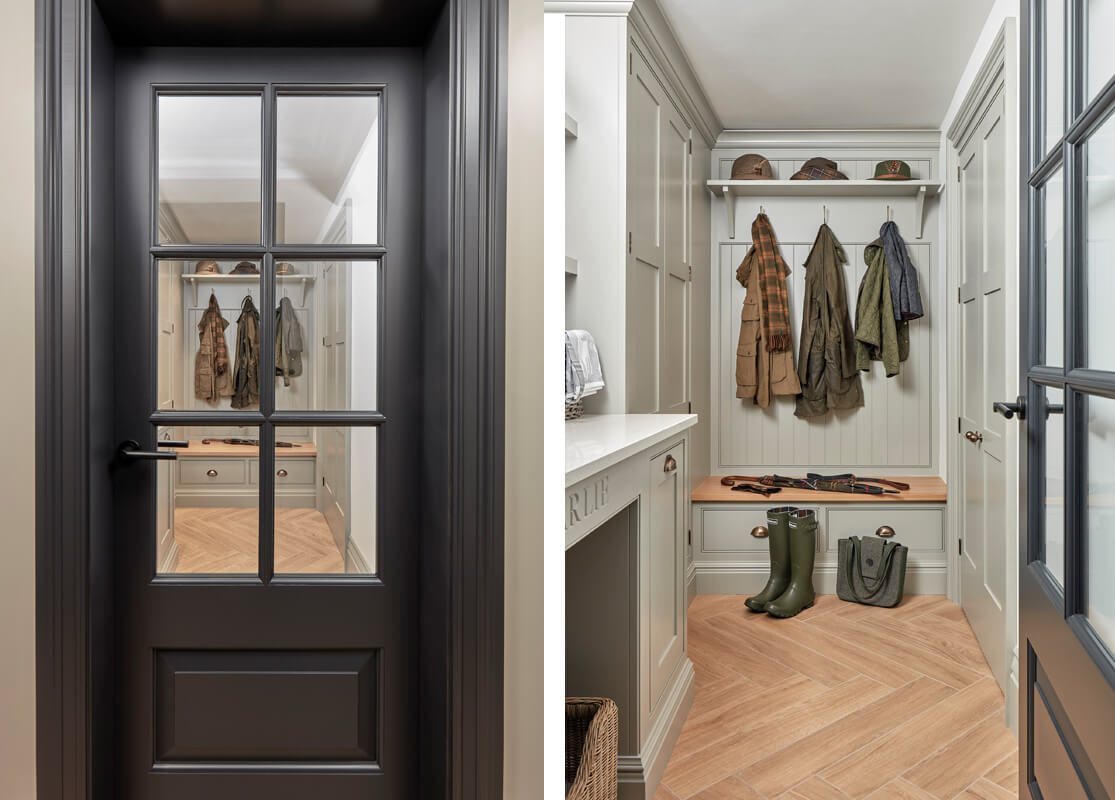 Closing the door on dirty laundry and muddy shoes is often necessary when the room is near the kitchen. However, it's still nice to let natural light flow into the space, creating a sense of openness. Glazed bootility doors can be an excellent feature, especially if you have beautiful bespoke cabinetry to show off, filling the room with light, improving ambience to make everyday tasks more enjoyable.
Visit your nearest Tom Howley showroom to learn more about designing a bootility as either part of your kitchen design or a separate project.