Did you know we have sixteen stunning Tom Howley showrooms across the UK with one more about to open in Winchester this year? Whether you want a quiet browse alone to explore our beautiful designs, or you have a specific project in mind, our showroom teams will ensure you're taken care of.
Our showrooms offer the perfect opportunity to experience our designs first hand. Understand the materials, and be inspired by all of our carefully selected colours. Test out features as you would at home and discover what makes a Tom Howley kitchen truly unique.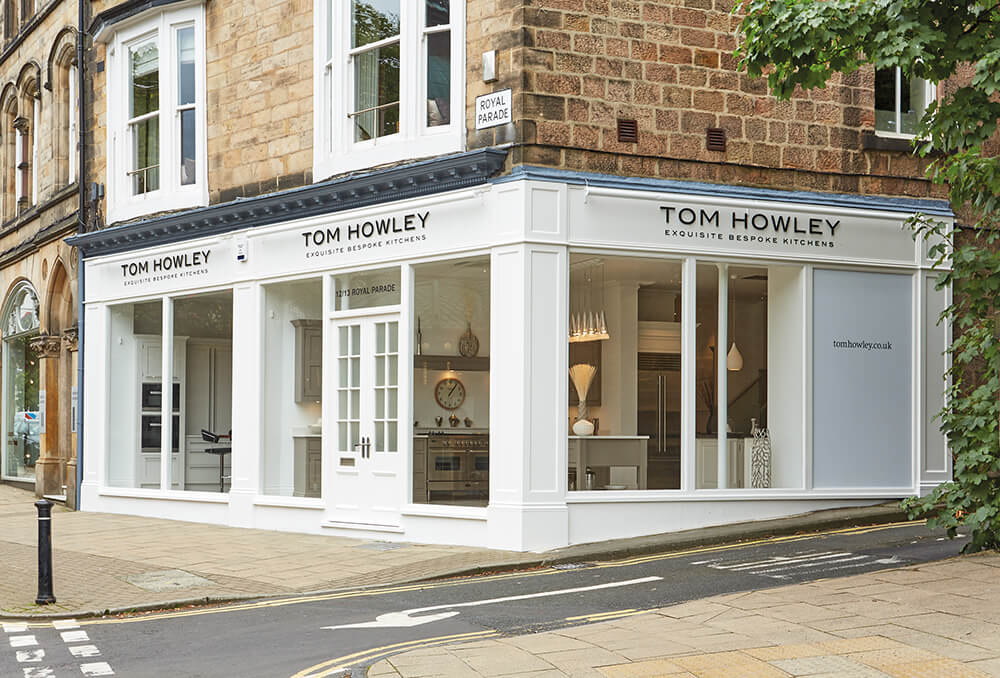 Each Tom Howley showroom captures your imagination, from our Cheltenham showroom showcasing our stylish green Kavanagh design to our Alderley Edge showroom that will always impress with it's classic Hartford kitchen.
"Our knowledgeable designers and experienced showroom team are here to provide inspirational advice and expert guidance on any of your home renovation projects."

Wigmore Street Showroom Manager, Victoria.
Our showrooms offer the perfect opportunity to experience the quality craftsmanship and expert design skills that go into each and every kitchen. You can view our impressive displays as well as a collection of samples at all sixteen showrooms. Browse all of our inspirational paint colours and finishes, carefully selected timbers, hinges, custom-made handles and work surface samples sourced from the finest producers of high quality natural and man-made materials.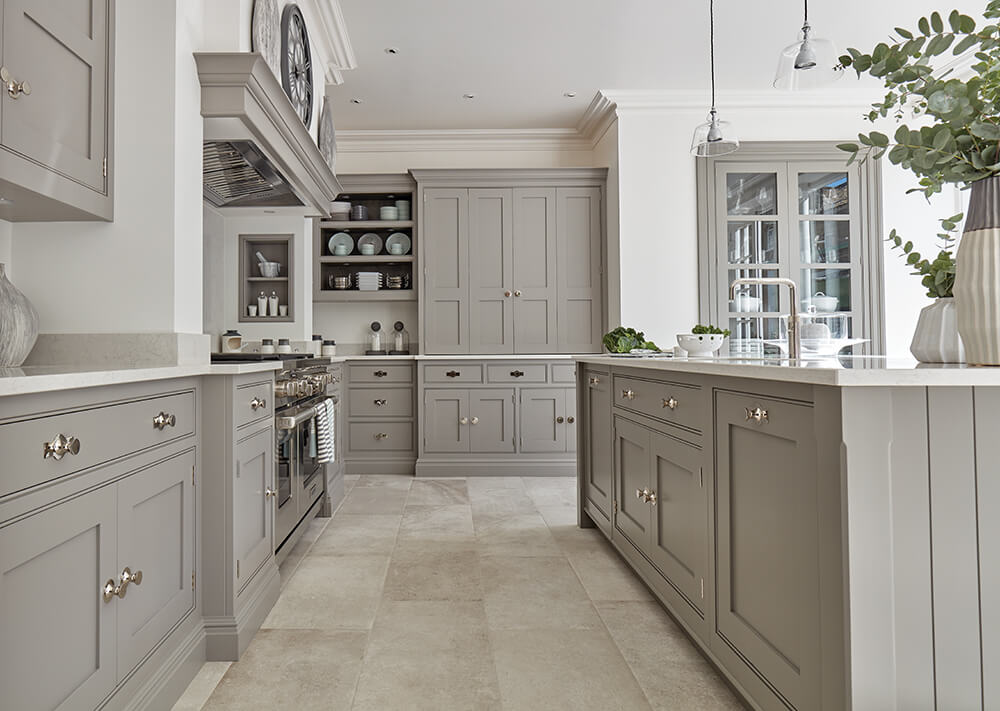 Environments to Inspire
We aim to create environments that inspire and amaze, making you feel at home, giving you an unforgettable experience. All of our showrooms are situated in incredible locations in some of the most beautiful buildings with stunning original architectural features. We can't wait to share our new Winchester showroom soon which is bound to impress with its stunning setting and inspiring new kitchen designs.
Here's a taster of what you'd expect to see in our exquisite Tom Howley showrooms:
Alderley Edge Showroom
One of our most popular and well-loved kitchens is our Hartford Shaker kitchen in grey, and many of our visitors travel from outside the area to see it on display. Like every concept in the Tom Howley kitchen collection, every element of the Hartford, from its statement island to the built-in seating, can be designed to fit the exact contours of your space. We understand that a kitchen isn't just a place to cook and eat; it's where you socialise, catch up with friends and family, plan your week, or be entertained. And with bespoke design to make things happen, almost anything is possible.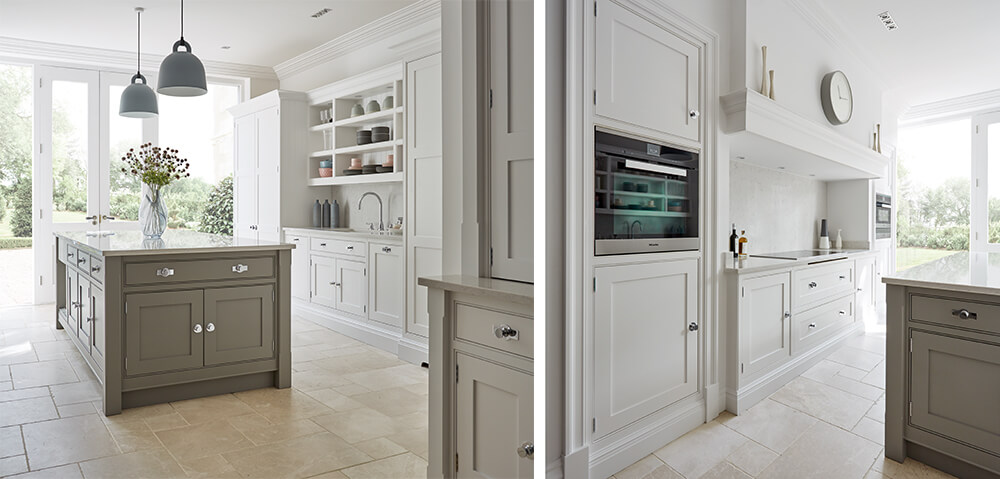 Alderley Edge Showroom Grey Hartford Kitchen 
Our Alderley Edge showroom is a calm and relaxed environment, and Jenny, our Designer, offers every client a warm welcome and a one-to-one design consultation. She says, "We try to make it as personal and professional as possible so that our clients feel excited and motivated about their new projects when they leave the showroom."
Cheltenham Showroom
Our Cheltenham showroom is full of fresh and inspiring new designs, including our stunning Periwinkle Hartford kitchen. Nature's timeless colours are continually inspiring us, so naturally, all of our paint colours have a botanical reference. The name Periwinkle derives from a garden flower which has striking, beautiful blue petals.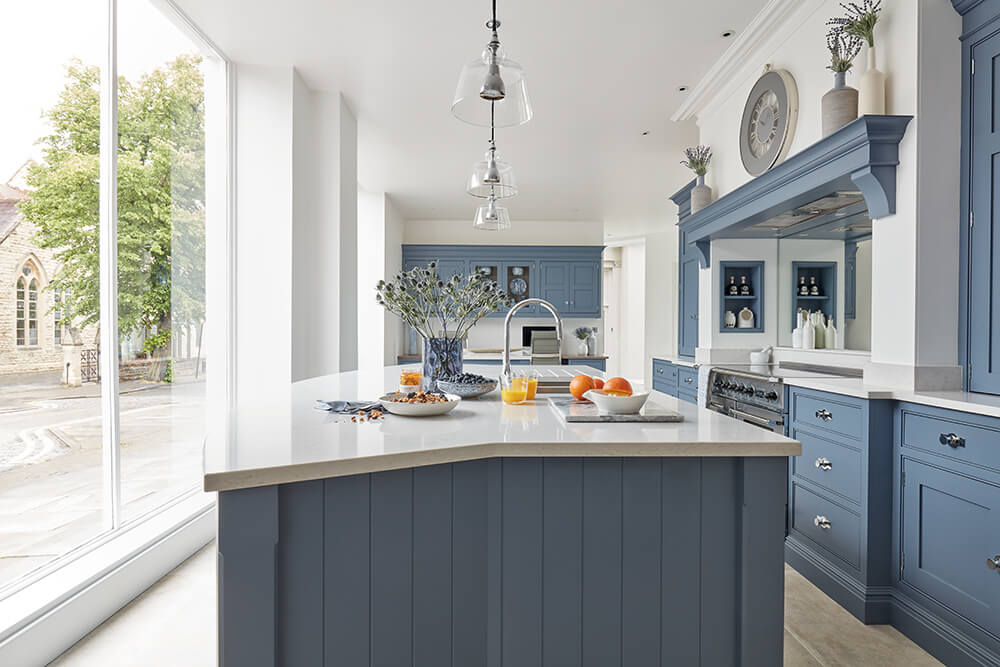 Cheltenham Showroom Blue Kitchen
We paired this stylish blue paint colour with a dusted oak finish which adds warmth and visual interest within open shelving and cabinets. When deciding on the colour of your kitchen, our showrooms offer the perfect space to browse our luxurious paint colours and wood finishes. Once you've decided on a colour combination, you can take samples home to see how they work with your own personal style and space. 
Our Tom Howley showrooms are nationwide, so you're never too far away from starting your dream kitchen journey. From offering inspiration to the initial design stages and aftercare, our dedicated showroom staff and designers will be with you every step of the way. Wherever you live, you will always receive an uncompromising level of service from all of our Tom Howley showrooms. When it comes to visiting, we have introduced strict social distancing, hygiene and cleaning procedures and will be managing client visits to ensure you have a safe experience. 
We'd love for you to come and visit us. Find your nearest showroom here.