Wholesome, autumn recipes, award-winning floristry, great company and expert advice. Last month in conjunction with 25 Beautiful Homes magazine these fabulous experiences merged to create one inspiring event held in our Leamington Spa showroom. Events not only give us the chance to talk to you first hand, we get to witness our showrooms come to life seeing people leave with enthusiasm, motivation and a new found desire to plan or complete their home projects.
Stepping into our Leamington Spa showroom guests were treated to a beautiful brunch spread, complete with a glass of fizz ready to start the day. We encourage all who visit our showrooms to explore and get a feel of our kitchens, discover their individual features, feel the quality of materials and delve inside the cabinets and drawers. After settling into one of our beautiful showroom kitchens, design director Tom Howley began to reveal industry insight, including key colour pairings, trends, planning considerations and kitchen layout tips. These masterclasses inspire and give you a chance to ask any questions relating to your project.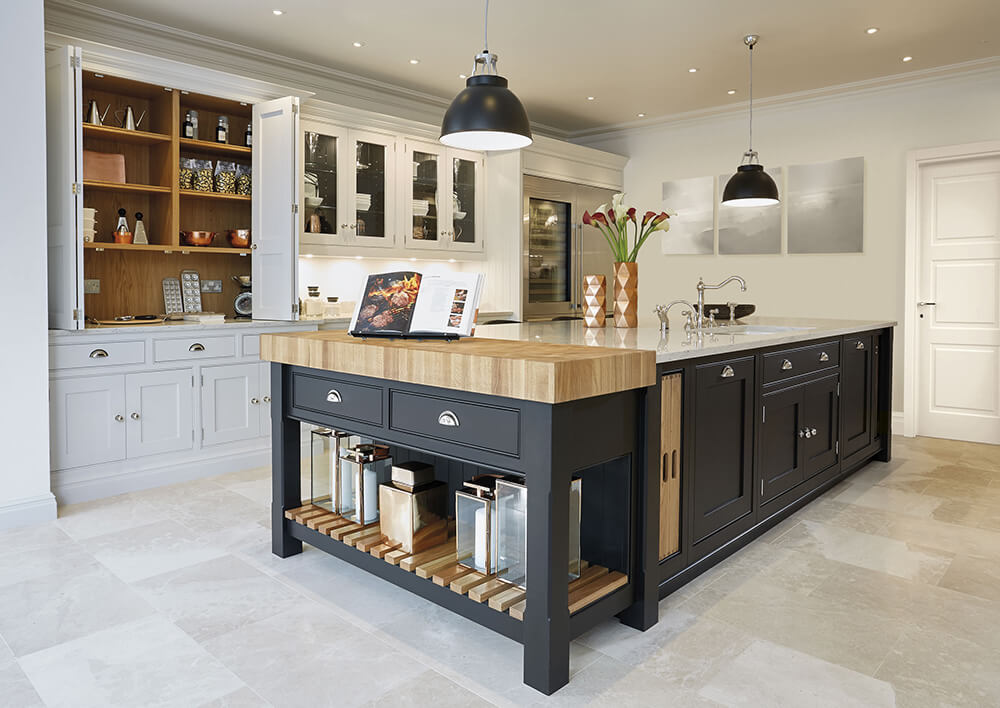 Before introducing Sarah Horne award-winning floral stylist, we were treated to a delicious autumn recipes cookery demonstration by Chef Nigel Smith. Autumn has an impressive selection of ingredients on offer, and we often crave wholesome, warming soups and comfort food rather than summer berries and fresh salads, something Nigel took into consideration when planning the autumn recipes. He prepared a fantastic tasting menu consisting of confit Goosnargh duck leg, braised puy lentils and blackcurrant jus to start, wild bass, tarragon potato terrine, celeriac puree, spinach and fish veloute as the main and a truly indulgent black forest gateaux stone, vanilla bavarois with kirsch gel to finish.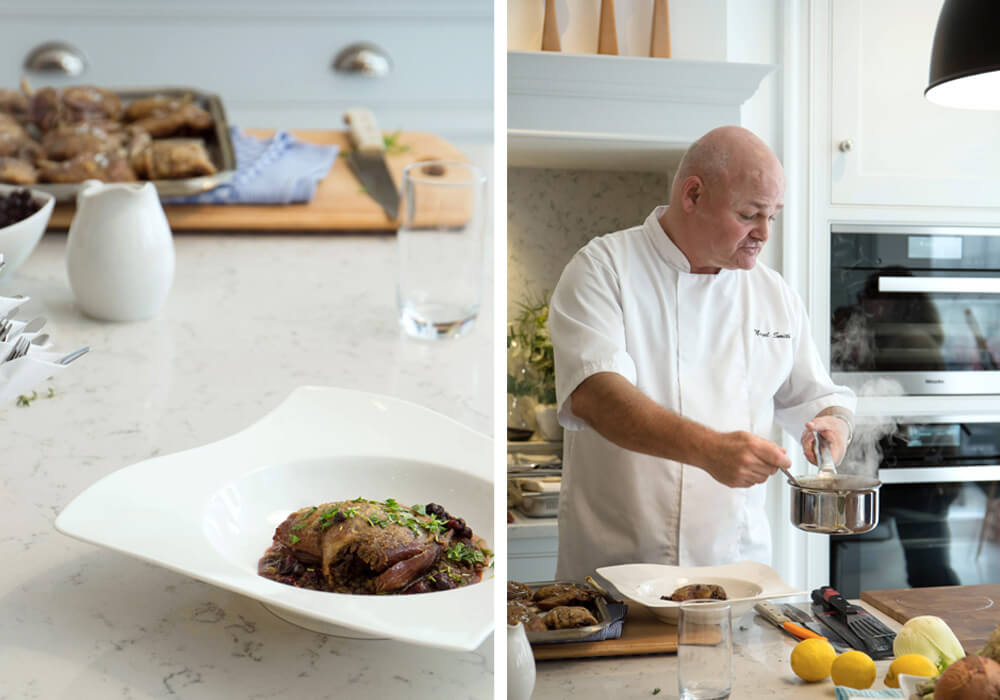 Experience and indulge in one of Nigel's fantastic autumn recipes by following the instructions below. It's a wonderful flavoursome dish for the cold months ahead.
Confit Goosnargh Duck Leg
Braised Puy Lentils, Blackcurrant Jus
Confit Duck (serves 4) Ingredients
4 duck legs
Vegetable oil to cover
1 head of garlic
1 bunch of fresh thyme
10 black peppercorns
a handful of mustard seeds
3 juniper berries
2 bay leaves
6 coriander seeds
6 caraway seeds
Salt to season
Method:
Preheat the oven to 120 degrees Celsius
Put all the ingredients, bar the oil, into a deep roasting tray and add the duck legs to
marinade in the aromatics
Submerge the duck legs in the oil, wrap tightly in tin foil and cook in oven for 3.5 – 4 hours until the meat falls away easily from the bone.
Turn up the oven to 180 degrees Celsius
Whilst the duck is still warm, remove the thigh bone and the small feather bone by the drumstick and roast (skin side up – no foil) at 180 degrees Celsius until the skin is crispy and the meat is hot all the way through
Blackcurrant Jus Ingredients
100g blackcurrants
200g blackcurrant puree handful of fresh thyme
2 shallots
1 glass of red wine
1 pint of chicken stock
Method:
Finely chop the shallots and sweat in a hot pan with a little oil until translucent
Add the thyme and red wine and bring to a gentle simmer until the liquid has reduced by three quarters
Add in the chicken stock, bring back up to a simmer and reduce by half
Add the blackcurrant puree until the desired consistency is achieved
Finally add the fresh blackcurrants and let simmer for two more minutes until the fruit is heated through and softened
Braised Puy Lentils Ingredients
100g dried puy lentils
2 carrots
3 shallots
1 celery stick
A third of a leek
A handful of fresh thyme
2 cloves of garlic, pressed
1 lemon
1 litre of good quality chicken stock 200ml water
Method:
Wash, drain and then soak the lentils in double the amount of water to lentils for around an hour
Meanwhile, chop all the vegetables (bar the shallots) into small cubes and sweat each vegetable individually in a little oil until slightly softened. Put to one side
Finely chop the shallots and sweat in a little oil along with the garlic
Once the lentils have soaked for an hour, drain the water and add to the pan with shallots and garlic. Cook for 3 to 4 minutes
Add the thyme and half of the chicken stock, bring to the boil and then simmer with a lid on
Check the pan every 15 minutes, adding more liquid (stock) if necessary until the lentils
are cooked to al dente (still a little bit of bite)
Add in the sweated, cubed vegetables and season to taste with salt, pepper and freshly squeezed lemon juice
To serve:
Allow one duck leg per portion and plate up with 25-30g of the braised lentils and a drizzle of blackcurrant jus.
After indulging in lunch (including one of the delicious autumn recipes above) to finish the day we were treated to a relaxing workshop by award-winning floral stylist Sarah Horne. Continuing the seasonal kitchen theme, she demonstrated and crafted three beautiful floral table settings using seasonal blooms, ingredients from the kitchen and wild foliage. Making it look easy Sarah then gave everyone the chance to get their creative juices flowing, each completing a display of their own to take home.
Look out for any future events on our blog and social media channels. From reader events, showroom launches and gourmet masterclasses.