Our Cheltenham showroom is full of fresh and inspiring new designs, including a new addition to our collection of blue kitchens. Colour sets the tone of a space; it tells a story and provides an environment where we feel at home. While the underlying philosophy of Tom Howley kitchens will never change, our carefully considered paint palette is often updated with fresh new colours.
Introducing Periwinkle, a warm blue that's soft enough to be used on large areas, but bold enough to create impact.
Take a Look Around This Hartford Kitchen Painted in Our New Paint Colour, Periwinkle
"This warm blue is the perfect choice for creating a kitchen with a confident, stylish personality. A versatile shade with warm undertones it takes on a range of tones depending on the lighting. On a bright sunny day it looks grey and fresh. However, on a rainy day or at twilight the lovely violet hues come through."

Helen Reeks
Creative Development Manager
Our kitchen furniture and cabinetry is a true homage to classic craftsmanship and enduring quality, but our paint colours develop organically to ride the waves of colour trends.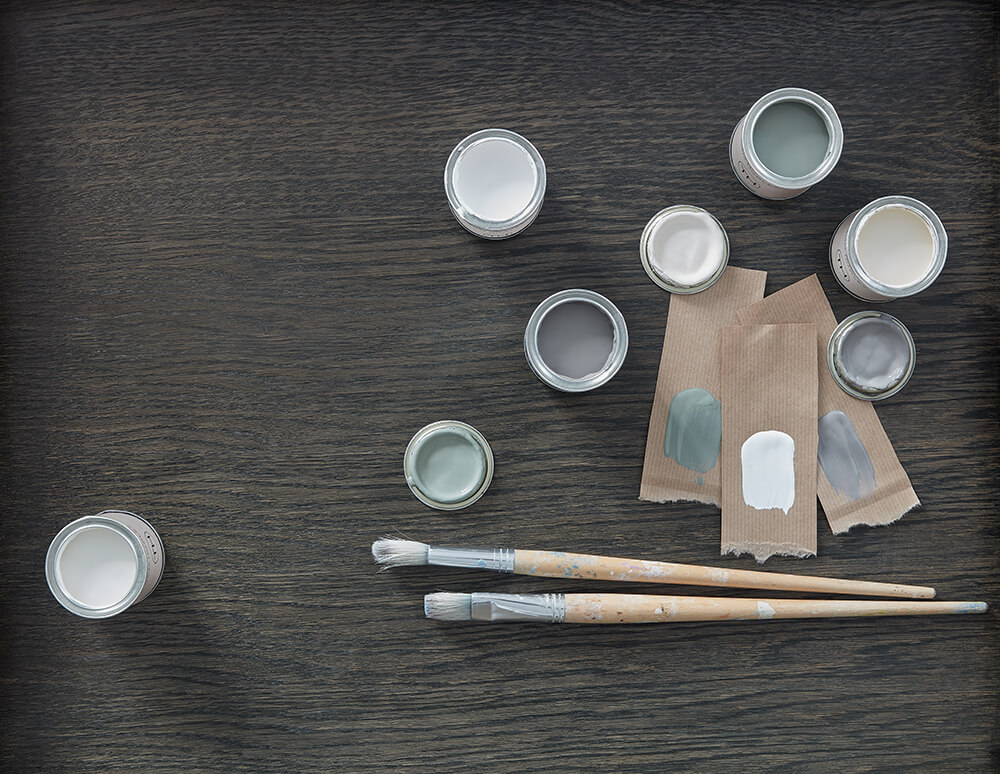 Our Paint Colours
Nature's timeless colours are continually inspiring us, so naturally, all of our paint colours have a botanical reference. The name Periwinkle derives from a garden flower which has striking, beautiful blue petals.
The blues in our colour palette work sympathetically with the rest of our neutrals, allowing you to use them as either one block colour or as an accent. When it comes to your design, we blend our unique paint colours and then assess where they work best before committing a single brushstroke to your cabinetry. We look at where natural light comes into the room, consider the style of furniture that you've chosen and discuss where features or statement pieces of furniture will sit. We'll then take a look at the interior décor in that space to ensure a seamless transition from one room into the next.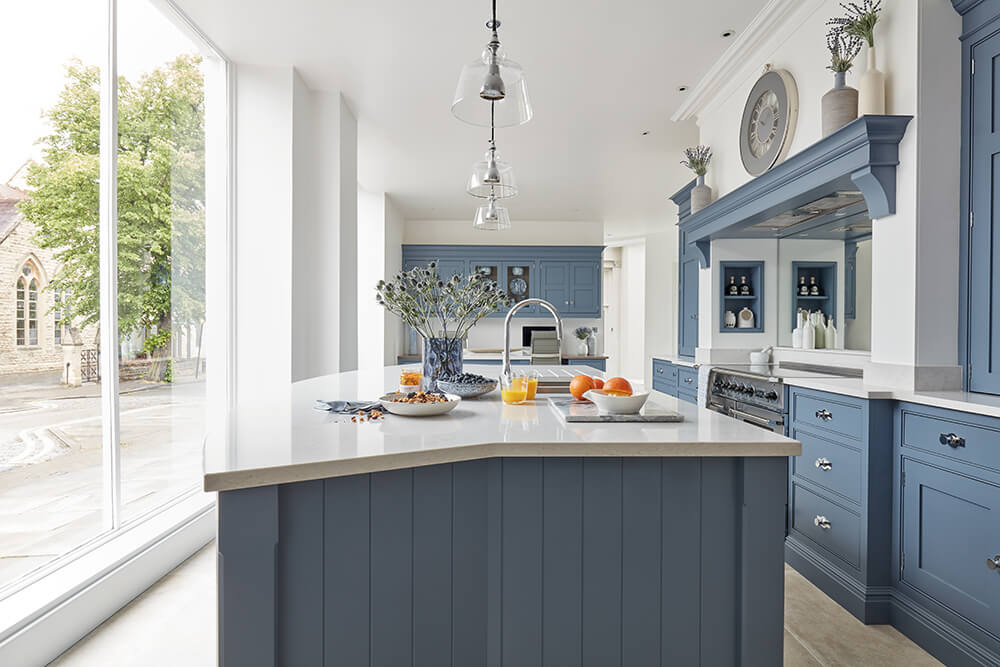 Why Choose Blue
Blue works exceptionally well in the kitchen because it is associated with open spaces, freedom, imagination and inspiration. Perfect for a busy multifunctional space. Our Periwinkle paint colour can work in harmony with almost any kitchen design, enhancing the subtle details of each collection.
Blue is one of the most versatile and popular colours you can use in the home. However, it can sometimes be tricky to get right. Too much, and a room can feel cold, too bright, and it can be distracting and harsh. To balance out your blue palette, you may want to add a second colour. Decor and kitchenware in warm oranges, mustards and neutrals work in harmony lifting blue hues.
How We Styled Our Blue Kitchen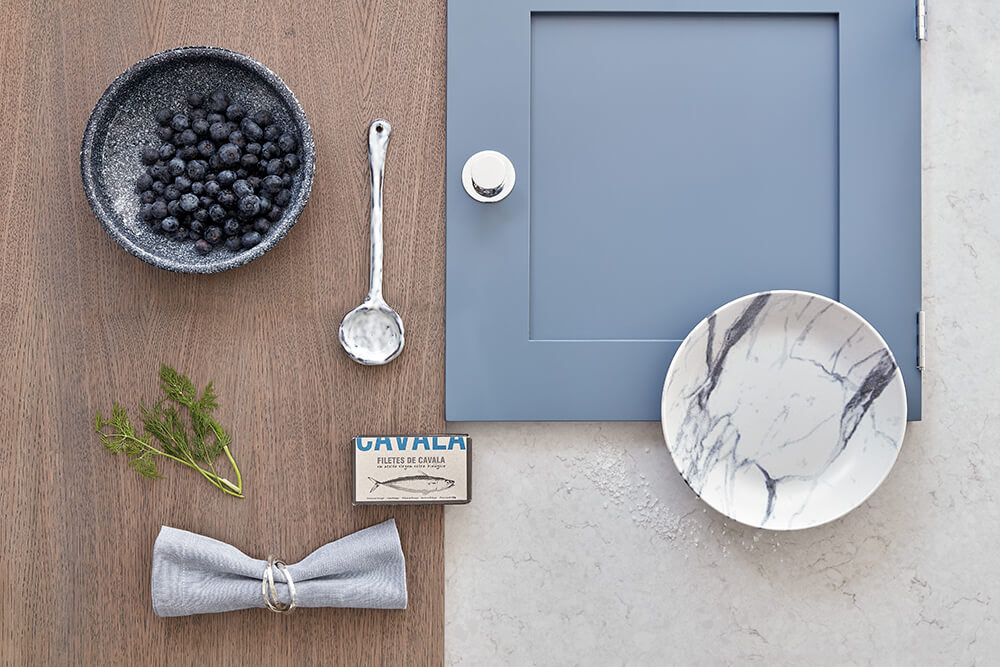 We paired our Periwinkle paint colour with a dusted oak finish which adds warmth and visual interest within open shelving and cabinets.
The solid Silestone worktop in Snowy Ibiza contrasts beautifully with the Periwinkle paint finish proving that style and practicality can go hand-in-hand.
The glazed pantry and cabinets were ideal for mixing a combination of practical pieces, painterly ceramics and contemporary blue decor creating a modern farmhouse mix.
We introduced accents of blue onto the walls with bespoke paintings.
Whether you opt for real or faux plants and foliage, green can quickly add life and energy to a space. We styled our mantle with faux lavender, which brings out the purple hues of blue. For a stark contrast, fresh herbs are also placed around the cooker, adding vibrancy and interest when reflected in the splashback.
A mirrored splashback not only adds depth to the kitchen, it also bounces natural light around the room, opening it up, creating a much brighter area. We opted for a plain mirror rather than antique as it perfectly reflects the handles and hardware for an overall contemporary look.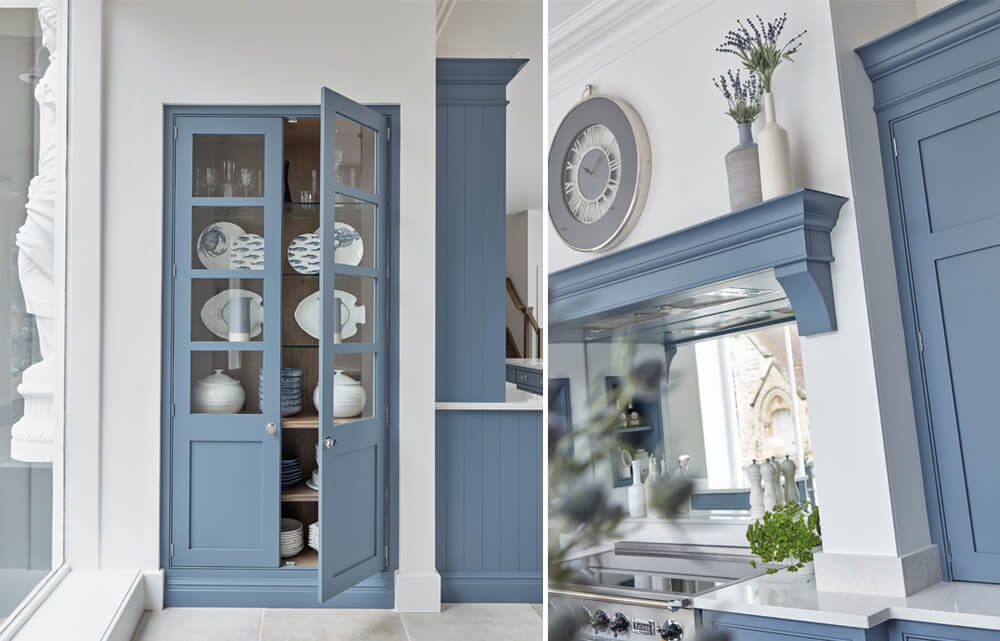 Even if you're not brave enough to go for a full kitchen in Periwinkle, you can still introduce it in other ways. Using a two-toned palette enables you to add a bright shade without overwhelming the space. A great way to add the two-toned look is to combine your favourite neutral such as our warm grey 'Tansy' or off white 'Orchid' on cabinetry with a contrasting Periwinkle island.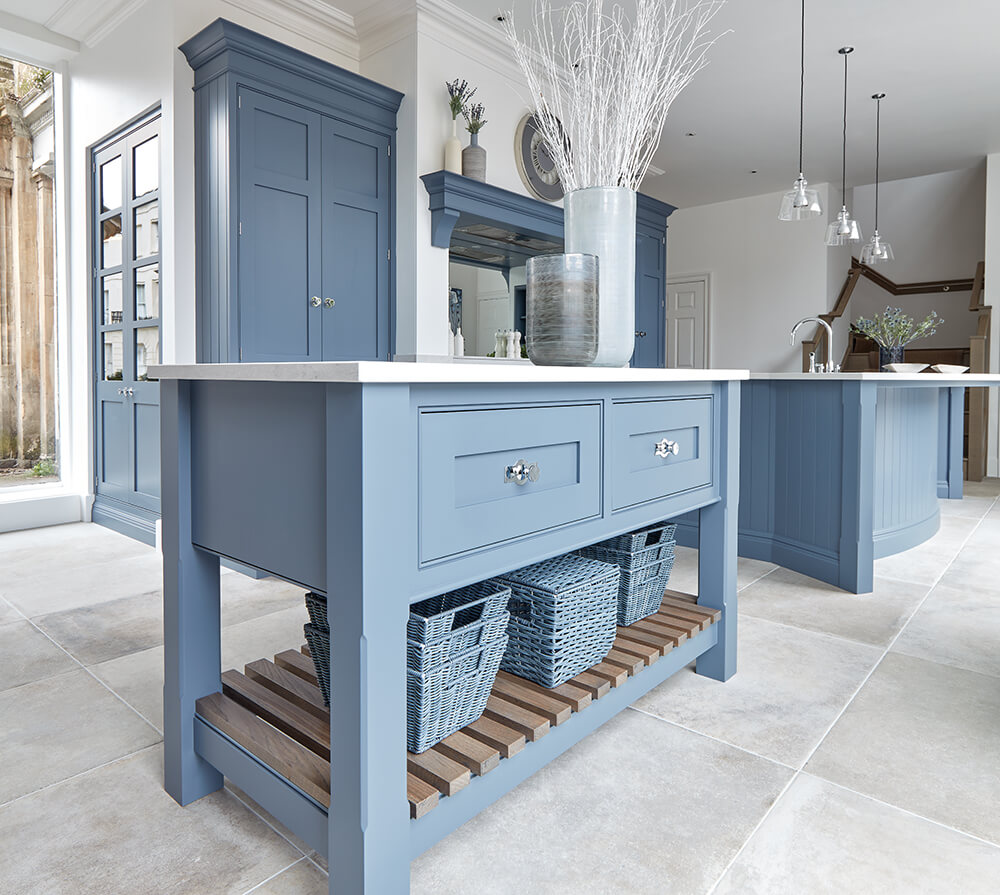 When deciding on the colour of your kitchen, our showrooms offer the perfect space to browse our luxurious paint colours and wood finishes. Once you've decided on a colour combination, you can take samples home to see how they work with your own personal style and space. So why not test our Periwinkle paint colour today.
Our Cheltenham showroom
Visit our Cheltenham showroom at 1-2 Montpellier Walk, Montpellier, Cheltenham, GL50 1SD3 to explore our new Periwinkle Hartford kitchen.
Discover more of our stunning designs by requesting our new 2019 brochure today or explore the latest trends, colour inspiration, our collection of blue kitchens and more by visiting our Pinterest site.