Project Spotlight: Classic Dark Green Boot Room
As homes evolve into multifunctional spaces, we've risen to the challenge, creating bespoke bootility designs that simplify daily tasks and offer flexibility for the whole family.
Understandably, not all homes have the capacity for a separate utility and boot room. Nevertheless, even the most compact areas can accommodate a considerate fusion of both through strategic planning and skilful design. Our latest project brings forth a classic dark green boot room that seamlessly combines functionality with a refined heritage style, catering to the needs of busy families, pet owners, and outdoor enthusiasts.
Streamlined Storage Options
Thoughtful organisation and efficiency are the defining features of a well-designed boot room, and our classic dark green project wholeheartedly embraces this principle.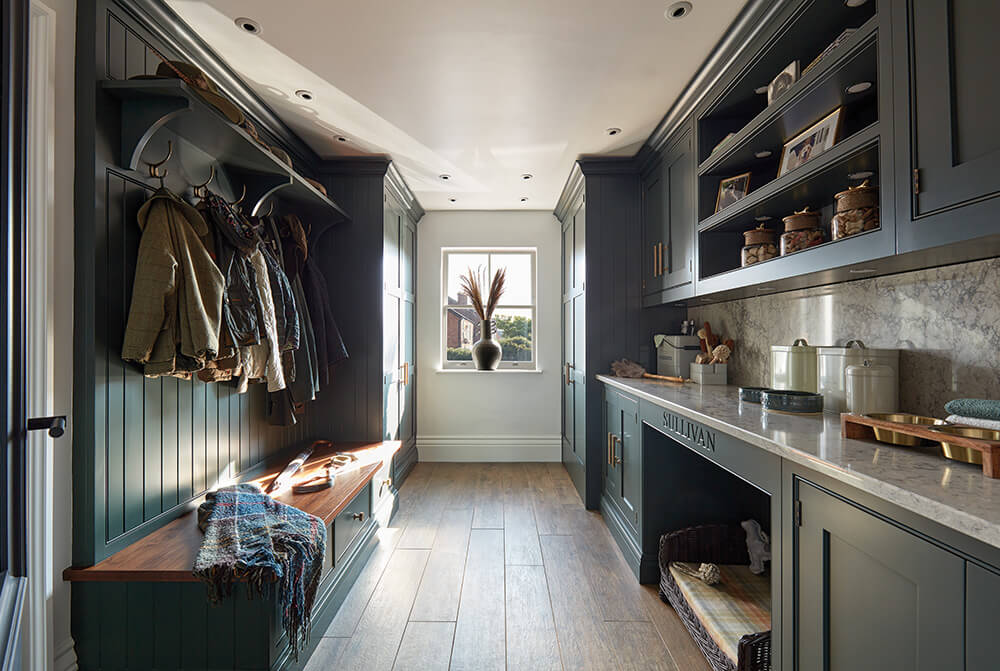 The design of the space ensures a seamless transition from the outdoor environment to the comfort of the home. Thoughtfully crafted floor-to-ceiling closed storage featuring adjustable shelving provides a designated place for muddy boots, bags, and various seasonal outdoor items, bringing order to this commonly cluttered area. Hooks, while simple, make a stylish statement in the boot room, positioned below open shelving on a beautifully classic panelled wall.
While a clutter-free aesthetic is preferred in this dual-purpose space, floating shelves present an excellent opportunity to display your favourite hats or bags. Tom Howley, our Creative Design Director, noted, "Let your walls share the workload. Here, we've incorporated tall closed cabinets for infrequently used items and muddy boots, alongside open shelves for everyday essentials like dog treats and outdoor accessories."
Concealed Boot Room Appliances
On the other side of this beautiful Hartford design, you'll discover tall pantry-style storage, allowing us to conveniently stow away large appliances and other bulky laundry essentials, including an ironing board and brushes. This hidden solution maintains the room's polished appearance while ensuring that every necessity remains within arm's reach.
In addition to floor-to-ceiling storage, we have utilised low-fitted cabinets to maximise storage capacity. These under-counter solutions are ideal for storing small kitchen appliances that may be cluttering up your kitchen surfaces or excess cleaning products. 
Bespoke Bench Seating
Central to any boot room is a purposefully crafted dedicated seating area. In this Hartford design, the expansive bench seat is the perfect spot to shed muddy boots and gather daily essentials. The choice of a luxuriously thick walnut finish seat ensures easy cleaning and introduces a delightful sense of warmth to the space.
Beneath the bench, additional storage space is ingeniously incorporated, providing a convenient solution for neatly stowing scarves, gloves, and pet accessories. The design promotes a feeling of order, guaranteeing that the entry and exit process is efficient and aesthetically pleasing.
Charming Green Boot Room Pet Nook
In the past year, there has been a growing trend in pet-friendly designs that feature dedicated nooks situated away from the kitchen's hustle and bustle. This snug and personalised space seamlessly integrates with the bespoke boot room, featuring a panelled backboard painted in Avocado. The sleek Caesarstone surface and open shelving above provide a convenient spot for storing pet essentials and treats.
Thoughtful Material Selection
The materials in this dark green boot room have been meticulously considered, taking into account not only their aesthetic appeal but also their functionality.
A hard-wearing and robust floor tile is essential in what is inevitably an area of high traffic. Natural stone flooring is the traditional choice, which can withstand knocks, mud and heavy footfall. Natural stone flooring is the classic choice, capable of withstanding knocks, dirt, and heavy footfall. If a smooth surface is preferred, stone or wood-look porcelain is a fantastic option, combining ease of cleaning with enduring durability.
The durability factor is also paramount in choosing the worktops. Besides its aesthetic charm, the Caesarstone Moorland Fog worktop ensures that this space remains resilient in the face of daily use, standing the test of time.
Dark Green Heritage Scheme
Darker colours are an excellent choice if you want to create a refined, heritage look in your boot room. In this Hartford design, we've leant on darker hues, marrying our exclusive colour, Avocado, with walnut details and burnished brass Antrim handles.
The distinctive finishes elevate this classic dark green boot room beyond a mere utility space, transforming it into a design statement. The interplay of colours, textures, and finishes establishes an atmosphere that is both inviting and sophisticated.
Discover more beautiful boot room designs where routine tasks become a source of beauty and practicality here.