Just a Little Build's, Sarah-Jane knows a thing or two about kitchen decor and hosting the perfect festive dinner party. On the 1st December, we're excited to be holding an event with Sarah-Jane in our stunning Beaconsfield showroom, the very place she first set eyes on her dreamTom Howley Kitchen. 'Just A Little Christmas', will be an inspiring event consisting of a Christmas styling workshop, cookery demonstrations with Miele Chef Sven-Hanson Britt, prosecco, canapés and all things Christmas. As the festivities begin and the decorations go up, we thought we'd invite Sarah-Jane to take over our blog sharing Christmas styling techniques from the event to get you inspired for the season ahead…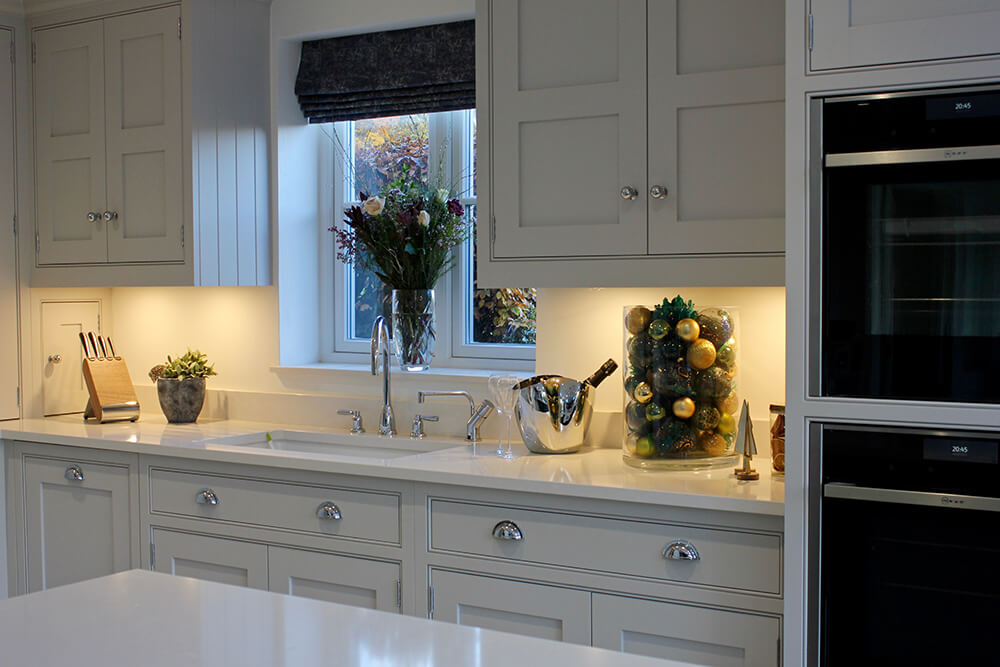 As we draw closer to the month of December, my focus immediately turns to Christmas. I start to think about how I am going to decorate my home, what festive foods I am going to cook, what gifts I am going to buy and how many Christmas parties I will be hosting at the house!
Having a large open plan room has been a wonderful addition to our home and makes for the perfect party space, but it can be tricky to cohesively decorate at Christmas. In theory, you are pulling together 3 rooms (kitchen, dining and living) to coordinate with each other and sit effortlessly together. Each area of the space has its own purpose and as such needs to be decorated appropriately and sympathetically for its sole use. For example, in the kitchen, you may want to add some Christmas decor but it needs to be done in a way that doesn't compromise its function as a space for creating food. Likewise, the dining table still needs to allow people to sit around it and eat their food. This all sounds very obvious but I know how tempting it can be to get a little carried away with the Christmas decorations!
Here are some of my top tips for decorating your open plan space and individual kitchen/dining areas;
1. Use colour to coordinate the individual spaces
Keeping a consistent colour scheme throughout is the easiest way to do this. Last year I used silver on my tree, my table and in the kitchen which worked really well at tying in the three areas with each other. That said, don't be afraid to use more than one colour, just ensure they complement each other and perhaps even your home decor. Here you will see that I have gone with a red table decor but introduced blue and green to the kitchen area which complements the Christmassy reds and also my island colour.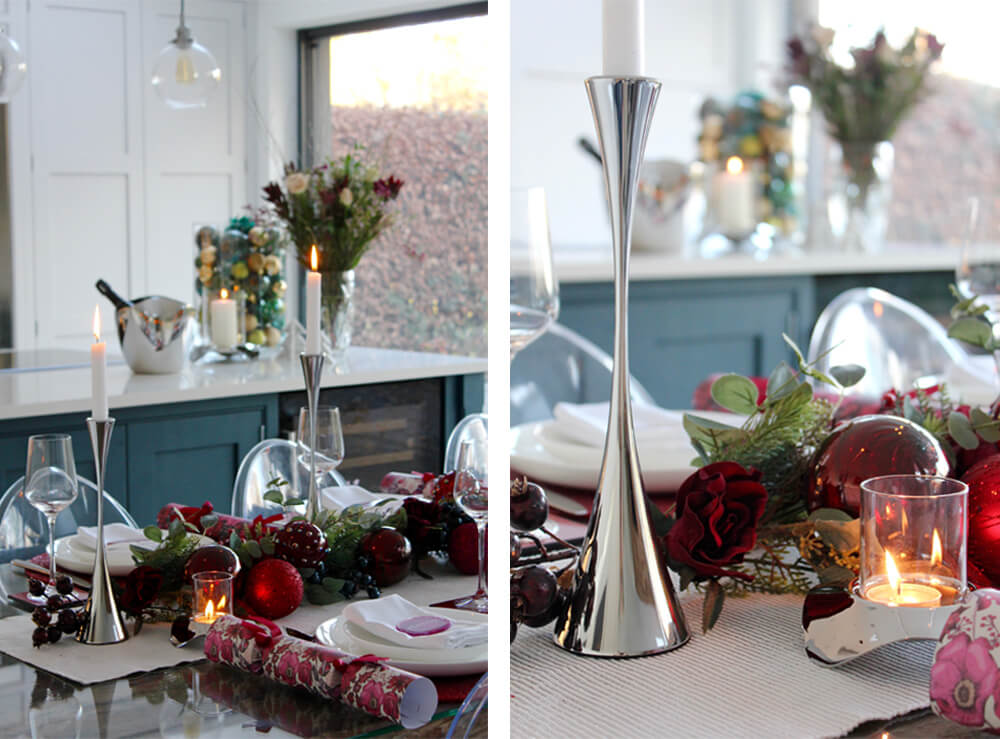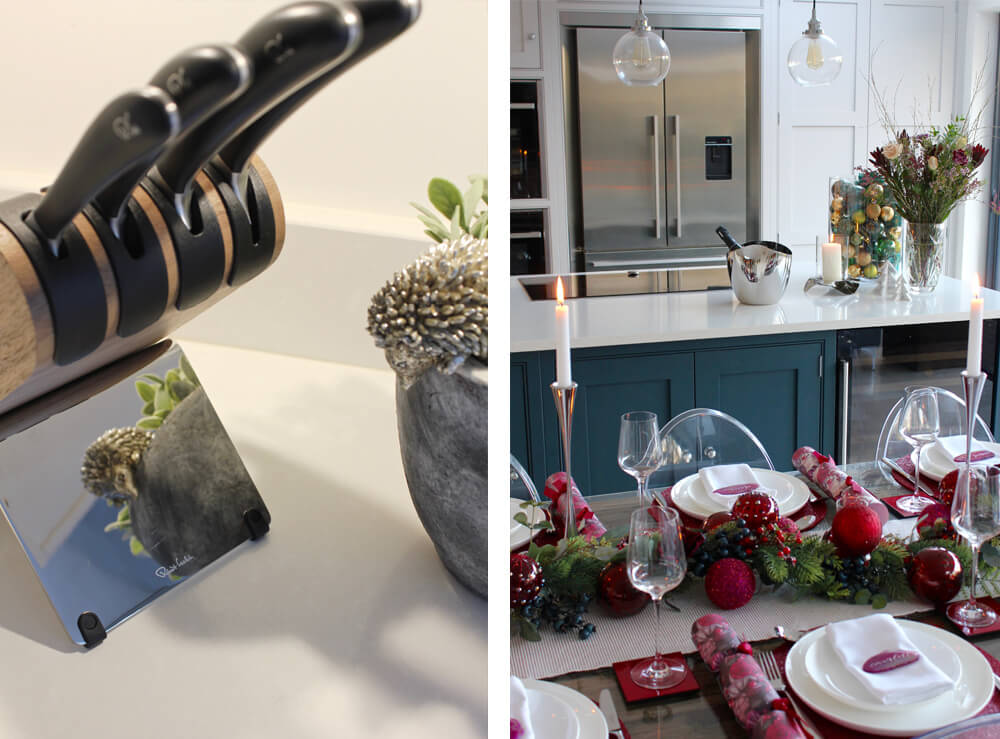 2. Keep it simple
Less is More. Yes, I for one, love a bit of detail – I am a big fan of creating individual areas that have a lot of interest and boast some creativity, but I do like to confine these areas and keep my spaces clutter-free and easy to live with. One of my favourite Christmas decor methods is to use lots of different beautiful baubles (the detail) and place them inside a large glass vase (confined). This is an excellent way to bring colour, sparkle and Christmas interest to your kitchen worktops or window sills whilst keeping it easy to work around and clutter-free.
The baubles I have used here are from John Lewis and are a part of their Emerald Christmas collection. A nod to the sensory haven of a tropical rainforest, the Emerald collection incorporates clear glass, feathers and tropical leaves to create a lush Christmas setting. I particularly love the Peacock Feather Baubles with sequin and stitch detail.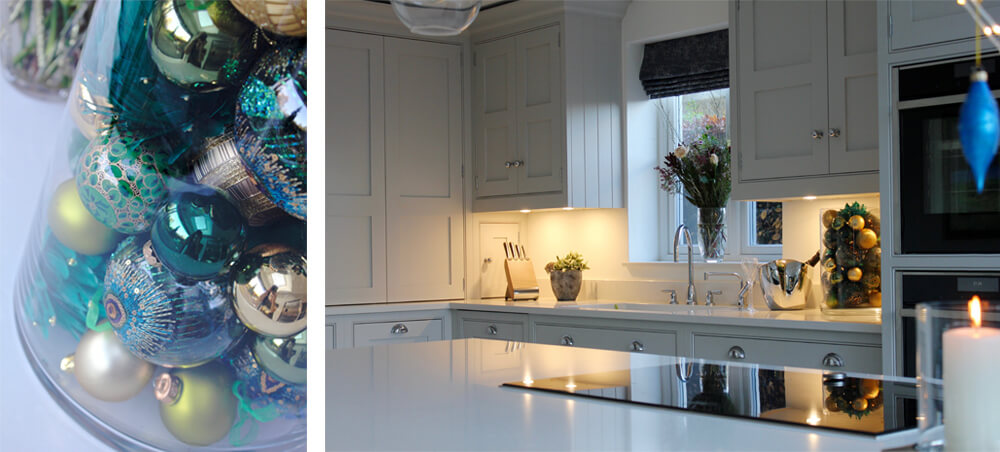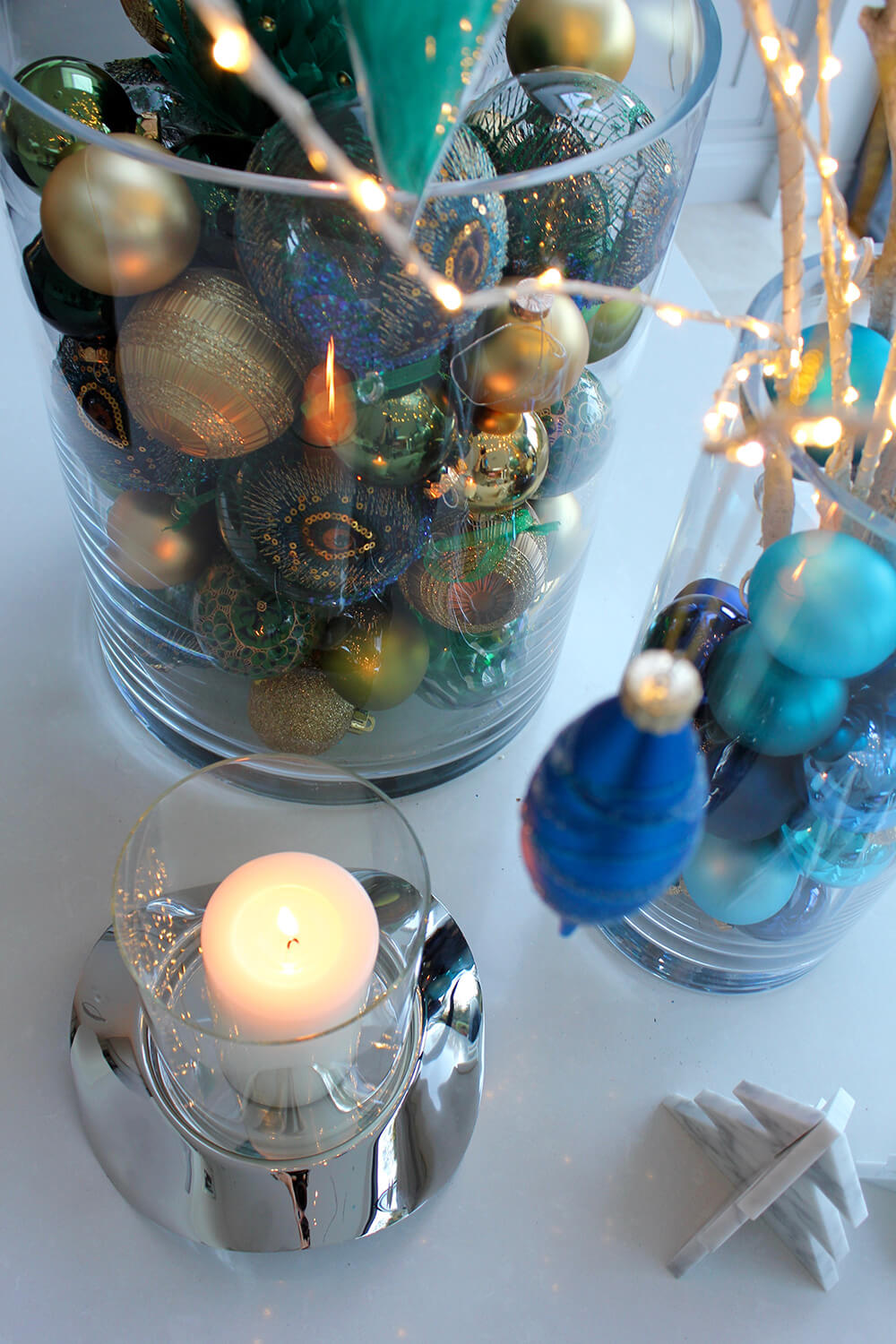 Another Christmas decor tip is to use long branches which you can pick up from broken trees in the woods, spray them with metallic spray and pop them inside a vase to hang baubles from. I applied white spray first and then the silver to ensure a light metallic colour was achieved. With the addition of a few LED twig lights, this makes for a wonderful island centrepiece (especially in the evenings as it looks so pretty all lit up!).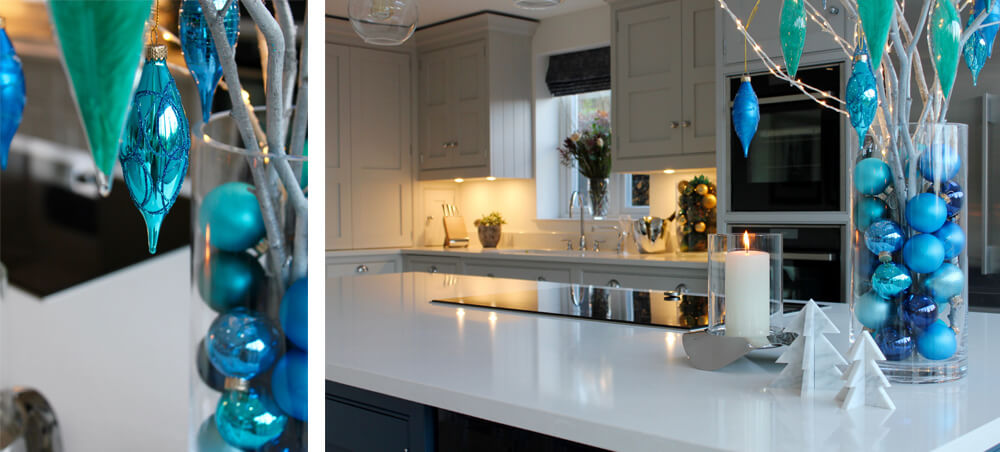 3. Be bold with your table decor design
Christmas is all about joy, indulging in the festivities and the celebration life, so what better way to reflect this with your Christmas styling than to add some vibrancy with an injection of colour. Here I have used ruby reds and pinks for this table design which gives a sumptuous and luxurious feel. Along the middle of the table, I have used a fabric runner to frame my centrepiece which consists of a faux garland and a selection of Christmas baubles.
Be sure to balance your bold colours by using natural accent colours. This can be on your napkins, plates, table runner, placemats or even candles. The natural greens from the garland bring a lovely base tone to this table design whereas the white plates, napkins and silver table runner really lift the red colours to make them 'pop out'.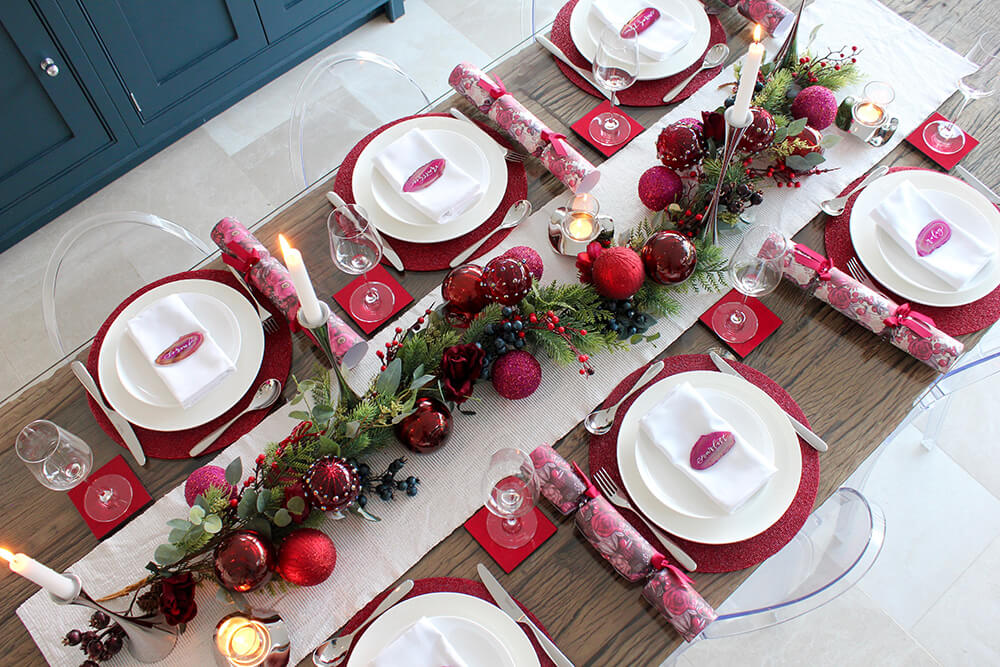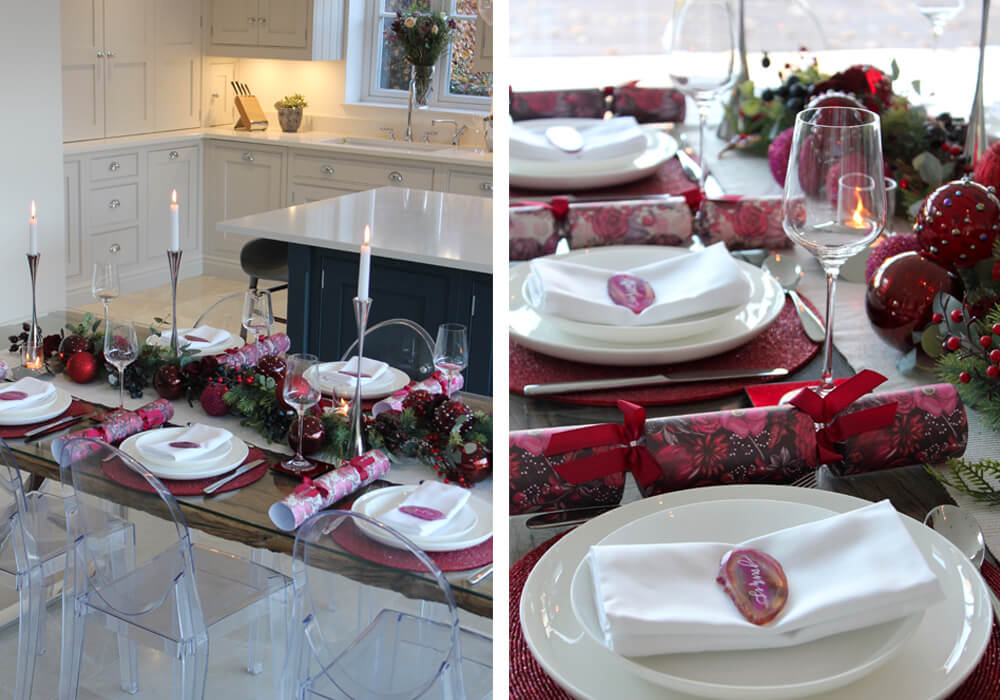 4. Frame your guests' place settings
I think it's important to 'frame' each seating position for your guests. It may sound obvious, but by using a placemat, a coaster, a napkin and a cracker (you can't forget a cracker at Christmas!) it defines the area each guest is going to sit and adds a sense of occasion to your dinner party. At Christmas, and for more formal occasions, I also like to add personalised place settings. These absolutely beautiful personalised agate settings have been made by Lauren Cooper from Oh Wonder Calligraphy. I have even bought some blue ones to go on my own Christmas table which has a blue and silver theme this year!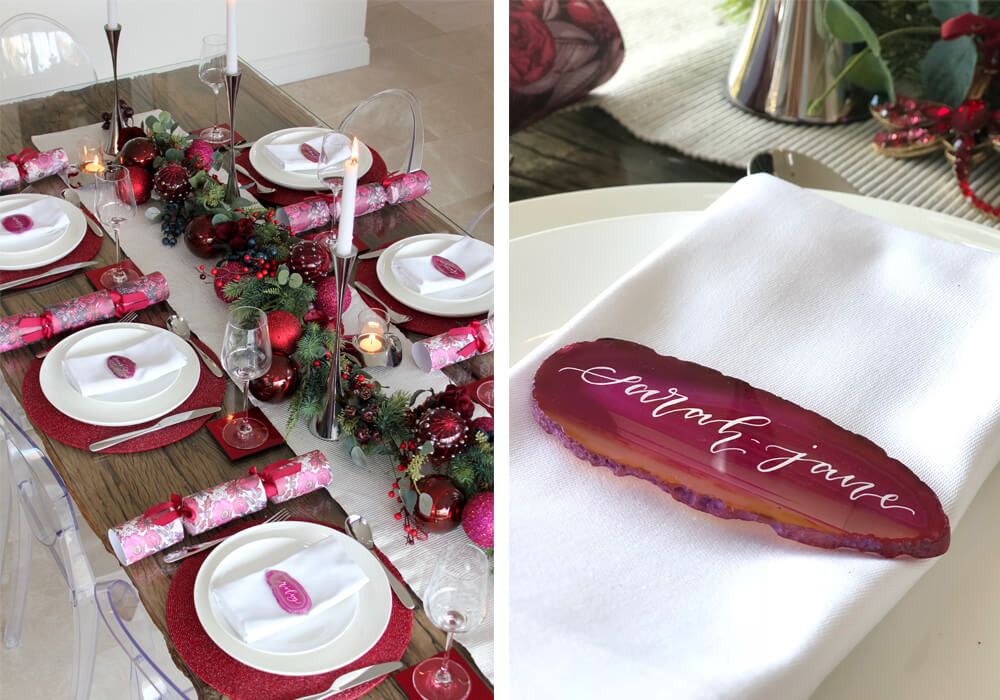 5. Use baubles within your table centrepiece
A great way to add colour, texture, pattern and a bit of sparkle to your table is to use baubles within your Christmas centrepiece. In small clusters, they look wonderful amongst the foliage of your garland. It is also an excellent way to coordinate with the baubles on your tree, especially if your tree is in the same room as your dining table. These red baubles are from John Lewis' Ruby Christmas collection. Top tip: ensure you use foliage with your baubles as, without it, you may find your baubles will roll off the table!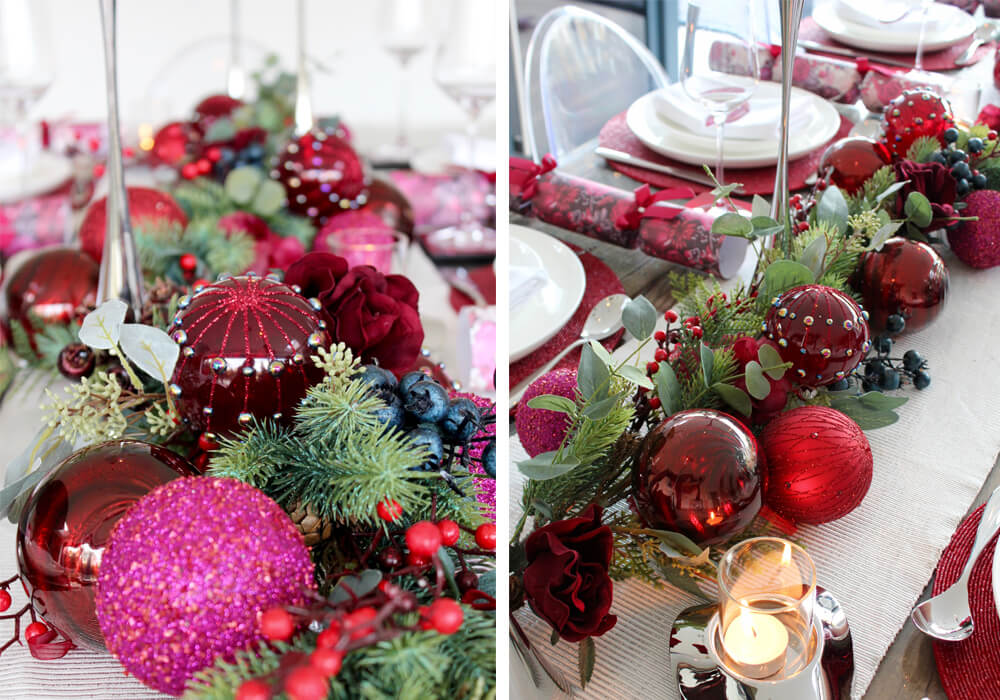 6. Varying heights
And lastly, always think about how you can lift and lower the eye level with your Christmas styling. A good way to do this on the table is to use candlesticks and tea lights or even by hanging something from your ceiling above the centre of the table. Within the kitchen, I tend to use vases with flowers and branches to lift the eye and then worktop ornaments and candles to lower the eye.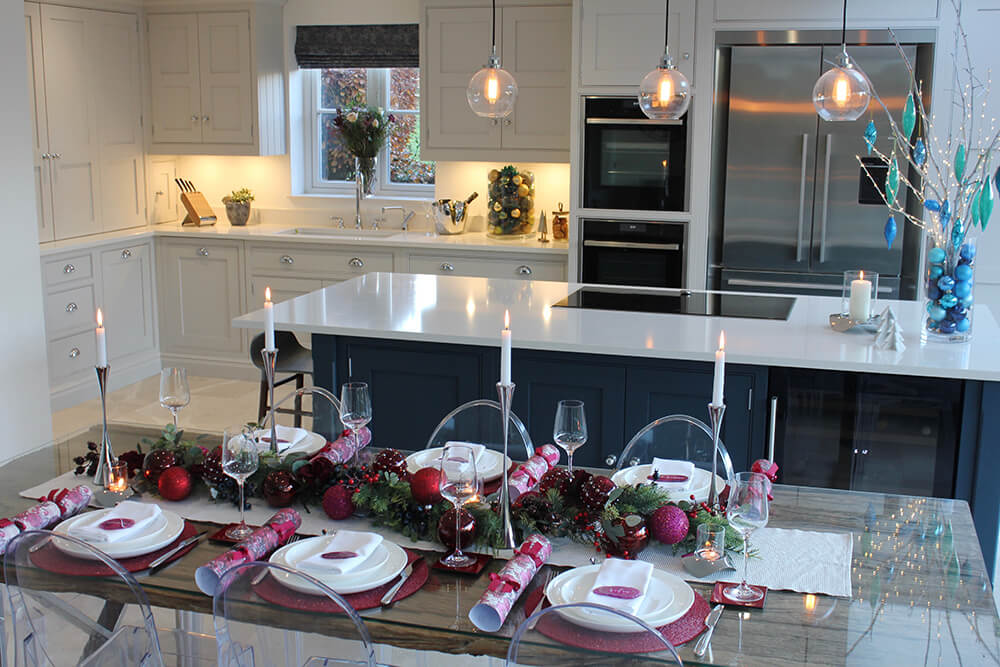 Designed to get you and your taste buds in the festive spirit, this coming Saturday I am hosting 'Just a Little Christmas' at Tom Howley Kitchens in Beaconsfield. The day will be split across two sessions and both will involve Christmas styling with me, SJ, and cooking demonstrations with Sven-Hanson Britt, Miele Executive Chef and MasterChef Professionals finalist.
The focus of the day will very much be all things Christmas and food, with guests being treated to a glass of prosecco on their arrival, a chance to taste the foods cooked in front of them, inspirational Christmas styling and a luxury goody bag for all to take home.
Thanks for reading!
Sarah-Jane
x