Most high-end kitchens feature an island as a centrepiece. They can be the hub around which families gather to eat, chat and socialise. A beautiful, practical piece of furniture where food is prepared and cooked for all to enjoy. They can also be architectural masterpieces with features such as in-built lighting, display shelves and sleek seating areas. Whatever you plan to use your kitchen island for, we can help you to place it centre-stage in your home.
Things to consider when planning a kitchen island include:
Scale and layout
Seating for family and entertaining
Appliances
Worksurfaces
Task lighting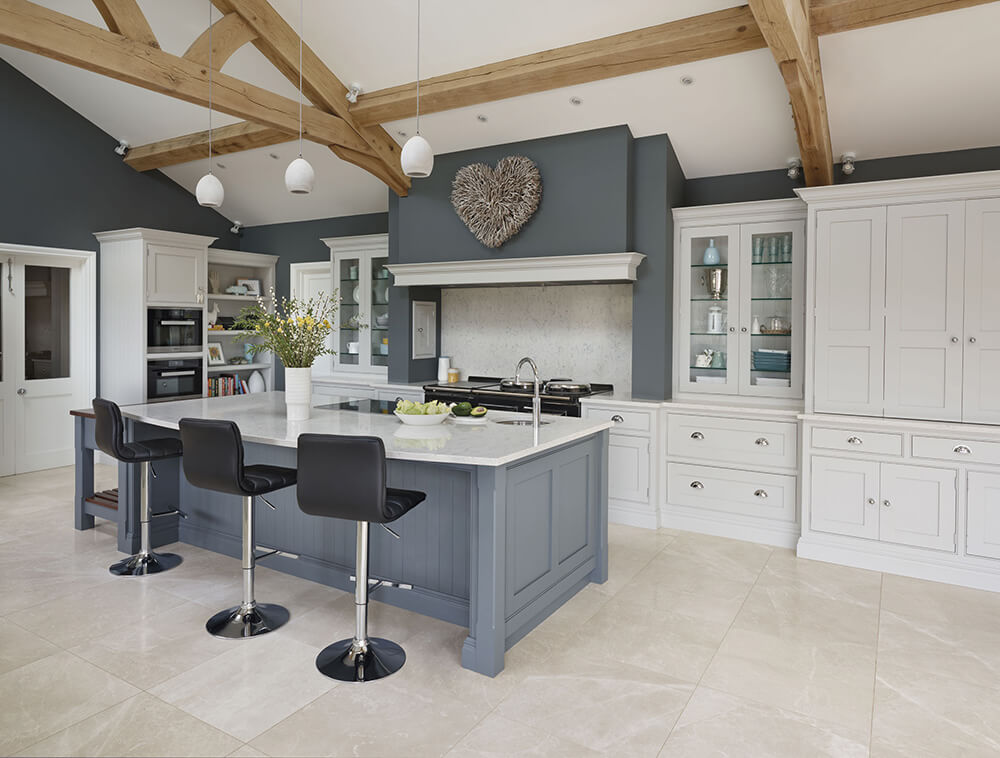 These days the kitchen is one of the most loved rooms in the home. In both newly built and traditional properties, homeowners have enlarged the kitchen to incorporate family spaces and the island is now seen as a modern-day icon of luxury providing a link between kitchen living and dining.
Scale and layout
Whatever its size or style, the kitchen island, as its name suggests is a centralised feature. It's in a handy position that allows you to utilise every inch of space, many of our Tom Howley kitchens have built-in appliances which free up wall cabinets. By centralising cooking or preparation areas, it makes the kitchen much more sociable, allowing the chef to talk to others as they get dinner ready instead of standing with their back to family and friends.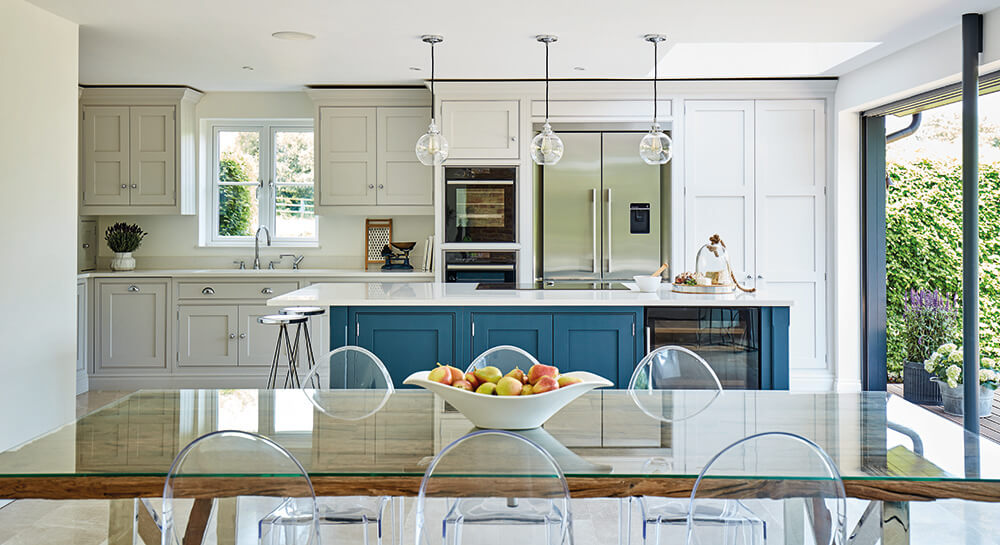 Islands also offer extra storage. Many have cupboards to ensure your kitchen is clutter-free. Deep pan drawers can provide space for all of your cookware while other designs offer display shelves for personal pieces or to showcase high-end kitchenware.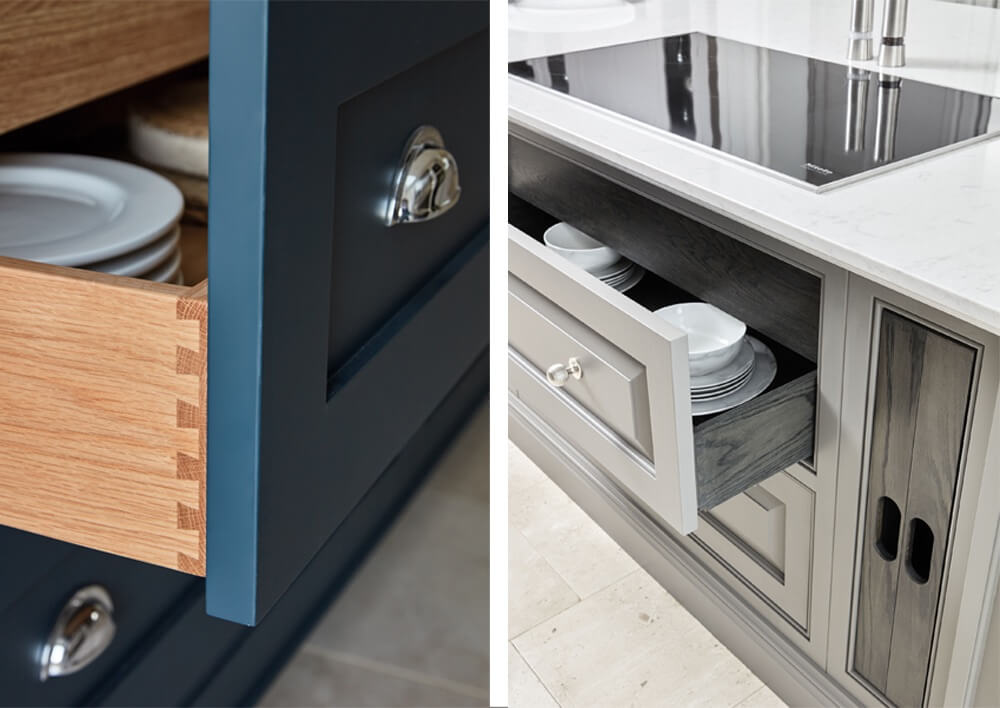 Bespoke to you
Before you design your island, think about how you want to use it. Will you use your island to cook or prepare food? Will its primary purpose be as a social space with a breakfast bar and seating? Do you need power sockets built into it or a sink? The kitchen is such a dynamic space that your island could be designed to have many uses from a place to prep dinner to an area where kids do their homework. Adding a selection of drawers is an excellent way to keep the clutter at bay, especially manuals or those odd bits of kitchenware we tend to hoard. Keep cutlery close to hand if it's where you'll be serving dinner or save a drawer for your paperwork if your island doubles as a desk!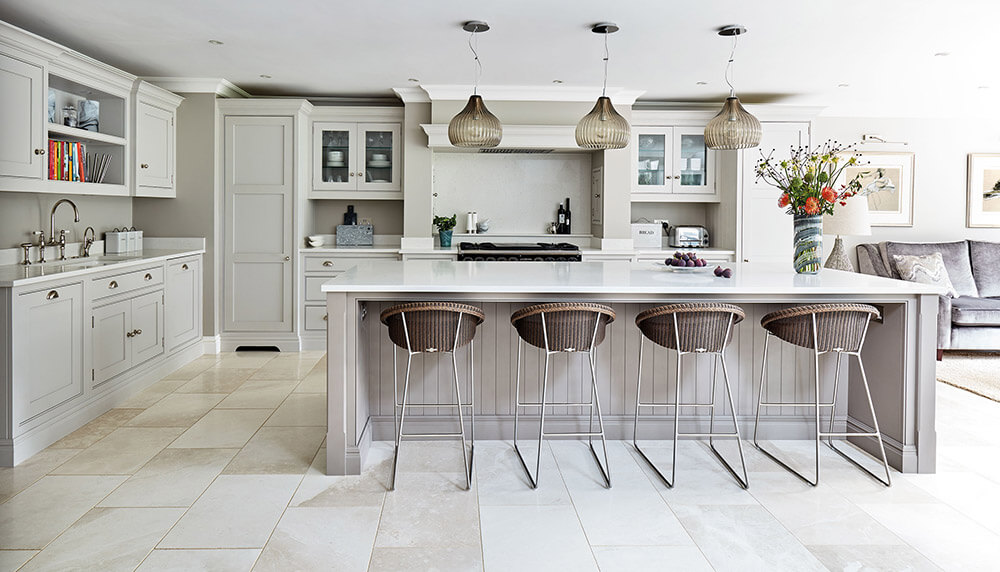 In a large space, an island is a great stop-gap. It can house a number of functions inside a single practical unit so that everything is close to hand from cookware to appliances.
A great kitchen designer will help you to create the right island for your particular space. It needs to have the correct proportions to give the room a sense of balance and symmetry. Use colour to add character and personality. If you have a neutral colour palette, adding vibrant bar stools or pendant lights can create a sense of movement and joy without the need to redecorate your space.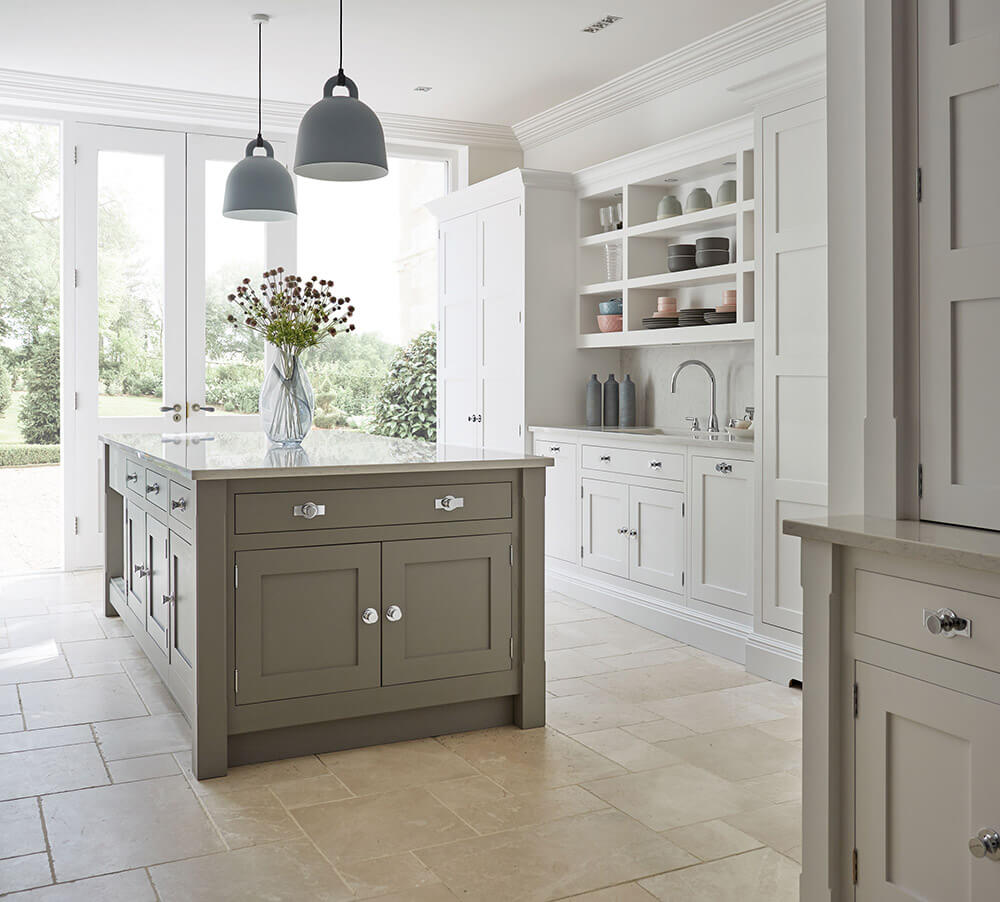 Worktop considerations
Think about your worktop. If you are using yours for preparation, opt for a harder-wearing, more robust surface such as granite or Silestone. A worktop can impact the overall scheme of your kitchen, luckily with advancements in technology the choice of worktop materials is vast, for all budgets and styles of kitchen. Discover more worktop options here.
If you don't have space for a grand multifunctional island, you can still enjoy the benefits of a slimmed down version or butcher's block. Keep colours pale and fresh and consider a breakfast bar overhang so stools can be neatly tucked or folded away underneath it. Islands come in all shapes and sizes and in all our collections so if you want to live the island dream, a bespoke solution is within reach.