The kitchen is often at the centre of daily life. No matter what style of property you own, it's the room where family comes together, friends gather and increasingly a space for wellbeing and reflection. A kitchen renovation can be a considerable undertaking, but according to Property Price Advice can potentially add up to 15% to the value of your home.
The kitchen is an ever-changing environment, gone are the days where they were merely utilitarian areas to prep and cook meals. We recognise the kitchen needs to be designed for modern living; it has to serve multiple functions, each area with a clear purpose and be uniquely created to suit your individual lifestyle needs. We've shared our essential tips on what to prepare in advance when undertaking a kitchen renovation, and points to consider when sitting down with a designer to plan your dream space.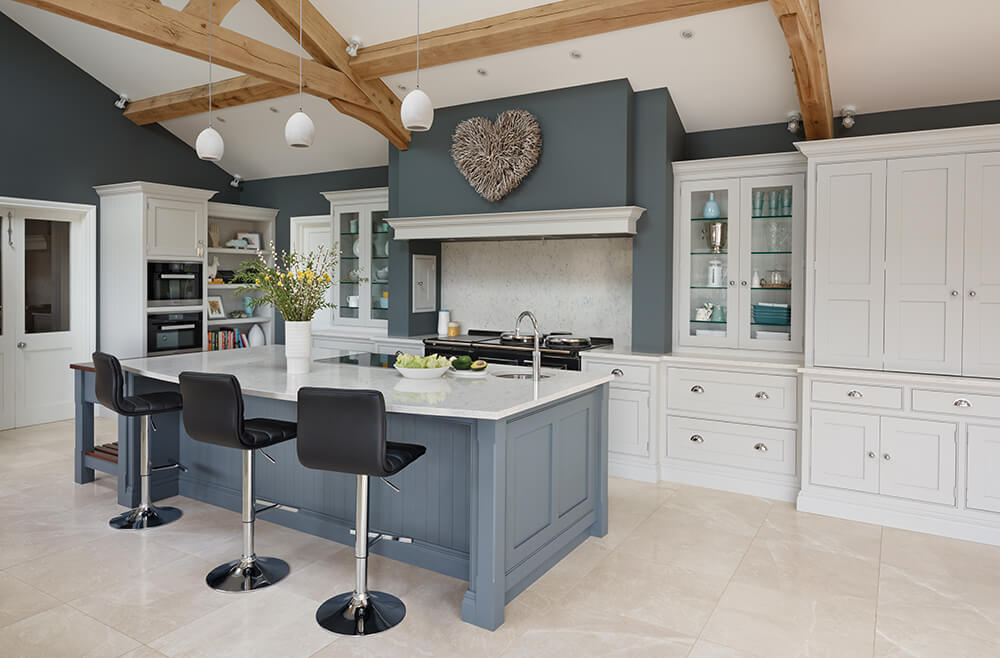 Spacious Hartford Kitchen Renovation
The Design Stage – Where to Start 
There's no 'one size fits all' when it comes to a Tom Howley kitchen. From the very beginnings of your kitchen renovation journey, our talented designers will work closely with you to understand your needs and lifestyle. This is imperative to a successful design that is not only functional but beautiful too. Each stage of the process is expertly managed by our designers, from your initial appointment to the final adjustments until you are completely satisfied that we have achieved your vision.
Preparation Is Key – What to Bring with You to a Design Meeting
A kitchen renovation is one of the most exciting and yet time-consuming projects you can undertake, making it easy to get carried away with unnecessary details, missing crucial steps along the way. Usually, before sitting down with a designer, you would have already visited us online or in a showroom to explore our collections and gain an insight into the design process. Preparation is key to a successful initial design meeting. So, to help you start on the right foot, our designers have compiled a list of essential points to consider, prepare and bring with you.
Any architect plans and/or room plans with dimensions. In the case of a new build or extension, there may be no other option, but by being involved early in the planning stage allows us to make suggestions, enabling you to have design features or the latest appliances you crave for. Ideally, it is good to know the location of services, electricity and water/waste at an early stage of any new build as they need to be positioned accurately, especially if an island is to form the focal point of the kitchen.

Images of the room as it stands. The more information the designer has at the initial meeting, the better we are able to understand the project and advise accordingly.

Any mood boards you have created to support your ideas for the kitchen. I.e. Pinterest boards, Houzz profiles, magazine cuttings, images from our brochure.

All parties involved need to make sure they have approximately 2 hours available for initial brief meetings. These meetings with our designers are one of the most important in the process. They are where your wish lists are discussed, and ideas are turned into reality. 

An open mind. This ensures we are able to create a beautiful, brand new space, which not only reflects your home but lifestyle too. 

A rough budget will help you to make informed decisions and prioritise certain aspects of the design from day one.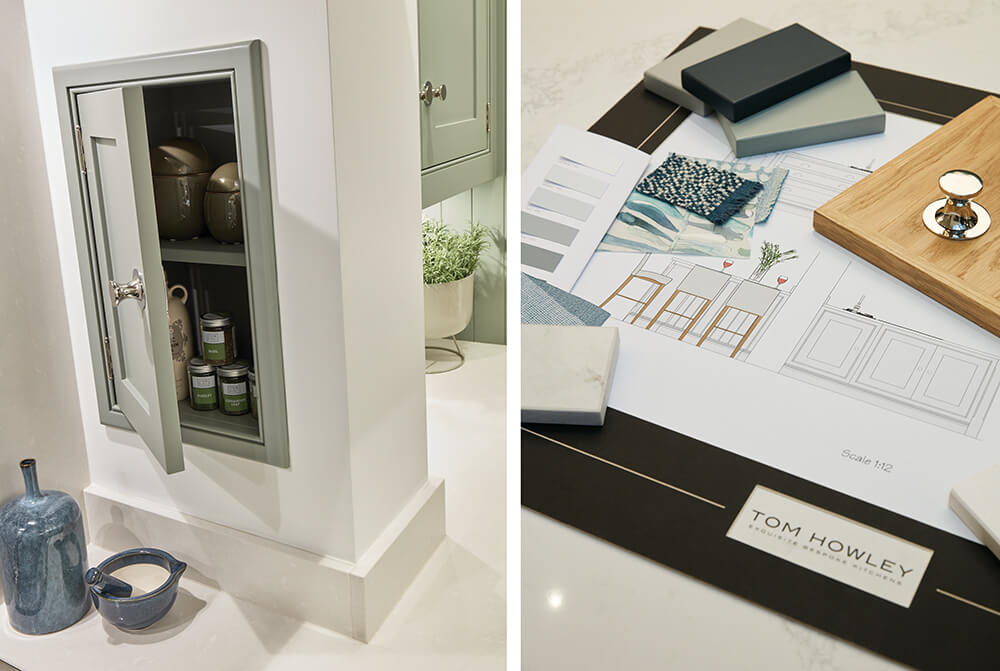 Writing Your Wishlist 
The more information you give to your designer at the initial design meeting, the better. One tip is to take a look around your existing kitchen and note down the pros and cons of the space as it is. This will act as your base. You can then list any storage preferences such as deep pan drawers, glazed cabinets to display cherished collections or a double pantry. Maybe you've dreamt about an integrated family seating area, space for a large dining table or integrated top of the range appliances. Write all of this down.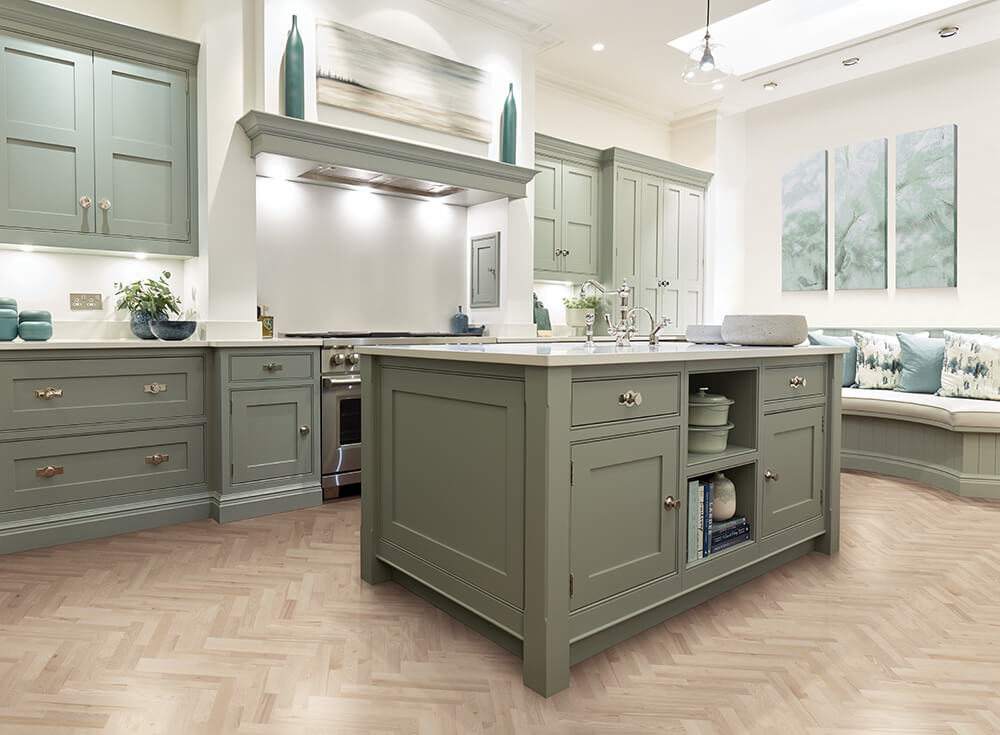 At this stage, you can also roughly pinpoint a kitchen style, note colours and materials that have caught your eye or statement tiles you want to base your kitchen around. Our designers will do their best to include all of your personal preferences whilst adding their expert opinion and design flair.
Considerations and the Importance of Planning for the Future 
When planning an extension or full overhaul of your space, we highly recommend planning the kitchen before building work starts. This allows our designers to explore numerous layouts. Each kitchen is beautifully crafted for a millimetre perfect fit so small changes further down the line can have a considerable knock-on effect if not appropriately planned from the start. 
Budgets are project-specific and partially dictated by the size of the space and client requirements. If you are hiring trades, you'll need to factor in a budget for building work, painting, tiling, flooring, plumbing, electrics and any extra fixtures on your wishlist. During the design process, we will give you a breakdown of the kitchen costs allowing you to feel comfortable and in control every step of the way.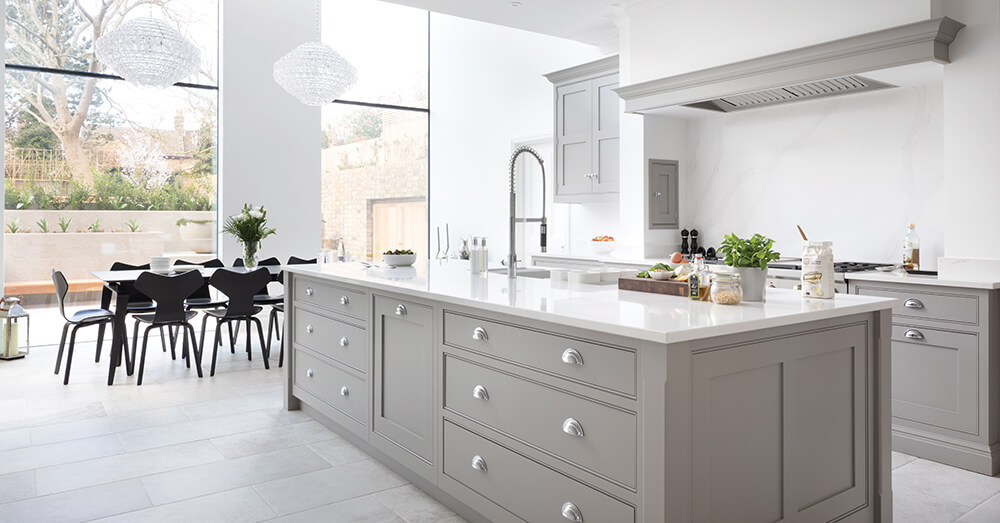 Aside from everyday practical requirements, you should also draw up a list of design elements that you may need in the future, ensuring your kitchen has longevity. Maybe you're thinking of growing your family so need extra floor to ceiling storage, double ovens or a large breakfast pantry? Or with changing social behaviours, you may opt for a larger island than required right now, a layout that allows easy access to appliances or a spacious dining area for safer socialising. Michelin-starred chef Galton Blackiston explains, planning the right layout from the start is key to a successful family-friendly kitchen.
"To make the whole cooking process seamless, everything has to have a purpose and a place – you should be able to reach whatever you need almost without thinking about it so that you can focus on your family and guests as well as your food."
Ways to Collect and Curate Your Home Interior Inspiration
Mood boards are just as important as your initial design wishlist. They are one of the easiest ways to showcase your home interior inspiration and convey your design ideas visually to a kitchen designer.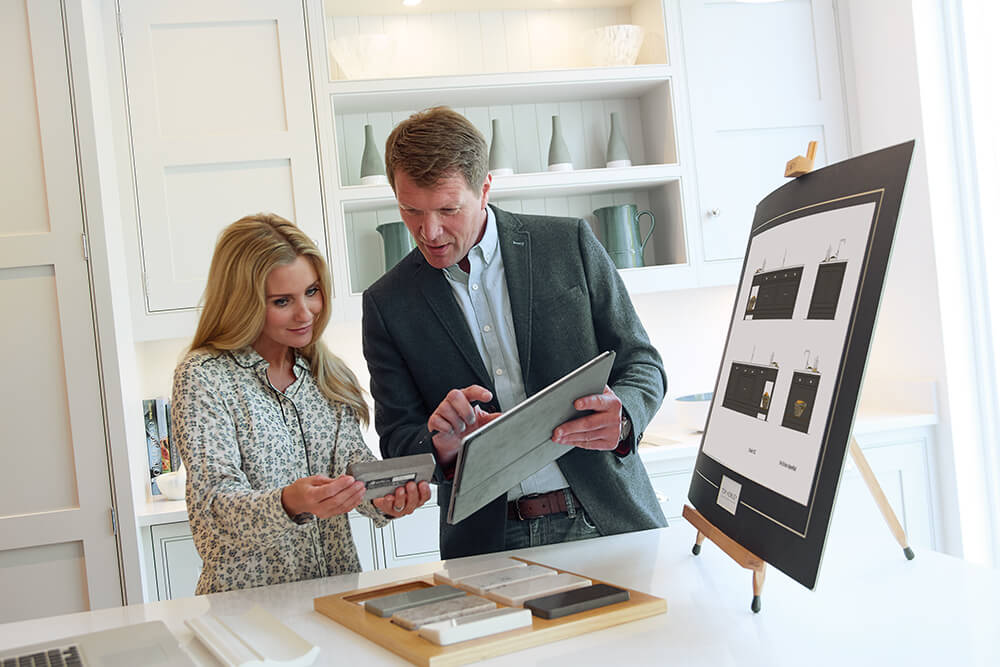 A digital board is one of the quickest ways to collect ideas. Platforms such as Pinterest are designed especially for the job, making it much easier to refer back to when curating a space. Visualise your dream home. Ask yourself what you are naturally drawn to, is there a colour that instantly lifts your mood or a design element you know will enhance your family's lifestyle? Keep these answers in mind when creating your mood board. We suggest building your ideas around one image or key theme to ensure you stay on the right track, also keeping in mind your space and budgets. If you have a small galley style kitchen, try and find inspiration that displays this particular layout. 
If you prefer physical mood boards, then home interest magazines, brochures, material samples, and colour swatches are all fantastic ways to convey your ideas. Both digital and physical mood boards are there to help you envision the space, the best thing is you can swap and change thoughts until you're happy with the choices you have made. We've recently shared our advice and top tips for creating your own mood boards here.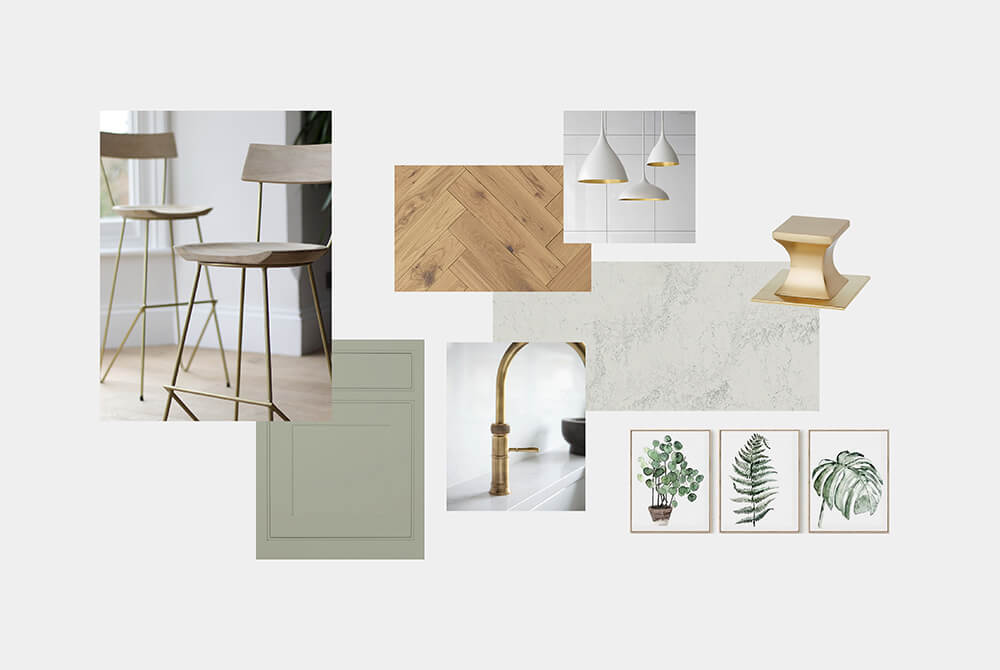 Choosing a Kitchen Style That's Right for You and Your Home 
If you're struggling to decide on a bespoke kitchen style, our designers can offer advice on which Tom Howley kitchen collection will better suit your property and stand the test of time. Kitchen style is mainly a personal choice, however influencing factors may be the architectural style of the property, as well as the overall interior styling elsewhere in the home. Essentially, all of our crafted kitchen designs are similar but distinguished by a fine level of design detail which identify them. Our Altrincham designers Matt and Julian briefly explain below.
"Most ornate with a high level of additional detailing is the Devine collection. The simplest, and as a result perhaps the most contemporary, is the Harrington. Summerville, distinguished by the soft curves and additional panel detail, lends itself to a simple country cottage style. Kavanagh, with the deep bevelled panel detail, is enhanced with its distinctive wire scroll handle. The classic of the range is the timeless Hartford with the cabinet makers' cott bead' around the door and drawers. Finally, the Butler, the sister of the Hartford, removes the bead detail to give the classic Shaker style."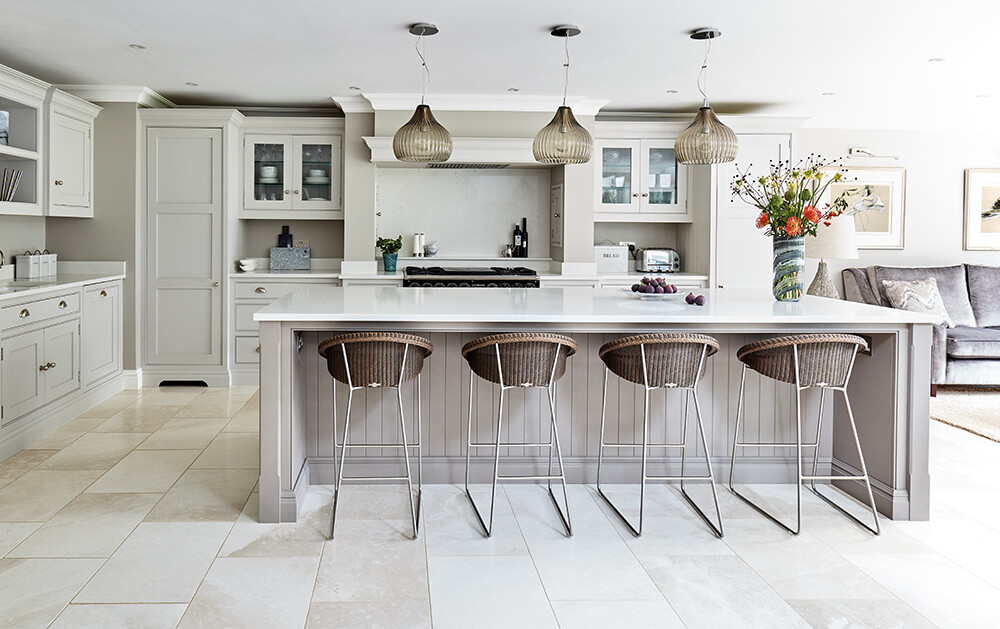 Finishing touches are what make a Tom Howley kitchen stand out from the rest. We have 24 beautiful bespoke colours to choose from to suit your style and space, from timeless warm greys to striking stylish blues. Our designers will also help you to identify which worktops and hardware will complement your design and give you a helping hand in choosing extra details such as lighting, seating and statement splashbacks. 
If you're starting your kitchen renovation journey, then our designers are here to help bring your kitchen design ideas to life. You'll be able to find our experts in our showrooms throughout the UK. Find your nearest here or book your free design visit today.
View more kitchen renovation design ideas here.