Modern, distinctive and understated. The latest addition to our Kavanagh collection is this impressive dark green kitchen painted in our stylish new colour, Avocado. There is a compulsive attention to detail in every element – and it doesn't stop at the cabinetry. Each Kavanagh kitchen is bespoke to its environment with appliances, features and finishes made to meet the personal requirements of our client. From the size of the statement island to the integrated lighting in the open shelving, every function and feature is unique and individually specified.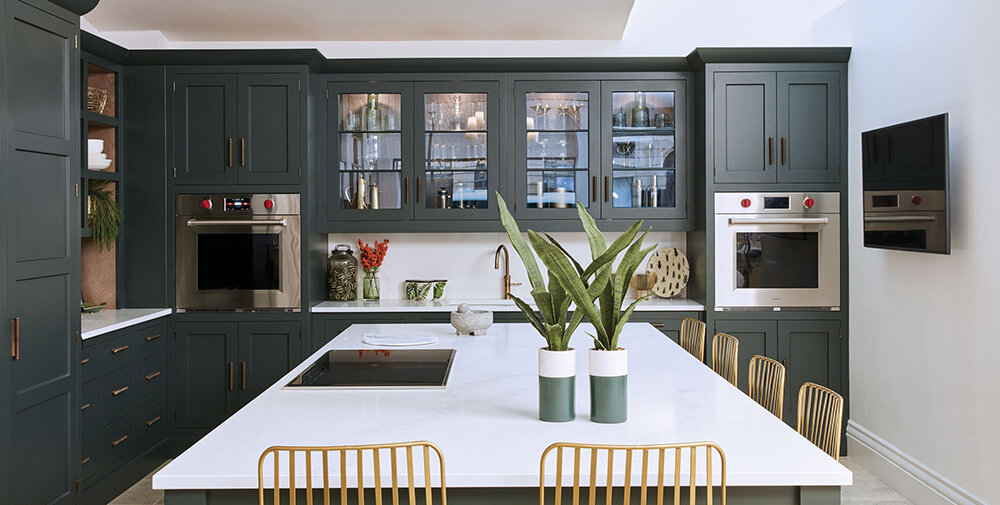 Dark Green Shaker Style Kitchen
Open Shelving
Open shelving is a beautiful and stylish addition where storage becomes an opportunity to showcase impressive pieces. They can be designed to display copperware, earthenware and pottery; items that can be seen and reached easily, or personal treasures that can be a talking point for friends and family. We introduced burnt red-orange tones to add a pop of colour to our shelving creating a little more personality in the space; these rich shades came in the form of artificial berry sprays and ceramics. Indoor plants are hugely popular at the moment and work wonderfully in the kitchen to promote a sense of wellbeing. We styled shelves with some fabulous textural houseplants adding an organic feel to the space, softening the edges of the kitchen.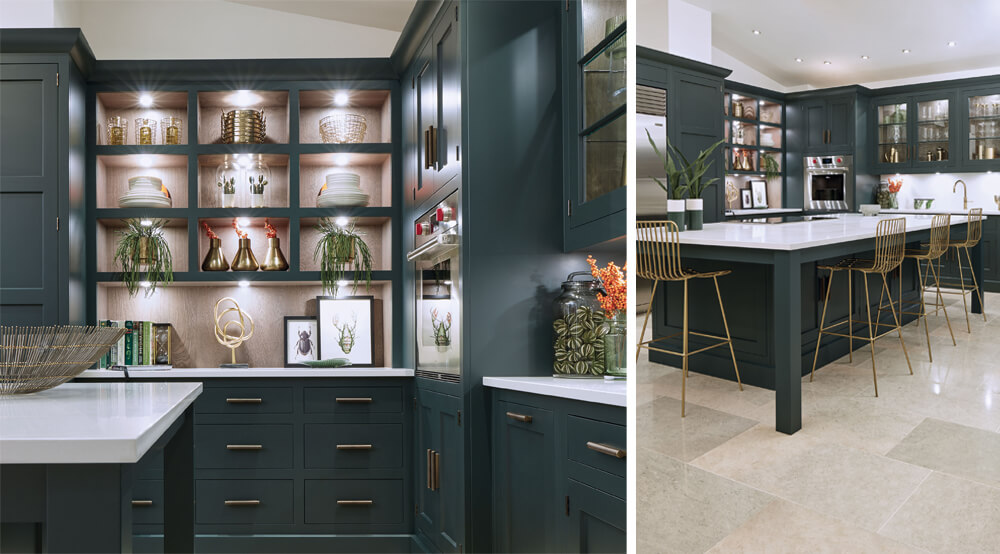 Kitchen Island
The island is at the heart of your kitchen acting as a stylish and practical feature. Finished in our Avocado paint colour with a contrasting Silestone Snowy Ibiza worksurface, our Kavanagh island features a hob that is flush with the worktop, storage and sockets for your appliances and personal tech. The island is positioned for seamless movement between the oven, storage and hob and it also has a spacious breakfast bar with plenty of room for seating. This allows many people to work in the kitchen simultaneously while guests can sit back and relax.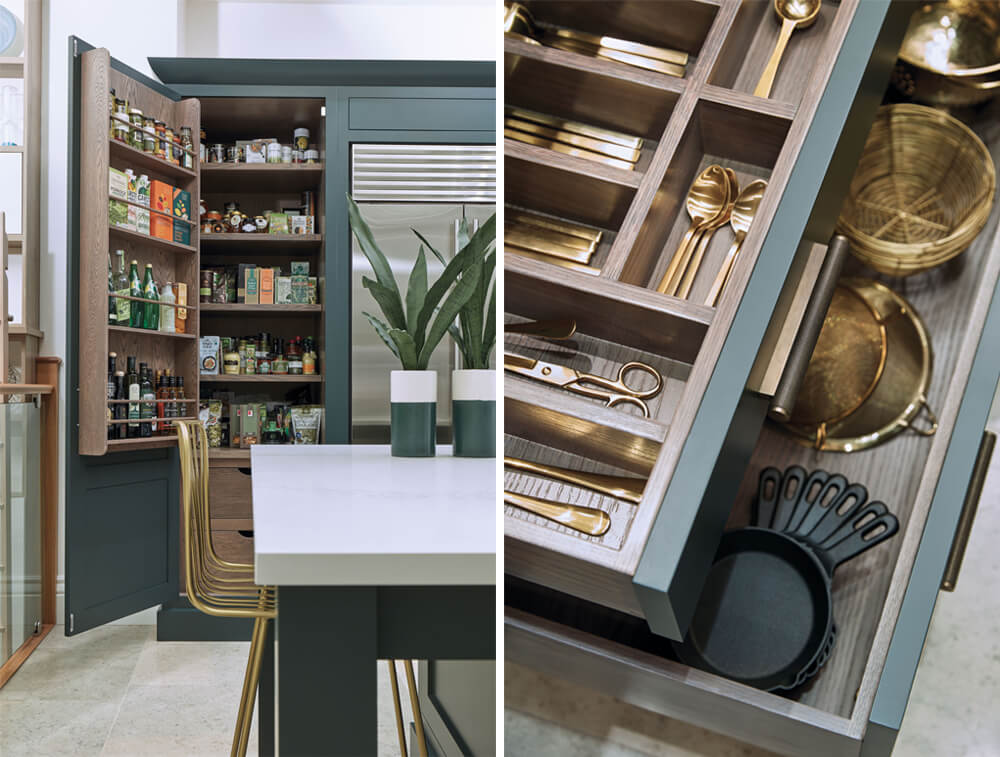 Pantry Storage
A handcrafted luxury pantry cupboard is a must for the organised chef. The Kavanagh pantry features a bespoke integrated spice rack inside the door to make finding kitchen essentials a breeze. It offers a range of intelligent internal shelving and storage solutions to suit your individual needs. This particular design has full-height, single door and integrated drawers. Aside from the fact the cabinetry is handcrafted from the finest materials, the Kavanagh pantry turns a practical storage solution into a sophisticated statement of style.
Integrated Lighting
In-built shelf lighting creates atmosphere and adds depth of character to the kitchen after dark. A little like the lighting in an art gallery, it can be controlled to enhance items on the shelves. Equally, concealed lighting directed onto workspace is exceptionally practical – allowing you to see at close quarters what you're doing as you prep dinner.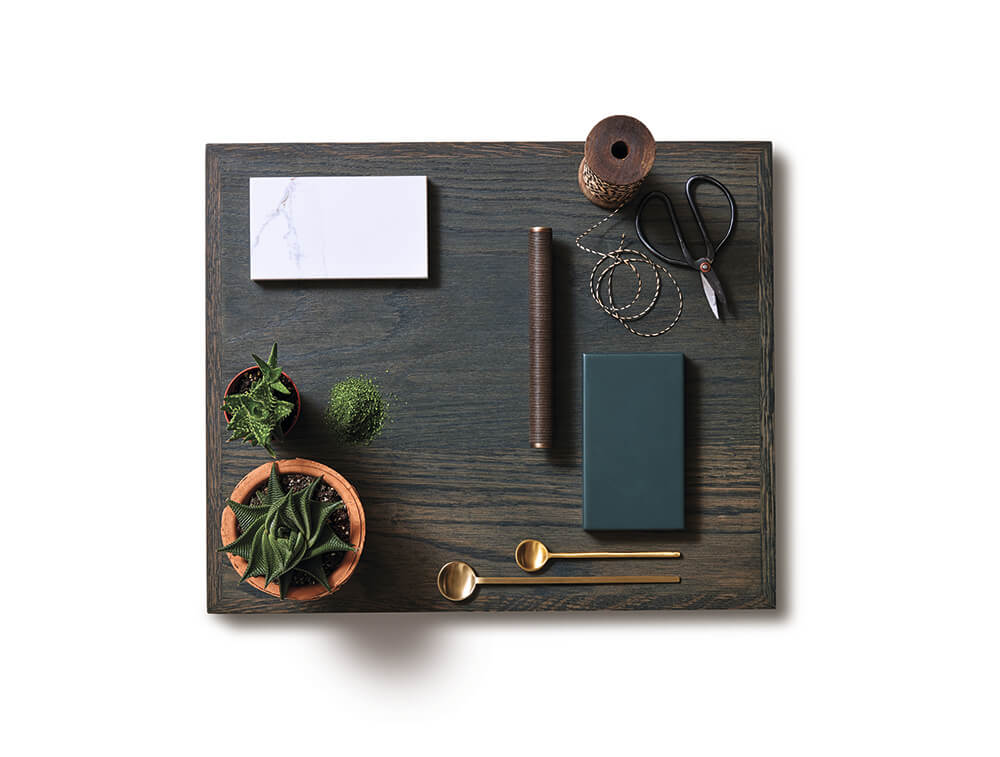 Colour and details
Our new Avocado paint colour is a delicious addition to our contemporary colour collection. Green works exceptionally well in the kitchen where it's organic nature brings a feeling of health, harmony and energy. Our unique colour palette is defined by trend forecasts and research, each shade carefully considered and made to work in harmony with each other. The colours coordinate beautifully with the antique brass wire scroll handles on cupboards and drawers, echoing more traditional design. The brass hardware, finish and design of the Quooker taps and brass stools beautifully compliment the dark green kitchen colour making a simple yet stylish statement. If you'd like to discover more about our new colour Avocado and the styling of this dark green kitchen read our previous blog here.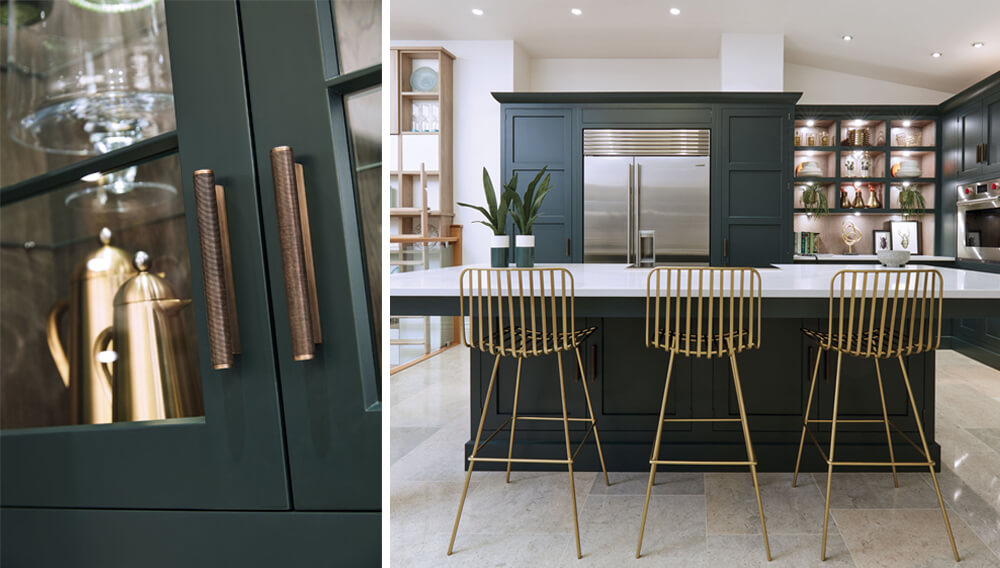 State-Of-The-Art Appliances
The layout of appliances is key to the success of any design. Wolf ovens are positioned at each side of this impressive island for a balanced look, while the large built-in Sub Zero fridge is ideally located next to the island for maximum functionality. By choosing an uncomplicated stainless steel finish, the appliances contrast beautifully with the antique brass details adding a modern edge to this shaker style design.
Featured appliances are:
· Wolf Transitional Induction Hob
· Wolf M Series Single Oven
· Sub Zero built-in Fridge Freezer
If you'd like to see our dark green kitchen and explore the ins and outs of the design, why not visit our Wigmore Street showroom in London where it's currently on display. Alternatively, if you'd like to be inspired by similar designs request our free 2019 brochure today.