We're more aware than ever of how hard our homes have to work. As we welcome friends and family back into our safe havens, making the right design decisions early on will allow you to create a multifunctional kitchen that's perfect for entertaining and everyday family living.
The last few months have reinforced the importance of multifunctionality in the home. With increased awareness on social distancing and hygiene practices, understanding how to zone your kitchen can be one of the most effective ways to design a space that not only is adaptable for the future but beautiful too. 
Choosing the Right Layout for You
Understanding the basic principles of a kitchen layout will help you to use every inch of space efficiently. One of the best ways to pull an open plan area together is to see it as a whole, with multiple zones within the space allocating functions to each. The 'working triangle' is one of the most well-known layout principles; the triangle includes a cooking area, prep/ storage zone and wash area. Using your working triangle as a starting point, designers can then build defined zones depending on your lifestyle and individual family needs.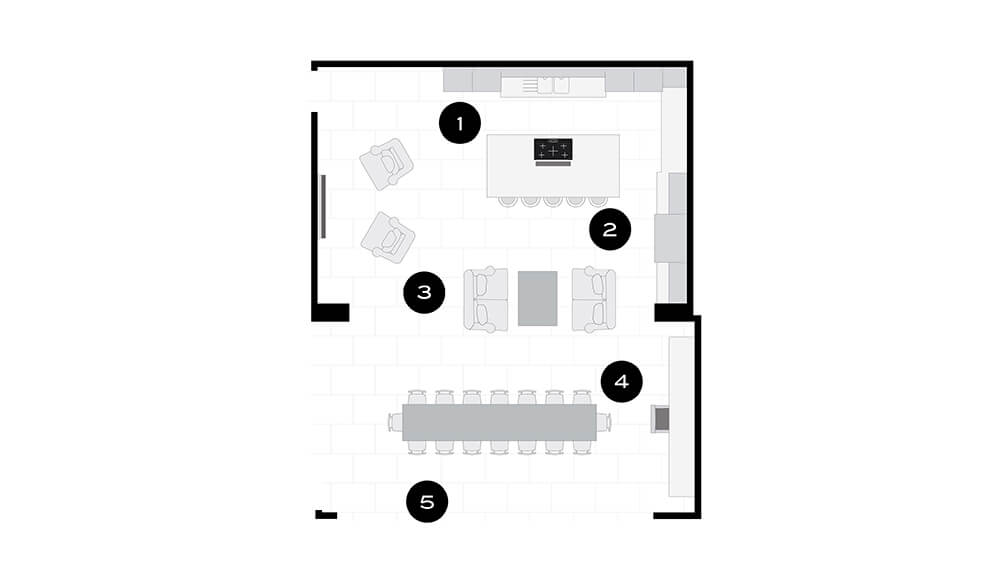 Now that you can bring family members and friends together under one roof, we need to carefully consider how the kitchen works as a whole and not just for essential everyday functions. This open plan layout demonstrates how you can include multiple zones without compromising the flow of the kitchen.
Central island or peninsular unit

Relaxation zone

Dedicated prep & cooking zone 

Defined dining and entertaining area

Multi-use indoor/ outdoor space
Multifunctional kitchens should have a clear story of how they should be used, whether your main priority is creating a safe space for entertaining or a hub of the home where the family can eat and relax. Here are a few considerations for effectively designing a beautiful yet safe multifunctional space.
The Kitchen Island
To create a truly sociable kitchen, a primary focus should be the kitchen island. This central feature allows you to cook and still feel part of the conversation while guests are seated comfortably at a social yet safe distance. Even if increasing the size of your kitchen is not an option the integration of a small kitchen island or peninsular unit, even if it's to include just 2 or 3 seats can create the ultimate divide and space to gather.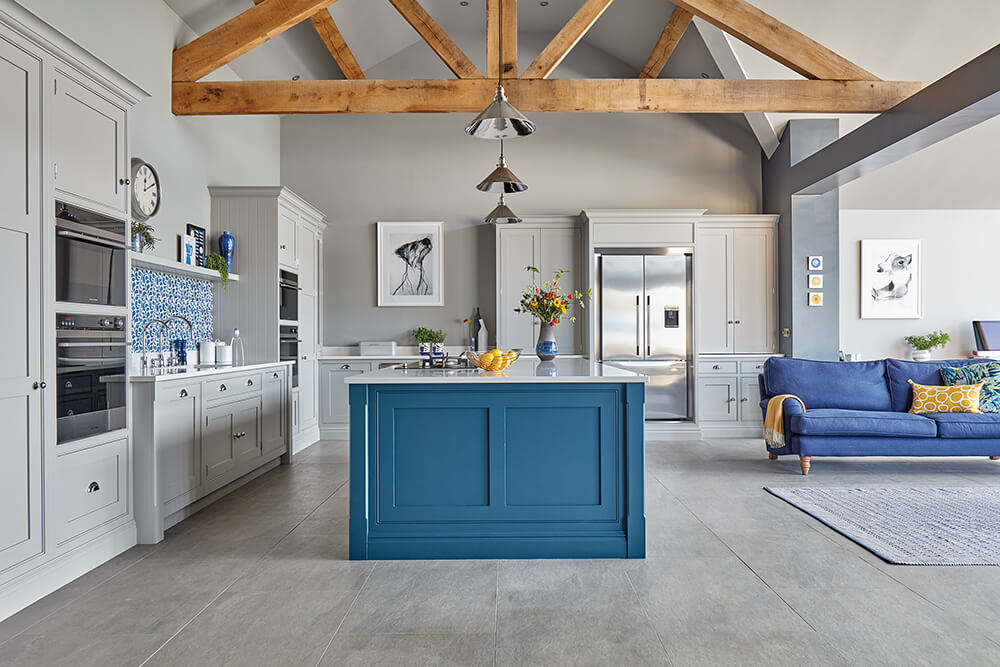 When it comes to the design of your kitchen island, our experts will work with you to account for traffic flow and clearance of storage and appliances allowing others to use the space simultaneously. Tom Howley explains:
"Islands are social platforms for informal wining and dining and preparing food. I have seen kitchens where the island counter only accounts for 20 percent of the surface space but boasts 95 per cent usage out of all the kitchen worktops."
Kitchen Seating – Space for Entertaining
The kitchen has become such a dynamic area within the home, so it's essential to consider seating areas to allow for more flexibility and multiple guests. Do you need a formal family dining zone? A casual sofa area for entertaining? An integrated desk space for catching up on emails or homework? Or island seating where the family can gather?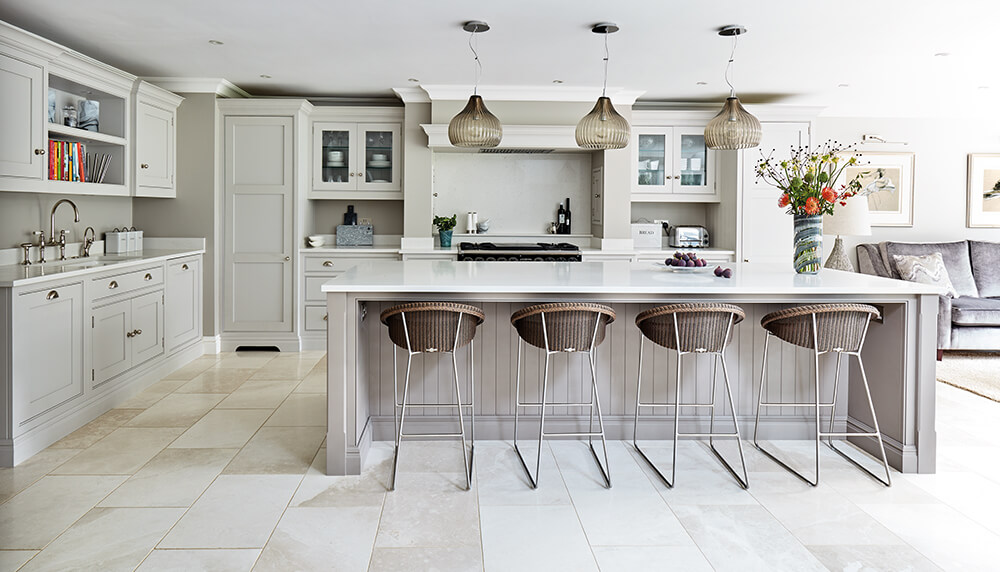 Kitchen islands are a fantastic way to bring people together in multifunctional kitchens, especially when they incorporate seating. Discreetly position stools under the island to create more room when entertaining or if you want to maximise storage then opt for a pedestal table towards one end of your island design. This type of informal seating means you can prepare dinner at a safe distance while guests sit back and enjoy a glass of wine.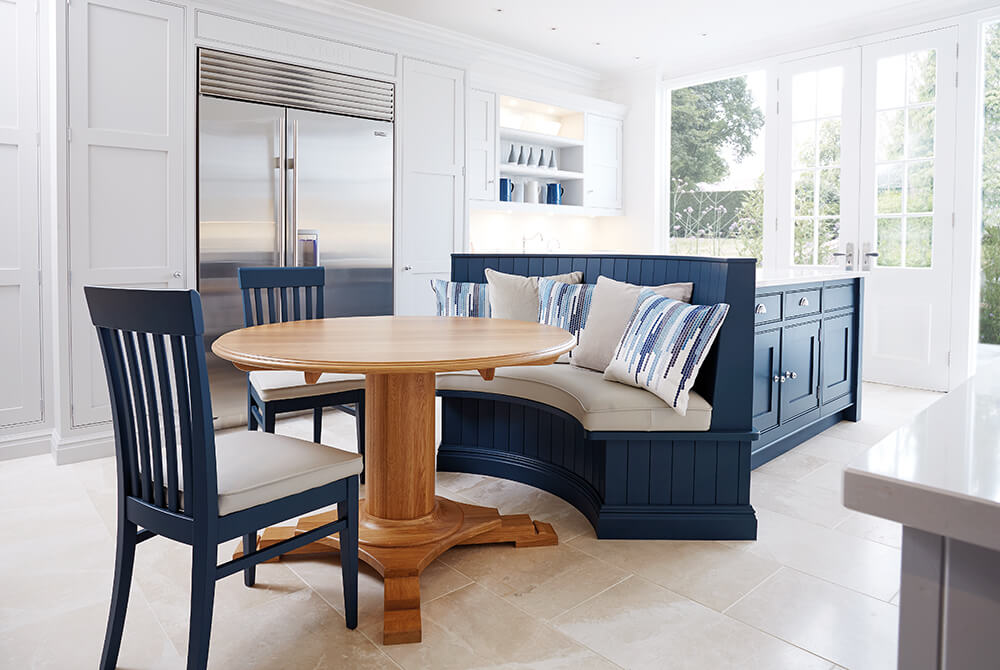 When it comes to safely socialising and hosting dinner parties, a separate dining zone is a must. Divide your space with a rectangular dining table or if you don't have sufficient floor area, opt for a freestanding round table with bench seating perfect for family meals. As our kitchens are crafted around the way you want to live, we ensure that all other areas in your space, including dining zones, are designed to be just as unique and personal to you.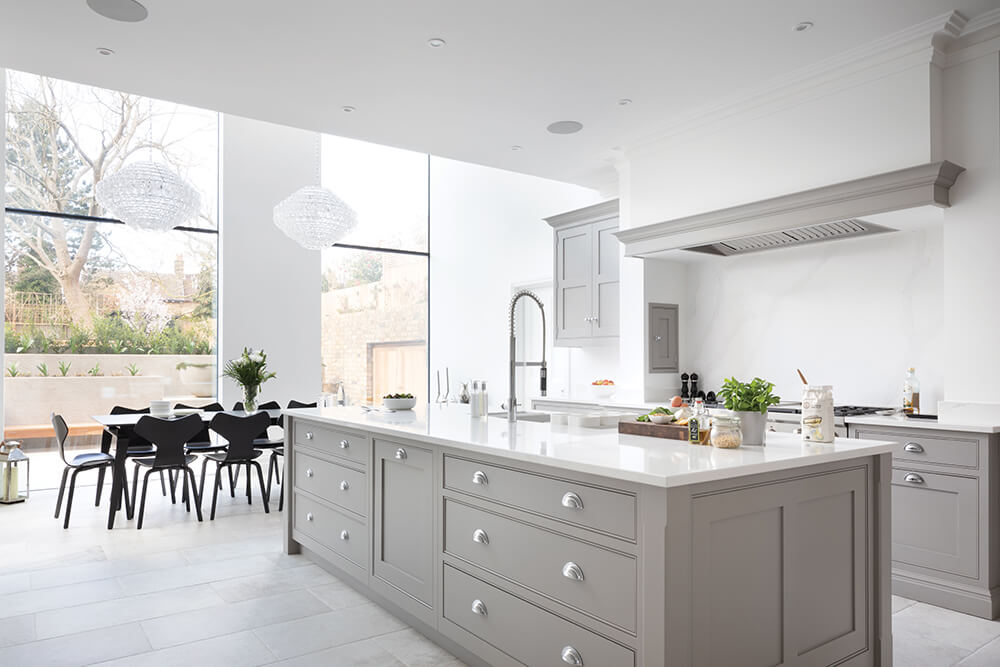 For your cooking and prep areas, you need to create a defined 'working triangle' as highlighted above. Primary tasks are often carried out between the oven, the sink and the refrigerator. The logic of this kitchen layout is that when these three elements are in a comfortable position of each other, the space will function efficiently allowing you and your guests to move freely around the kitchen without interruption.
One of our Senior Designers, Sophie recently spoke to The Telegraph on how kitchen islands can be incredibly useful in the heart of your home, while also taking into consideration the working triangle.
 "An island is suitable for a whole range of appliances from a hob that faces 'the audience' to a sink that can be concealed by the raised breakfast bar to a large prep area with a fridge drawer and bin."
Whether you have a straight run of cabinetry with an island, u- shaped kitchen or L shaped kitchen layout keeping your cooking and prep areas organised will ensure a more user-friendly space.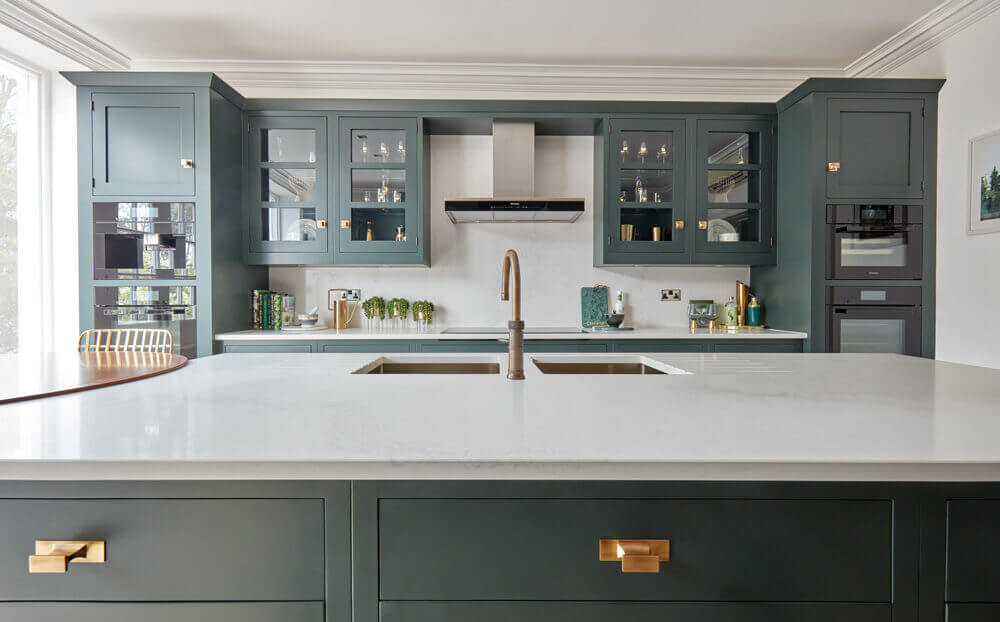 Small task zones can eliminate the chance for high traffic hotspots. Two sinks, one central wash zone and a small prep sink with an integrated Quooker tap will allow others to access drinks without crossing paths. Storage solutions such as a kitchen pantry are high up on homeowners wish lists, especially where stocking up on food has taken priority over the past months. It's a good idea when planning any storage to organise and zone accordingly. A dresser full of glasses and mugs should be near your coffee machine or boiling water tap, and pantries full of cooking essentials and ingredients should be positioned next to your cooking appliances so everything is in reach when you need it.
Considered Relaxation Zones    
We see more and more interiors designed with a focus on security, wellness and comfort. These invaluable wellness zones don't have to be extravagant. You can create a cosy nook in the corner of a room, a window seat for guests to perch or zone an area with comfortable sofas and soft textures. Tailored window seats offer fantastic versatility while making use of tricky alcove or window spaces. If choosing to incorporate sofas, larger and more practical designs are taking precedence to allow for distancing. Consider materials that are hardwearing and easy to clean as well as fabrics that don't hold smells, especially when near cooking areas.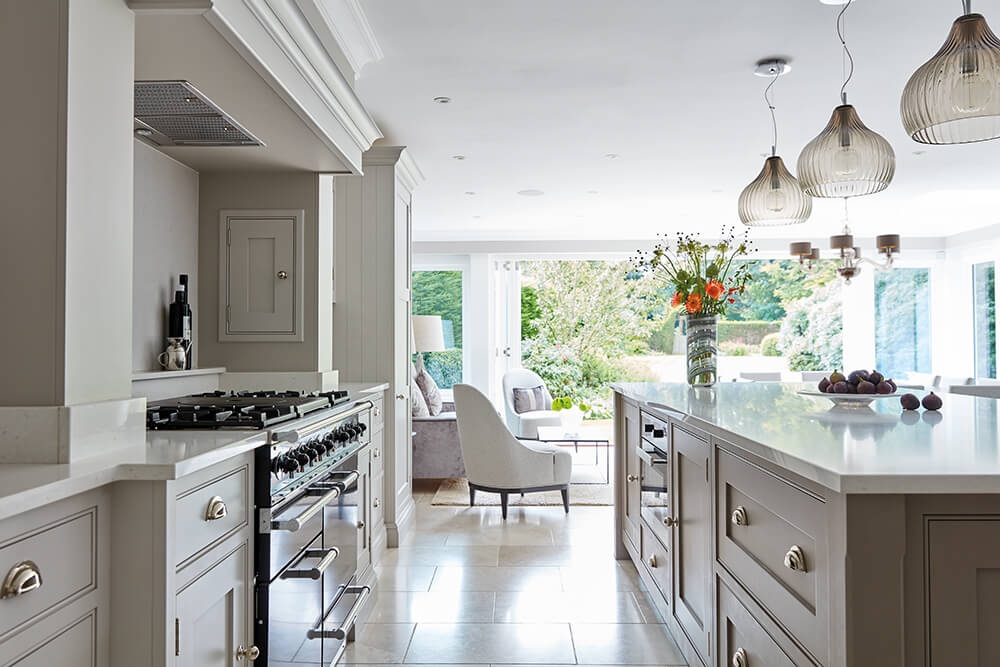 Connecting to the Outdoors
More than ever, we've realised the importance of fresh air and how natural light, nature and outdoor spaces can have a profound effect on our moods and wellbeing. Even if you're not planning a full property renovation, dropping window sills or installing floor to ceiling bifold doors can help to bring the outdoors in.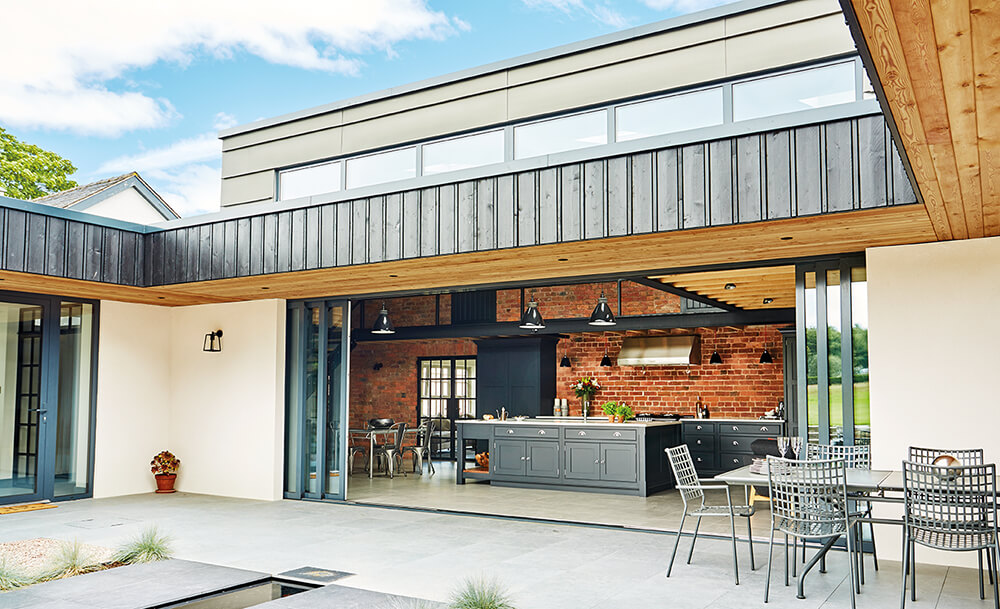 Industrial Style Shaker Kitchen 
If you're planning to overhaul your space or invest in an extension, our designers can work with you to design a layout that makes the most of your garden views. Creating an indoor-outdoor living space will mean that dinner parties can extend into the garden, while you the host can still be part of the conversation cooking a few meters away in the kitchen. 
Understanding how to zone your kitchen is just one of the steps in creating a multifunctional living space that is both welcoming and safe for family and friends. Our experienced designers are on hand to help you turn your dreams into reality, request a design visit today to start your journey.