Starting a New Kitchen Project in 2020 – Here's Our Top Tips
Planning a new kitchen project is one of the most exciting home improvements you can undertake, and with our sale now live there's no better time to begin the journey. If you're looking to renovate this new year however big or small the project, it's essential to get it right from the start. To help get you started here are some of our top tips.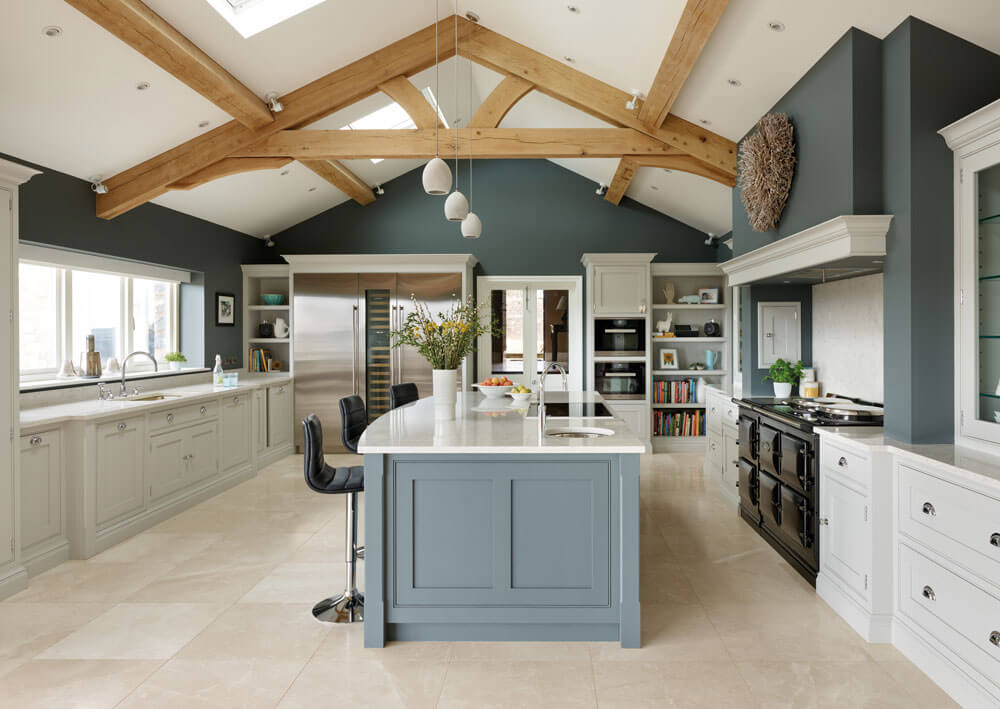 Remember to Have Your Kitchen Designed Before You Start Building or Renovating
When planning your kitchen renovation, small changes further down the line can have a considerable knock-on effect if not appropriately planned from the start. This is why we recommend having your kitchen designed on paper before you start building. This way you can explore numerous layouts, work out where you want your utilities to be or even plan windows around the best views when standing at your kitchen sink. Each kitchen is beautifully crafted for a millimetre perfect fit. To achieve such an exact end result, our surveyors will then carry out a meticulous series of measurements that leave nothing to chance. Even the tightest of corners and tricky alcoves can house smart cabinetry leaving no space wasted.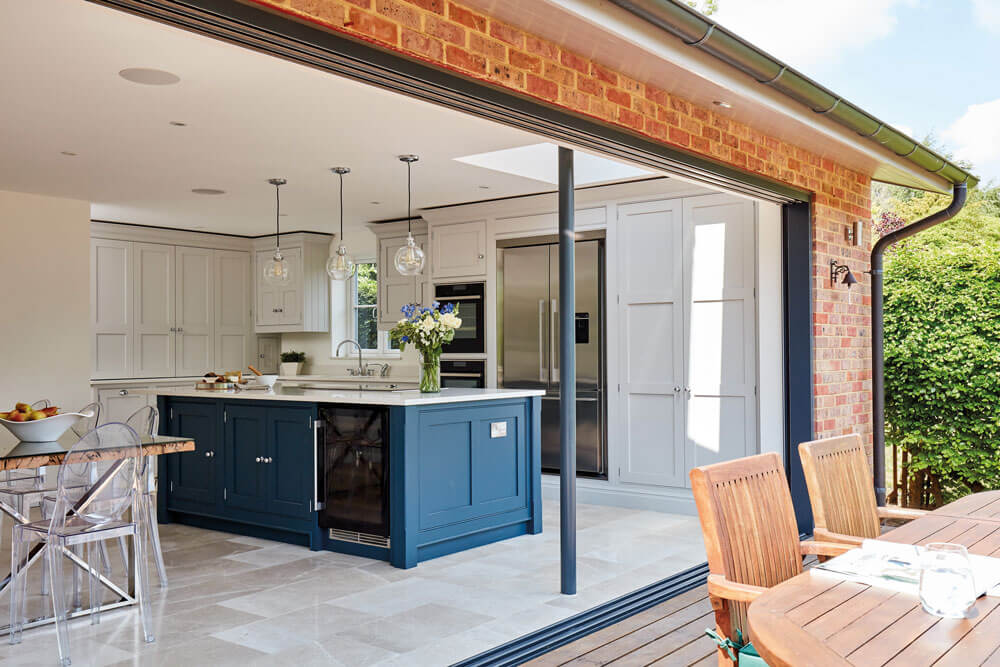 Write a Wish List and Collate Your Ideas
Before you sit down with a designer and start your home renovation project, it's always a good idea to write a wish list. This is a way for you to get all of your preferences down on paper. Pinpoint a kitchen style, note colours and materials that have caught your eye and list all of the features you have been dreaming of. Our designers will do their best to include all of your personal preferences whilst adding their expert opinion and design flair.
If you're struggling to decide on a style or don't know where to start when planning your kitchen, then mood boards are one of the easiest ways to research and collate ideas. Mood boards can be created in two different forms, physically and digitally. A physical mood board may be a board full of magazine cuttings, colour swatches and material samples. A digital version is a quick and easy option with many platforms such as Pinterest, designed especially for the job.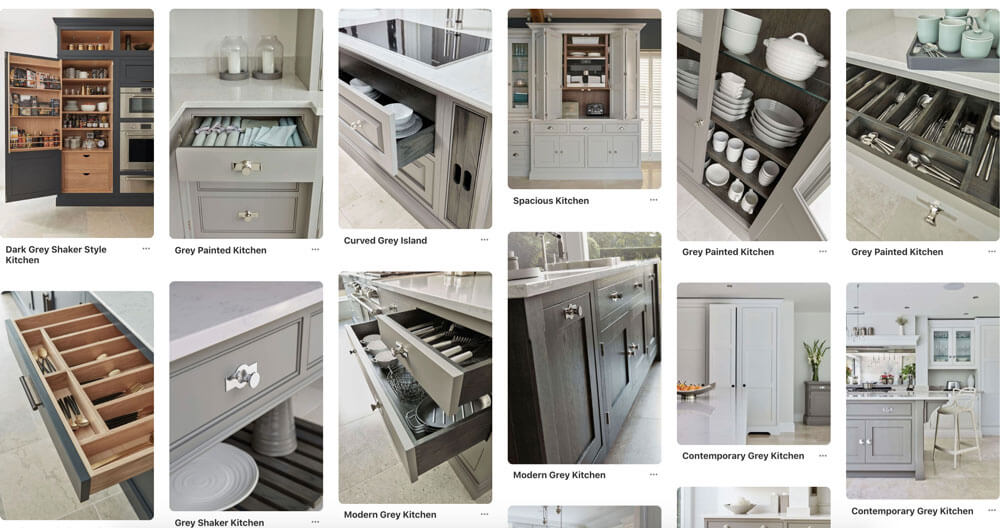 Pinterest is a fantastic tool that is becoming ever more popular with interior designers and homeowners alike. It's a place to collate images in one place quickly. Upload your own inspiration, source kitchen design ideas from brands online or repin other users images you simply love. It doesn't matter how creative you are. If you have visual ideas down, you will find it easier to refer back to, and our designers will find it easier to develop and shape a plan.
Figure out Your Budget
As you start to plan your new kitchen renovation, you need to keep in mind a budget. Be realistic with the cost leaving a little room for added extras and unplanned building costs. Prices vary greatly and will depend on your space, location and ultimately what you want. If you have specific finishes, appliances or accessories on your wishlist, it's a good idea to research these costs beforehand.
Take Your Time to Get It Right
Don't rush these first steps. Planning your dream space no matter how small or large, will take a little time to get right. When sitting down with our designers, they will always ask a range of questions prompting you to think about what it is you really want. Your kitchen ultimately needs to fit you and your lifestyle. Here are a few examples of questions a designer may ask: How much cooking do you do/do you enjoy cooking? Do you do much entertaining? Would you prefer everything to be hidden away or do you like to have items on display? Do you want seating on the island? What is the most important thing in the kitchen, to you? What is the worst thing about your existing kitchen?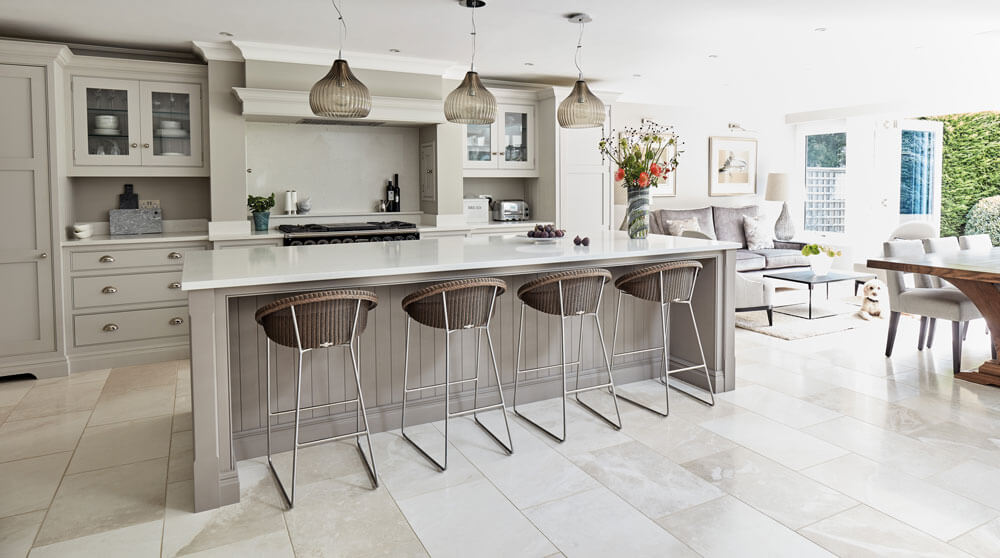 Think Practically When Planning the Layout of your New Kitchen
When it comes to your kitchen layout, you need to think practically. What is it you want from the space? Every family and every home is different, so our designers will look at your space and discuss your ambitions to work out where everything should be positioned. For example, how you use your kitchen every day will influence the type of storage you need. Equally, the 'golden' triangle of sink, oven and fridge will be considered because easy access between these three will influence how efficient your kitchen will be as a working space.
The best way to pull a large space together is to see it as a whole, with multiple zones within the space; then break it down into dedicated areas, allocating functions to each zone. This will make each space work within the whole area, and the overall flow will improve.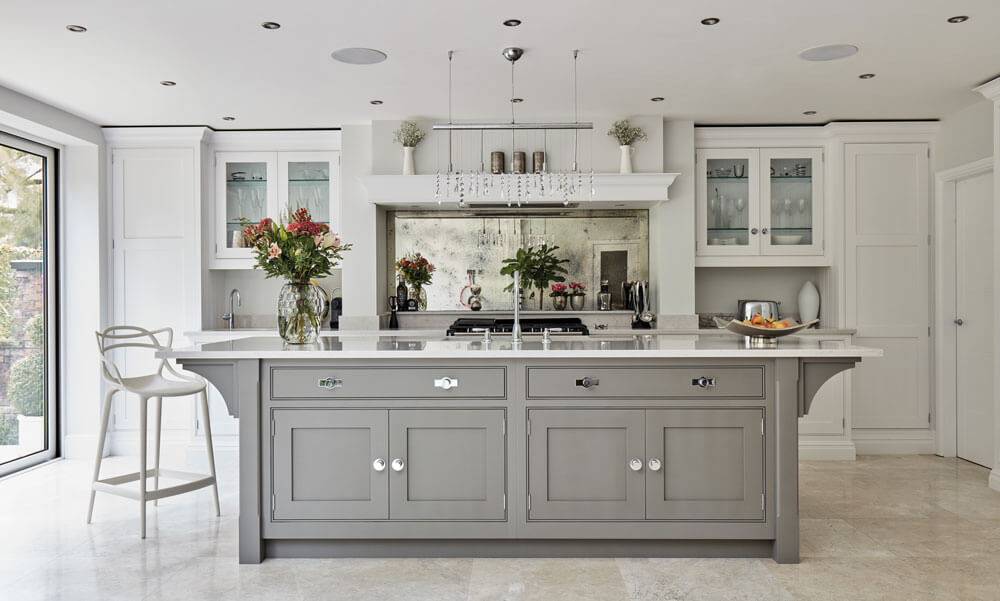 Good strong design is also needed, with the balance of symmetry and proportion, which creates a calm and restful space. The cabinets should be the building blocks of the design with features such as large appliances also taking the stage.
Decide on the Style of Kitchen That Suits You and Your Property
Every new kitchen design is bespoke to you and your home and can be adapted to suit your needs. For example, if you see a design in our showroom or brochure, bear in mind that this is simply to give you food for thought. You can choose the number of cupboards and drawers that you need; you can select from our wide selection of fine finishes, high-quality worktops and exclusive colours.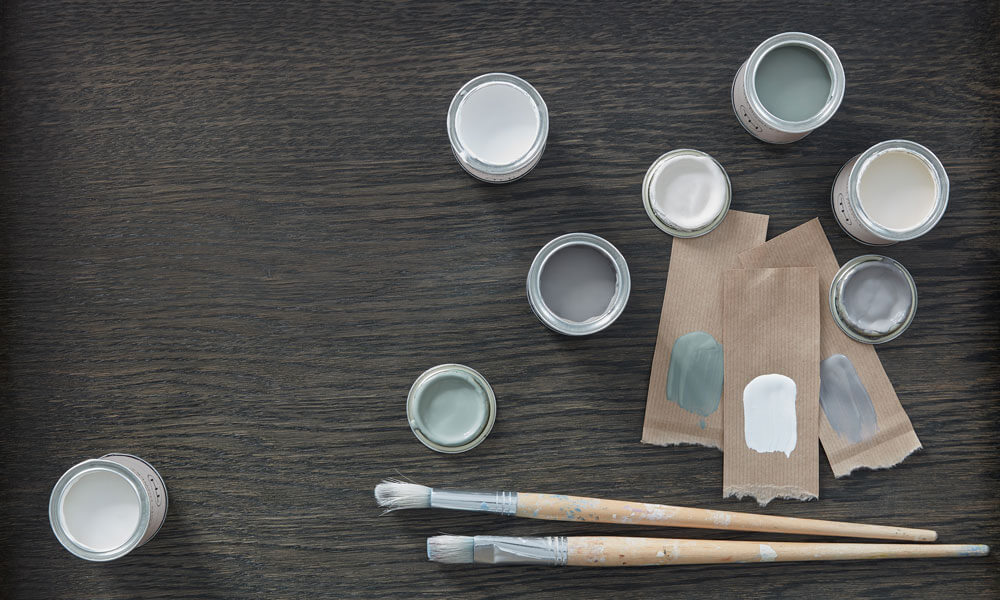 Finding the right design for the style of your home is important. We have six stunning kitchen collections. From our Hartford collection, which has a timeless appeal working beautifully in homes of all ages to our head-turning Devine collection makes a real style statement and can look stunning in large modern open extensions. The choice is yours.
The Tom Howley Sale* is now on, so there's never been a better time to start the journey to owning your own luxury bespoke kitchen. Begin by visiting one of our sixteen Tom Howley showrooms. See for yourself the exquisite quality of our kitchens, discover our range of finishing touches and discuss your ideas with one of our experienced designers. Just pop into your nearest showroom to book a design appointment today.
*To qualify for your discount you must place your kitchen order between 26/12/19 and 24/02/20. Offer cannot be used in conjunction with any other offer. Discount applies to kitchen cabinetry only.