We understand that every kitchen is as individual as the person who's using it which is why each design is tailored to meet your individual requirements. A bespoke kitchen is built with you in mind, so whether you're a social butterfly who needs plenty of room to entertain or a keen chef looking for dedicated workspace and storage, we can design a personally tailored solution just for you. Best of all, because it's bespoke, you won't find an exact match anywhere else.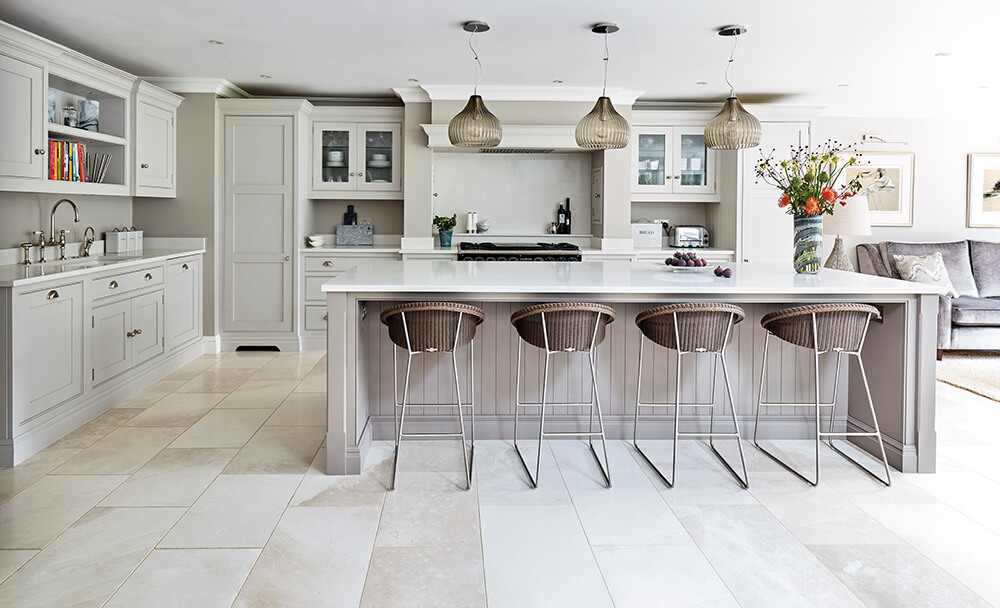 Hartford Collection: A Beautiful Balance of Style and Simplicity
Each Tom Howley bespoke kitchen is designed to maximise and utilise every inch of space. Whether you have a galley-shaped kitchen, a spacious layout with dining and family areas, or a period property with a quirky floor plan; our designers are experts in bringing your bespoke kitchen to life.
Our Hartford kitchen collection is inspired by the original shaker style. Each one has a universal appeal that never fails to delight; beautifully balanced with a focus on scale, symmetry and simplicity. This level of detail acknowledges authentic shaker style kitchens, which put an emphasis on home life with solid, comfortable furniture designed to bring people together.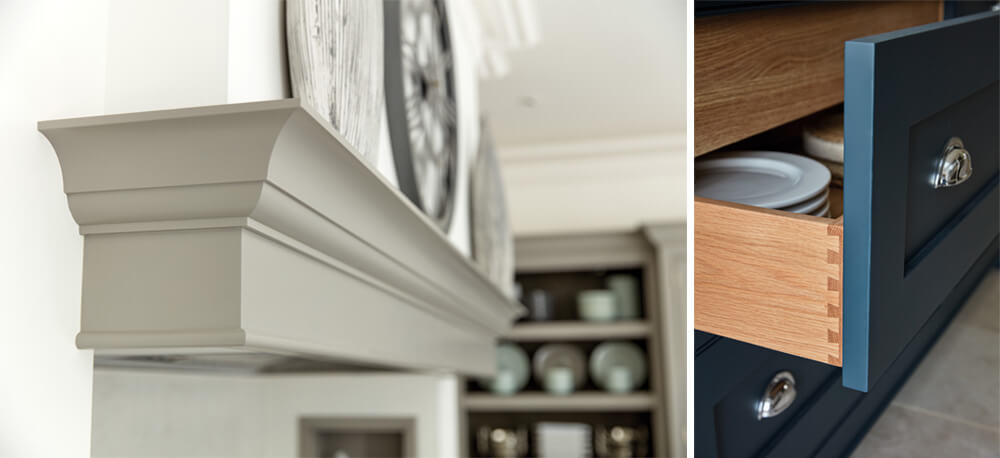 Our cabinetry is in-frame rather than a lay-on style, while providing the classic silhouettes of a shaker kitchen. Cornices, skirting boards and columns or pillars are the final elements of the design. To update the look, we incorporate stylish details such as cott beading on the cabinet frames and chamfered edges on the pilasters. These subtle additions respectfully bring a timeless classic into the here and now.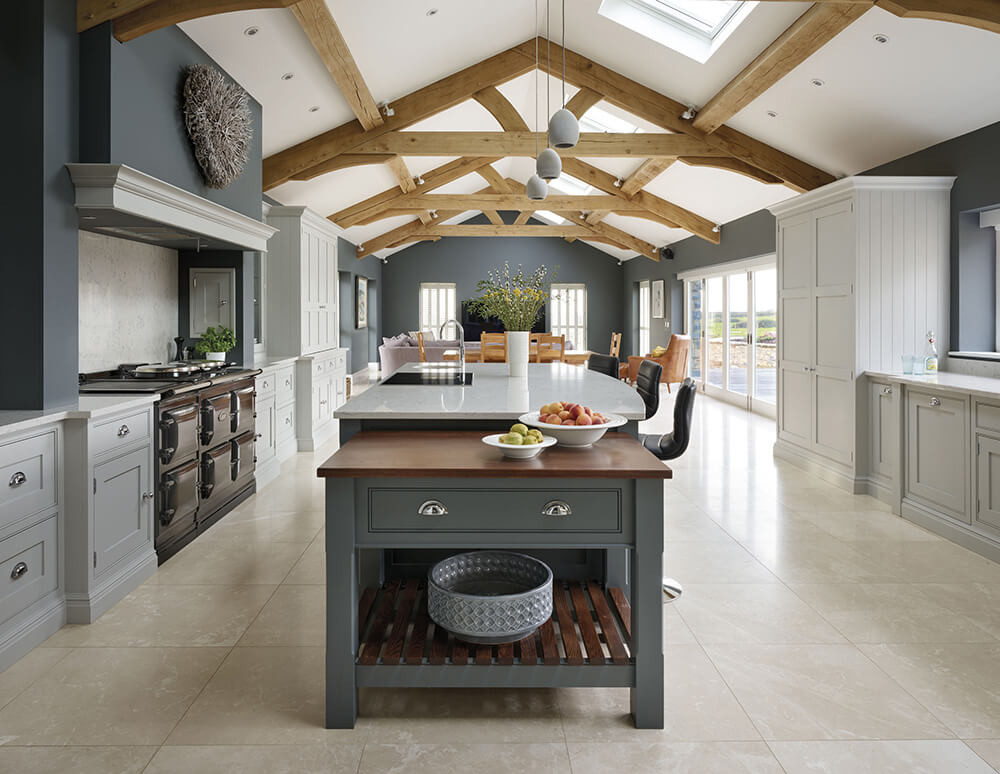 Built with Heart, Designed for Life
When browsing our stunning collection of Hartford kitchens you'll see complementary details such as open shelving, kitchen mantles, butcher's blocks and use of any original features that may exist in older properties. When planning your kitchen, our designers will identify wonderfully authentic features and, where possible, make the most of every opportunity to enhance the design and improve your use of space.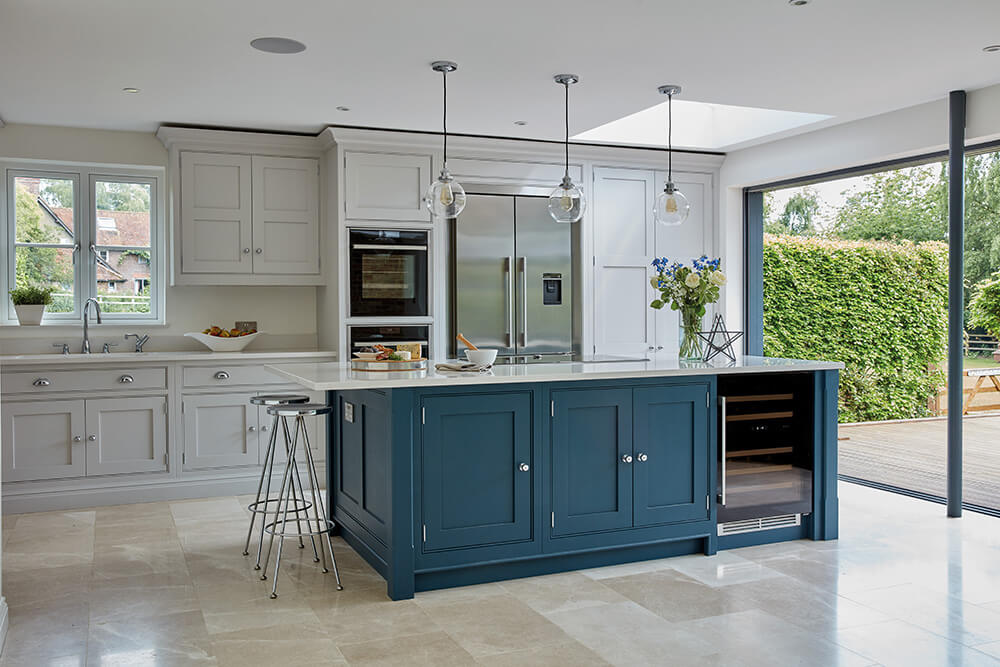 All of our bespoke kitchens have a hand-painted finish, to find out more visit here. Our Hartford collection looks perfect when combined with soft, muted paint colours from our exclusive palette of timeless neutrals. This classic design also looks striking when a two-tone aesthetic is applied, combining a soft neutral with a sophisticated dark paint colour such as our beautiful navy, Lithadora. While our Hartford furniture collection pays homage to classic shaker style, our stunning paint colours develop organically to ride the waves of colour trends in the interiors industry.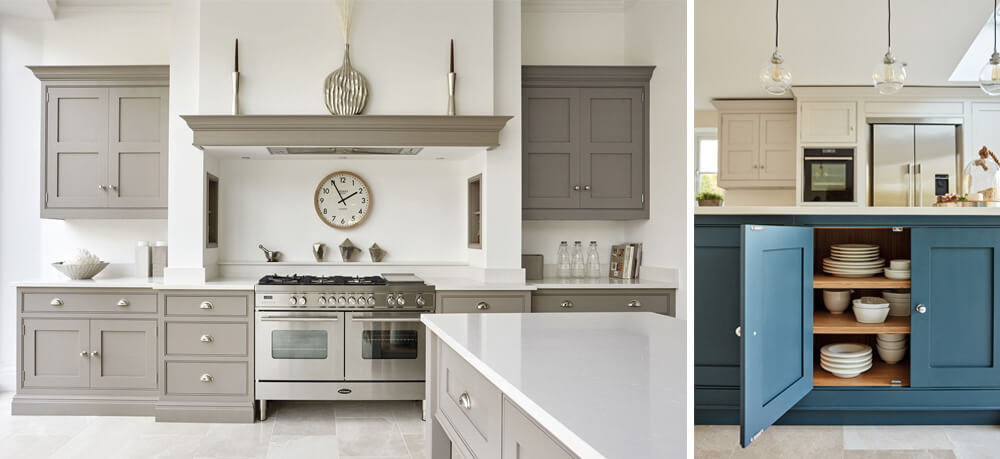 Discover all of our stunning Hartford designs here, or if you would like to explore and feel the quality of a Hartford bespoke kitchen for yourself visit your nearest showroom.