Last week we had the pleasure of inviting guests to the launch of our new Edinburgh showroom which is sat amongst the cobbled streets of Stockbridge. A bustling village type area to the north of Edinburgh's historic city centre, full of quaint cafes, trendy gastropubs, markets and luscious open parks. Stockbridge's elegant streets are lined with original Georgian and Victorian architecture, the grand nature of our new building allowed us to introduce larger designs while keeping the beautiful character of the property. As soon as you step off the street you're immersed in a space that feels homely. The main area is split into three real sized kitchens – natural light floods through the windows, impressive islands create a sense of grandeur, and ample storage with working appliances allow you to visualise how you would use the space in your own home.
The evening began with a drinks reception where guests had the opportunity to explore the new Edinburgh showroom, delving into the minds of our designers who gave insight into each of the kitchen collections, including our new Kavanagh with dramatic open shelving and our classic Hartford design. Music is a huge part of Scottish culture, stood by our doors, wearing full Highland dress a single bagpiper played melodies echoing through the streets, an awe-inspiring start to this showrooms life.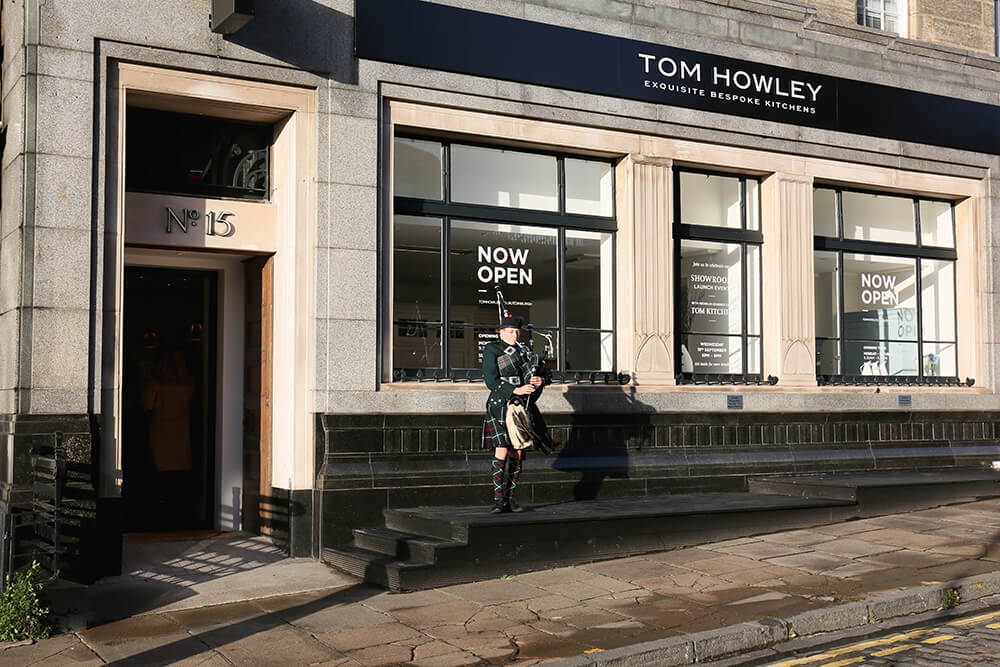 Adding to the sense of occasion, we invited one of the country's finest Michelin-starred chefs, Tom Kitchin, to demonstrate two recipes from his new book 'Fish and Shellfish'. A well-known face on the likes of BBC's The Great British Menu, Masterchef and Saturday Kitchen, Tom Kitchin lives and works in Edinburgh having his award-winning restaurant Scran & Scallie just around the corner. Before the cooking demonstration began guests had the opportunity to chat informally with the chef, who shared culinary expertise, and revealed insight into his new book.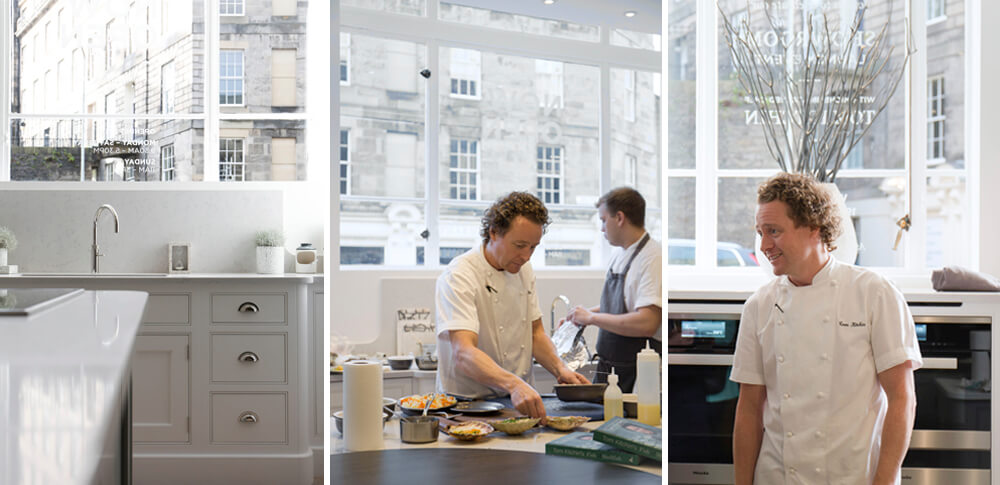 The demonstration comprised of two beautiful dishes; hand-dived scallops sealed with pastry and baked in the shell, and halibut, mussels and seasonal vegetables served in a flavoursome saffron sauce. His enthusiasm about fresh produce and seafood shone through as he guided us through the process for each dish. There is no doubt that Tom is committed to using the very best ingredients from Scotland's natural larder.
"I am passionate about working with the seasons, and only use the best of Scotland's produce. My philosophy 'From nature to plate' is something I apply to all the restaurants."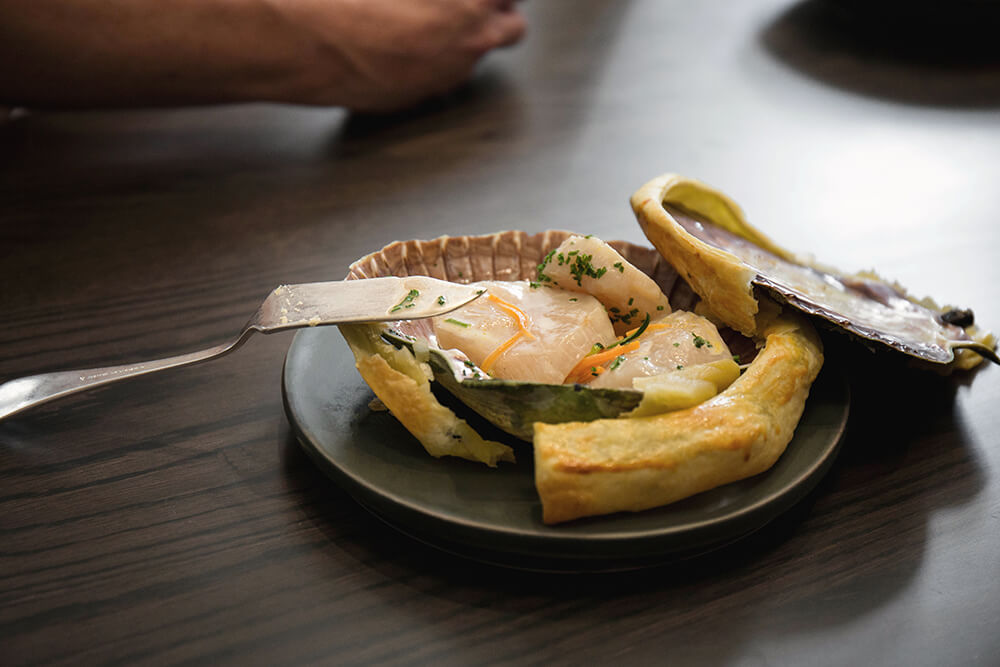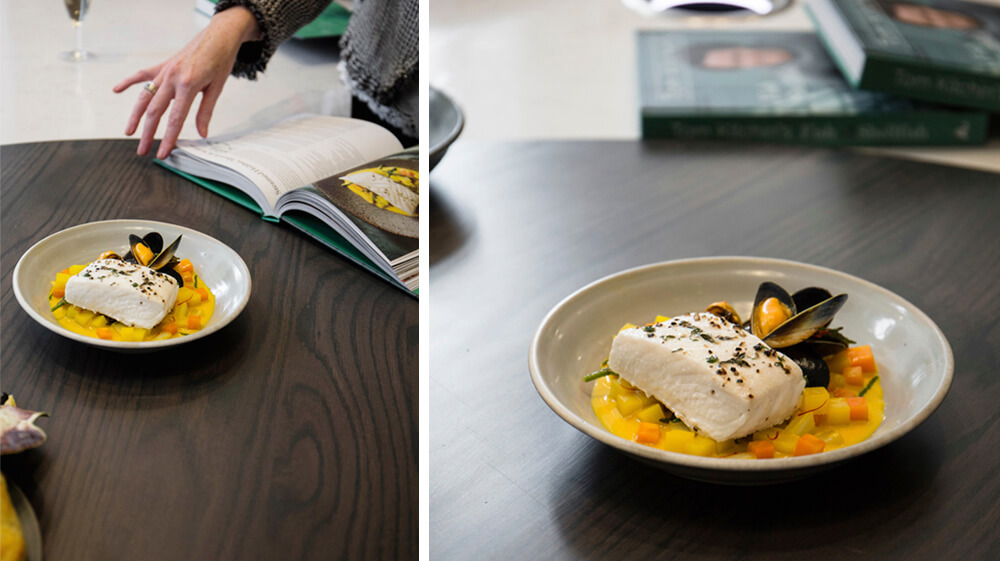 He explained how he marries the flavours, not over complicating the dishes with unnecessary ingredients, allowing the fish to take centre stage. Even if you're not a huge fan of seafood, the recipes can be adapted using other fresh produce from your area. When our guest chefs demonstrate dishes, you genuinely get a sense of how realistic, practical and accessible our kitchens are. As each plate came out of the Miele ovens, they filled the showroom with incredible aromas creating a buzz around the working island. Stockbridge is fantastic for local ingredients; if you want to shop local yourself staying away from supermarkets, there are plenty of ways to do so. Check out nearby farmers markets, independent food shops, greengrocers, butchers, bakers or even look for box schemes where you'll be provided with seasonal fresh fruit and vegetables each month.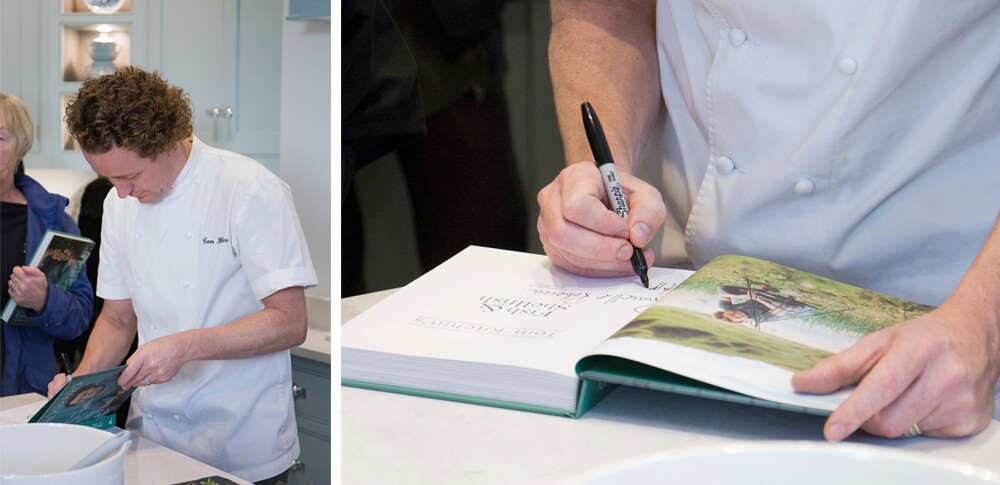 The intimate cookery demonstration went down a treat with guests amazed by not only the food but the kitchens too. Recipes in Tom's new book Fish & Shellfish are perfect for everyday evenings with family or special dinner parties where you want to impress. Seeing our showrooms so full and alive on event nights inspires us to go the extra mile with each one we open.
We'd like to thank everyone who helped us celebrate our opening night. Our Edinburgh showroom is open Monday-Saturday 9.30am-5.30pm and Sunday 11am-3pm. Find us at 15 North West Circus Place, Stockbridge, Edinburgh, EH3 6SX. Discover more about Tom Kitchin and his fantastic new cookbook here.