Kitchens are built to last so if you're looking to renovate, improve or upgrade yours it's important to get it right – from the start. At Tom Howley, we encourage our clients to think about how their preferred kitchen design can make the most of the style and size of the home. We ask how the kitchen will be used. For example, are you a keen chef, or do you use yours as a place to relax and gather as a family? Now that our sale is live there's never been a better time to start your kitchen renovation journey. To help get your started here are our top five kitchen tips.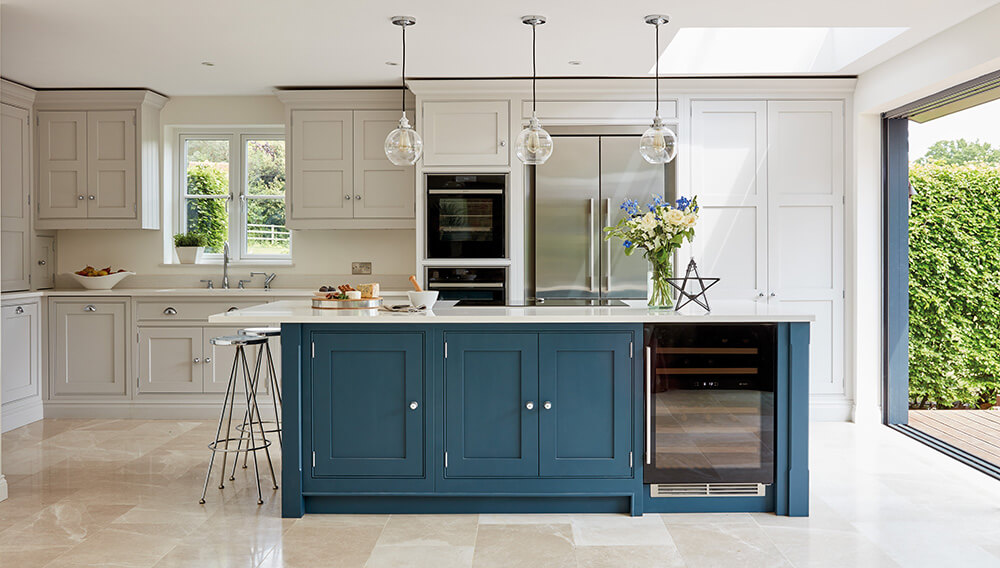 1. Preparation is key
We'll help you to think carefully about your kitchen layout and where essential items such as the oven or hob should be placed. How you use your kitchen every day will influence the type of storage needed. Maybe a large drawer by appliances for pots and pans or a large pantry positioned close to the kitchen island. The 'golden' triangle of sink, oven and fridge will be considered because easy access between these three will influence how efficient your kitchen will be as a working space.
Our designers can inspire you to create a kitchen layout that is both aesthetically pleasing and functional. To avoid anything that could impact the installation, we need to know whether building works are planned at the point of the survey. The kitchen should always be surveyed after any structural works or re-wiring projects are completed.
2. Made-to-measure
Each kitchen is beautifully crafted for a millimetre perfect fit. In order to achieve such an exact end result, our surveyors carry out a meticulous series of measurements that leave nothing to chance. Even the tightest of corners and tricky alcoves can house clever cabinetry leaving no space wasted.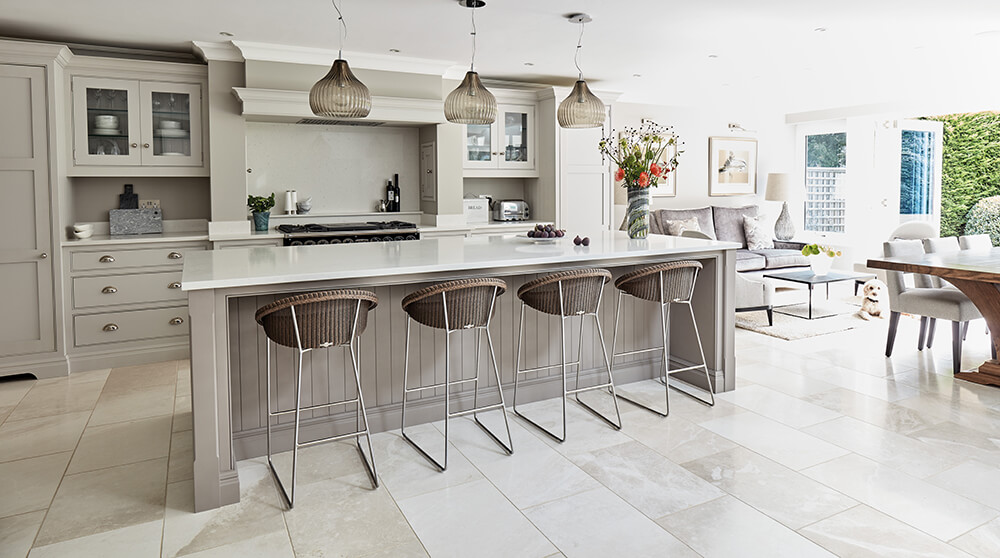 3. Choosing a style
Every kitchen design is bespoke to you and your home and can be adapted to suit your needs. For example, if you see a design in our showroom or brochure, please bear in mind that this is simply to give you food for thought. You can choose the number of cupboards and drawers that you need; you can select from our wide selection of fine finishes, high-quality worktops and exclusive colours. You can even personalise your kitchen with your children's names or the family crest! Finding the right design for the style of your home is important and with our sale now on there's never been a better time to invest.
Our stunning Hartford collection has a timeless appeal that works beautifully in homes of all ages; our head-turning Devine collection makes a real style statement and can look stunning in large, open extensions, while our elegant Summerville kitchen design is perfect for country style homes. Remember, every style can be adapted to suit your individual needs and finished by hand to blend harmoniously with the schemes in other areas of your home.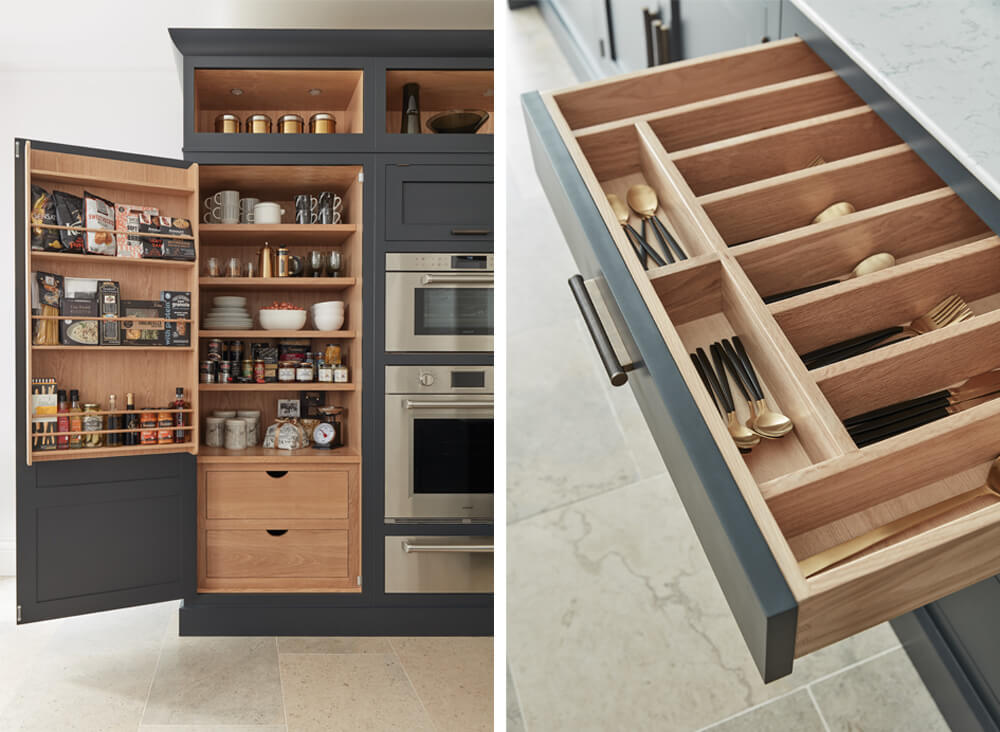 Dark Grey Shaker Style Kitchen
4. Storage solutions
The planning and design stages are often the 'fun bits', and it's during this process that you can plan your storage. There are a number of solutions available and each one will be adapted to your needs. For example, if you are a keen cook with a large family, double height larders or pull-out pantries can be an option. If you love socialising, a wine fridge is a great idea to save space in your family fridge. If you want to eat at the island, rather than a formal dining table, we could incorporate a breakfast bar into the island design. Open storage with bespoke lighting where you can display copperware and crockery can look amazing and can free up cupboard space for more functional items and appliances that you don't want to have on show.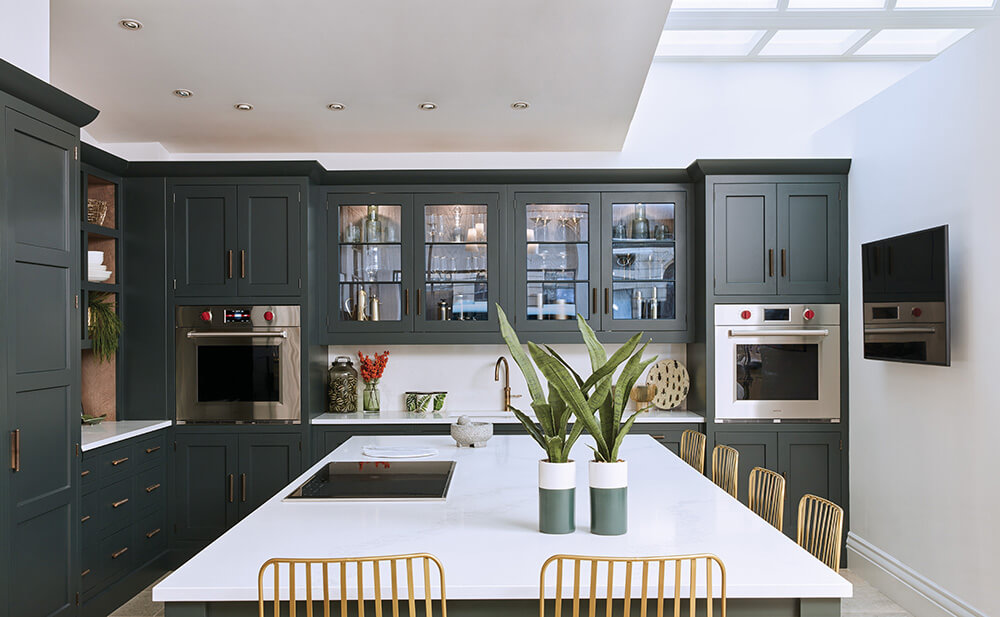 Dark Green Shaker Style Kitchen
5. Give your kitchen personality
Every kitchen is different. Challenging features such as chimney breasts, sloping ceilings, alcoves or large windows can become assets and enhance the look and individuality of your space. Our designers can help you to select colour combinations that will maximise space and create defined zones in your kitchen. They will also get to know you and will encourage you to include elements of your personality into the design. Maybe you want a place to display family photographs, treasured pieces of art or somewhere for floral displays or scented candles. Our tailored design service will take your project from concept to completion using only the finest materials, and every Tom Howley kitchen is finished to the highest possible standard.
Next steps
The Tom Howley Sale* is the perfect time to invest in an exquisite, handcrafted kitchen that will exceed your expectations.
Did you know we have 16 stunning Tom Howley showrooms across the UK? Whether you want a quiet browse alone to explore our beautiful designs, or you have a specific project in mind, our showroom teams will ensure you're taken care of. You can find our showrooms in Alderley Edge, Altrincham, Beaconsfield, Brentwood, Bristol, Cambridge, Chelsea, Cheltenham, Edinburgh, Esher, Guildford, Harrogate, Islington, Leamington Spa, Tunbridge Wells, Wigmore Street and soon Winchester. Find your closest showroom here.
Take advantage of our substantial sale discount and book your free design visit today.
*To qualify for your discount you must place your kitchen order between 01/06/19 and 29/07/19. Discount cannot be used in conjunction with any other offer or discount. Discount applies to kitchen cabinetry only.