This kitchen from the Hartford collection in our new Cambridge showroom is a modern take on the timeless simplicity of the Shaker style. The original shaker style places emphasis on hearth and home with solid, comfortable furniture designed to bring people together.
The focal point of this kitchen is its striking island centrepiece. Its sweeping design allows plenty of space to prepare meals and appetizers while enjoying the company of friends and family who can be seated around it in style. This informal seating feature adds to the sense of occasion and makes your guests feel at ease.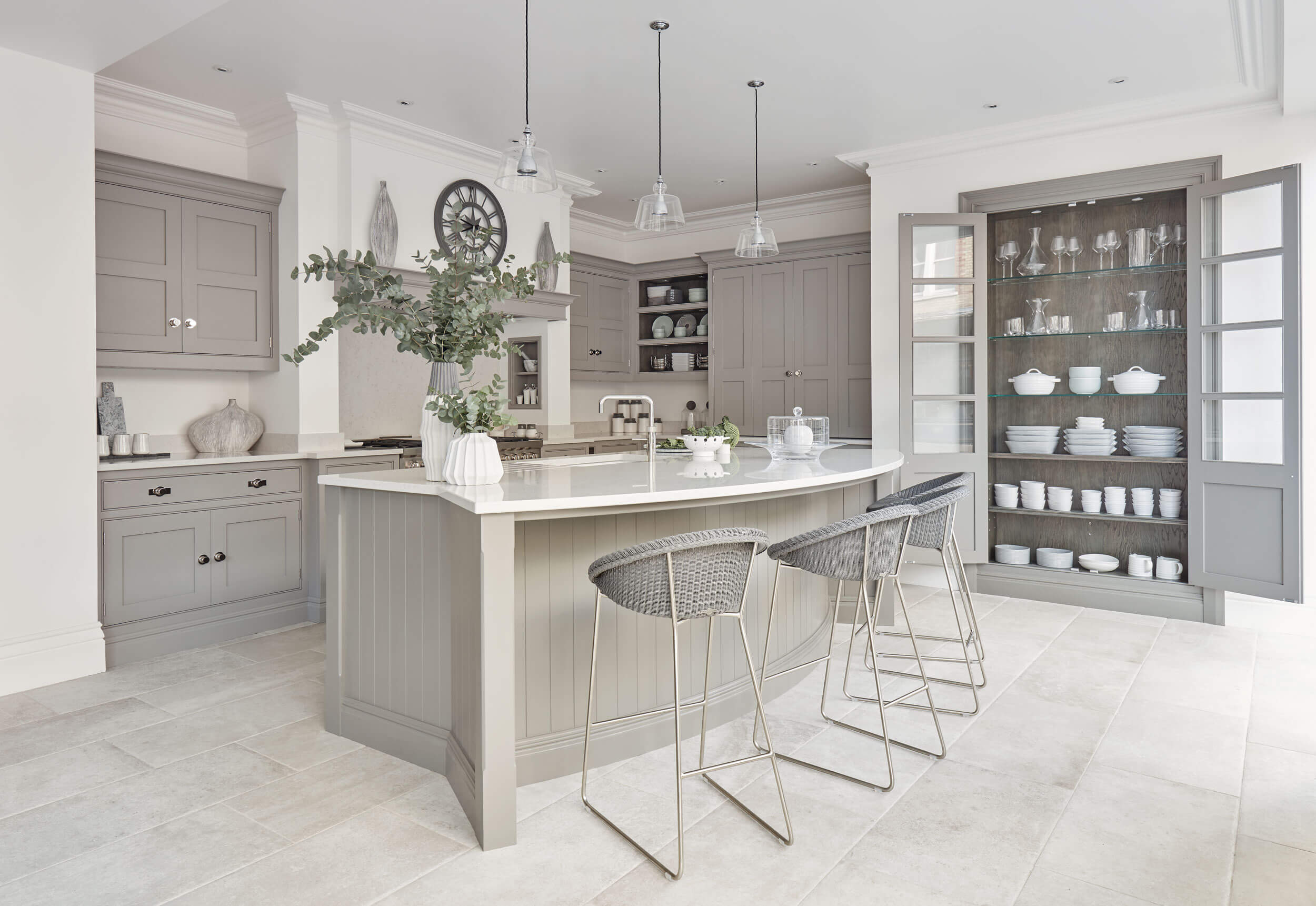 The warm grey tones of this Hartford design emphasise the sophistication and quality of its design and craftsmanship. The soft neutral hues of Lovage and Marjoram are specially selected to blend beautifully with its surroundings to create a relaxed and inviting environment for cooking and entertaining. Inspired by quality and craftsmanship, the kitchen is designed exclusively around your space and lifestyle ensuring you enjoy the kitchen day in day out.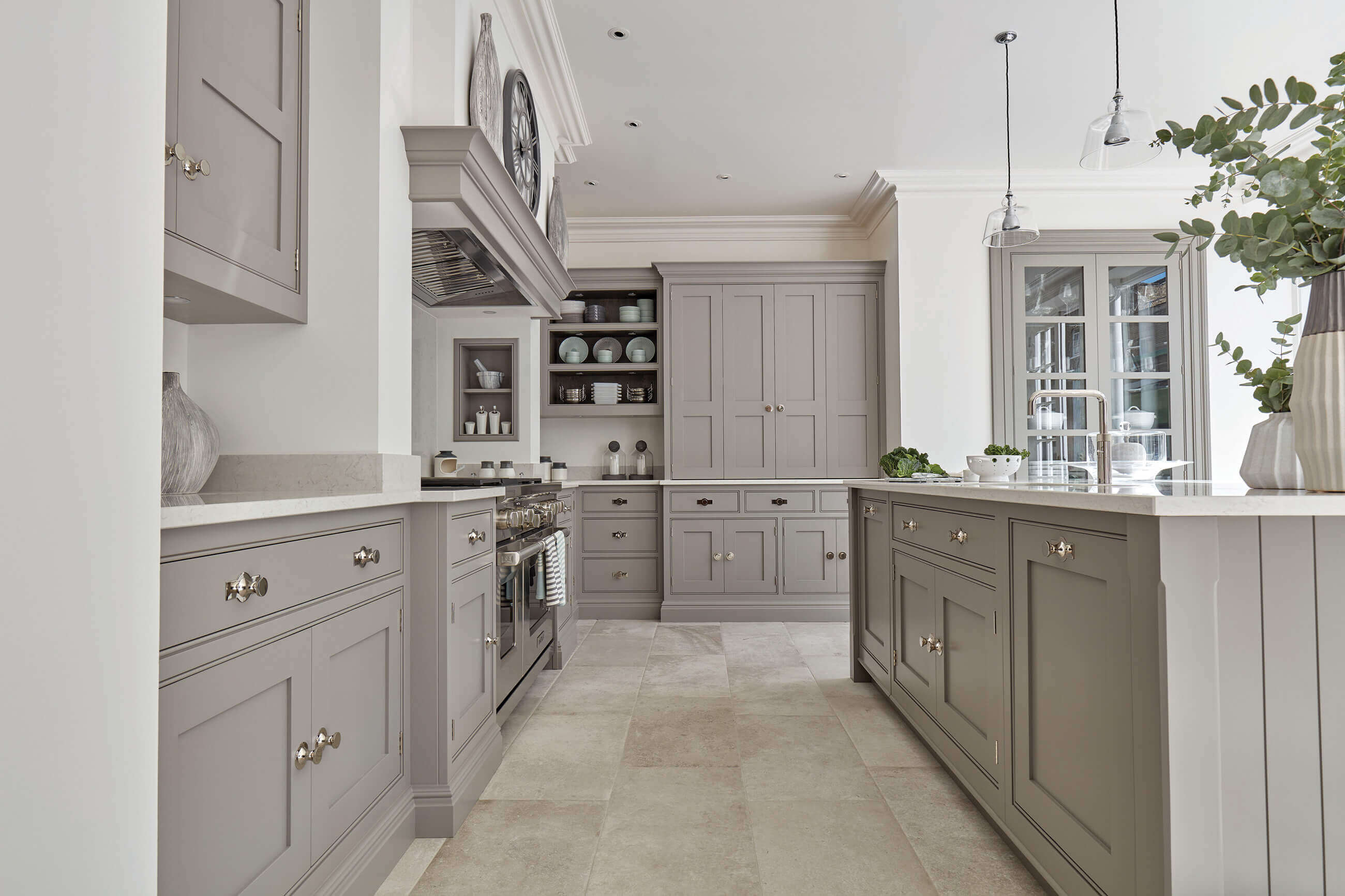 Island
The Island is the heart of your kitchen and the curved breakfast bar makes an impactful and practical statement. Finished in sophisticated Marjoram with a Silestone Snowy Ibiza countertop, the island features impeccable carpentry and includes sockets for your state-of-the-art appliances and personal tech. The proportions have been carefully considered to create the perfect working triangle between cooker, sink and pantry storage.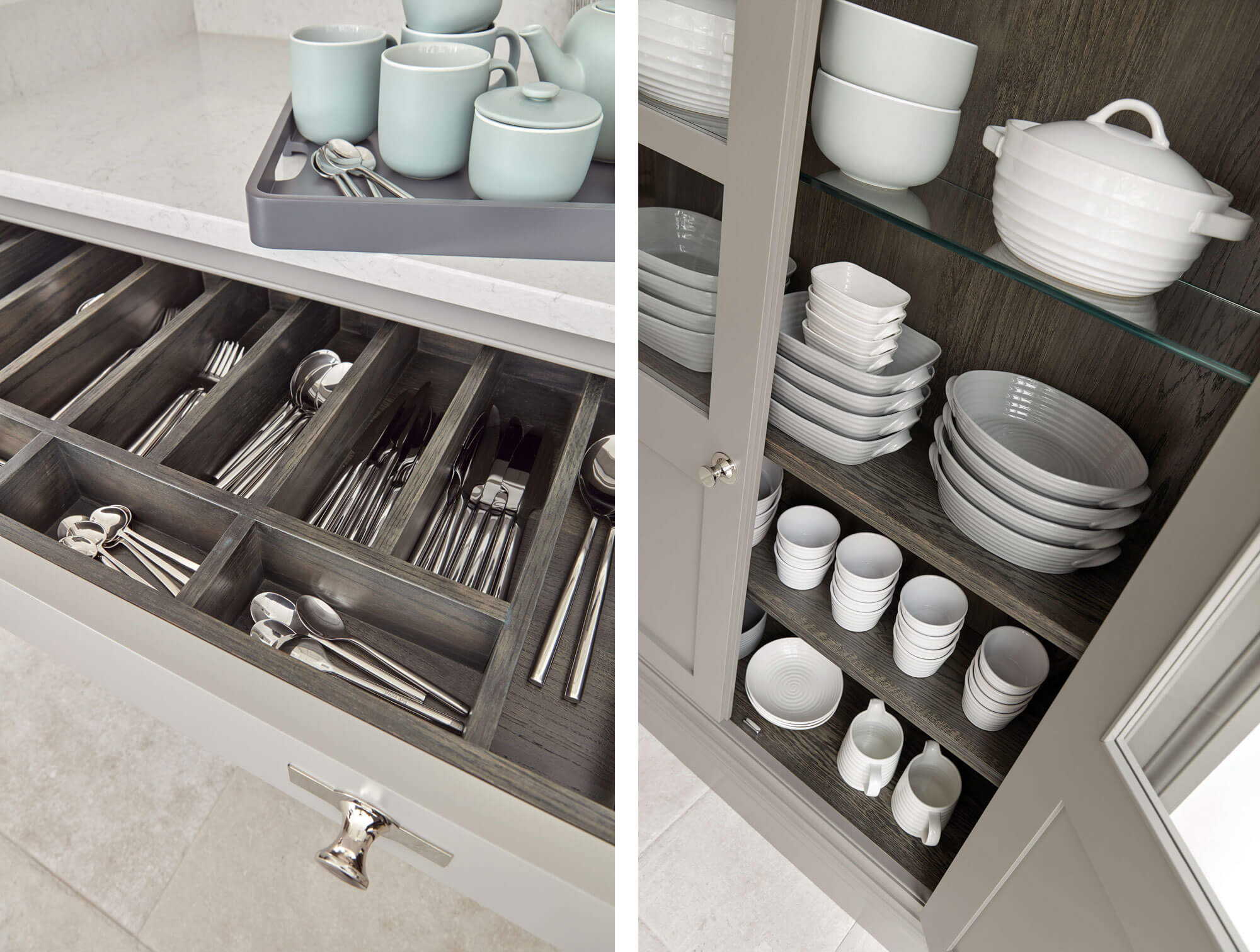 Detail
It's the personal touches that make your kitchen extra special. From bespoke engraving, carefully chosen hardware, to storage that effortlessly homes all of your best kitchenware and essentials.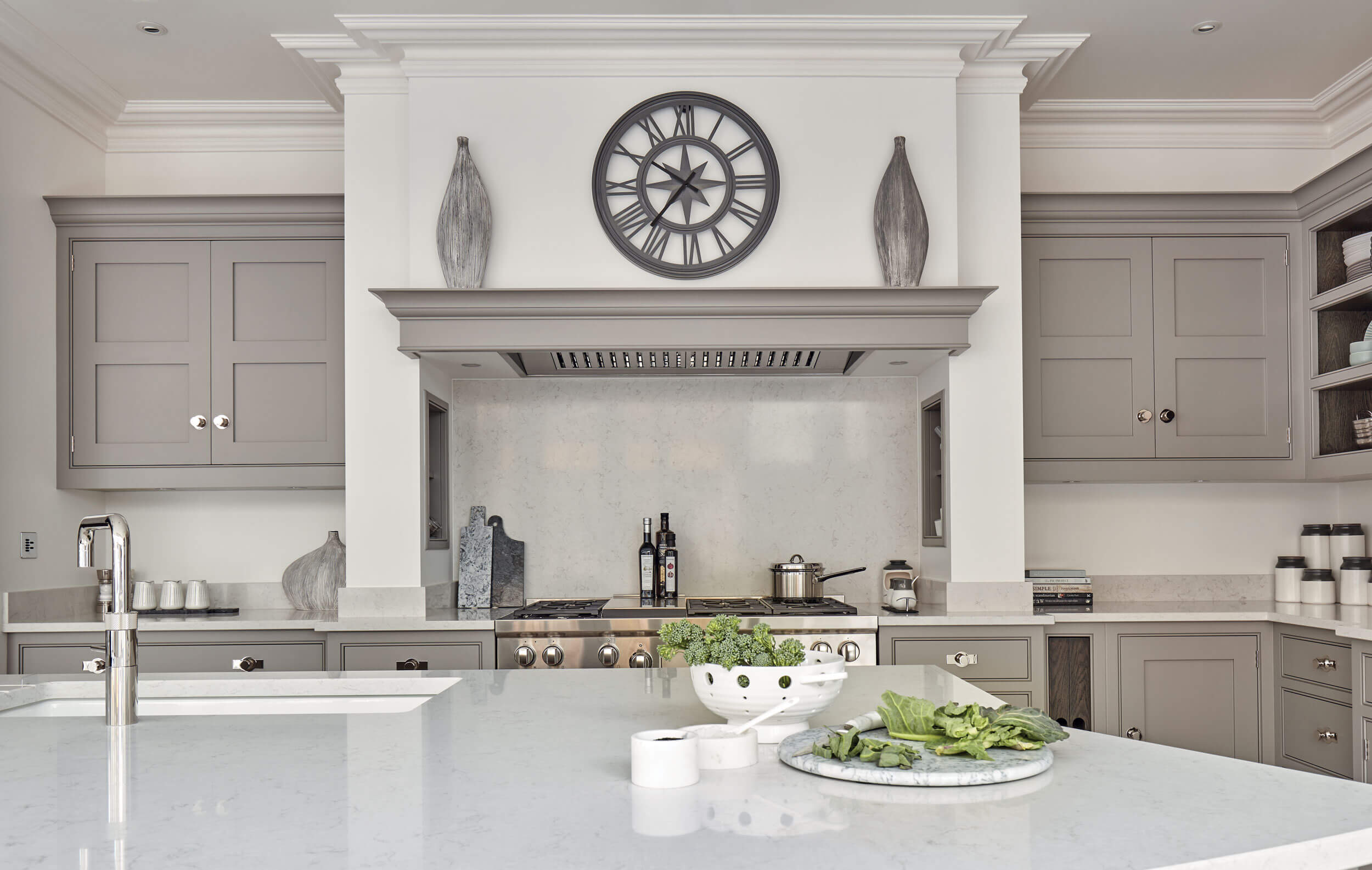 Cabinetry
The main run of units includes an impressive Wolf Dual Fuel Range Cooker as the focal point. The fluid cabinetry creates ample storage and symmetry with shaker-style doors giving the kitchen the wow factor everyone desires.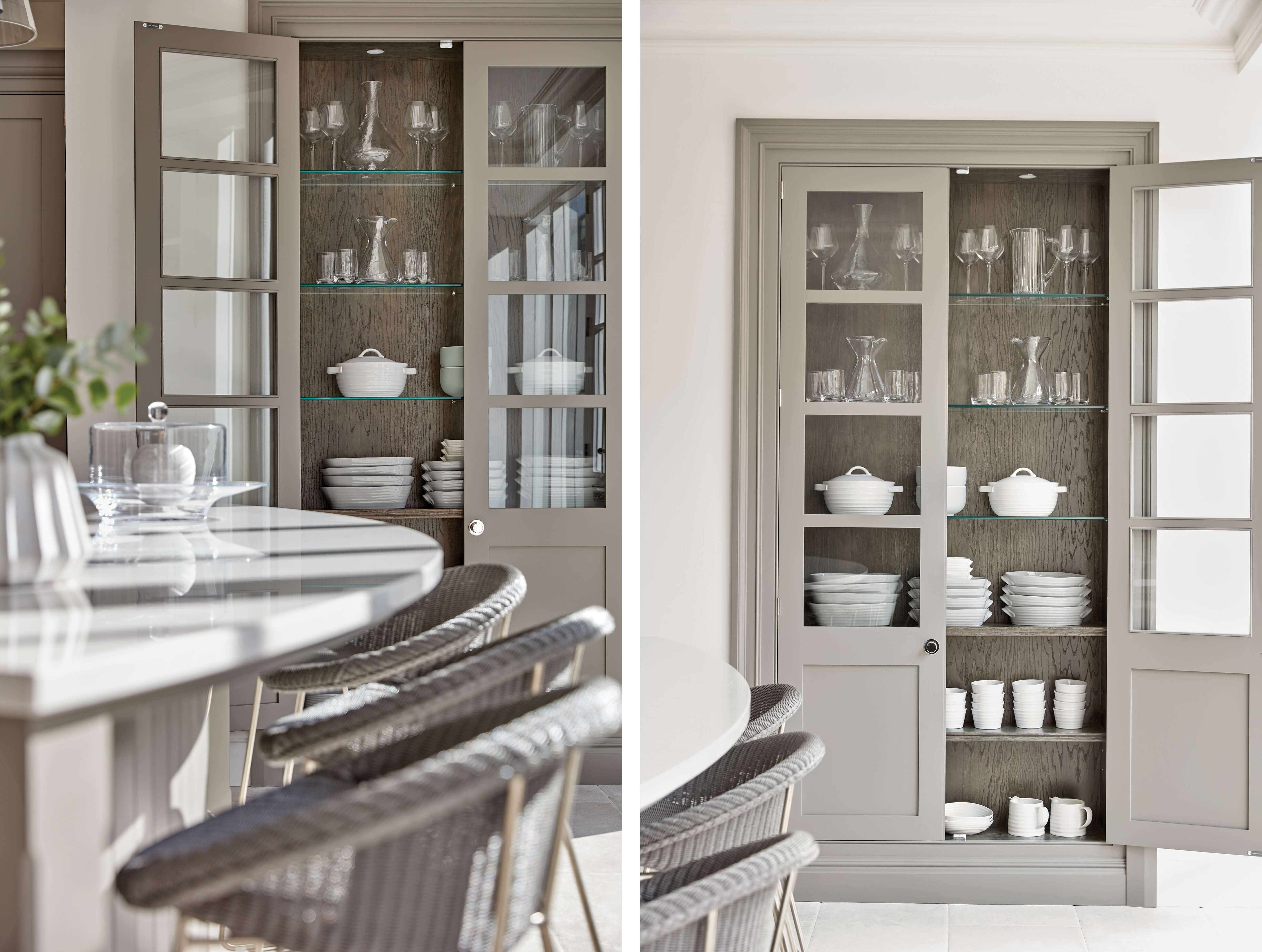 Glazed Pantry
In traditional homes, the finest china and glassware was on permanent display. The Hartford's refined glass pantry detail ensures your finest pieces are never forgotten – even at night when the stunning integrated mood lighting comes into its own.
Pro Appliances
Whether you treat cooking as an art form or as a necessary evil, the integrated Pro Appliances will help you to make the most of your kitchen. The Cambridge Hartford includes' Wolf Dual Fuel Range Cooker, Westin Pro Canopy Extractor, Neff Dishwasher and a Quooker Pro3 Fusion.