The kitchen is one of the most hardworking spaces in the home and often designed to emphasise practicality rather than personality. At Tom Howley we understand that the heart of your home should be as beautiful as it is functional, offer intelligent solutions and reflect you as an individual, after all, we spend much of our days in this space. Below we've shared some of our favourite smart kitchen storage ideas and advice to help you maintain a clutter-free look.  
Over the past year, you've probably grown to realise how vital well-designed rooms are in the home, particularly the kitchen. This space has to serve multiple functions and work efficiently to suit your lifestyle. Hence, it's no surprise that there is now a significant focus on practicality, multifunctionality and streamlined storage. Design director, Tom Howley mentioned in a 2021 trend story for The Independent, "our clients are looking for personal, considered kitchens that work in multifunctional ways to chime with the kitchen's heavier footfall over 2020 and into 2021. Wide or even double island counters are very popular, as well as comfortable seating options alongside the more traditional island bar stools."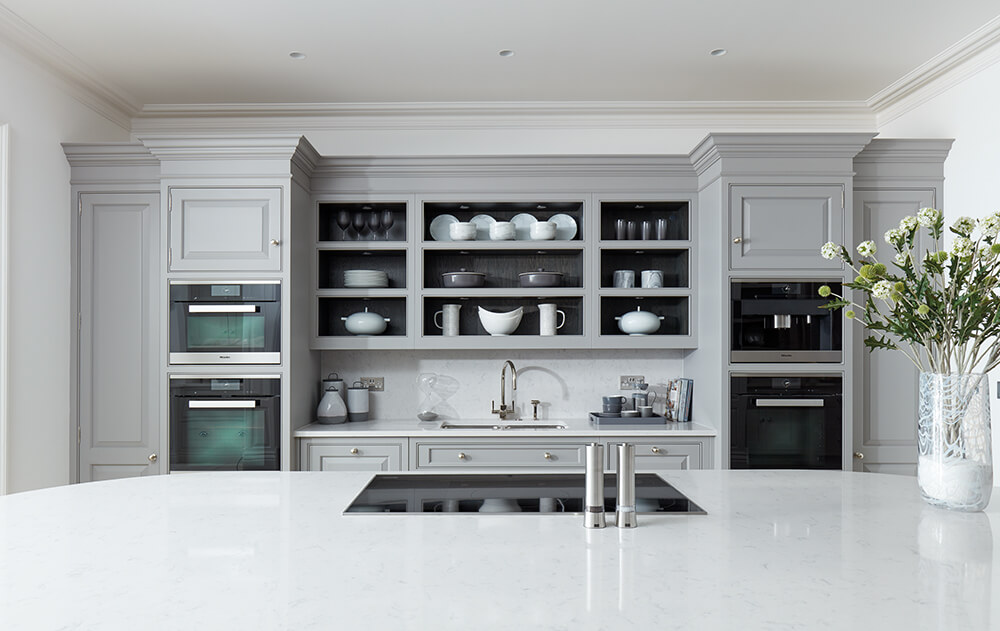 How to Plan Storage for Your Lifestyle
Whatever size kitchen you have, carefully planned storage is key to a successful design. Aside from everyday practical requirements, you should also draw up a list of elements that you may need in the future, ensuring your kitchen has longevity. Maybe you're thinking of growing your family, so need extra food storage, double ovens or a large breakfast pantry? Or with changing social behaviours, you may opt for a larger island or separate seating area.
Understanding the basic principles of kitchen layout will help you use every inch efficiently without overcrowding the space. Whether you have an L-shape, galley style, U-shape or Peninsula kitchen, the positioning of storage can determine how well it flows and functions. The 'working triangle' is one of the most well-known layout principles; the triangle includes a cooking area, prep/ storage zone and wash area. If you have a large open plan kitchen, one of the best ways to pull a space together is to see it as a whole, with multiple zones within it allocating functions to each.
Multifunctional Family Spaces
We're experts in turning chaotic family kitchens into organised homely hubs. When designing your dream family space, work out what's important to you. If you cook together or are juggling homeschooling and preparing lunches in lockdown, simple design considerations such as appliance clearances, organised food storage and larger distances between work areas will ensure there's plenty of room to manoeuvre. Consider an island with integrated towel rails and trays or add deep drawers with bespoke inlays to provide a smooth cooking experience.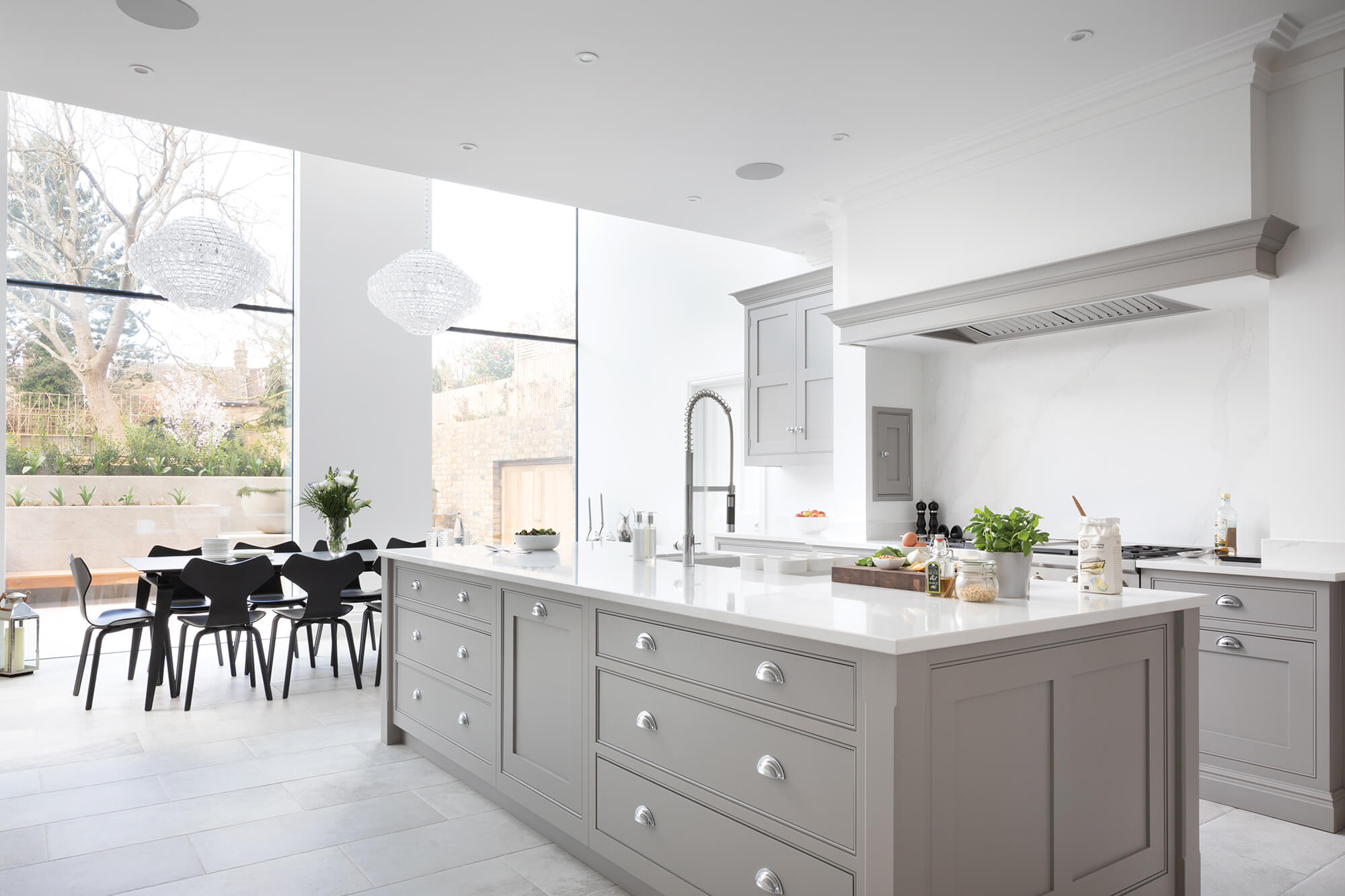 Modern Open Plan Family Kitchen
The breakfast pantry is perfectly designed for family living. It can incorporate your entire morning, from a professional coffee machine, toaster, storage for everyday crockery and a whole host of cereal options for the kids. The best thing is once you've had enough you can close the doors behind you, concealing all the mess and clutter.
The Chefs Kitchen
When it comes to an understanding of what special role storage has to play in the kitchen, who would know more than a Michelin-star chef? Galton Blackiston believes the secret to successful cooking starts with the kitchen itself and the creation of a well-organised environment.
"Having the right tools to hand really can inspire creativity in the kitchen. Cooking isn't only my job, it's how I relax, so having a well-planned kitchen with everything I need close to hand takes the stress out of preparation and makes cooking easier. My perfect layout includes banked appliances, an island for entertaining and a well-stocked pantry."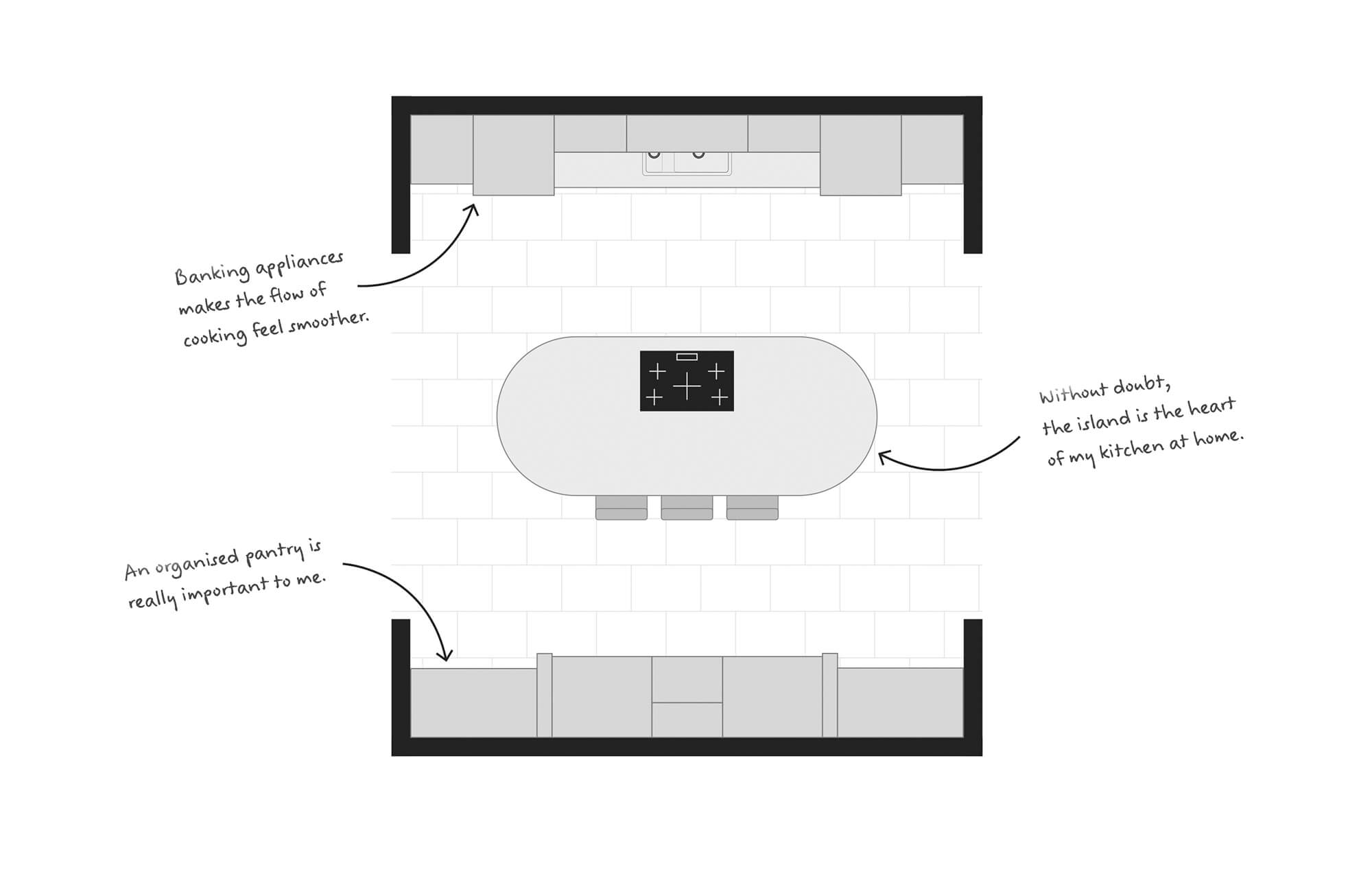 Three Ingenious Solutions to Maximise Kitchen Storage
The Pantry 
Nobody has ever complained about too much kitchen storage. From large walk-in pantries to slim pull-out larders, these sought after solutions can be designed to fit seamlessly into any size kitchen. With so much accessible space and versatility when it comes to food storage, a pantry can bring order to the busiest of environments. Not only are Tom Howley pantries impressive to look at, but the inside can be equally remarkable too. Choose from a range of intelligent internal solutions from bespoke drawers and door racks with sections at varying heights to shelving designed to stow everything from glass jars and artisan treats.
Multifunctional Kitchen Island
A kitchen island is an easy way to pack in storage, seating and a whole host of appliances if you're limited on wall space. No matter how small or large your kitchen, islands can be designed and configured around your needs. Include flexible storage solutions, dishwashers, bookshelves, wine coolers, deep-pan drawers, bespoke inlays, bins, plate racks and more. You can plumb in separate prep sinks or install a hob ideal for keeping you in the conversation when entertaining or cooking for family.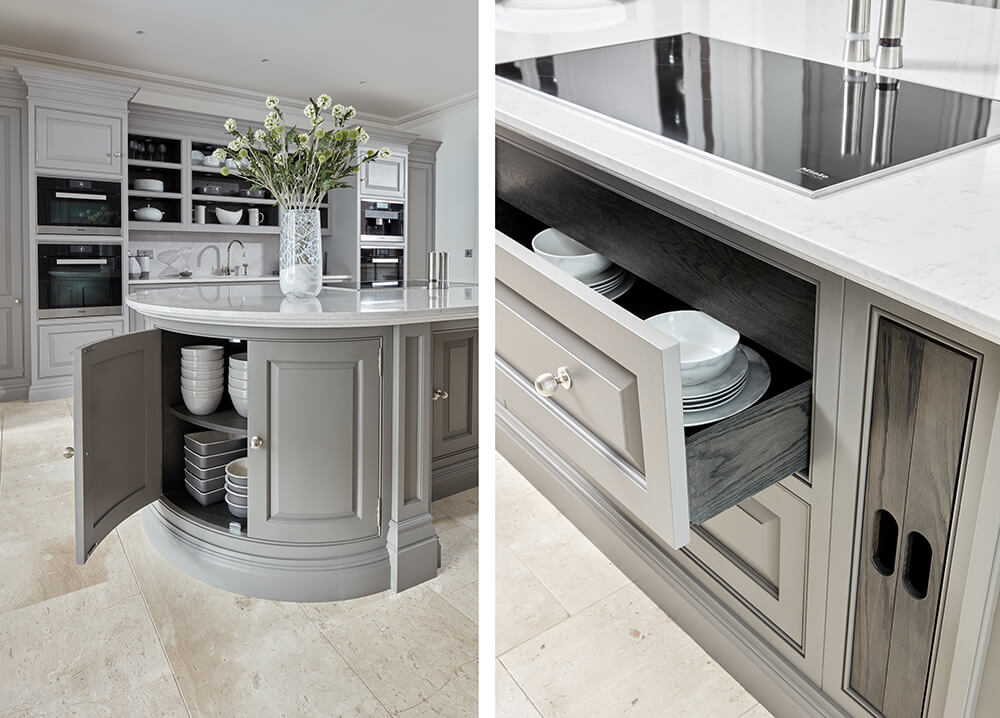 Curved Grey Kitchen
The kitchen island is often a hive of activity with cooking, eating, work, learning, and play centred around this area. When designing your island, it is essential to consider both internal solutions and exterior proportions. Many aspects of your kitchen design can determine your island shape. You can opt for integrated bench seating, consider extra knee room for kitchen stools or design a bespoke circular table if you have the room. Islands are often a focal point, so the materials and finishes used should reflect the rest of the kitchen's quality and style. When it comes to the work surface, we highly recommend Caesarstone. This natural-looking quartz is highly durable, stain-resistant and non-porous, meaning it's easy to clean and doesn't harbour bacteria. 
Chimney Niche
This hidden gem of a storage concept is perfect for utilising otherwise dead space. You'll often find open niches with shallow bespoke shelves excellent for storing attractive herbs, salt and pepper grinders or aesthetically pleasing oils. These recessed spaces can also be designed on either side of your chimney to achieve symmetry or with door fronts for a seamless, clean look.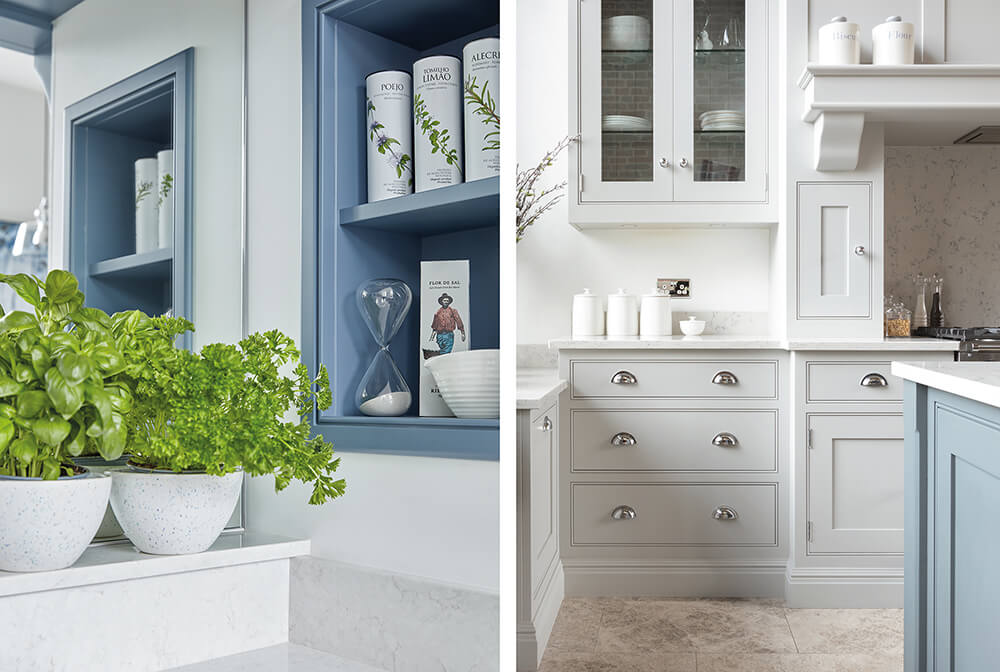 Every Inch Counts
Bespoke kitchens are stunning inside and out. With our simple yet effective storage ideas, we make every inch count. Make life easier with our space-saving corner units or opt for a full-height pull out larder designed to sit discreetly behind closed doors giving your kitchen a seamless, stylish finish.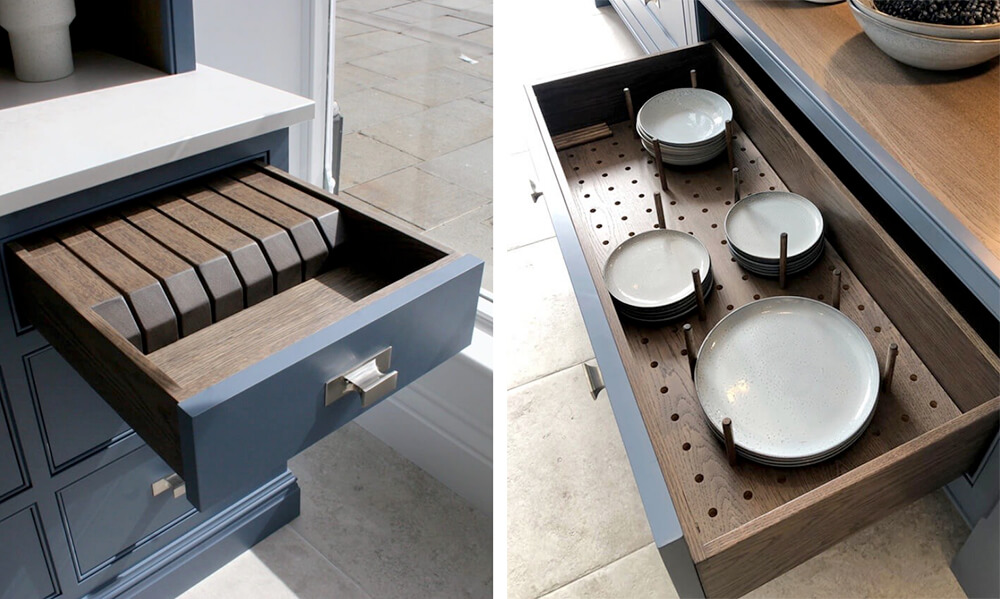 The beauty of bespoke is that you can unleash your creativity and design storage to fit your personality and passions. If you see yourself as a bit of a chef, choose bespoke drawer inlays to store your favourite set of knives or deep double pull-out drawers for easy access to your cherished Le Creuset. If you like your kitchen to be as streamlined and organised as possible, a simple solution such as hiding your recycling or bin storage can make a world of difference. Choose from a range of internal bin configurations expertly concealed in your island or cabinetry. Not only will this help to separate your paper from your plastic, but it also eliminates the need for a freestanding often unsightly bin taking up valuable floor space.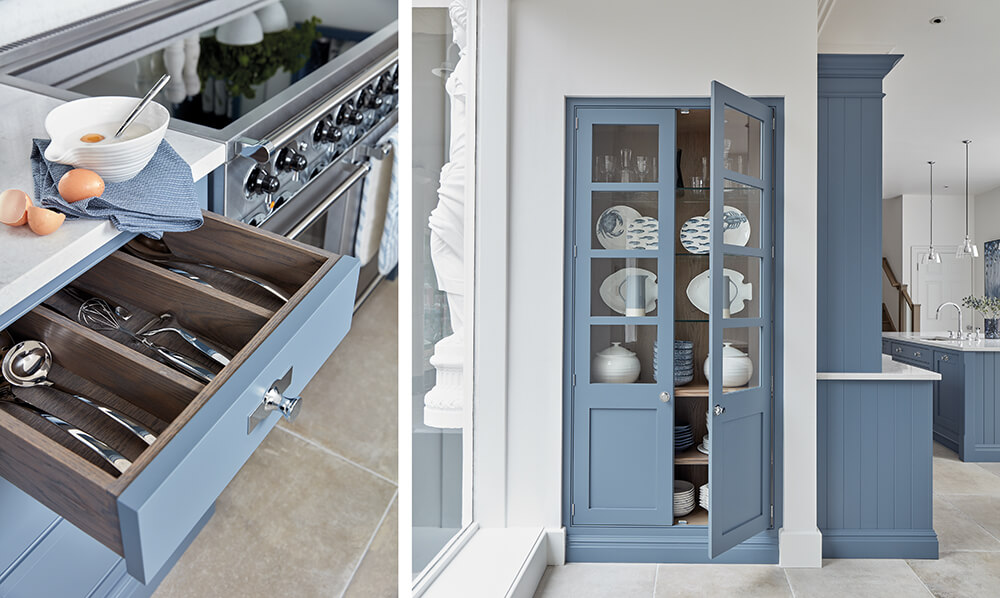 A Space for Creativity and Personalisation
This year interior trends are all about injecting personality, warmth and character. Spending most days indoors means we've had time to assess what we truly want from our spaces, the areas we love and projects we want to undertake to improve our day-to-day lives. Our bespoke kitchens are already designed to your exact specifications and practical needs; however, the personal finishing touches come from you. Creating corners of calm with comfy seating or styling open shelving can go a long way in achieving a joyous space.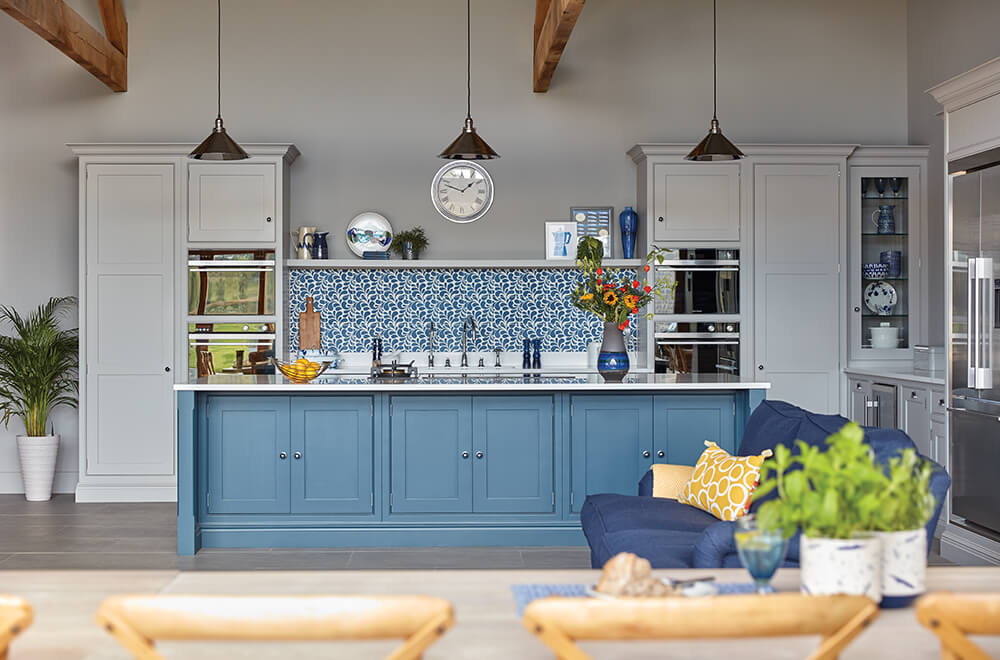 If you're wanting to give your kitchen a new lease of life in 2021 or simply want to add a personal stamp to empty shelving then follow these five rules:
Work with odd numbers – objects displayed in three, five or seven creates a better dynamic.

Think about overlapping items to create a sense of unity. With this tip, it's always good to have a range of sizes or a 'high point' such as a tall vase or cut flowers. 

Group objects together to create a story. This doesn't just apply to decor items. You can create visual appeal with practical objects such as groups of chopping boards, oils or beautiful everyday ceramics. 

If you're not one for a polished look, introduce softness with plants or objects with organic shape and texture.

When displaying dry food goods, decant items into matching containers for a streamlined look or mix jar sizes for a more eclectic feel.
Explore more beautifully bespoke kitchen storage ideas by requesting a free brochure today or book a free design visit to see how we can turn your ideas into reality.