Esher in Surrey is a quintessentially English market town within easy reach of the city of London. The town is bristling with history and is mentioned in the 1,000-year-old Domesday Book. As a result, it's blessed with wonderful historic buildings, a charming town centre dotted with boutiques, coffee shops and old coaching inns that welcome visitors and locals with hearty homemade fayre. One of the town's main attractions is the world-famous Sandown Racecourse, a popular venue for racing, music concerts and other events which take place at the site all year round. As you browse the delights of Esher, why not call into our Tom Howley showroom and be inspired by the many design ideas that could transform, not just your kitchen space, but the look and feel of your entire home.
Stylish Hand-Painted Kitchens
Every kitchen that you see can be individually interpreted to fit your space at home. Cabinets, islands and work surfaces are crafted to enhance the shape of your kitchen, giving you more storage, practical workspace and plenty of original style.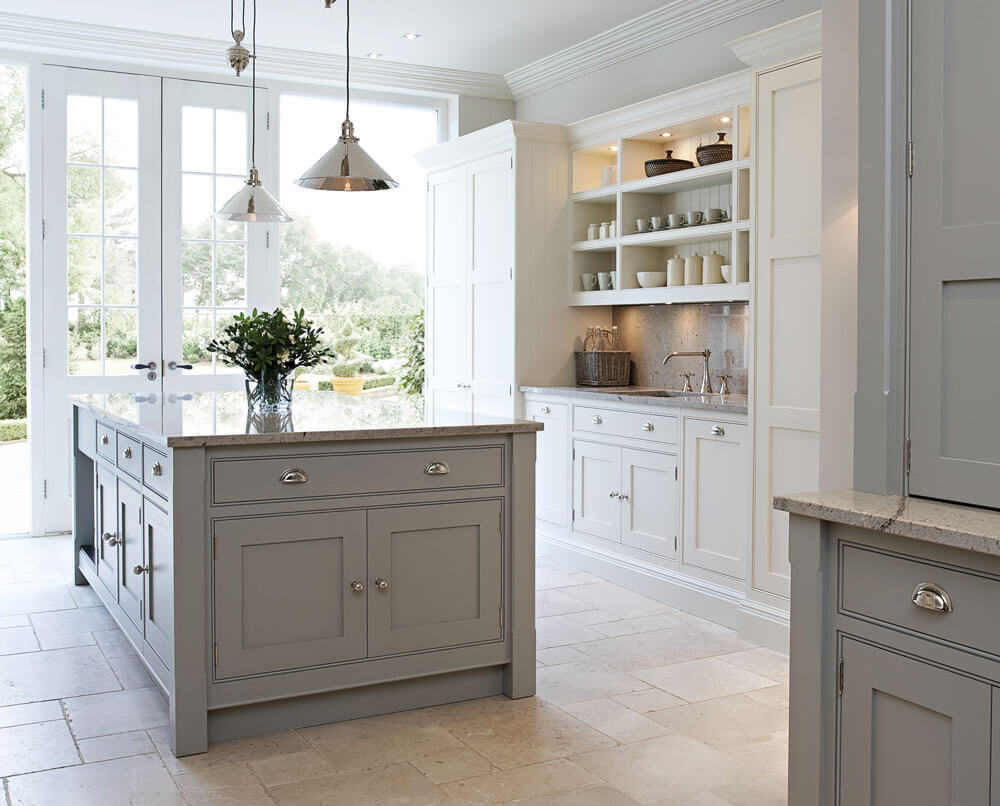 Our Hartford kitchen is based on traditional Shaker design with high-quality cabinetry, hand-built to last. Combine the style with hard-wearing Silestone Yukon countertops and top of the range Miele appliances. The cabinets can be hand-finished in a choice of exclusive paint colours to complement your interior design and personal taste. When it comes to paint colours, you can mix and match the palette.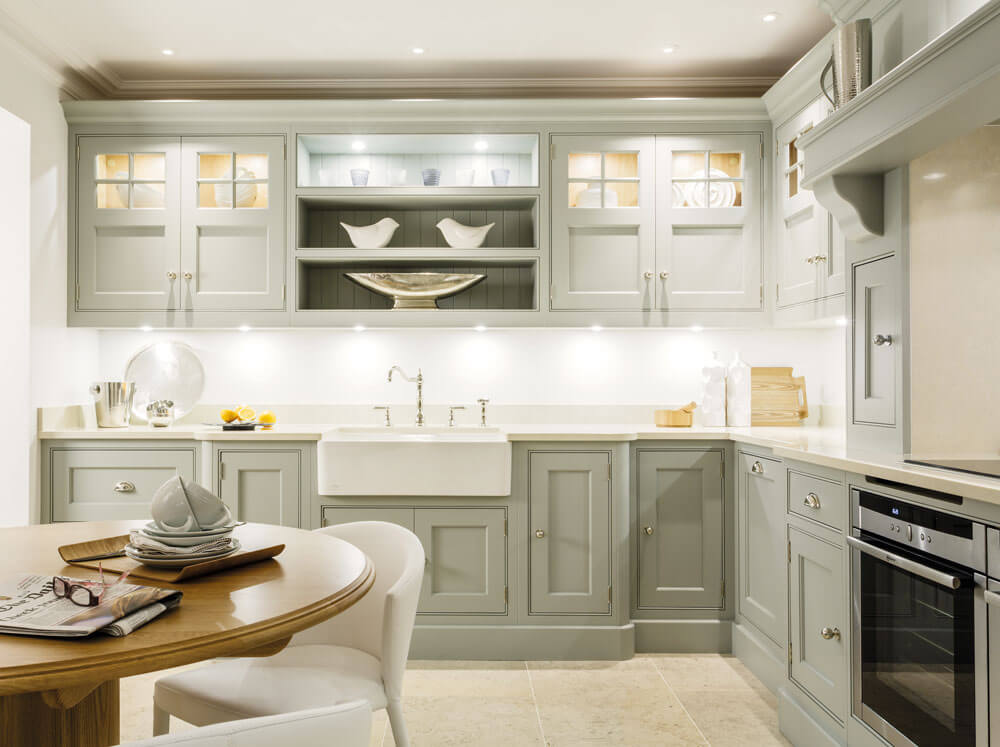 Currently, we have an example of our delightful Summerville kitchen on display in our Esher Tom Howley showroom. This kitchen has Natural Oak veneer internal finishes, Tansy paint colour on the cabinetry and the island has a deep, Dewberry finish. Silestone Lagoon worktops complete the effect in stunning style. Using different shades of the same colour, such as mixing light and dark grey with natural wood is a contemporary treatment, but the end result is both timeless and transformational. Choosing different colours for statement pieces can create depth and interest within the kitchen and can create an illusory effect of increased space or height.
Places to Eat
If perusing our range of kitchens has given you an appetite, there are plenty of places near our Tom Howley showroom to tempt your palate. We love Seven Bluebirds with its modern European menu and bottomless prosecco weekend brunch; It's the perfect place to take your time over delicious dishes and to contemplate what you could cook up in your own kitchen.
For lunch or dinner, CuVée VIII is a sophisticated British restaurant and wine bar in the heart of the town, offering exciting and seasonal updates to classic British dishes. It's the ideal venue for a memorable family meal or cocktails with friends.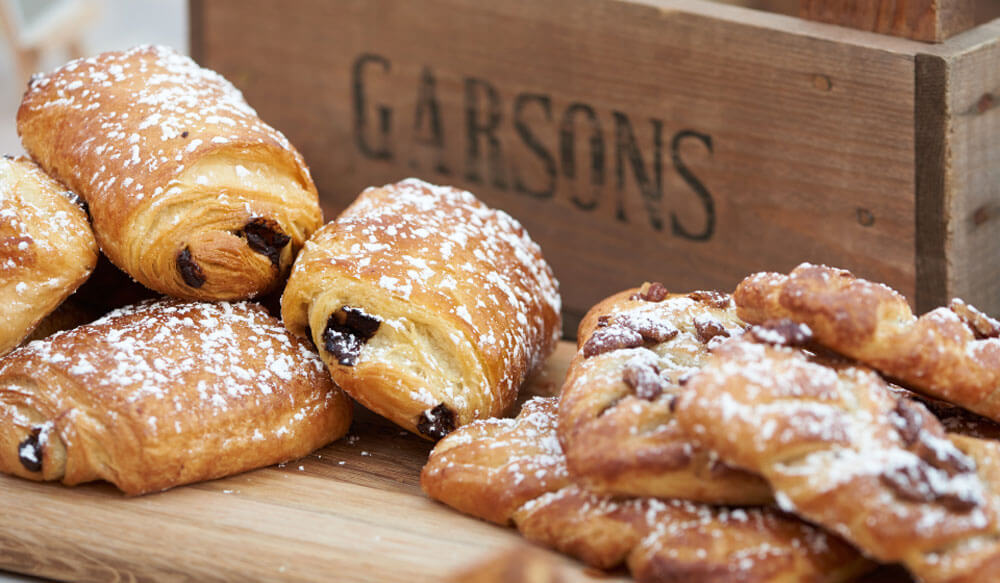 Shopping
If food is still front of mind, you can pick up a hamper full of goodies from Garsons tempting farm shop. It's 'just the thing' if you want fresh produce for a picnic at Esher Common or simply to enjoy at home. Just down the road from our showroom, Bernard Boutique is where ladies can lose themselves in the latest fashions – it's been a hotspot for the town's trendsetters since 1969!
Sights to See
On a rainy afternoon, the Everyman cinema is the perfect place to take shelter. No ordinary cinema, however, at Everyman Esher you can enjoy a sharing platter of olives and chorizo with a bottle of Bolney Estate bubbly while you watch the latest releases.
Green-fingered shoppers may want to take a moment to contemplate the delights of Claremont Landscape Garden. It's only moments from the centre of town and is steeped in more than 300 years of history featuring many of the great names in landscape design. It's the ideal place to be inspired and to relax.
Lovers of history and incredible architecture could add a trip to Hampton Court Palace to any list of places to see. Until March it is hosting an exhibition of stunning costumes from the popular film, The Favourite about the life of Queen Anne and her friend the Duchess of Marlborough.
So if you're free this weekend and you plan to do something different, why not call in and be captivated by some of our latest ideas in kitchen design. Our showroom manager says, "Our designers focus on creating inspiring spaces on a daily basis. The Esher showroom is a design hub for our clients who drop in to pick colours, have a browse, sit for a consultation, presentation or just drop in to say 'hi'. We'll be happy to welcome you with a light refreshment and to discuss any element of your project. We'll also be proud to show you examples of the many prestigious projects we've worked on."
Visit our Esher showroom at 99 High Street, Esher, Surrey, KT10 9QE or find your nearest Tom Howley showroom here.