The success and style of every kitchen starts with kitchen storage. Whether that's helping you to make the best use of architectural quirks or creating bespoke storage where everything's in reach. Designed around the way you use your kitchen, our smart ideas keep your kitchen well-functioning, calm and clutter-free. Take a look at our top kitchen storage solutions below.
1.Breakfast Pantry
Smaller than a walk-in pantry, a breakfast pantry is a great place to hide all the everyday chaos. The doors bi-folding action gives neater, more usable access to the contents of the cupboards without blocking other cabinets. The space inside is expansive, often with work surface space for smaller appliances such as your kettle and toaster. It's also a great place to store your cereals, crockery, tea, coffee and cookbooks.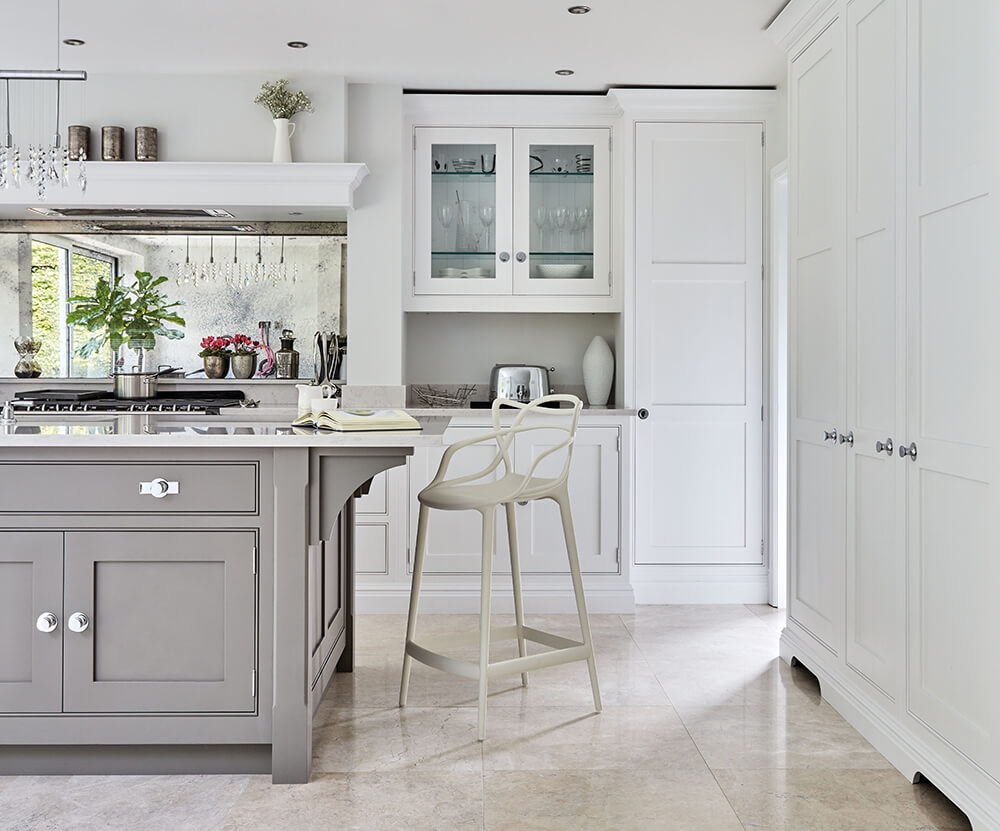 2. Making Good Use of Ceiling Height
Why waste the storage opportunity of lovely high ceilings – especially if space is limited elsewhere. Our cabinets can be built floor-to-ceiling with handcrafted cabinet doors, open shelving or glazed doors, whichever is best for your space. High cupboards are useful storage for gadgets or crockery you don't use or need very often.
3. Island Wine Storage
If you love entertaining, bespoke integrated wine storage for drinks bottles and your wine collection is a wonderful way to save space in your main fridge. Wine fridges can be built into your kitchen island to save wall space. For your red wine collection, why not consider our open wine racks adding a stylish yet practical touch.
4. Over Sink Kitchen Storage
The size and layout of your kitchen will determine the best place for wall-mounted storage. Having a cupboard or shelving above the sink frees up space elsewhere, and provides a practical place to tidy away extra plates, cups and utensils. Open shelving above your kitchen sink can also be the perfect place to display art, plants and decorative plates adding a stylish edge to your kitchen.
5. Bespoke Pantries
Not just for country houses! Our full-size pantry designs make good use of every inch of the space you have. Features include bespoke drawers, spice racks, space for bottles and jars, and shelves for baskets. A good organisation trick is to place utensils, everyday equipment and cooking elements at a lower level making it easier to grab what you need when you want it. When it comes to stocking up on food, place older ingredients and goods to the front and lasting ingredients towards the back to prevent any wastage.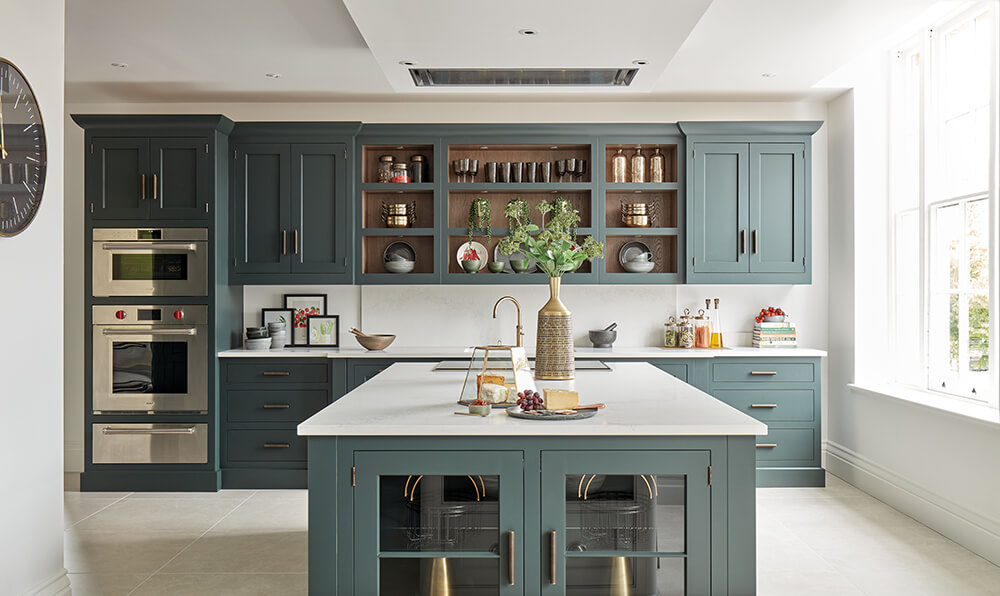 6. Open Shelving
Open shelving encourages a tidy space because items are on show. It's a great opportunity to display treasured pottery or copperware instead of hiding them away behind closed doors. Arrange glass jars containing dried goods or exotic spices in size order on an open shelf for a practically stylish pinch of colour. Open shelving helps light flow through and can make a kitchen look bigger. It's a great kitchen storage alternative if space is at a premium as shelves make smaller spaces feel less cramped.
7. Glazed Cupboards
Glazed cabinets are sleek, stylish and modern. They give an illusion of space, and for this reason, they can be effective in kitchens that lack natural daylight. Glazing in front of an island unit that has timber shelves creates the look of a traditional dresser, which is perfect for an open-plan space.
8. Drawer Inlays
Bespoke inlays can provide a beautiful space to neatly store the things you use most often like knives, cutlery, cooking utensils and even tea and coffee. It means that you can reach for the things you need more easily as everything has its own compartment. Choose a contrasting wood to your cupboard exteriors adding a real style statement.
9. Island Library
There's no better place to store cookbooks than in a place where they're easy to reach – the kitchen island. Books displayed here are in a perfect position when cooking up a storm; they also add colour and character without encroaching on the design of the rest of the kitchen.
At Tom Howley, kitchen storage is one of our passions so if you're looking for bespoke shelving, ingenious drawer space, surprisingly spacious pantries or practical island storage, we have a range of clever solutions for you.
To discover more about our kitchen storage features, visit your nearest showroom or click to request a free brochure.