Whether you have a period property or a new build, a seamless indoor-outdoor kitchen can be the perfect solution for those searching for a closer connection to nature.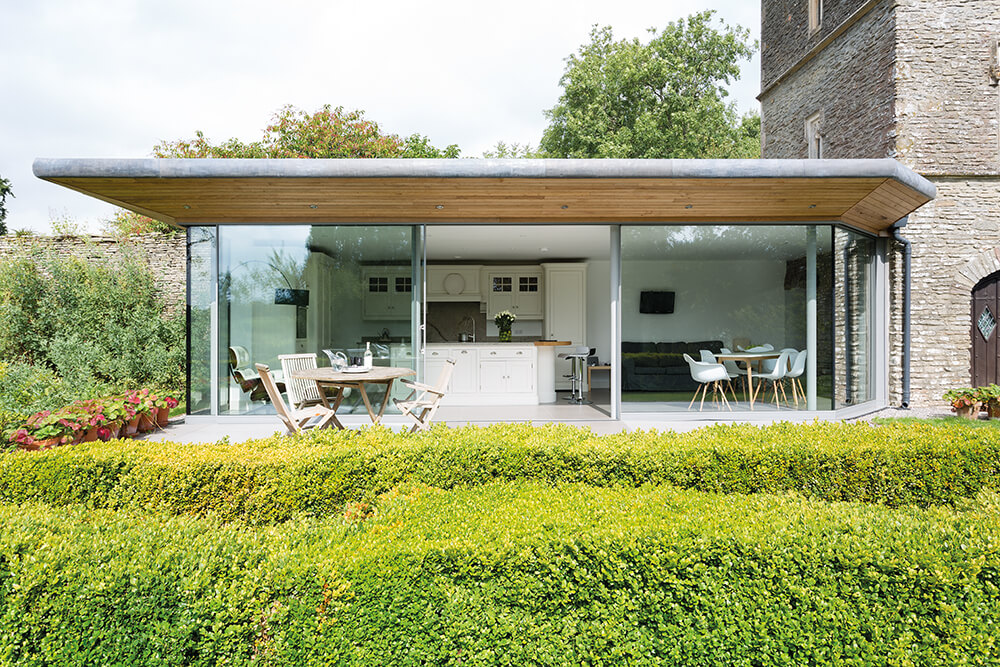 Summerville Indoor-Outdoor Kitchen Design
The Post-Pandemic Home
After months of staying in, we've come to realise just how hard our homes have to work and how they are continuously evolving to meet the demands of the moment.
Open Plan Reimagined
Open plan living has been commonplace for years; however, floor plans are set to be reimagined to fit with the challenges of post-pandemic family living. There will be a focus on separating shared spaces and distinguishing zones with intelligent furniture layouts, glass divides and clever lighting strategies. This will help to improve acoustics and put more of an emphasis on privacy, especially when multiple tasks are being carried out in the same room.
Flexible Layouts
If you are to opt for a spacious open plan layout, the kitchen should have a clear story of how it will be used, whether your main priority is creating a safe space for entertaining or a cosy hub where family can cook, eat and relax. Factor in kitchen, living, dining and on the rise, desk/office space. Once these areas have been roughly planned, start looking at the design and flow, creating small zones within the kitchen; cooking area, cleaning and food store.
Considered Materials
Homeowners are increasingly using antimicrobial materials and surfaces such as quartz. This durable material has a non-porous texture that doesn't allow bacteria to grow. It's easy to clean, making it less susceptible to staining and comes in a range of beautiful organic finishes.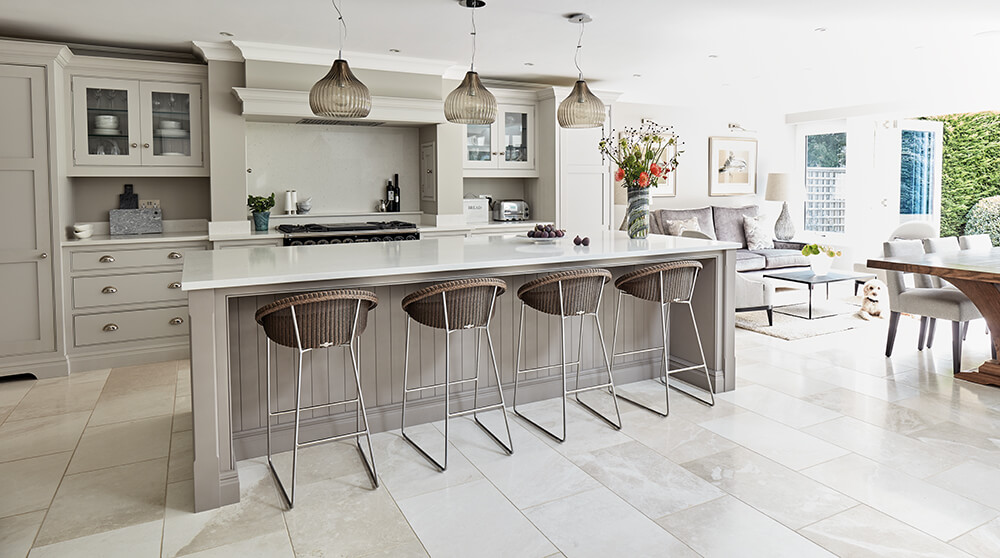 Our Relationship with Nature
As well as designing highly functional living zones we also need to consider our health and wellbeing in the home. According to a recent ONS survey, more than 40% noticed that nature, wildlife, and visiting local green and natural spaces have been even more important to their wellbeing since lockdown restrictions began. In blurring the lines between indoors and out, utilising natural materials and letting light flow, you can create a tranquil retreat that allows you to escape and unwind from daily stresses.
Design an Indoor-Outdoor Kitchen Around Your Lifestyle
Planning is vital for creating an indoor-outdoor space that's perfect for you and your lifestyle. Figure out what brings you the most joy. Do you want to make the ultimate social hub with a multifunctional central island and quick access to the outdoors, or maybe a comfortable kitchen and extended lounge area encouraging health and wellbeing?
"Now more than ever, we are encouraging our clients to make long-lasting mindful decisions about their kitchen to ensure it provides them and their families the perfect space." 

Sandy, National Design Team Manager.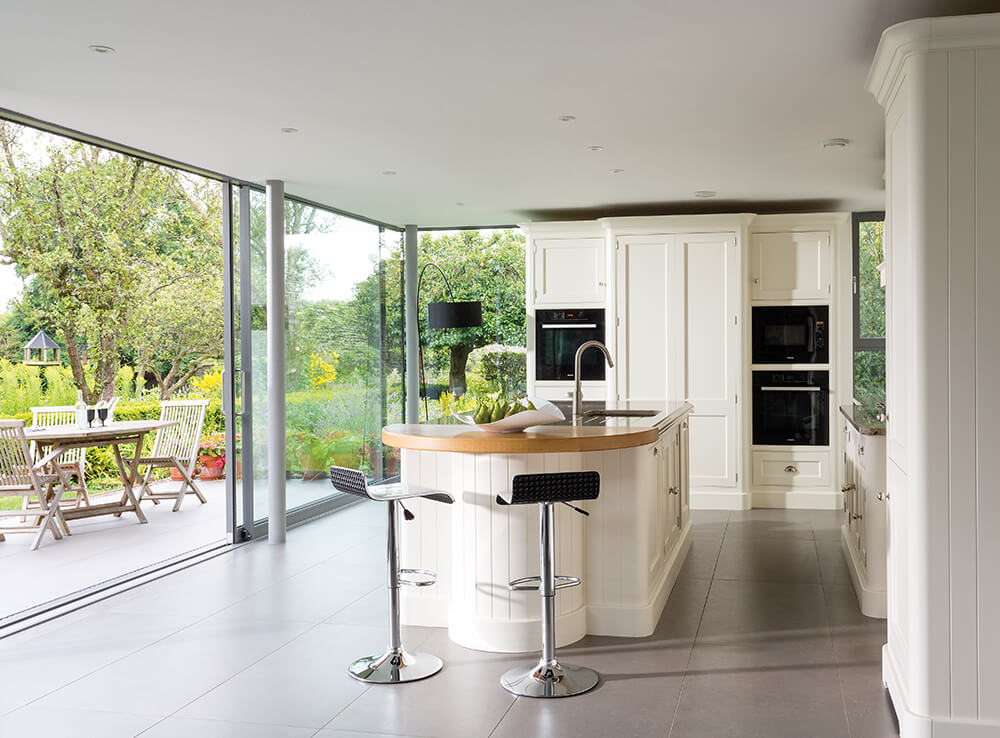 Summerville Indoor-Outdoor Kitchen Design
Top Tips for Blurring the Boundaries between Your Home and Garden
Breaking down the barriers between inside and out can be relatively simple with these key design considerations.
Let Light Flow
One way to create flow between your home and garden is to entirely remove non-bearing walls, replacing them with a glass wall, large sliding glass or bifold doors. Frame landscapes and install glass along the entire width of your living space to fully open up and extend your home. If you overlook magnificent countryside, an eye-catching coastline or a gorgeous garden, work around these stunning vistas. You can also embrace views from above with the inclusion of skylights or a roof lantern. These glazing solutions let a significant amount of natural light in and help divide open plan kitchen and living areas.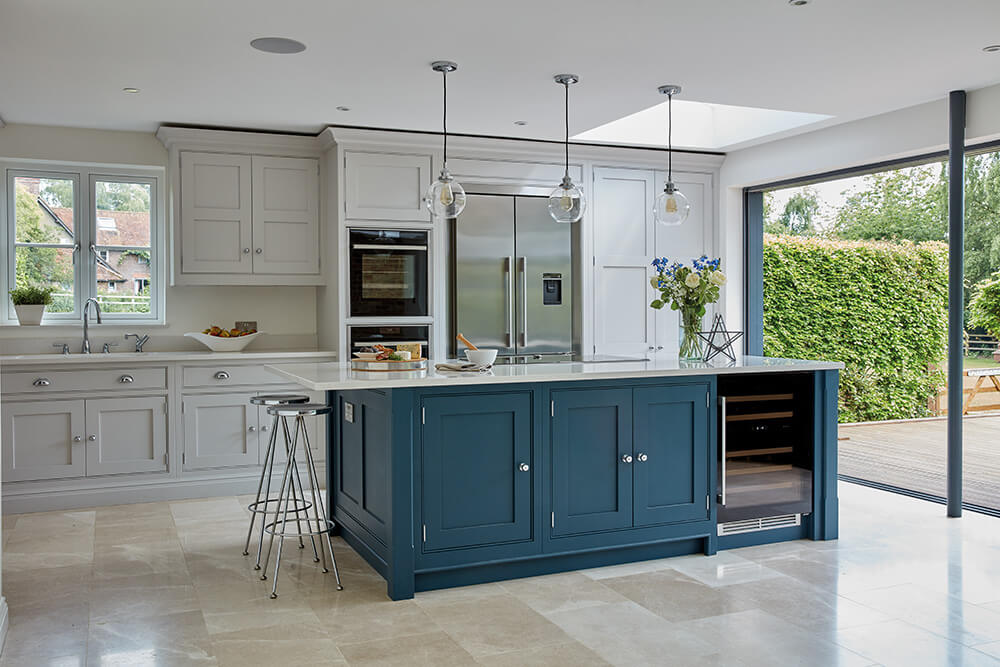 Contemporary Indoor-Outdoor Kitchen Design
Old and new properties alike can benefit from adding an orangery kitchen extension, allowing you to enjoy the outdoors all year round. Designed to sit harmoniously with your existing property, this type of glass extension can establish a seamless link with your garden and go a long way in creating a multifunctional living space that adds value to your home. If you'd like to learn more about extending your property with a bespoke orangery extension, our friends at David Salisbury have recently revealed some of their expert advice on our blog.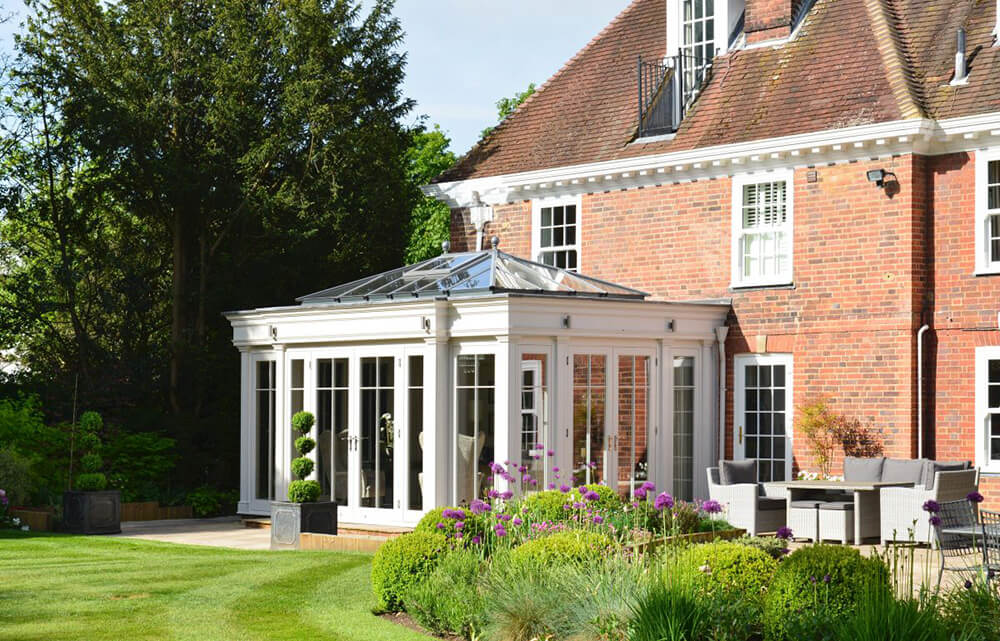 Bespoke Orangery Designs by David Salisbury
Choosing a Focal Point
Having a distinctive feature outdoors can be a great talking point and gives the illusion of extended space. If you have a courtyard, you could use an outdoor fountain to give this area a tranquil ambience and a 'twist of old Tuscany'. Vibrant flowers, an eye-catching planter or even a beautiful ornamental tree can work exceptionally well too. You want something that draws attention and expands your vision outwards, giving the illusion of a larger space when indoors.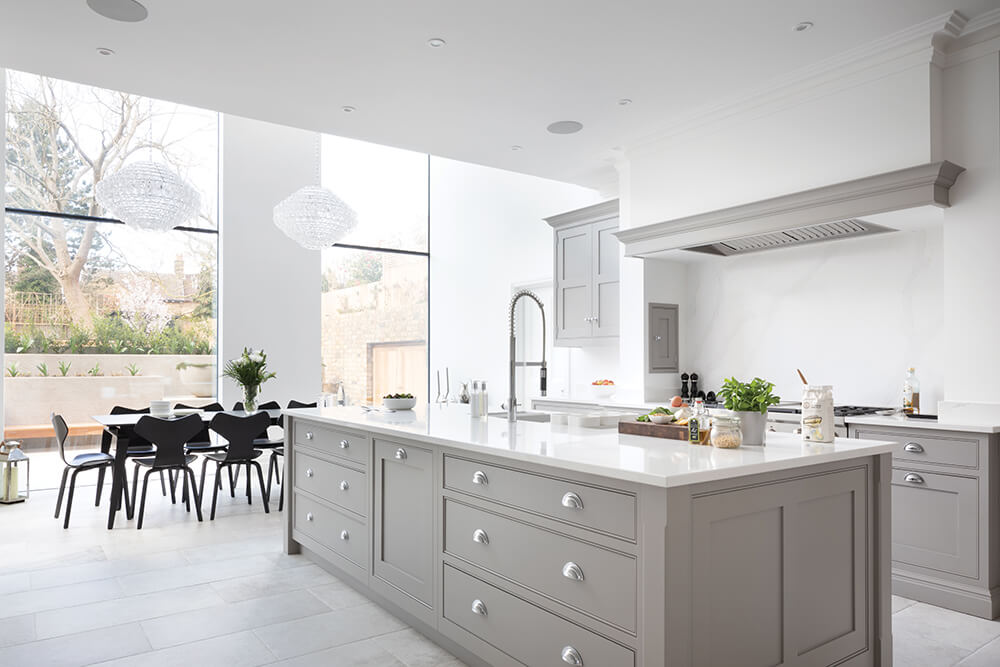 Create a Harmonious Scheme 
The divide between inside and out can almost become nonexistent when you keep both areas on the same level with consistent flooring. Low maintenance large format tiles, textured natural stone or hard-wearing concrete effect floors work perfectly to draw your eye out towards the garden. 
By choosing materials that fuse naturally with their outdoor surroundings, you can create a sense of harmony and tranquillity. When it comes to kitchen colours, opt for soothing blues or grounding greens for that ultimate sense of cohesion with the garden. These natural shades work beautifully with crisp white worktops that reflect natural light, ensuring your kitchen feels fresh and airy whatever the season.
Indoor-Outdoor Contemporary Living Space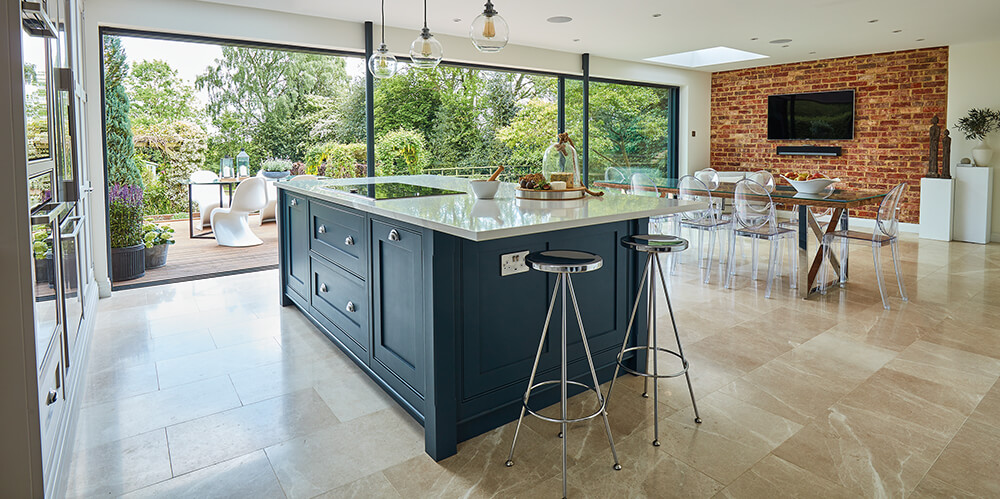 Contemporary Indoor-Outdoor Kitchen Design
This calm and collected open-plan space is perfectly suited to contemporary family life. The owners wanted somewhere where they could entertain friends and family and ultimately be a space where they would spend most of their time. 
There are many intelligent ways to create a smooth flow between indoors and out. Here, the exterior decking was raised so that when the floor-to-ceiling doors were open, it felt like one big room. Two skylights and sliding glass doors spanning nine metres help merge the two worlds and bring in ample natural light. 
Careful consideration went into the layout of this kitchen. It was essential to include as much storage as possible without cluttering and compromising the open feel of the space. Tall storage and integrated appliances were placed on the perimeter with a stunning island painted in Lithodora placed parallel, ensuring uninterrupted garden views. The bespoke island provides more than enough space to host summer dinner parties and envelops a Caple wine cooling system perfect for alfresco dinner parties.
The Ultimate Summer Kitchen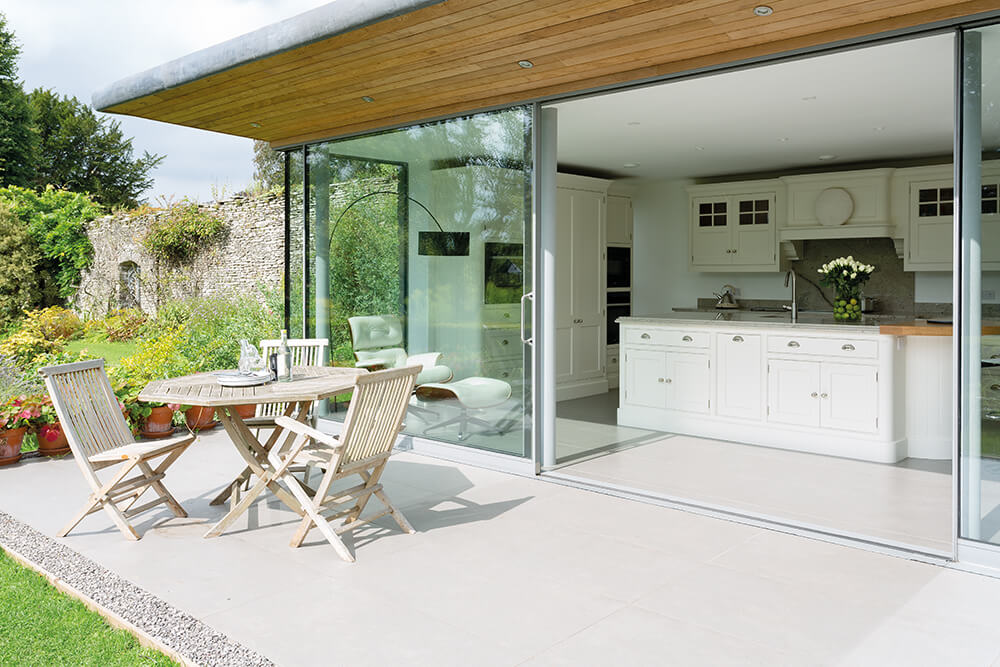 Summerville Indoor-Outdoor Kitchen Design
Housed in a stunning castellated cottage within 6 acres of beautiful walled gardens, this stunning kitchen extension is an impressive example of how you can blur the boundaries between inside and out. 
With the garden fast becoming another 'room' in the home, it was important to get the balance right. Floor-to-ceiling glass doors open up the space allowing natural light to flood in. With the architecture built on one level, with no harsh wall divide, the smooth flooring leads you out into the garden, where an alfresco dining space emphasises the fact this kitchen is made to be enjoyed together with the outside.
Now home to our elegant Summerville kitchen, the contemporary glass extension marries seamlessly with the old Gothic style gardener's house. A bespoke curved island provides the perfect centrepiece to entertain guests, prep and cook for family. With an integrated sink looking out into the garden, you'll be happy to do the dishes, just to admire the view.
Need more ideas on how you can create the ultimate indoor-outdoor kitchen? Call into your nearest showroom or request a brochure today.